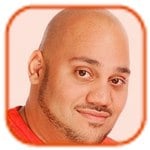 Posted by Andru Edwards Categories: Home Entertainment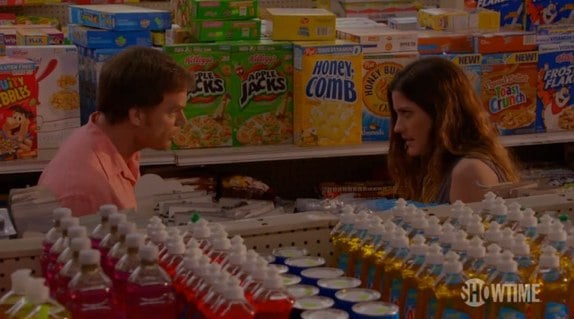 Showtime has announced that the upcoming eighth season of Dexter will be the last for the popular series. The announcement came alongside the reveal that Dexter season 8 would begin on Sunday, June 30th. Showtime broke the news first on the Dexter Facebook fan page alongside a two-minute sneak peek where Dexter and Deb have a particularly intense conversation. If you haven't yet finished season 7, you'll wanna skip this one, since it has some pretty obvious spoilers in it. We've embedded the clip for you after the break.
What do you think of the news of Dexter coming to an end?
Read More

| Dexter Facebook

Creator Jim Starlin just posted this on Facebook, so I'm believing it to be fair game.
It's a piece from an original illustrated novel that he's currently working on. He'll reveal more details as his plans are finalized, but for now I think one word will suffice: Want!
[Artwork: Mindgames by and © Jim Starlin]
My pal
Martin Powell
and artist Jay Piscopo have a project coming up that I really can't wait to see:
Liberty Unlimited
.
Martin says this all-ages sci-fi/mystery adventure series is "in the grand tradition of Doc Savage and Jonny Quest," with a little bit of Nancy Drew thrown into the mix too.
According to Martin, the series is "still in its early development stages."
The really nice piece of promotional art here highlights the cast: Libby the future-girl, her best friend Zoey, Libby's super-scientist dad, and their bodyguard, the mechanical marvel Red Rover.
Click to continue reading Sneak Peek: Liberty Unlimited by Martin Powell & Jay Piscopo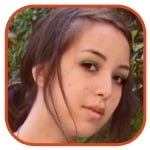 Posted by Robin Paulson Categories: Reviews, Television, Image Comics
While the past issues (not to mention the publicity behemoth that is Comic Con) of The Walking Dead have prompted readers to tune into AMC when October rolls around, AMC's website is now showing love to series readers with a 6-page preview of issue 76.
Wondering what happens to Rick after trusty Michonne's blow to his head? Check out the preview after the jump and make sure you snatch up a physical copy—in your local comic book store today!
Click to continue reading Preview: The Walking Dead #76
Read More

| AMC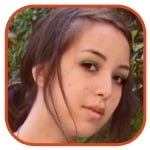 Posted by Robin Paulson Categories: Movies, Independent
If you were someone (like myself) who had better things to do than watch the MTV Movie Awards pre-show last night, you unfortunately missed out on a first look at a fight scene from Scott Pilgrim vs. The World. Well, you're in luck—catch the clip above, which director Edgar Wright introduces himself.
In the scene, Scott Pilgrim (Michael Cera) dukes it out with Ramona's (Elizabeth Mary Winstead) second ex-boyfriend, skateboarder-turned-A-lister Lucas Lee (Chris Evans). Can Pilgrim defeat Lee and his stunt men? Find out when the film hits theaters August 13!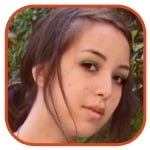 Posted by Robin Paulson Categories: Reviews, Independent
When Tony Lee set out to adapt Seth Grahame-Smith's imaginative retelling of Jane Austen's classic, Pride and Prejudice and Zombies, his goal was simple and nerdishly fantastic: "I got to 150 pages and noticed that we needed more zombie scenes."
Artist Cliff Richards seemed to have had no problem with adding to the graphic novel's zombie population, as he's worked with other classic monsters on his 5-year stint with Buffy the Vampire Slayer: Season 8.
The book, published by Del Rey, is in stores now. Check out more previews of the novel after the jump!
Click to continue reading Sneak Peek: Pride and Prejudice and Zombies
Read More

| USA Today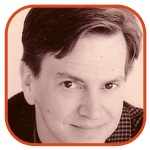 Posted by Tom Mason Categories: Editorials
When you think of Pennsylvania, do you think of (1) The Pittsburgh Steelers or the Pittsburgh Pirates? (2) Coal-Mining? (3) Vampires?
If you answered "Vampires," then you know the realities of suburban western Pennsylvania, a target-rich environment for vampire hunters like Dean Marklin. Dean didn't used to believe in vampires, but then he met a hot one, and a bunch of not-so-hot ones who keep trying to kill him. Life is hard enough in Vampire, PA without having to carry a wooden stake in your pocket all the time.
From The Twilight Saga to Dracula and every point in between, vampires are the new Vin Diesel and my pal J.C. Vaughn has come up with an excellent twist on the genre that's worth a look. He's written Zombie-Proof, the adventures of Jack Bauer in 24, some nice Shi comics with Billy Tucci, and a host of other stuff, and now he's reunited with his Antiques co-horts, Brian Fraim and Brendon Fraim for a 3-part full-color series.
Click to continue reading Sneak Peek: Vampire, PA From Moonstone Books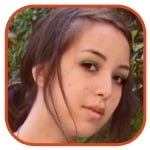 Posted by Robin Paulson Categories: Image Comics
Rolling into the second five-issue arc, "International Flavor," Chew's John Layman and Rob Guillory offer a sneak peek of what's to come with the cover of issue #9.
Vampires with a thing for Hawaiian chicks? Tony Chu's retelling of Lilo and Stitch? Sometimes it pains me more to see these covers, knowing that I'll have to wait an entire four months before I will actually discover what the story entails.
In the meantime, I highly suggest that you pick up the first trade book on your way to purchasing Chew #6 when it hits your local comic book shop this Wednesday—it makes for a great holiday gift (even more so if you need to catch up on the series)!
Great Googly Moogly! Writer Mike McGee and artist Tamas Jakab are prepping the third issue of their creation, El Gorgo! If you're already on board with the "world's greatest Luchador gorilla" read no further, but if you haven't checked out these whacked-out, Kirby-inspired, cosmic adventures yet, what the heck are you waiting for?
The creators put each issue up on the El Gorgo! website for free-reading, but they also create a print version for those of us who still like to hold printed matter in our hands. And the print version is nice too - quality paper and vibrant colors make El Gorgo leap from the page. And since he has enough power and courage to kick a dinosaur in the face, you'd better duck.
The color cover and the first 11 pages of the impending third issue - "The Hour of Dagon" - are up at the El Gorgo! site right now. They're in black and white, but they'll be in color when the issue's finished.
If you're feeling like the third issue might be too difficult a spot to join in, fear not. Mike and Tamas have posted the complete first and second issues of El Gorgo! for free-reading.
Click to continue reading Sneak Peek: El Gorgo! #3 Is Coming!
Read More

| El Gorgo Site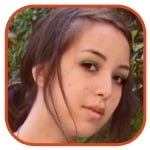 Posted by Robin Paulson Categories: Image Comics
In celebration of John Layman and Rob Guillory's kick-ass comic Chew completing its "Taster's Choice" arc with Chew #5 today, Image Comics posted the cover of Chew #8 on their Twitter.
Protagonist Tony Chu looks pretty darn angry. Then again, I probably would be too if I was looking for a missing
rooster
King of Cocks. While I'm quite confused about where this story is going to head, I know that from the last five issues of this series, I will not be one bit disappointed.
So go out and buy Chew #5 already (and good luck finding previous issues)!
(FYI - You can also follow Comix411 on Twitter.)
Read More

| Image Comics Twitter

© Gear Live Inc. – User-posted content, unless source is quoted, is licensed under a Creative Commons Public Domain License. Gear Live graphics, logos, designs, page headers, button icons, videos, articles, blogs, forums, scripts and other service names are the trademarks of Gear Live Inc.