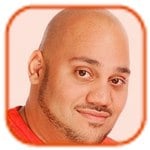 Posted by Andru Edwards Categories: Apple, Design, Music, Portable Audio / Video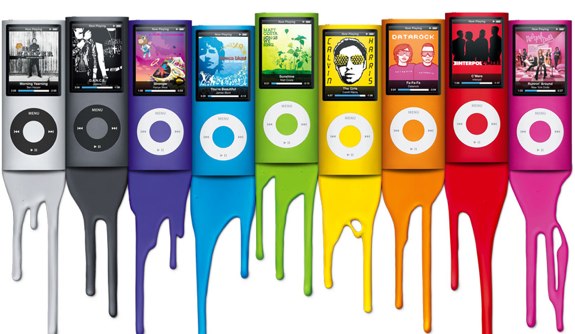 The worst-kept secret of today's Apple Let's Rock iPod event was the newly updated iPod nano. Apple officially let the cat out of the bag today, sharing all the details. The new iPod nano is taller, and also turns out to be the thinnest iPod ever made. It's available in a record nine colors, and you get two models to choose from - an 8GB version for $149, and a 16GB version for $199. The battery will hook you up with 24 hours of music or 4 hours of video. The nano now has an included accelerometer, which allows it to sense if you are holding it in portrait or landscape mode, so it can then change the screen orientation accordingly. That same accelerometer also gives rise to a new "Shake to Shuffle" feature. It's exactly what it sounds like. If you don't like what you are listening to, shake the nano, and you get a new random track. You can order the new iPod nano now at the online Apple Store, or pick one up at a physical location as they arrive over the next few days.
Read More

| iPod nano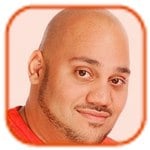 Posted by Andru Edwards Categories: Apple, Movies, Music, PC / Laptop, Software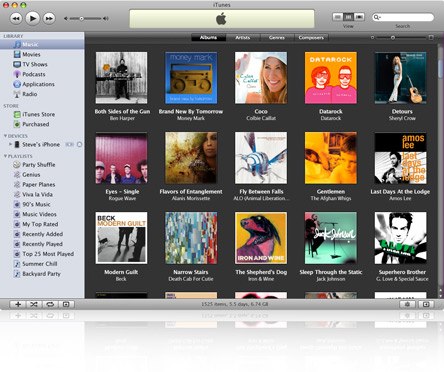 iTunes 8 was announced this morning as part of the whole Let's Rock Apple announcement festivities, and there were a few nice pieces of news. First, NBC is back on iTunes with shows like The Office, 30 Rock, and Ballestar Galactics. What's more, though, is that iTunes will now be selling TV shows in high definition. Aside from the feeling that I know my wallet is about to be drained, this is a very welcome addition. My only hope is that they allow those of us who have purchased shows in SD to "upgrade" to the HD versions at a discount. It's only fair, right?
In other news, Apple has added "Genius" to iTunes - that being a recommendation engine that looks at the track you are listening to, and recommends other tracks in the iTunes store that it believes you would like. In addition, Genius can also create truly customized playlists on the fly, again, just by sampling what you are listening to. It will pull other songs from your iTunes library that it believes would complement your selection, without any work to be done on your part. We must admit, it looks slick. Speaking of which, they've also included a new visualizer, which is just off the hook. You've gotta see it to believe it.
iTunes 8 is available now.
Read More

| iTunes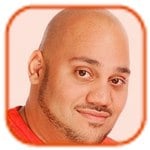 Posted by Andru Edwards Categories: Apple, Movies, Music, Portable Audio / Video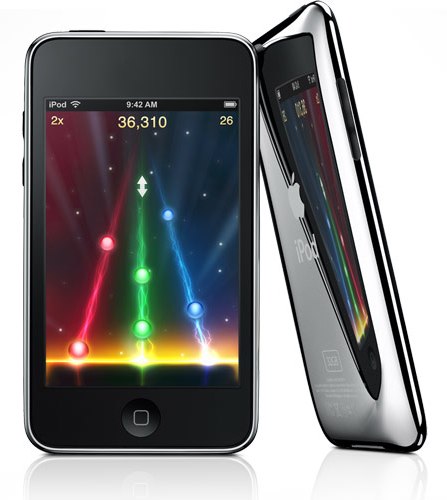 Apple is improving the iPod touch with a thinner stainless steel case, hardware volume controls, a built-in speaker, and a Nike+ receiver (you'll need to puchase a Nike+ kit to take advantage of that one.) Battery life is now at 36 hours for music, which translates to around six hours for video. The new Genius feature will be included, alongside the App Store. They've also redone the casing, which is now a thinner stainless steel, and we've even got actual hardware volume control buttons. The new iPod touch is available now - 8GB for $229, 16GB for $299, and 32GB for $399. You can pick on up from the Apple Store Online now.
Read More

| iPod touch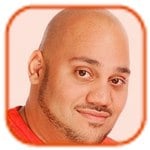 Posted by Andru Edwards Categories: HDTV, Home Entertainment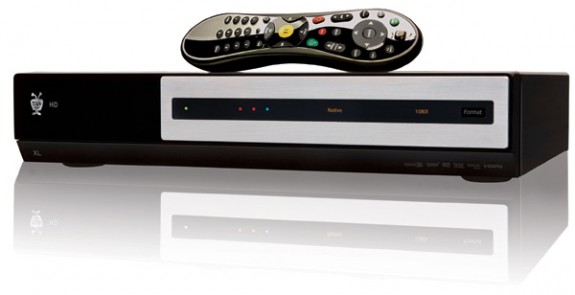 We knew it was just a matter of time before our friends at TiVo finally released something a little more, robust, to take the place of the discontinued TiVo Series3 DVR. While the TiVo HD is a nice unit, it just wasn't the premium product that the Series3 was. The TiVo HD XL is all about taking that premium spot, and it certainly looks like a worthy replacement. The unit ships with a 1 terabyte hard drive, which means it can record up to 150 hours of HD programming, HDMI cable, along with a premium Series3 backlit TiVo remote. The TiVo HD XL features dual tuners, which lets you record two programs at the same time, and is even THX certified (something that the TiVo HD can't brag about.) The one jarring piece here is the price, as the TiVo HD XL is selling for $599.99. If it's worth it to you, you can order one right now at the TiVo website, or you can wait a few days and check your local retailer. We have the full press release for you after the break.
Click to continue reading TiVo HD XL now shipping: 1 terabyte storage, THX certified, $599.99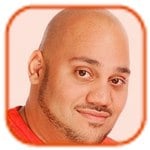 Posted by Andru Edwards Categories: Apple, Portable Audio / Video, Rumors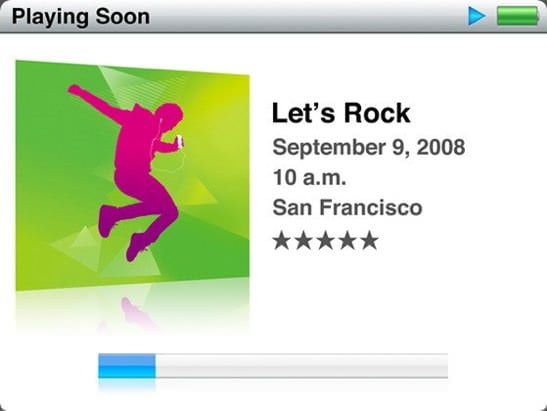 Well, what do you know? Looks like that Apple event that Kevin Rose speculated about a couple of weeks ago is finally official. This morning, Apple sent out notification of their next event, titled "Let's Rock", is set for September 9th. Now, looking at the graphic, we think it is pretty clear that this one is going to be focused on iPods. Apple is notorious for refreshing their portable media player line in September (heck, last September was when the iPod touch was announced) for the whole back-to-school and holiday vibe.
While we expect to see new models across the board, word on the street is that the iPod nano and iPod touch will be the ones to pay attention to this time around. That is, unless, you are like me and have tons of media that you want with you at all times. If that is you, then you are with me in hoping we see something akin to a 250GB iPod classic. Aside from that, though, some surprises would be nice. I know I've been asking for it for years now, and this probably isn't the appropriate place to announce it, but I sure as heck would just love it if Apple would also give us a new Cinema Display. Could happen, right? Yeah, I didn't think so either.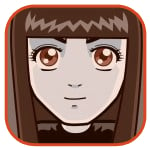 Posted by Sheila Franklin Categories: Corporate News, Internet, Movies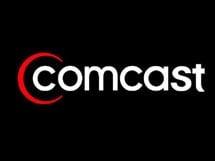 Comcast has decided to change its users agreement so that as of Oct. 1, users will only be allowed 250GB per month. This means you can still download about 4 standard def movies per day.
"We know from experience the vast majority of customers we ask to curb usage do so voluntarily," the company said. While they already reserve the right to eliminate those who use too much, now subscribers will be contacted by the company, as if we don't already get enough nasty phone calls and letters.
Read More

| USA Today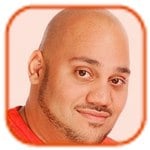 Posted by Andru Edwards Categories: Productivity
Kris Krug is here at Gnomedex to talk to us about taking better pictures. He goes into tips:
Light in the Eyes: You want to try and get light in the eyes.
Evaluate the Light: Sun? Shade? Incandesent? Halogen? Look around and find highlights, spotlights, and shadows, and then put your subject in good light. Look for reflection and light in the eyes, and if possible, use lamps.
To shoot in low light: Turn your ISO UP, Increase your aperture (make number lower), decrease your shutter speed, focus manually if autofocus fails you, tinker with manual settings/metering, brace on things (tripod, wall, gear bag)
Reflections are Yummy: Look for puddles, glass, metal, shiny floors that may have reflections in them, and then take an image of that reflection.
Focus on a theme: Black and white, portraits, funny faces, laptop stickers, over-exposed. This will give you a goal.
Learn Your Camera: Isolate the variables like depth of field, shutter speed, aperture, ISO, etc. ALso, Tinker, tweek, shoot a bunch of photos, share them, get feedback, and feel free to change up your style. Share your gear by finding someone you can test out lenses, flashes, etc. with. Last, but certainly not least, set the white balance.
Take a look at your background: No trees sprouting out of peoples heads, less busy puts more focus on the subject.
Fill the frame: Hold your hand out, and if your subject isn't bigger than your hand, you are too far away.
Get High! Swing Low: People look better from above, so stand on things, lay down, get the angle, and change your perspective. This is why people are always taking MySpace photos by holding their phone above themselves.
Tips for being a good subject: Laugh, smile, have fun. Make eye contact with the camera. Stand in the light.
Camera buying advice: Lenses are more important than the body. You should spend 2/3 of your camera budget on your lens. Don't fall for megapixels. Look for manual controls. Cameras from Canon, Nikon, and Fuji are great.

You can find Kris at Static Photography. This dude is an amazing photographer.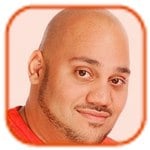 Posted by Andru Edwards Categories: Apple, Corporate News, Internet, Software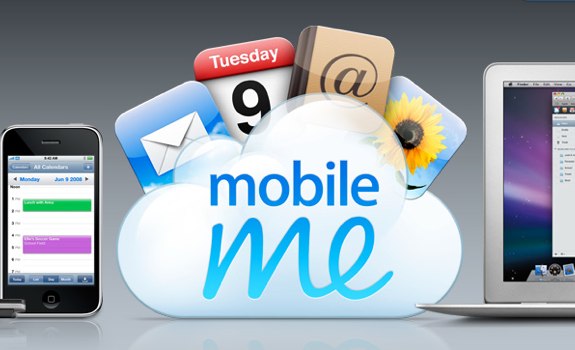 We know that Apple's MobileMe service has been off to a rocky start, but we are just glad that the company realizes it as well. Since the launch, people have had trouble with syncing, have lost email, and have discovered that this whole "push" thing wasn't really as "pushy" as Apple made it out to be when they gave us a look at the product back at MacWorld.
Originally, Apple gave all subscribers a 30-day extension to compensate for all the issues, as well as a written apology. Since then, things have gotten a little better, but are still in no way seamless. Because of this, Apple has just decided to grant another extension, and this one is twice as long as the original. If you were a MobileMe subscriber as of 12:00 AM PDT on August 19, you get an additional 60 days tacked on to the end of your subscription. Even better, if you were taking a free trial of the service as of that time, you get 60 days added on to your trial. Apparently, Apple doesn't want you to not sign up due to the kinks they are trying to work out. Good for them.
Hit the Read link below for the full details on the extension, and the eligibility requirements around it.
Read More

| MobileMe extension details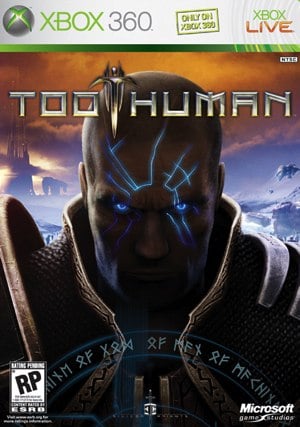 Earlier this morning, our copy of Too Human finally arrived. You know, the one we've been waiting over a decade for? Well, Silicon Knights baby will finally be available for all to purchase tomorrow. We figured we would give you a glimpse into our initial impressions of the game. I've been playing Too Human for about three hours now, and feel like I am about halfway through the story. I've destroyed creatures, upgraded weaponry, and chosen my path. Hop on down to get our full thoughts on Too Human, the next big title for the Xbox 360.
Click to continue reading Too Human quick review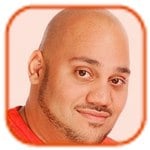 Posted by Andru Edwards Categories: Apple, Cell Phones, Handhelds, Software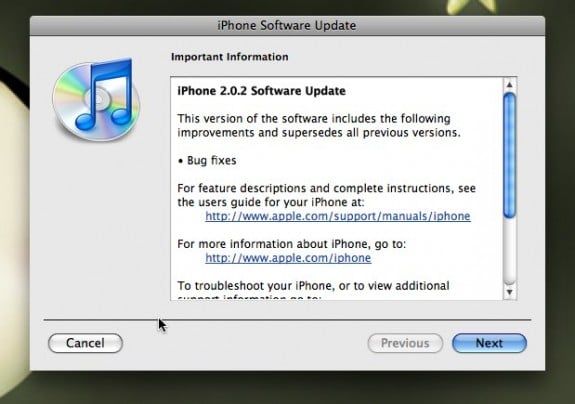 Just two weeks after Apple released iPhone 2.0.1 firmware, we just got word via iTunes that firmware 2.0.2 is now available, and it, too, is all about killing bugs. The update is a little over 248 MB in size, and will be waiting for you when you next go to sync your iPhone. We've already gone ahead and done the installation, and we feel so much more bug-free already. Let's just hope this ends our countless frozen Apple logo issues that have us doing a complete restore of the iPhone 3G almost daily.
© Gear Live Inc. – User-posted content, unless source is quoted, is licensed under a Creative Commons Public Domain License. Gear Live graphics, logos, designs, page headers, button icons, videos, articles, blogs, forums, scripts and other service names are the trademarks of Gear Live Inc.