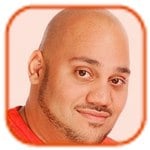 Posted by Andru Edwards Categories: Features, HDTV, Home Entertainment, PC / Laptop
Check out out HTPC on a Budget series and join us in building a great HTPC for under $1,000.
Over the next few weeks, we are gonna be working on a special project that we hope you guys will get a kick out of. You see, as gadget enthusiasts, we know that we all love when technology can make our lives easier, or when it is just downright cool. However, recent developments in the economy are going to lead to a tightening of the budget (if it hasn't already), and we thought we'd try and see if we can build something awesome at a reasonable price. The task? We want to build a great home theater PC (HTPC), made with great parts, for under $1000 USD. You can follow our progress at our HTPC on a Budget page. Or, if you're too lazy to hit that link, here's a list of topics:
So, what are the goals of our HTPC project? Well, besides the aforementioned $1,000 limit, we have a few other things we want out of it. First, we want it to remain fairly quiet. After all, this thing is going to be use to watch movies and television. We don't need any extra fan noise coming from it. Secondly, we want it to put out a high definition signal, with connections that use today's technology. Ideally, that means it will have an HDMI out port, so we can get both high definition and surround sound out of this thing.
Click to continue reading HTPC Series: Let's build a budget HTPC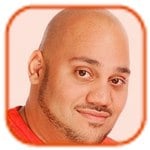 Posted by Andru Edwards Categories: Apple, Corporate News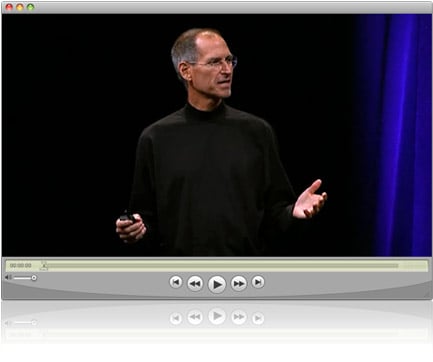 The saga of health of Steve Jobs and the rumors surrounding his condition are back, as the Apple CEO had just announced that he will be taking a six-month leave of absence from his post at the helm of Apple. COO Tim Cook will handle day-to-day operations at the company while Jobs is gone. All this, after Steve handed the MacWorld keynote slot to Phil Schiller, and even went on to post that his health was under control. In a note to Apple, Steve Jobs made it known that he had just learned that his health issues are a little more "complex" than first diagnosed.
You can find that letter below - we just hope that Steve gets back to good health quickly, and actually does return to his usual role as Apple CEO. However, something tells us that he may not be back. Of course, we hope we are wrong.
Team,

I am sure all of you saw my letter last week sharing something very personal with the Apple community. Unfortunately, the curiosity over my personal health continues to be a distraction not only for me and my family, but everyone else at Apple as well. In addition, during the past week I have learned that my
health-related issues are more complex than I originally thought.

In order to take myself out of the limelight and focus on my health, and to allow everyone at Apple to focus on delivering extraordinary products, I have decided to take a medical leave of absence until the end of June.

I have asked Tim Cook to be responsible for Apple's day to day operations, and I know he and the rest of the executive management team will do a great job. As CEO, I plan to remain involved in major strategic decisions while I am out. Our board of directors fully supports this plan.

I look forward to seeing all of you this summer.

Steve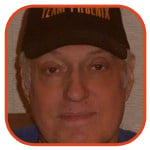 Posted by Joel Rosenberg Categories: Editorials, DC Comics, Marvel Comics
Welcome to what I hope will be a series of Tuesday previews to let you know what to look forward to on comic day.
Tomorrow, Amazing Spider-Man 583 comes out with a variant cover and a five-page Obama back-up story. The variant cover is a one of fifty so, as usual, I didn't get any. And, as usual, I have people coming out of the woodwork to buy it. Luckily Marvel is coming to my rescue by issuing a second printing variant next week and I will have plenty. Of course what this does to the resale value of the original variant is anyone's guess.

X-men Manifest Destiny should be here tomorrow to make up for the screw up of last week. Those miscover books were up immediately on E-Bay, but they tell me the real book will be free to me to make up for it, but as they are not on my invoice I won't know until they get here. Destiny?
Also appearing is Adam, Legend of the Blue Marvel 3 and the first two have been pretty good.
On the other hand, there is Death Defying Devil which is part of Project Super Powers. They could call it Hard to Read Devil because the entire series makes it difficult to follow this storyline, but we'll give it another try.
Final Crisis 6. What can I say? When Final Bar Mitzvah comes out I will comment.
And last but not least is Mad Magazine. I know everyone thinks I am old and senile (Thanks Dennis; ED: No problem, buddy. Hahaha.), but compared to the past Mad this is horrible and not funny. Pick up a few Mad trades if you don't believe me.
And to cap everything off we have Obama trading cards. Now I once asked a distributor why cards don't come out before the movie opens? It would be great to sell cards before an anticipated hit (Iron Man) or bomb (The Spirit) comes out, but I was informed that movie cards contain scenes from the movie so they don't want to give away spoilers. But folks only buy the cards for the inserts anyway. Bikini swatches and kiss cards from Benchwarmers and costume cards and autographs from Iron Man are big hits. They say there are inserts in these cards and I am wondering what they are.
That's all for this preview. Tune in next Tuesday for our hopefully second installment.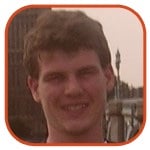 Posted by Todd Matthy Categories: Reviews, DC Comics
Ah, The Boys. The comic book DC didn't want, the comic book only Garth Ennis could write. The place that further crosses the line of decency of the South Park classic "Lemmywinks". And issue 26 is no exception.
The fourth part of "We Gotta Go Now" sees the CIA-backed Superhero Watchdogs send their newest member Wee Hughie to infiltrate the G-Men (think the X-Men crossed with Animal House) when a teammate is murdered. During his infiltration, Hughie makes a startling discovery, the G-Men (despite being superheroes) are actually nice guys and wants to make sure they don't turn into jerks like the other superteams in the world.
Compared to other issues of The Boys, issue 26 is tame. The only absurdity that happens is an incident with a dog and an annoying cat, and Hughie and his girlfriend Starlight (A Midwest Christian version Supergirl who is constantly having her dreams shattered) engaging in sexual relations in a park. Tame, compared to the books previous moments, but still entertaining with a fun dose of commentary on the state of superheroes. Not for the weak at heart and certainly not the children, but certainly the most absurd book on the racks every month. Oh….and one of the most fun.
Q: First off: Do you yourself have any super powers?
A: Not unless booking counts as a super power, no. I got the job through Craigslist.
—John Scalzi, "Denise Jones, Super Booker"
Want something free today? Something that'll make you laugh out loud? John Scalzi has that something for you. It's a short story of his called "Denise Jones, Super Booker" and the folks at Subterranean Press have posted it at their website. And best of all, it's yours for the reading, free of charge, no strings attached. To say anything about the plot would spoil the jokes, so I'll just say that Denise books personal appearances for superheroes and let it go at that.
Scalzi is the Heinlein-enhanced writer of many science fiction books like "Old Man's War" and "The Ghost Brigades," both set in the same universe. He also wrote "The Android's Dream," which is a laugh-out-loud funny novel in a Douglas Adams sort of way. If you like the short story, I highly recommend his other books, and if you're a member of the World Science Fiction Society you have the chance to nominate "Denise Jones, Super Booker" for a Hugo Award in the Best Short Story category. Regardless, read the story and tell a few friends. It's a couple of minutes very well spent.
And if someone out there at Marvel or DC is still poking around book publishing to find some big-name writers to tackle a comic book mini-series…hey, look over there, it's John Scalzi!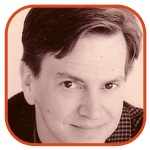 Posted by Tom Mason Categories: Interviews, IDW Publishing
Dean Mullaney is one of the true pioneers of comic book publishing and, I confess, an old friend. He launched Eclipse Comics, one of the first comic book companies that specialized in not only giving creators a refuge from the corporate underwear heroes at DC and Marvel, but also in giving them ownership of their creations. Eclipse folded back in the early '90s and Dean disappeared into non-comics pursuits (as everyone in comics knows, once you leave the industry for something else, you disappear).
Now Dean's back at the helm of the Library of American Comics, a series of classy comic strip reprint hardcovers he's designing and editing for IDW. In his first year back, he won the Eisner Award for "Best Archival Collection" for his collection of Milton Caniff's Terry And the Pirates. I caught up with him at the end of last year and asked him to spill about my favorite book of his, "Scorchy Smith And The Art of Noel Sickles." Naturally, I strayed off-topic, too.
Click to continue reading Q&A: Dean Mullaney on Noel Sickles, Milton Caniff and Eclipse Comics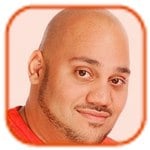 Posted by Andru Edwards Categories: Cell Phones, CES, CES 2009, Corporate News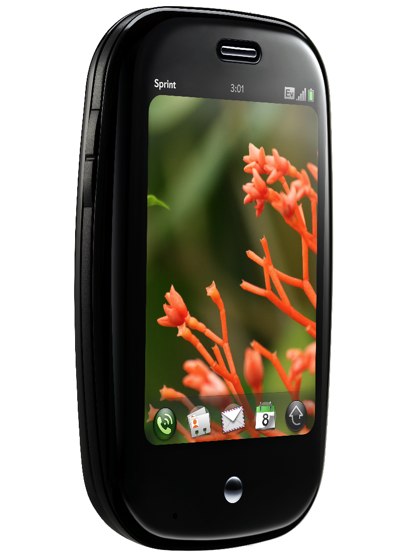 This morning at CES 2009, Palm announced the phone that they expect will take them into the next generation - the Palm pre. It's a small, rounded black handset with a trackball, and the specs read like a dream as far as we're concerned. We are talking about a 3.1-inch 320x480 touchscreen with multi-touch support and a gesture area, the newest OMAP processor from TI, 8 GB of storage space, EVDO Rev. A, 802.11b/g, GPS, Bluetooth 2.1, 3 megapixel camera with LED flash, and stereo A2DP. Are you thinking iPhone killer yet? Palm says that the Palm pre has "laptop like performance" since the processor is so fast.
The pre also featues a slide out portrait keyboard, which they say is all very ergonomic. The other thing we love about it? It's a phone with a USB 2.0 MicroUSB connector. Was that too much to ask for after all this time? The phone can also be recognized as a Mass Storage device. Apple, we hope you're listening.
Even better? Palm announced a feature called Touchstone. In normal terms, that means that the pre supports wireless charging. How cool does that sound?
If you want to get your hands on a Palm pre when they launch, you'll need to be a Sprint customer, as the phone launches there exclusively. As far as a date goes, the best we were able to get out of them is that it will launch at some point in the first half of 2009, "as soon as possible." Oh, and no price was announced either. I know, right?
To see more on the device, check out our Palm pre photo gallery.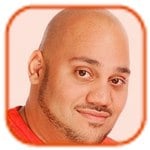 Posted by Andru Edwards Categories: CES, CES 2009, Corporate News, Microsoft, Software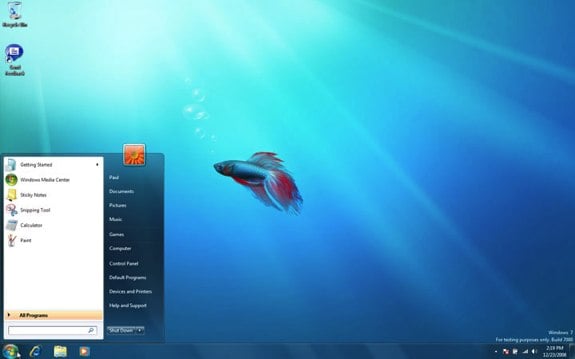 During the kickoff Microsoft keynote that marks the start CES, Steve Ballmer announced that Windows 7 beta is available starting today for TechNet and MSDN subscribers. Nothing too exciting there for the average Joe, we know, which is why we were excited when he also mentioned that the beta would also be publicly available beginning this Friday, January 9th. You'll be able to grab either the 32-bit version, or the 64-bit version of the Windows 7 beta software if you are one of the first 2.5 million people to hit the download button. You just need to head to the Windows 7 product page to do so. Just be aware that the beta software will expire on August 1, 2009.
As part of the release, Microsoft was also happy to note that Windows Live Essentials, "a free suite of communications and sharing applications that make it easy for people to communicate, share and keep their online lives in sync and in one place with one login," is now also available on a worldwide scale.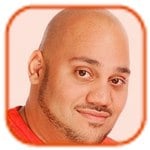 Posted by Andru Edwards Categories: Accessories, Broadband, CES, CES 2009, Handhelds, Portable Audio / Video, Science, Wireless / WiFi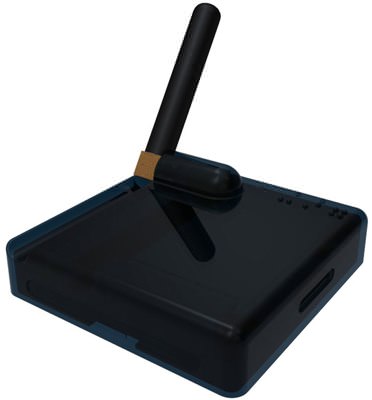 We are big fans of BUG Labs, so we are naturally excited about the news this morning coming out of CES that they are set to release a total of five new BUGmodules. If you are unfamiliar with what BUG Labs and the BUGbase is all about, check out our video from last year's CES after the break. Anyhow, here's a list of the new BUGmodules:
BUG3g: Gives you phone and/or data connectivity
BUGwifi: Give you 802.11b/g Wi-Fi as well as Bluetooth 2.0 + EDR capabilities
BUGbee: An 802.15.4 antenna to be used with ZigBee home automation setups
BUGsound: Give you a 20mm speaker jack, four 3.5mm jacks, and an omnidirectional microphone
BUGprojector: An integrated DLP Pico projector which outputs at 480x320 resolution
None of these have been priced, or have even been stamped with a specific release date, but you can expect them to ship before the end of the quarter.
Click to continue reading BUG Labs announces five new BUGmodules at CES
Read More

| PR Newswire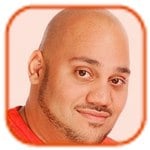 Posted by Andru Edwards Categories: Apple, Features, Music, Software
Earlier today during the MacWorld 2009 keynote, Apple announced that the iTunes Store was on the way to completely dropping DRM. As of today, 8,000,000 of the 10,000,000 tracks are now available as DRM-free iTunes Plus tracks, and that even includes music videos. We figured we'd give you a quick look at how you go about upgrading your library of purchased content.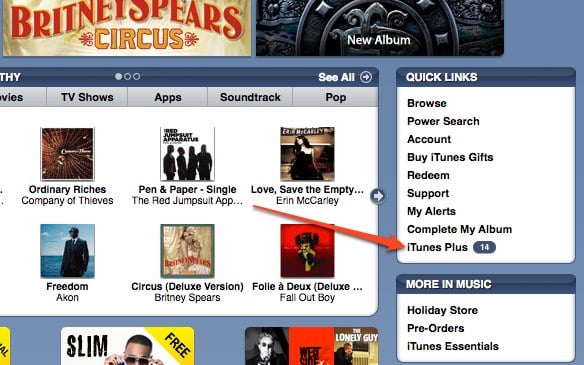 So the first thing you want to do is go to the iTunes Store, and look on the right-hand side. You'll see "iTunes Plus" as one of the links, with a number next to it. That number represents the number of pieces of content that you have available that can be upgraded. Click on that.
Click to continue reading How to upgrade your iTunes purchases to DRM-free iTunes Plus
© Gear Live Inc. – User-posted content, unless source is quoted, is licensed under a Creative Commons Public Domain License. Gear Live graphics, logos, designs, page headers, button icons, videos, articles, blogs, forums, scripts and other service names are the trademarks of Gear Live Inc.