Posted by Chris Pereira Categories: Action, CAPCOM, Screenshots, Survival Horror, Wii,
Good news for Wii owners: the upcoming on-rails shooter, Resident Evil: Umbrella Chronicles, will feature co-op play. While it isn't the most exciting concept for a game, Umbrella Chronicles sounds like it'll definitely be worth picking up if you're looking for something to play with a friend on Wii and don't care for mini-games.
This comes way of Famitsu, which has two pages dedicated to the game - scans can be seen on NeoGAF. While you might not be able to read Japanese, you can enjoy the screenshots, some of which feature my personal favorite, Albert Wesker. He always looked so good in those sunglasses.
Read More

| Famitsu via NeoGAF
Posted by Christopher Sasaki Categories: Nintendo, Screenshots, SEGA, Wii,
Game magazine Maxi Consolas has preview screens and an interview with designer Takeshi Iizuka about the upcoming sequel to the original NiGHTS Into Dreams on the Sega Saturn. The original game was a psychelic, "dream-like" game world that was introduced on the Saturn with the 3-D controller; it has been over ten years since the game's original release, and NiGHTS fans still haven't stopped clamoring for a sequel. NintendoGal has scans of the magazine, and a loose translation of the interview with Iizuka. From the interview, it sounds like NiGHTS and the Wii controller will be a good match, and hopefully Sonic Team can get back on track with this release.
Read More

| Nintendo Gal

Posted by Christopher Sasaki Categories: Action, Nintendo, Role Playing Games, Wii,
Famitsu is showing off a few new screenshots from Super Paper Mario for the Nintendo Wii, now in widescreen mode. Given that Wario Ware shipped with only a 4:3 display mode, hope for true widescreen gaming goodness abounds. The game definitely looks sharp in its transition to the Wii from the Gamecube, with the screens showing off the 3D mode and Mario and Bowser in battles. The game is scheduled to hit the United States on April 9th, with the Japanese release following on April 19th.
Read More

| Famitsu

Posted by Christopher Sasaki Categories: Adventure, Nintendo, Role Playing Games, Screenshots, Wii,
Nintendo of America recently updated their Zelda.com site with new information about The Legend of Zelda: Twilight Princess. Much of the information has been previously released elsewhere, but the company has also added a bunch of new screenshots of the game, showing off more of the action. The Wii version of the game is scheduled to launch with the console, while the Gamecube version will be released on December 12th in the United States.
Read More

| Zelda.com via GoNintendo
Posted by Michael Cardiff Categories: Corporate News, PSP, Puzzle, Release Dates, Screenshots,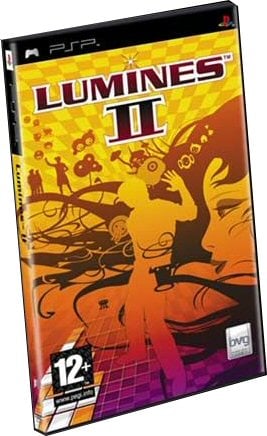 Thanks to a tipster that clued us in before the site goes live, we had a chance to peek around the soon-to-be-released Lumines II website. There isn't a ton of new information to be found there yet, but we did find some nice-looking screenshots (some of which have been featured on IGN before. However, we did find a really nice high-res pic of the boxart and were pleased to see that Lumines II looks at least as good as the original.
When the site launches in a few days, you'll be able to download Lumines-themed wallpapers for your PC, Mac, and even your PSP desktop. Hopefully this'll help tide y'all over until the November 8th launch date!
See all the screenshots after the jump!
Click to continue reading Advance Lumines II (PSP) Box Art, Screenshots
Posted by Brian Viele Categories: Home Entertainment, Video Games,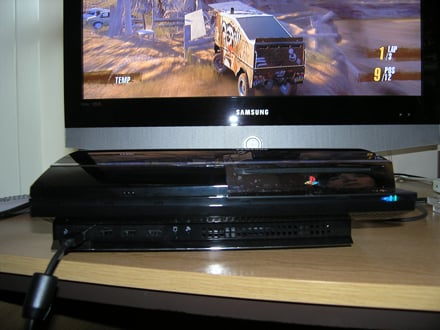 Playstation Magazine (PSM) got to play with what could be a final release version of a Playstation 3. Yes, it does work! In fact, it works "brilliantly" according to the users at PSM. There are some really nice pics on the site to check out showing the brilliant detail on their HD screen.
Key Comments:
It's quiet like a sleeping baby. A barely audible hum. With the TV on you simply can't hear it at all.
It's heavy like a planet. No, really. It's impossible to pick up with one hand.
It's shiny like a mirror. In fact, it's impossible to take a photograph of it without the flash spanging every picture into a starburst mess. And therefore it's massively prone to fingerprintage too, with the tiny amount of dust in the office magically attaching itself to its surface in seconds.
The PS3 joypad is very light and the tilt system is very responsive.
The start up is amazingly fast. And game load times were faster than expected. In fact, PS3 does both at about the same speed of PSP. ie, Long load times due to the massive Blu-ray disc? Nope. Simply not an issue.
Read More

| Playstation Magazine

Posted by Michael Cardiff Categories: Casual, Nintendo, Party Games, Simulation, Wii,
With the success of the DS's brain-training games, it should come as no surprise that Nintendo is planning to try to bring the same magic to the Wii as well. Big Brain Academy, similar in play-style to the DS title of the same name, will be coming to the Wii as a multiplayer game that allows two brains to either compete OR work cooperatively. The game will also support "Mii" characters, allowing you to import your likeness into the game.
The first screenshot of the title can be seen above. So far, the release date is TBA, though we expect it to show up soon after the console hits the streets.
Posted by Christopher Sasaki Categories: Action, Fighting, PlayStation 3, Screenshots, Simulation, Sports,
Ahead of the upcoming Tokyo Game Show, Sony has released a ton of high resolution screen shots from some of the games they will be showing at the Tokyo Game Show, and Game Watch has them all online. Many of the screens look like 720P screen grabs. Among the new screen shots shown are a couple of shots of a game tentatively titled Afrika. Lair, the dragon-based action adventure was also updated, and apparently the game is now supporting the Playstation 3 tilt controller. Gamers can also check out screen shots of the upcoming Unknown Realms title from Game Republic and Formula One Championship. Finally, Sony also released a bunch of screens for both Heavenly Sword and MotorStorm. MotorStorm and Formula One both look remarkable well-detailed at this point, and the action shots of Heavenly Sword also show promise. Of course, one can not determine framerate from a still, but the games do look like they are in better shape than Sony's hardware production.
Read More

| Afrika
Read More

| Lair
Read More

| Unknown Realms
Read More

| Formula One Championship
Read More

| Heavenly Sword
Read More

| MotorStorm via Game Watch Japan
© Gear Live Inc. – User-posted content, unless source is quoted, is licensed under a Creative Commons Public Domain License. Gear Live graphics, logos, designs, page headers, button icons, videos, articles, blogs, forums, scripts and other service names are the trademarks of Gear Live Inc.