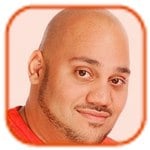 Posted by Andru Edwards Categories: Announcements, Features, Home Entertainment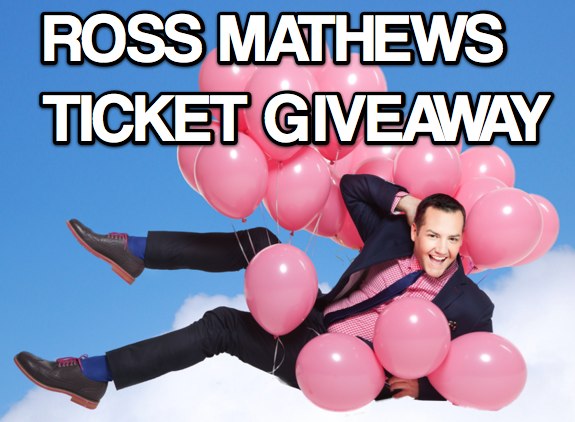 Ross Mathews, better known as Ross the Intern from The Tonight Show fame, is currently on tour promoting his new book, and he is doing comedy shows to bring the pop culture stories to life. Continuing with our concert ticket giveaways, we are hooking you up with two tickets to see Ross live in San Francisco at The Regency Ballroom on May 16th, courtesy of our friends at Monster and AEG Live!
How do you enter? Simply use the widget below! We've got a lot of ways for you to enter, but don't check off any that you don't actually perform. If you do, you'll be eliminated. Also, note that one of the options grants you ten entries. Might wanna give that one a look:
Good luck! Check out the video after the break where Ross details what to expect in his show. Sounds fun!
Click to continue reading Giveaway: Tickets to see Ross the Intern at Regency Ballroom on May 16!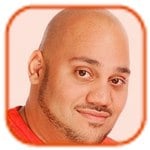 Posted by Andru Edwards Categories: Announcements, Features, Music
Machine Gun Kelly, the 23-year-old hip-hop sensation known for his unmistakable rapid-fire flow, is coming to the Regency Ballroom in San Francisco tomorrow night as part of the Lace Up Tour, and we are giving away two pairs of tickets to the show. Dude was named the Hottest Breakthrough MC of 2011, so you know he's got skills.
Now, our friends at Monster and AEG Live wanna put you and a friend inside the Regency Ballroom to experience MGK's lyrical prowess. How do you enter? Simply use the widget below! We've got a lot of ways for you to enter, but don't check off any that you don't actually perform. If you do, you'll be eliminated. Also, note that one of the options grants you ten entries. Might wanna give that one a look:
Good luck!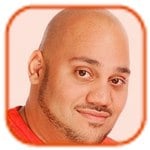 Posted by Andru Edwards Categories: Apple, Cell Phones, Corporate News, Handhelds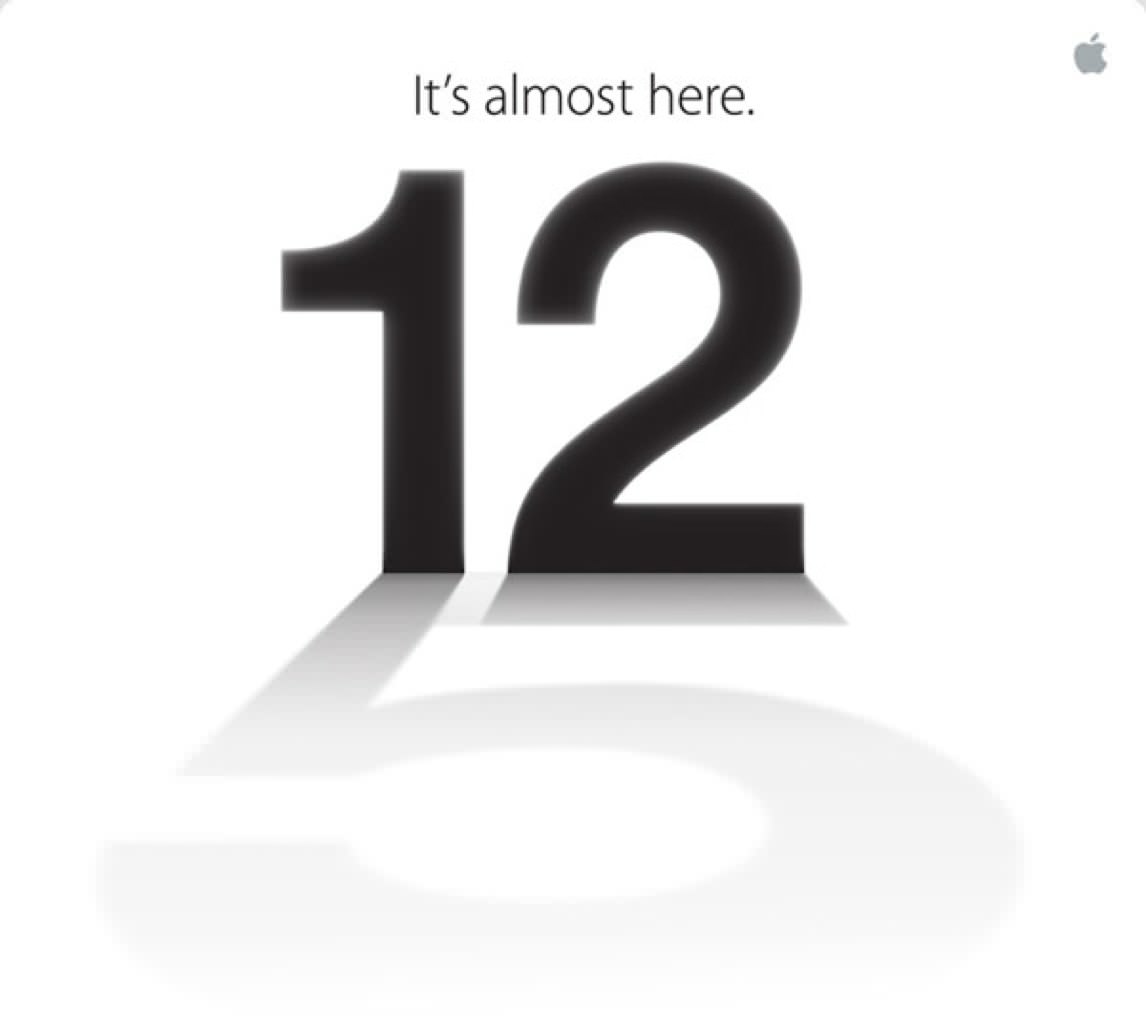 It's been rumored and expected that Apple would announce the iPhone 5 on September 12, and this morning it's been confirmed. In fact, based on the official invitation from Apple, not only has the date been confirmed, but the name of the next iPhone seems to be locked in as well. As you can see above, the 12 is putting off a shadow in the shape of a 5. Of course, the iPhone 4 was actually the fourth iPhone that Apple released, but if the next device truly is called iPhone 5, it will be the sixth iPhone released by the company. Odd, but for the average consumer, we think it makes the most sense (new iPad, notwithstanding.)
The iPhone 5 is expected to sport a new 1136x640 16:9 widescreen display, a thinner profile, and ship with newly redesign Apple headphones. Check out all the iPhone 5 news and rumors we compiled thus far.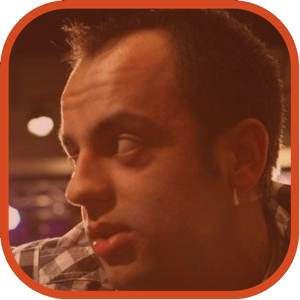 Posted by Andrey Malskiy Categories: Corporate News, Design, Internet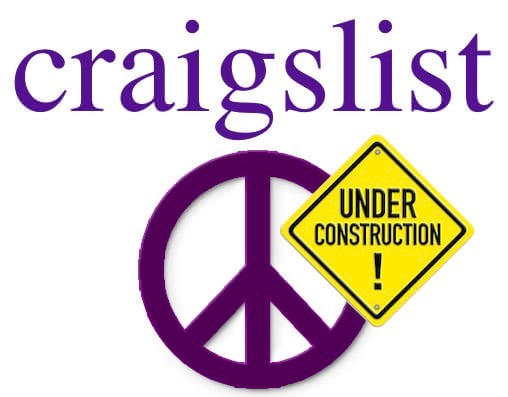 Craigslist is finally seeking to redesign its user interface after years of obligatory misuse of whitespace and text-heavy pages. Earlier this week, Cragslist posted that a job listing for Senior UI / Usability / Front End Engineer to revamp the rather stone-age (looks-wise) website. Craigslist hopse to revive its look, bringing it into the modern day and age. The revamp should also usher in an in-house app (or at the least a mobile friendly web app.)
Though we'd appreciate a mobile-friendly UI, what we would really want to see is an expanded search function, alongside improved navigation. We're not sure if you remember the last time Craigslist made a change in the UI, but even that was a subtle improvement over its predecessor. Even though Craigslist has been going strong with about 30 billion page views a month; it still faces competition from more targeted services like Zaarly and Airbnb, which offer connect users to local selling markets and places to crash.
Regardless of what changes Craigslist decides to make, we hope it'll stay true to its quick-loading pages and ease of use. If you find yourself pulling your hair out due to its lack of creativity and conveniently live in the Bay Area, you can apply for the job here.
Read More

| TechCrunch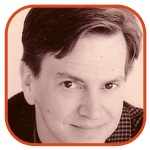 Posted by Tom Mason Categories: Editorials, Viz Media
Interning is a great way to pick up some business skills while you're in school and get some college credit. Interning at a publishing company is a great way to figure out if you have any interest in getting involved in the business that helps you clutter up your bookshelves with books and your iPads with downloads.
Acclaimed manga publisher and anime company Viz Media, in San Francisco, is taking applications for their 2011 Spring Intern program and there's no time like the present to get those applications in.

Viz has part-time internships available in a variety of departments including: Animation Production; Consumer Marketing; Consumer Products & Approvals; Design Intern; Editorial; Information Technology; Magazines; Publishing Licensing; Sales & Retail Development; and Web Production.
But those positions won't last for long, so brush up the resume with all your Starbucks and McDonald's experience and get it over there.

Good luck, internship seekers!

[Artwork: Naruto, from Viz Media]
Read More

| Viz Media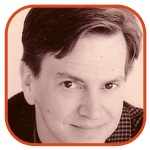 Posted by Tom Mason Categories: DVD, Editorials, Viz Media
Do you like Mrs. Doubtfire for its location? Does the idea of all day fog make you tingle? Or do you just want to drive around San Francisco like Steve McQueen in Bullitt?

And most important of all, do you like manga and anime? Because Viz Media is looking to fill two positions.

First up is an Associate Producer for the DVD division of their Animation Production team. You need the equivalent of 3-5 years experience "in delivering high quality video coordination duties related to Japanese-produced animation videos, TV programs, film, comics, or other related products." And they'd really like it if you had experience in "coordinating and/or managing DVD, TV, post production, or Media production in an entertainment, advertising, or design department."
Click to continue reading Comic Book Jobs: Viz Media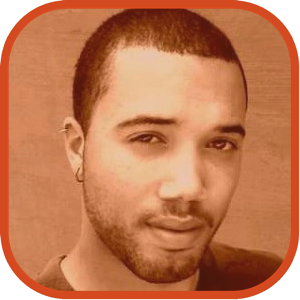 Posted by John Kilhefner Categories: Transportation
We've all been there - circling around the block for what seems like eons searching for that oh so elusive parking space. Remarks such as, "I should have left earlier!!" run through your head until the frustration vaporizes atomically into a massive mushroom cloud in your brain. Being in an anger fog of this magnitude produces hazards to you and others while on the road. Dangers such as veering off into a pedestrian crowded crosswalk, or changing lanes haphazardly into traffic. However, to remedy this temperamental meltdown of nuclear proportions, SFMTA is introducing the SF park project. The SF park project will implement new smart parking meters throughout San Francisco to fight crowded parking, make paying easier, and avoid unwanted tickets.
These parking meters differ from the outdated models found in cluttered cities everywhere for a number of reasons. For one, they allow drivers to pay by credit card and SFMTA cards, as well as with good ol' change. This alone will help cut down on the time spent travelling to your destination.
However, the most impressive feature about Frisco's new smart parking meter system is a new parking sensors ability to identify how many parking spaces are available in a particular area. By doing this, drivers will be able to use their smartphones and computers to find out beforehand if a space will be available for them. With any luck, this will cut down on the traffic from those driving around battling against formidable foes for an empty parking space (estimated to be a third of city traffic).
What's more, these new smart meters will be able to adjust themselves to the amount of parking spaces that a specific area generates. This means that if one area seems to be full all of the time the price of parking will go up accordingly. In contrast, places with plentiful spaces will effectively see their rates go down. What this does is help to adjust the flow of parking, and keep people on their toes looking for a combination of free parking and good rates. This adjustment in pricing is done every month, and will not exceed 50 cent intervals at a time.
Whether or not this will be an effective strategy for reducing San Francisco traffic, and thus the tempers of city drivers, is unknown at this point. Though, it definitely seems good on paper. Regardless, this new smart meter system is a step in the right direction, and we're sure to see more of them poking their heads into major cities around the United States over the next few years.
Read More

| SF Parks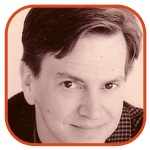 Posted by Tom Mason Categories: Editorials, Viz Media
San Francisco is a really nice city. It's easy to get around in, has a vibrant arts culture, and excellent food. Also, home to Dashiell Hammett, one of the great American writers and Wondercon one of the best of the regional conventions.
You know who else is there? Viz Media, the publishers of Naruto and Shonen Jump.
And now the manga publisher by the bay is looking for a Royalty Financial Analyst. That does not mean you'll be counting and investing the Queen's money, but does mean you'll be on the Viz Finance Team.
You're going to need some "solid math skills" (well, duh), an ability to "think in an analytical fashion" and you're going to need those Japanese bilingual skills to even get in the door.
You'll be using these mad skillz to compile, prepare and review royalty reports, review licensing agreements "to ensure compliance," process data, report to licensors and licensees, and all that fun accounting stuff. Sadly, an interest in comic books, publishing, manga, anime, etc. is not listed as a requirement, but on the plus side it's not being put out there as a detriment either.
Click to continue reading Comic Book Jobs: Who's Hiring? Viz!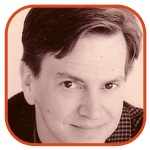 Posted by Tom Mason Categories: Editorials
Let's visit the photo archives again, shall we?
Years ago, I had the occasion to journey to a comic book store in the Bay Area - somewhere around one of the cities near San Francisco. I had been attending a convention near the San Francisco Airport. After the show was over, I had some time to kill and some friends drove me out to a comic book store where Jean Giraud (aka Moebius!) was putting in an appearance. How could I resist that?
I don't remember why Moebius was in town. He wasn't at the convention, which was a Star*Reach event for retailers and publishers only. I just know that he was there - the creator of Lt. Blueberry, The Airtight Garage and dozens of other great things. And, fortunately, I had my camera with me, my then-trusty 35mm decidedly non-digital Pentax. I stood in line, I shook his hand, and he signed a giant poster for me (as he did for everyone else in line.) Here are a couple of shots from that day. My memory is that this is Comics & Comix in Palo Alto, but if anyone can confirm or correct that, the world would be a better place for all of us.
And yes, I realize the photos are better than the story, but look over there: It's Moebius!
[Artwork: Photo of Jean Giraud/Moebius. Photo © Tom K. Mason]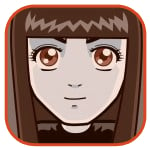 Posted by Sheila Franklin Categories: Misc. Tech, Transportation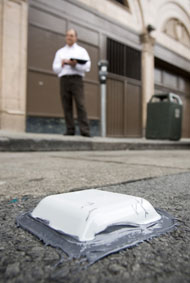 Streetline has gotten together with San Francisco, which is apparently willing to spend $95 million so that 25% of the city can find a place to park. Drivers will be notified via smartphone and signs and will be able to pay via their phones as well eventually. The city is hoping to cut down on traffic congestion.
Streetline claims that their service gives the status of curbside, lot and garage spaces 24 hours a day, every day. The system consists of a wireless sensor inside a 4 x 4-inch piece of plastic fastened to the pavement next to the space.
Read More

| Chip Chick

© Gear Live Inc. – User-posted content, unless source is quoted, is licensed under a Creative Commons Public Domain License. Gear Live graphics, logos, designs, page headers, button icons, videos, articles, blogs, forums, scripts and other service names are the trademarks of Gear Live Inc.