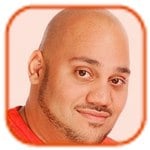 Posted by Andru Edwards Categories: Corporate News, Transportation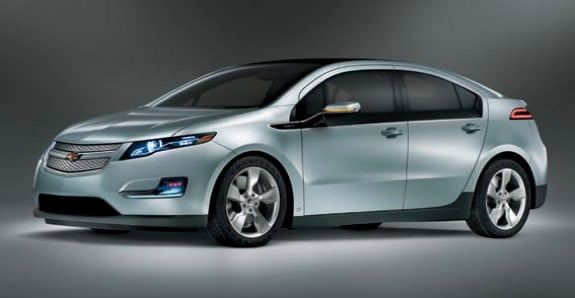 Executives at General Motors defended the 2012 Chevrolet Volt as safe, even as the National Highway Traffic Safety Association began a formal safety investigation into the vehicle's safety.
As the NHTSA conducts its investigation, Chevrolet will provide any current owner with a loaner vehicle until the agency concludes its investigation, the automaker said. Those who want a loaner can contact their Volt advisor to arrange for a trade-in.
"A vehicle loan program of this nature is well beyond the norm for a preliminary investigation, and it underlines our commitment to the vehicle and its owners," Mark Reuss, president of GM North America, said in a statement. "These steps are the right ones to take regardless of any immediate impact on our operations."
The Chevrolet Volt has been perhaps the most highly publicized effort by an American carmaker to develop a hybrid vehicle. The Volt's appeal, in hands-on tests, is that the car can go a rated 35 miles on electricity alone before shifting to a gas-powered electric generator that can add hundreds of miles to its range. The Volt uses lithium-ion batteries to store a charge. It qualifies as a low-emissions vehicle that will be able to drive in California's HOV lanes, even with just the driver in the car.
Click to continue reading GM providing loaner vehicles to Chevy Volt owners while fire risk is evaluated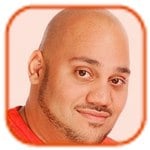 Posted by Andru Edwards Categories: Cell Phones, Transportation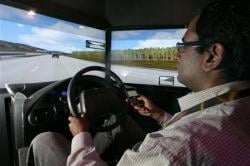 In case you need and more proof that you shouldn't be texting while driving (or really, doing anything at all with your smartphone,) it's just been found that the practice is more dangerous than originally thought:
Drivers were asked to stop when they saw a flashing yellow light, and their reaction times were recorded, Yager said.

The typical time it took a driver who was not texting to respond to the flashing light was one to two seconds. But when the driver was texting, the reaction time extended to three to four seconds, and the texting motorist was 11 times more likely to miss the flashing light altogether.
Yager said the reaction time was the same whether the driver was typing a message or reading one.
One in five motorists admit to texting, emailing, and checking social networks while driving.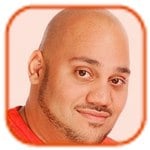 Posted by Andru Edwards Categories: Transportation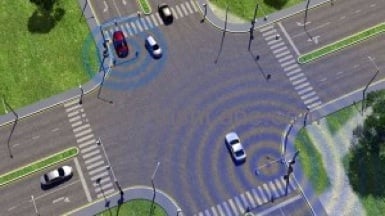 Ford brought a small fleet of intelligent vehicles to San Francisco to showcase a technology that the company expects will be mainstream in about five years, from most automakers.
Two Ford Focus cars and a Ford Expedition were equipped with a technology called Dedicated Short-Range Communications (DSRC), which basically serves as a car-to-car wireless connection that currently serves as a crash avoidance system in Ford's implementation, and as a wireless toll collection mechanism overseas. Eventually, it could even be used for entertainment purposes.
Although Ford demonstrated the technology in a parking lot outside of AT&T Park, the company isn't alone in developing the technology. Ford, General Motors, Nissan, Honda, Toyota, Volkswagen, Audi, Mercedes, Hyundai, and Kia are all working together, plus truck, bus, and motorcycle companies, said Mike Shulman, the technical leader in Ford's Active Safety Research and Innovation department.
"Next year, we're doing a model deployment in a city where there will be thousands of equipped vehicles and trucks and buses all sending out these messages, and then the goal in 2013 is to start a regulation that will require this on all vehicles. Then, maybe consumer electronics companies would start designing products that could be retrofitted onto existing cars, because everyone sees the potential," Shulman said.
"Maybe five years from now, cars will be equipped with this," Shulman added.
Click to continue reading Ford to produce smart cars that warn each other of an impending collision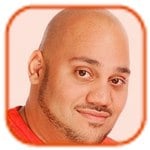 Posted by Andru Edwards Categories: Corporate News, Nintendo, Nintendo 3DS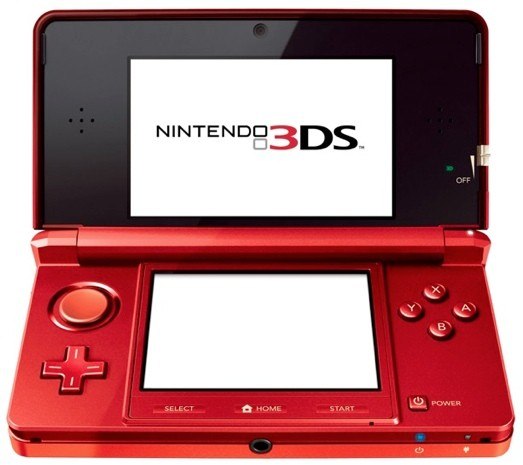 Those thinking about buying the upcoming Nintendo 3DS for your pre-schooler might want to wait a few years. In advance of its Nintendo World 2011 demo, Nintendo posted a warning that suggests children under the age of six should not use its 3D functions.
"Vision of children under the age of six has been said [to be in the] developmental stage," according to a note posted to Nintendo's Japanese site. 3D content, including the 3DS, "delivers 3D images with different left and right eye images, [which] has a potential impact on the growth of children's eyes."
Nintendo recommended the use of parental controls to only allow younger gamers to play in 2D. There is "enough for everyone to enjoy," Nintendo said.
Nintendo recommended that players of all ages take breaks from 3D content every 30 minutes - or if you feel sick.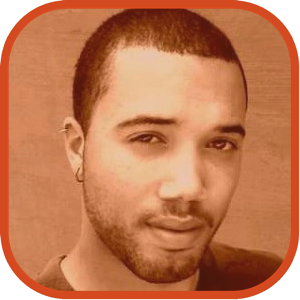 Posted by John Kilhefner Categories: Corporate News, Hardware, PlayStation 3, Sony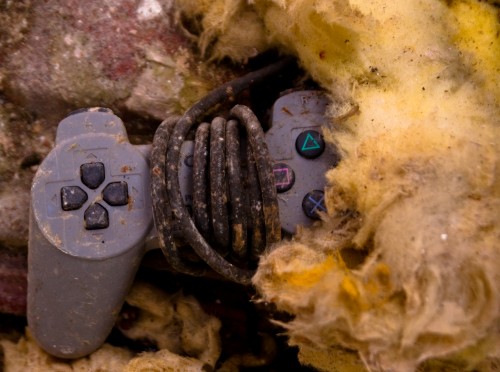 Sony is warning consumers of knock-off controllers that look identical to the first party controllers, as they may be prone to exploding or igniting.
"SCEA advises consumers to be cautious when buying PlayStation 3 wireless controllers from uncertain sources as the quality, reliability and safety of counterfeit products is uncertain, and in some cases, may be dangerous. It is possible that some counterfeit product may ignite or explode, resulting in injury or damage to the user, your PlayStation 3 computer entertainment system, or other property," warned Sony.
Whoever is manufacturing these counterfeits has brought new meaning to controller vibration. Al Qaeda, is that you?
Read More

| IGN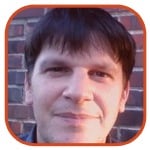 Posted by Mark Rollins Categories: Cameras, Displays, Transportation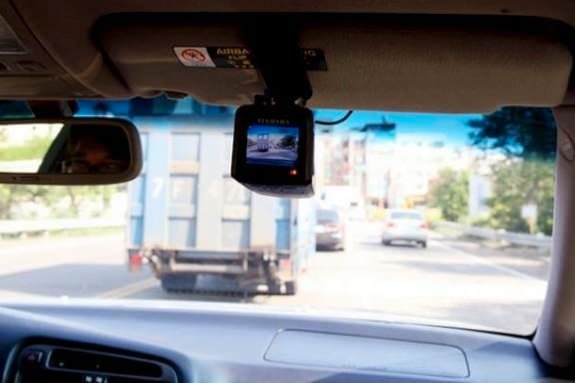 You may have been involved in a car accident at some point, and it may have been beneficial for you to have a recording of the incident. Fortunately, the Car Cam Voyager can make your next accident an open and shut case for your insurance claim.
The Car Cam Voyager is video camera that attaches easily to the visor to film as you drive. It is powered by your vehicle's lighter, and includes a 720 x 480 resolution screen. With a 32 GB SD card, you can record up to 48 hours of footage, stored in 15-minute increments.. If you run out of memory, it will simply start recording over the oldest recording. You can even plug it into your television with RCA output cables.
The Car Cam Voyager can be purchased from Brick House Security site for $300.00.
Read More

| Brick House Security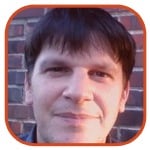 Posted by Mark Rollins Categories: Wearables, GPS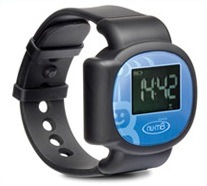 The Num8 from Lok8u (pronounced "locate-you") is designed for parents who want to know where their children roam. This GPS locator device is concealed inside an ordinary child's wristwatch, and a parent can follow their kid virtually via mobile phone or computer. Users also have the option of setting up a "virtual fence." If a child with the Num8 steps outside this "safe zone," the parents will be notified electronically. The Num8 will also notify the parents if the device is removed for any reason.
Of course, this security has a price. The device is about 149 Euros ($245,) and the location services range from about 4.99-19.99 Euros ($8-33,) depending on what type of service you want.
Read More

| Num8 Press Release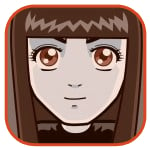 Posted by Sheila Franklin Categories: Microsoft, Science, Software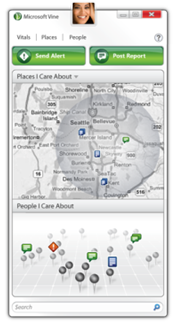 Microsoft Vine was conceived during Hurricane Katrina as a means of helping people cope both before and after the disaster. Now the beta software can be used as a social tool. Enter your address on the Dashboard and you get the location on a map as well as news and safety information. Invite others to join you and arrange them in groups. Receive any alerts from email, SMS or the Vine client. Ask for an invitation to help test drive the beta version with the promo code 09AAA to speed up the process.
Read More

| Microsoft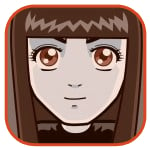 Posted by Sheila Franklin Categories: Utilities, Free Apps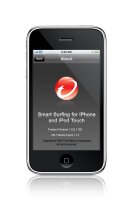 With Conficker and other evils running amok of late, Trend Micro has developed what it calls the first safe app for browsing on the iPhone and touch. Smart Surfing uses advanced "in the cloud" Web Reputation technology to block access of viruses, worms and other malware. When you use the application and come across an unfavorable URL, Smart Surfing will notify you visually. The application is free and available at the iTunes App Store.
Read More

| Trend Micro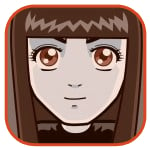 Posted by Sheila Franklin Categories: Misc. Tech, Transportation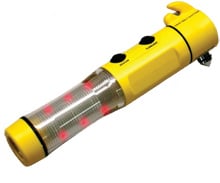 This 4-in-1 Emergency Tool features 9 flashing LEDs to warn others of your peril, a glass break hammer, a white bulb flashlight on its top and a seatbelt cutter. Think of it as extreme mini-jaws of life. The device is waterproof and comes with 2 AA batteries. It attaches to any metal surface with the magnet on its bottom. The tool has a special holiday price of $18.95 with free shipping, less if you order in quantity.
Read More

| Safety Bright

© Gear Live Inc. – User-posted content, unless source is quoted, is licensed under a Creative Commons Public Domain License. Gear Live graphics, logos, designs, page headers, button icons, videos, articles, blogs, forums, scripts and other service names are the trademarks of Gear Live Inc.