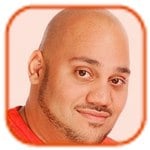 Posted by Andru Edwards Categories: Displays, HDTV, Hot Deals, PC / Laptop, Portable Audio / Video, Video Games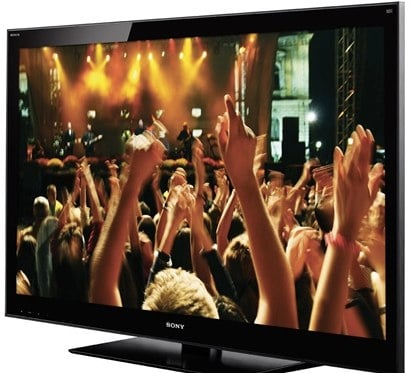 We've got your latest list of items that fall under the best tech Deals of the Day for you, separated out into laptops, desktops, monitors, gaming, and home entertainment. The laptop deals are right here, but be sure to click through to get a look at all the rest of what we determined to be today's top 10 deals in tech, including that 46-inch Sony BRAVIA 3D HDTV up there!
Laptops
Don't forget, if you're looking for other deals, be sure to check out our Newegg Promo Code thread. Oh, and if you're on Twitter, be sure to follow @TechPromos for the latest deals, or you can Like TechPromos on Facebook.
Click to continue reading Top 10 Tech Deals of the Day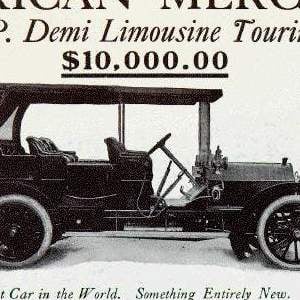 Posted by Drea Avellan Categories: Games, iPad Apps, New Apps, Reviews, Electronic Arts, $4.99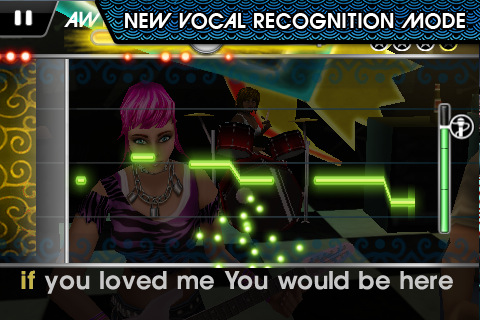 Traveling the world has always been a lifetime goal of mine. However, with so many remote places to visit, bringing a console along to play videogames is out of the question. Thankfully, Electronic Arts (EA) has releases their second installment of Rock Band for both iPhone and iPad platforms called Rock Band Reloaded. Singing along to some of my favorite songs while climbing the top of a mountain anywhere in the world is now a very possible scenario!
Click to continue reading Rock Band Reloaded Review
Read More

| Rock Band Reloaded


Posted by Alex Lifschitz Categories: Accessories, Features, Music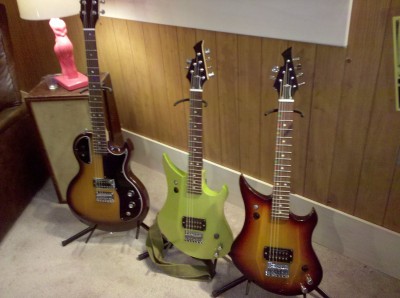 Looks like a couple of guitars, right? Look closer.
Closer still. We weren't at NAMM or anything. See those little colored marks on the fretboard? Yup, those are real, honest-to-god game controllers. These Power Gig guitars were being shown off at the GDC by the fine folks at Seven45 studios. And by "shown off," we mean they had their employees using them in an enclosure on a TV screen that nobody could see. Great marketing, that.
Apparently, these are real, functioning electric guitars. Between sets of an unseen music and rhythm game being developed by Seven45, the employees would plug the controller into an amp stack and shred for a while. And it sounded good! Oh lord, did it sound good.
Now, we didn't have a chance to actually use one of these guitars or see the game they were playing (which apparently has Cult of Personality by Living Color as one of the songs), nor did anybody else - this was eyes only for the guitars, and ears-only for the game. We were told that these will, in fact, function as controllers for Rock Band and Guitar Hero, and you'll play them in much the same fashion (though you can choose whether to pick a string or strum them all). Their proprietary game, though, has a mode that will involve hitting specific strings and notes, like tablature. (One source who saw the game in action voiced some negative opinions, but Seven45 isn't showing anything else off until E3.)
A similar microphone and drum setup has been announced, but we have yet to see how they will differ from the current stable of music controllers.
Read More

| Power Gig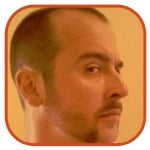 Posted by Finnian Durkan Categories: Music, Video Games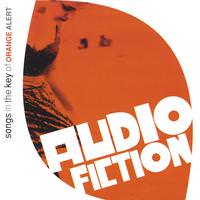 Alt-rockers Audio Fiction have become one of the first bands to use the Harmonix games and MTV's newly-launched Rock Band Network Music Store for the Xbox 360 to author their own Rock Band song. The band used Harmonix tools to author their track 'Race the Hourglass' as their first addition to the Rock Band Network catalogue. Audio Fiction's bassist, Darren Korb, then put it into a game-compatible file format, had it peer tested and approved in the debut launch of Rock Band Network that opened Thursday. What does this mean for you and me? Brace yourselves, Rock Band players, for an onslaught of titles from my newly-minted Finnish black-metal/industrial punk/ska/battle-rap band, 'Obsequious Death Turtle, Version 2.0 the 3rd'. We're huge in McMurdo Station, Antarctica.

Posted by Alex Lifschitz Categories: Music, PlayStation 3, Xbox 360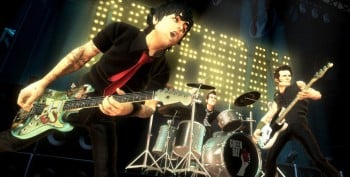 The Spike TV Video Game Awards show happened this weekend. I would have watched it, but I frankly have enough women, cars, and Mountain Dew here at my fortress, and if that's not good enough to get Jack Black over here, then so be it. Either way, a bunch of games got announced, including Green Day: Rock Band, from Harmonix and MTV Games.
Anyway, details about the game are scarce, but design director and notorious lothario Chris Foster of Harmonix posted on his twitter account that the game's songs will be exportable for use in your other Rock Band games, unlike those found in The Beatles: Rock Band. He also says the game will be fun, and I'm going to agree with him, and totally not because I want a whole bunch of free crap from Harmonix. And, by the way, if you're from Harmonix, you can ask my editor for my shipping address. I have no dignity and you can set my price.

Posted by Alex Lifschitz Categories: Accessories, Music, PlayStation 3, Xbox 360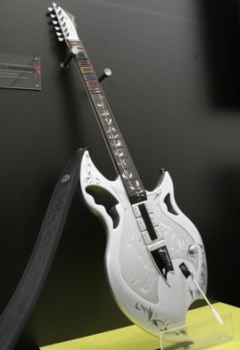 Ever see a game peripheral so classy that you have to put your pants through an extra wash cycle?
Speaker company Krator recently released pictures of the unreleased Krator Orpheus WG-07 controller for Rock Band and Guitar Hero, and dear god is that hot. Look at that inlay! It's apparently made out of metal and aluminum, offers a range of 10 meters wirelessly, and works for the PC and PS3, but nothing further has been released about the guitar or when it might go on sale. Not that I need it or anything. My Guitar Hero skills are stuff of legend and have been documented by the health department to be the number three cause of teen pregnancy.
You can see the full gallery of photos at Pocket Lint.

Posted by Alex Lifschitz Categories: Accessories, Hardware, PlayStation 3, Xbox 360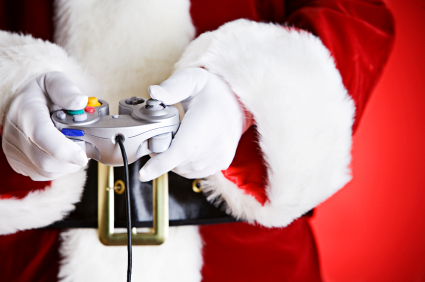 "... Or how I blew your college fund on sparkly trinkets."
Thanksgiving is now over, and so the spirit of crass materialism rides in on a chilly breeze. The holidays are almost here, meaning that you're likely going to need to drop some hard earned ducats on the people who make it a point to hound you year-round. That being said, if you're not a hopeless misanthrope like myself, you might already be thinking about what to buy for others. Or for yourself. I'm not going to make any judgment calls, you selfish bastard. I don't have time for jolliness. I'm like Dorian Gray, all ash and suffering on the inside.
So here's a list of some fun things your can buy for the gamer in your life this year. Some of it is older, some of it is more obscure, but nothing is obnoxiously expensive, per se. Have fun, you wacky kids.
Hit the jump for the list. If you have any suggestions of your own, please leave them in the comments. Oh, and if you want more, non-game-related gift ideas, check out our full Holiday Gift Guide!
Click to continue reading Holiday Gift Guide for the Gamers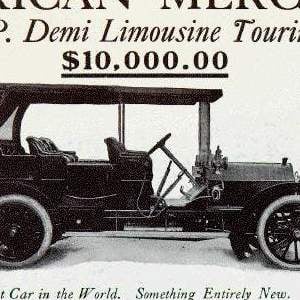 Posted by Drea Avellan Categories: Downloadable Content, Music, Wii

If you are like me and were not able to score tickets to this year's Mayhem Tour, you can pretty much guess you will spend that day mopping or curling up in bed. Well, Harmonix says NO to that and is releasing 28 tracks from the artists performing at the event in addition to back-catalog tracks from The Presidents of the United States, The Offspring and Lamb of God all available July 7th, 2009. Only catch? These tracks are only available for Wii Rock Band.
Track listing available after the jump.
Click to continue reading Exclusive Green Day Tracks and Mayhem Festival Artists on Wii Rock Band

Posted by Alex Lifschitz Categories: E3, Music, PlayStation 3, Reviews, Xbox 360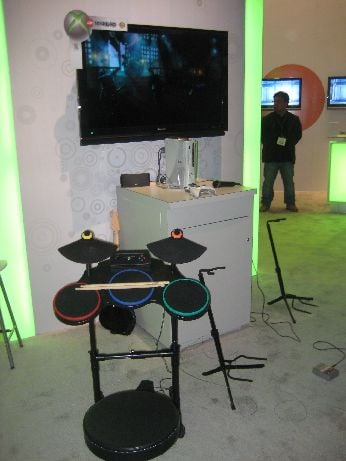 God, what a lonely-looking stand they had this game set up on. Look at that. Really?
When it comes down to brass tacks, at least to me, Rock Band and LEGO go together like peanut butter and chitin. After being revealed to discerning eyes during Dan Teasdale's GDC talk, the game has garnered some attention from puzzled, clueless journos like myself. LEGO Rock Band is a game for the little'uns, principally, tooled to a younger age demographic and given a fresh coat of paint to keep the drooling cretins jamming away on modern pop hits. So if you're coming in looking for some Pantera, you'll be disappointed. But I digress.
Hit the jump for some impressions of LEGO: Rock Band.
Click to continue reading LEGO Rock Band hands-on

Posted by Alex Lifschitz Categories: E3, Music, PlayStation 3, Reviews, Xbox 360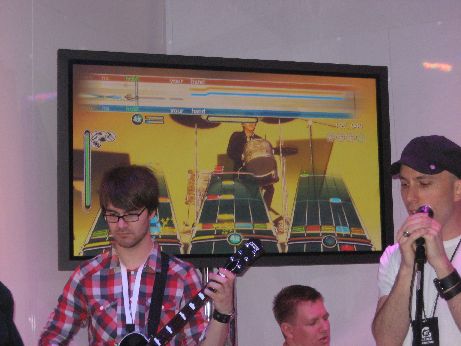 By now, you've likely seen the hubbub that surrounded the unveiling of The Beatles: Rock Band at the Microsoft presser. Hell, the two remaining Beatles even took time out of their busy schedule of rolling around in huge piles of money and prestige to come onstage for approximately 2 seconds and say how awesome it was. Where does it stand in the growing pantheon of music games, though? Does it innovate? Can it woo new fans? Is it safe? Will it blend?
Well, Harmonix, if nothing else, is dedicated to the music. That being said, they did a fantastic job of doing the Beatles justice, even going so far as to disguise their E3 booth as giant replica of Abbey Road. Yeah. They roll like that.
Hit the jump to check out our opinions on The Beatles: Rock Band.
Click to continue reading The Beatles: Rock Band hands-on impressions
© Gear Live Inc. – User-posted content, unless source is quoted, is licensed under a Creative Commons Public Domain License. Gear Live graphics, logos, designs, page headers, button icons, videos, articles, blogs, forums, scripts and other service names are the trademarks of Gear Live Inc.