Funded by DARPA, Boston Dynamics has developed the BigDog. About the size of a goat, it also has the dexterity of one. The gas-powered bot's control system keeps it balanced so that it can navigate on all types of terrains. Sensors monitor such aspects as hydraulic pressure, oil temperature, engine temperature, rpm, and battery charge. Its legs move in an animalistic way and if something interferes, it simply absorbs the shock and carries on. Watch what happens when some dude decides to give it a kick.
Read More

| Boston Dynamics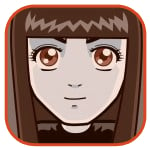 Posted by Sheila Franklin Categories: Cell Phones, Misc. Tech, Science,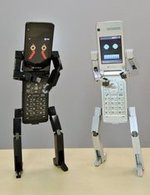 With an idea that originated from the Japanese TV show "Cellphone Investigator 7," Softbank has created a mobile phone that can also be a robotic friend. Attach PhoneBraver's arms and legs and it will begin to respond with differing faces. It also pays attention to your phone habits. If you call someone frequently it will say, "You're calling her often these days, aren't you?"
Apparently, you will be able to carry on a conversation by responding to PhoneBraver's questions. We are not sure that we want our handset monitoring our phone calls. Look for it to come out this April.
Read More

| Weird Asia News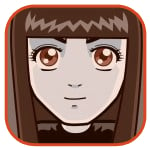 Posted by Sheila Franklin Categories: Design, Misc. Tech, Science, Transportation,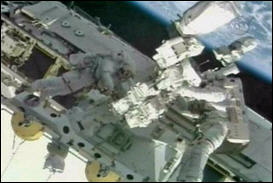 When we last told you about Dextre, he was about to be launched to the ISS via Endeavor. It seems that all did not go well with the bot, who decided to sleep in a bit longer. It turns out that a cable design flaw wouldn't allow power to turn him on. The astronauts finally got him up and running, then attached his hands to his arms and his arms to his torso. No one is sure yet about the reason for the dilemma since it wasn't apparent in pre-flight testing, but NASA promises a thorough investigation.
Read More

| USA Today

Why settle for a simple Scooba to wash your floors when you can get a ReadyBot to clean your entire kitchen? The prototype loads your dishwasher, cleans up the mess on your counter, and even takes care of leftovers. Created by a group of engineers from Silicon Valley, the team hopes to have them on the market in approximately two years. They also say that being made of commonly available parts, the bot will be affordable for us common folk. We say, "Sign us up."
Read More

| ReadyBot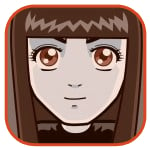 Posted by Sheila Franklin Categories: Misc. Tech, Science, Videos,
Can the military ever have enough robots? Apparently not. An iRobot team devised the packbot Griffon, a prototype that combines with a steerable parafoil system. Controlled by radio and running on gasoline, it attaches to the Ozone Razor with two hang points. The kit was meant to be carried by soldiers or civilians for search and rescue missions. We understand that it never went past its practice runs and we suspect that it was forgotten in lieu of newer technology.
Read More

| c/net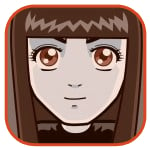 Posted by Sheila Franklin Categories: Misc. Tech, Science,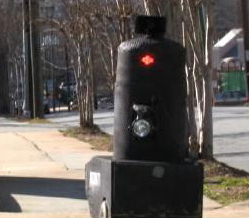 In downtown Atlanta, Rufus Terrill didn't like some of the folk who were hanging around his bar, O'Terrills, so he built himself a simplified robocop which he controls by remote. Consisting of an old meat smoker that he says still smells like chicken, a spotlight, an IR cam, a water cannon and a loudspeaker, the bot stands 4 feet tall and weighs 300 lbs. Apparently the silly looking device is working since Terrill says there is a lot less "action" going on near his tavern. Check out the video to see it put through its paces.
Read More

| ajc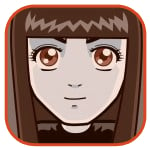 Posted by Sheila Franklin Categories: Misc. Tech, Science, Transportation,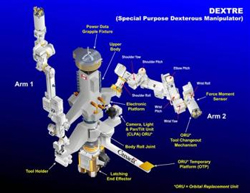 When Endeavor takes off this week, it will have more than a paper airplane and space boomerangs for the astronauts to play with. Dextre (for dexterous) will have to be built once he arrives on the ISS, for he is 12 feet tall with multi-jointed 11 foot arms. Costing about $200 million, he is tele-operated and will attend to some of the station repair jobs. Apparently the Canadian bot has a sensitive touch and precise control even without legs.
Read More

| CSA

This automated gymnastic bot is more talented than most humans we know. Earlier studies showed that walking robots needed pressure sensors on the soles of their feet. Take this a step farther and this one features a layer of urethane foam which have been embedded with LEDs and photodiodes. When the light disperses in the foam it is detected by those diodes. All we know is that the robot is incredibly impressive as it goes through its acrobatic routine.
Read More

| BotJunkie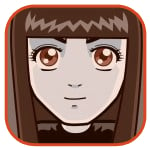 Posted by Sheila Franklin Categories: Design, Misc. Tech, Science,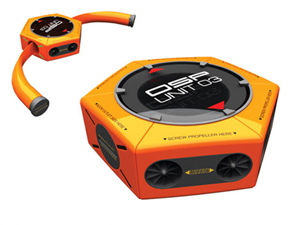 It looks like SOTAB 1 isn't the only bot that will soon be attacking oil spills. Designer Ji-hoon Kim's OSP robots may look like Roombas but love the water. Each has a computer system that plans and controls its motions, a GPS system and radio antenna to communicate with its fellow modules, boom connectors for hooking up to others, a solar panel to collect energy, and an inflatable boom that rolls out for protection. With their small size, they can be moved quickly to the site by boat or helicopter. We hope this is one prototype that becomes real before the next large oil spill.
Read More

| Yanko

For the hunters in your life that still don't get it that it is not okay to kill animals for sport or clothing, this prototype collection by designer/robotics teacher French Cadet is the gift for them. Walk in a room and the eleven Hunting Trophies will flash their eyes in red, orange, or green, turn their heads and move them up and down, and open and close their mouths. Here's where the payback comes in. The closer the visitor gets, the more aggressive the bots become and will growl. Walk past them all and a chain reaction of snarling will occur. Created out of I-Cybie robots and individual programming, they each have an infrared sensor that can detect the amount of people in the room and their movements.
Read More

| Trophees

© Gear Live Inc. – User-posted content, unless source is quoted, is licensed under a Creative Commons Public Domain License. Gear Live graphics, logos, designs, page headers, button icons, videos, articles, blogs, forums, scripts and other service names are the trademarks of Gear Live Inc.