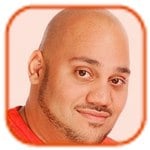 Posted by Andru Edwards Categories: Design, Features, HDTV, Microsoft, Portable Audio / Video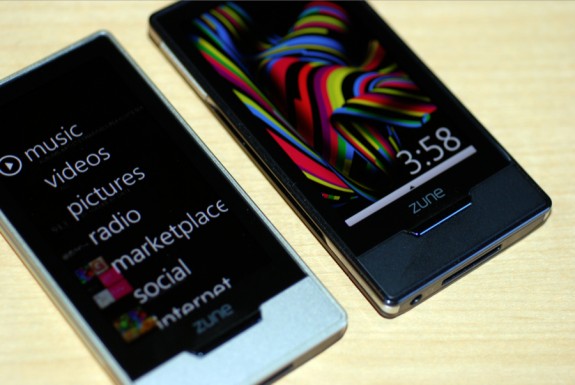 We've had the new Zune HD in our hands for a few weeks, and now that we've had the opportunity to thoroughly get to know it at an intimate level, we figured it was time to share - but first things first. We've gotta say it. Microsoft has been consistently wowing us over the last few months. Say what you will about Windows 7, Bing, et al, but at the end of the day, they are solid offerings that stack of well against their competitors. Then of course, there's the Xbox 360, which just received a dashboard overhaul, making it even more useful and feature-rich, and there is even more to come this fall. For us to even be thinking about Microsoft in this way is a huge departure from even just one year ago.
So, all that said, where does the Zune HD fit into all this? Well, as we've posted previously, the thing has an OLED 16x9 display, and packs in the NVIDIA Tegra processor. Those two pieces of news has us super-excited to see if this thing would live up to the hype. Does it? Go grab a drink and get comfortable, because we are going to delve right in.
Click to continue reading Zune HD Review: Music discovery at its finest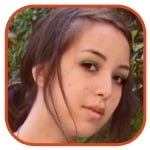 Posted by Robin Paulson Categories: Reviews, Image Comics
Despite my doubts in the beginning of this arc, Robert Kirkman and crew make them all up ten-fold in the latest issue of The Walking Dead.
Picking up after the hunters' attack on our gang, Eugene patches up Glenn's gunshot wound in his leg with some seemingly-obscure household products. This leads me to wonder whether Eugene has experienced more bloodshed than initially imagined prior to meeting with Rick and crew.
With Dale back at camp, Andrea finally gets to let her heart speak openly to him, as she thought she never would have the chance to say these things in last month's issue. The couple heartbreakingly realize the very gruesome truth they'll soon face in due time. The fact that Dale has already faced this experience once before doesn't seem to make it any easier.
After some investigative work and typical back-and-forth with Abraham, Rick decides the fate of their
attackers
hunters. The tables turn for the hunted. (Spoilers after the jump)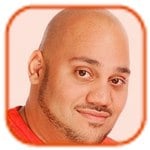 Posted by Andru Edwards Categories: Apple, Features, Software, Videos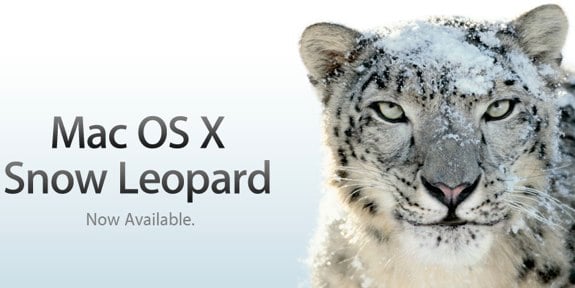 Mac owners, the time for upgrading is upon as, as Mac OS X 10.6 Snow Leopard is now available on a worldwide basis. If you didn't know that there was a new operating system from Apple today, we wouldn't blame you, because it's kind of been released without much fanfare. You see, Snow Leopard is all about fine tuning, refining, and improving upon OS X 10.5 Leopard. It's a makeover that, at first glance, seems underwhelming because the majority of the changes occur "under the hood" so to speak.
So, what can you expect? Well, if you've used an iPhone 3G and an iPhone 3GS, think of it in those terms. They are really pretty much the same product, but the 3GS is much snappier, and has a couple of new features that the 3G doesn't have, namely a better camera and a compass. Comparing Snow Leopard to Leopard is similar - you get speed, things feel faster, and potential is unlocked for the future, because there are some cool things that third-parties can tap into now.
Not everything is under the hood, though. You will see a few UI tweaks, like Dock Expose, right-click dock menus, Finder icons, and the like. We will cover all of those in more detail, but again, that isn't the focus here. If you are underwhelmed right now, read on, because there is a lot to be excited about. At the very least, though, understand that upgrading to Snow Leopard will cost you just $29. Now that we have your attention, let's move on. We've got videos for you, after the break.
Click to continue reading Mac OS X 10.6 Snow Leopard Review (with video!)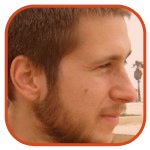 Posted by Brandon Gribin Categories: Lifestyle, Reviews, $1.99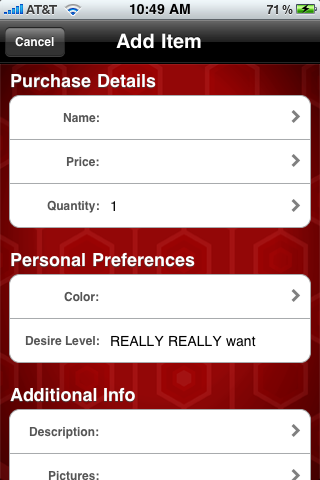 Gifters, currently available for $1.99, lets you create and manage gift lists. If you're patient and comfortable with getting friends and family on-board, this may be for you. To some though, the app may be just a little too cumbersome.
After creating an account - where you're forced to input your physical address, for some odd reason - you're guided through a tutorial by means of several notification windows. Following that, you're free to create and share lists. The app has no gift database though, so when creating lists you have to fill in several information fields all on your own.
Read More

| Gifters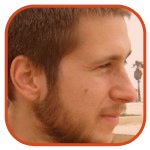 Posted by Brandon Gribin Categories: Entertainment, Photography, Reviews, $1.99
I'm almost certain this is a one-of-a-kind app. It has to be.
Holograms, recently released on the iPhone and iPod touch, allows you to create virtual holograms in a flash.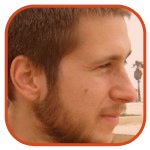 Posted by Brandon Gribin Categories: Games, Reviews, Site Features, $2.99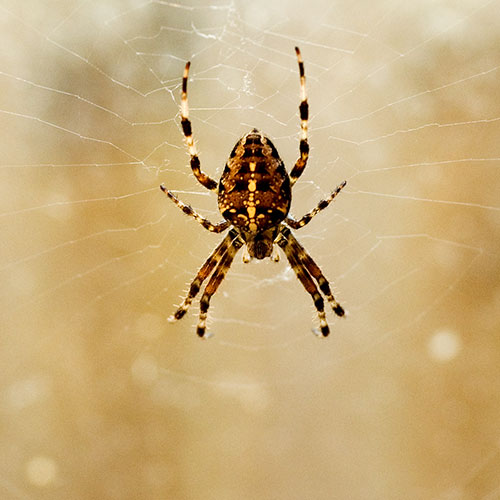 I'd say finding a great game on the App Store can be like finding a needle in a haystack. Well, I've got your needle right here - in one of the best games yet available for the iPhone and iPod touch. Spider: The Secret of Brice Manor.
This came comes highly, highly recommended. Please, go buy it now. It'll be the best $2.99 you've spent in some time.
...
Okay. Now that you've got that taken care of, you probably noticed that the game is over 50 MB, which is larger than average for an iPhone game - I'll tell you more. And hey, if you haven't clicked the BUY APP button yet, I'll still tell you about it.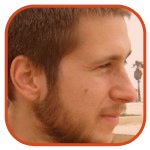 Posted by Brandon Gribin Categories: Games, New Apps, Reviews, $1.99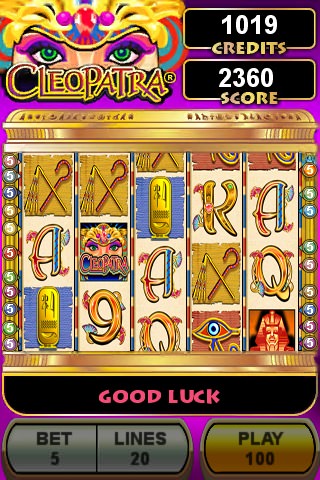 As I see it, there are three types of slots players:
People who sit for hours on end at a single machine
People who pull on a machine once, hoping for a lucky spin, as they stroll by
People who refuse to touch a machine (they just don't know they're slot players yet)
Cleopatra is the perfect iPhone and iPod touch game for the first type of slots player. And possibly a fun diversion for the other two types of players.
IGT, International Game Technology - a slot machine manufacturer, recently released Cleopatra on the iPhone and iPod touch. The app is a portable version of the video slot game that's in casinos all over the world. The iPhone and iPod touch version is a solid rendition and should be up your alley if you're looking for a slots game.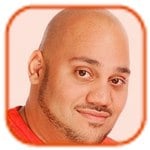 Posted by Andru Edwards Categories: Photography, Social Networking, New Apps, Reviews, $0.99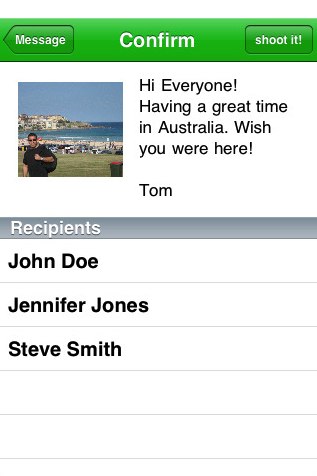 We've been beta testing the Shoot It! app for the past couple of months, and we are excited to let you guys know that it is now available for purchase in the App Store for $0.99. Why the excitement? Well, Shoot It! is one of the apps we use very regularly, and it's one of our favorite apps that we've ever used on the iPhone. So, What is Shoot It?
Shoot It! allows you to send high quality postcards to anyone in your iPhone or iPod touch Address Book, using images in your Camera Roll, or an image that you take from within the app using the iPhone camera. You can send a postcard to as many people as you like, and you also fill in a message that would be printed on the back of the photo. The end result is, as we said, a high quality 4x6 glossy postcard that has the image of your choice on the front, and your message on the back. Since you can send the message to any number of contacts, you end up with the ability to send one message to, say, twenty people, in just a minute or two.
Read More

| Shoot It!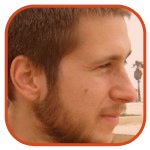 Posted by Brandon Gribin Categories: Action, Downloadable Content, Reviews, Xbox 360, Xbox Live Arcade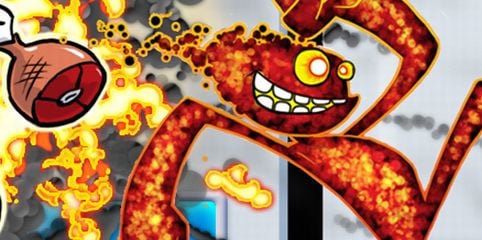 'Splosion Man, currently available for the Xbox 360 on Xbox Live Arcade, is a 2.5-D action platformer where the goal is to "splode" your way through levels.
You play as a guy who can 'splode himself - which essentially propels him into a jump. The controls are simple - A, B, X, and Y all do the same thing; yeah you guessed it, 'Splode. You can also perform wall-kicks, akin to many platformers like the more recent Mario games. Of course, instead of just kicking of a wall, you 'splode off of it.
However, the game's not so simple once you get going. The catch is that you can only 'splode three times while in the air before either coming back down to the ground or briefly sliding down a wall to recharge your 'splode-ability.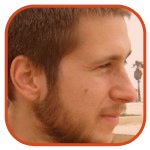 Posted by Brandon Gribin Categories: Games, Reviews, $0.99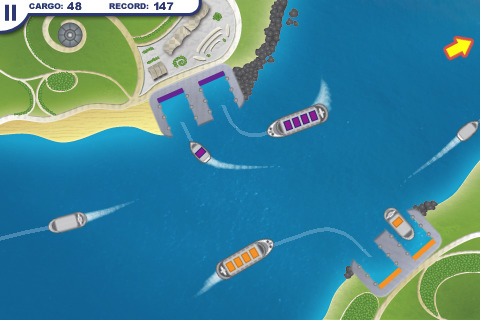 Confession: I'm hooked on Harbor Master. Sure, I've been hooked on a lot of iPhone games over the last year but Harbor Master has something to it that really keeps me constantly coming back for more.
The game's slightly similar to Flight Control - where you're tasked as an Air Traffic Controller and have to land as many planes as you can until they crash. You direct planes by drawing lines - ideally to a runway.
In Harbor Master, rather than directing planes, you're in charge of boats. Rather, boats with cargo. You draw paths for boats to dock - and wait as they unload cargo. After the cargo's unloaded, you direct the boats back off the screen into the mysterious off-screen sea. The game currently has five different levels with a new one promised every two weeks. Each level has a unique twist to it - one features pirates plotting to pillage your plunder, where you use a cannon to fend them off. In another, ships have different colored cargo that must be unloaded at different docks.
Read More

| Harbor Master

© Gear Live Inc. – User-posted content, unless source is quoted, is licensed under a Creative Commons Public Domain License. Gear Live graphics, logos, designs, page headers, button icons, videos, articles, blogs, forums, scripts and other service names are the trademarks of Gear Live Inc.