Posted by Alex Lifschitz Categories: Features, PlayStation 3, Reviews, Sony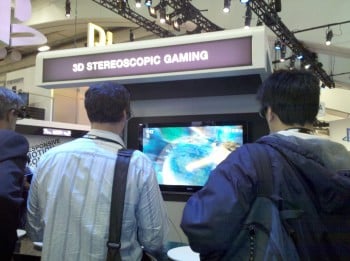 3D was a fad that died a well-deserved death during the 90s. Of course, the flame was kept alive by evil, evil hipsters who swapped between polarized lenses and shutter shades for a while, but only recently has it come back in a big way (thanks to new glasses, new technology, and the ability for us as a culture to forgive transgressions for existing as fads before being properly implemented.)
Sony is apparently on board with the 3D revival, and they had a bunch of games and TVs showing off their 3D technology at the GDC. Hit the jump for our hands-on impressions.
Rating: *** 1/2*
Marvel Comics' Siege continues this week with issue two of the four part mini-series. The issue returns to the scene of the battle in Oklahoma where Norman Osborn, HAMMER, and the Dark Avengers are battling it out with Thor and the citizens of Asgard. All look lost as Norman Osborn stands over a defeated Thor, but he's saved by Maria Hill using a bazooka, which blows Norman out of the way.
Ares discovers quickly that he's been duped by Norman into helping lead the invasion of Asgard. Ares decides to make good on his promise and rip Norman's head off when the Sentry comes in to protect Norman. They duke it out and in a shocking big splash page moment, the Sentry rips Ares in half. I knew someone was going to die in this issue and I had a feeling it would be Ares, but in no way did I see him meeting his end this way. Very cool!
Issue one left off with an angry Steve Rogers watching the footage of the invasion of Asgard. We pick up here with Steve gathering the New Avengers, the Young Avengers, and Nick Fury and his Secret Warriors so they can all head to Oklahoma to defeat Osborn once and for all. Also with this group is Bucky the new Captain America. He hands over the shield to Steve stating he believes if they are going to do this, it has to be done right and Steve must wield the shield once more.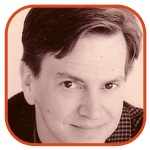 Posted by Tom Mason Categories: Editorials
Is everyone ready to read Bluewater's J.D. Salinger comic book on the iPad? Now that's a game-changer I can believe in! Let's see what I've got on my desktop this week:
Apple's iPad: Apparently Apple changed the game with some kind of game changer that's supposed to be the Jesus of print that'll save newspapers from their own stupidity and ineptitude and also change the way we read comics and make a BLT just the way I like it and find me a room at Comic Con International. Tom Spurgeon at The Comics Reporter coalesces his thoughts on the matter. Me? I'm waiting for the iPad with wings.
Plastic Man: There are other places that are dropping it, but my favorite is over at John Kricfalusi's blog. He's imbedded the 10-minute Plastic Man pilot that was created by Tom Kenny (the voice of Spongebob) and Stephen DeStefano (simply one of the great modern cartoonists, and co-creator/artist of the much-beloved 'Mazing Man). Says John: "It's a real cartoon and you can tell the creators like the audience. It sure stands out from most of what's out there." Go check it out.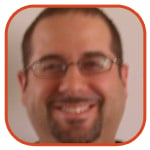 Posted by David Torres Categories: Reviews, DC Comics
Rating ****
Wow! That's all I have to say about Geoff Johns' final issue of Adventure Comics. It's too bad Geoff is leaving this book because in the short time he was been on this title, I've really come to like the character of Superboy. There is a genuineness to the character of Superboy aka Conner Kent aka Kon-El. Johns really writes this character as a teenage boy who like all teen boys can be insecure, have girl troubles, go to school, and have trouble with their families. Now none of us have the trouble he's going through, but no matter how old you are, you can definitely relate and feel for this kid. However, I think this issue is really more about the character of Lex Luthor than it is about Conner.
I think if I met someone who were new to comic books and wanted to know something about the character of Lex Luthor, I wouldn't send them to Wikipedia to read up on who Lex Luthor is - I would hand them this issue instead. In this issue alone, Johns shows you who Luthor really is and just how evil of man he is. The story picks up where we left off in the last issue where Superboy rescued a girl named Lori and brought her back home only to be find out that she is the niece of Lex Luthor, the man who cloned him from Superman and his greatest enemy. Luthor is here to recover his property (Superboy), but the revelation of who Lori and her mother are gets in the way of things.

Posted by Alex Lifschitz Categories: Action, SEGA, Xbox 360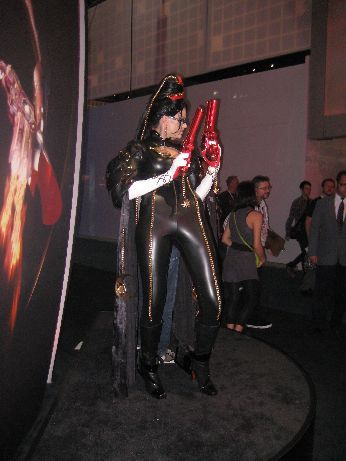 Welcome to a new quickie feature for Playfeed, in which I attempt to distill a game review into a bite-size chunk for you to feed on demurely. At E3, I was singing nothing but praises about Bayonetta, and that was primarily from a one-level demo. Demos, of course, are either used to
Sell a product by giving you the best of the best so you salivate like Pavlov's dogs when you pass the retail copy over
Give you the only part of a game that is not festering, abject crap.
So now the retail copy has launched, and I am left to tell you what to expect, because I am forever carrying the cross of the game reviewer. Hit the jump for Bayonetta in 3 paragraphs.
NOTE: This is the Xbox 360 version of the game. The PS3 has been known to have some nasty framerate issues.
Rating: *** 1/2*
Marvel Comics is promoting their latest blockbuster crossover Siege as a project that has been seven years in the making. It began with Avengers #500 when writer Brian Michael Bendis first took over the title. The storyline was called Avengers Disassembled where the Scarlet Witch went crazy, the Vision was destroyed, and Hawkeye and Ant Man (Scott Lang) were killed off. It was a good story and a huge turning point for the team that left many fans very angry as fan favorite Hawkeye was killed in an unsatisfactory manner and the New Avengers were then launched with a non-traditional lineup which included the Sentry.
As the years have gone by, we've had various crossovers such as Civil War, Secret Invasion, and Dark Reign which further complicated the lives of the Avengers and the Marvel Universe in general. All of this has lead us to Siege, which is a storyline that will focus on Norman Osborn and his Dark Avengers invading Asgard to expel it from the Earth. This was a very good start. Osborn wants power and looks at Asgard as a roadblock. With the assistance of Loki, Osborn is able to get a reason to invade Asgard.
During the Civil War, innocent civilians were killed during an incident involving the New Warriors. Loki is able to replicate a similar incident using the Asgardian Volstagg who battles the U-Foes which results in the death of thousands of civilians at Soldier Field in Chicago. Osborn's Dark Avengers are not too willing to go along with the invasion - especially Ares who promises Osborn if this is a trick of some sort, he will kill him personally.
Rating: ****
Well, I'm not sure why Marvel Comics released this one-shot epilogue to Captain America: Reborn when the series still has one issue to go, but it's here. Reborn was originally slated to be a five issue mini-series, but at some point it was decided that an additional issue was needed to tell the story. So Captain America: Who Will Wield The Shield is shipping on schedule because last week should have been the last issue of the Reborn series. I'm not sure why Marvel did not just push this issue back to ship the same day issue six comes out or make issue five a double sized issue. Money? Probably, but you could still make money by doubling the price of a double sized issue.
Whatever the case may be, Captain America: Who Will Wield The Shield still stands as a great comic book even with all the nonsense of it coming out prior to the completion of Reborn. Even before Reborn was even announced, we all knew that Steve Rogers would come back to land of the living at some point. It was only a matter of when, the how was almost meaningless because fans just wanted their guy back in action. The issue opens with a flashback to the days of World War II and Cap and Bucky fighting I believe the Japanese - not the Germans, as you normally see during Cap flashbacks to the war.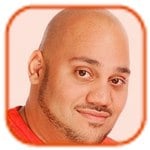 Posted by Andru Edwards Categories: Design, Handhelds, Product Reviews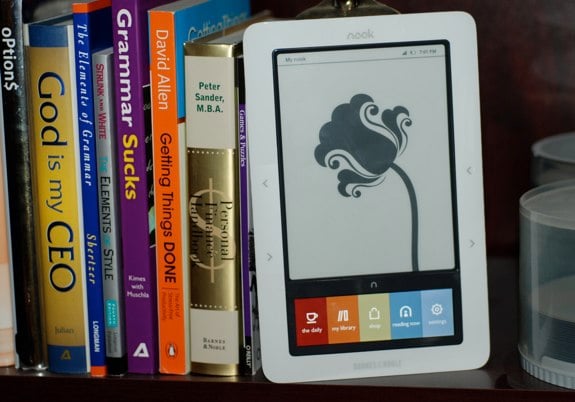 We've been anticipating the nook for about a month-and-a-half now, even since Barnes & Noble announced the nook back in October. Seeing a potential, real competitor to the Amazon Kindle sporting both an e-ink screen alongside a capacitive color LCD touchscreen just about made us drool. Oh, and it runs Google Android too, so, there's that whole thing. Well, we've finally got the Barnes & Noble nook into our hands, and we've done some testing, some reading, and some playing, all in the spirit of letting you know how the nook stands on its own, and how it compares to the Amazon Kindle. We think we've done that, and we invite you to continue reading for the full Gear Live nook review.
Click to continue reading Barnes & Noble nook review
Rating: ****
If you are a new reader of Brian Michael Bendis's run on Ultimate Comics Spider-Man and if you think that things are moving a bit slow, do not worry. Look at the pace that Bendis is presenting in his story as if it were a fine dining experience. When you are eating a fine meal, you don't wolf down your food as if you're at McDonald's. Instead, you take your time to savor every moment of every bit of food. Bendis's take on the Spider-Man character is so perfect, that you want more after every issue you've read. What's the old saying? Leave with them wanting more. I guess that's the best way to describe how I feel when I'm reading his Spider-Man - I want more.
Although the comic audience is mostly adult males, Brian Bendis writes Ultimate Comics Spider-Man as a comic geared more towards a tween/teenage audience. I can see a kid in that age range who has enjoyed Harry Potter and Twilight really enjoying this book more than an adult would. Spider-Man really acts like a teenager here. You don't get the feeling of a writer trying to write dialogue that a teenager would say - particularly towards the end of the book with Peter and Gwen.
Our story continues the opening arc of this relaunched title with Spider-Man battling Mysterio. When we last left off, Spider-Man was at the mercy of Mysterio. It looks grim, but thanks to the arrival of the mysterious new cloaked hero that first appeared in issue one, Spider-Man makes it out alive. Thanks to this intervention, Spider-Man is able to recover and duke it out with Mysterio. The cloaked figure knocks out Mysterio's technology and we see his face. As a result, an explosion happens, but all survive and Mysterio swears revenge.
Everyone who knows me knows that I love the comics that are out there on the fringes of the industry. You want to make everyone turn into apes or zombies or contestants on So You Think You Can Dance? and I'm right there, eager to throw my $2.99 in your direction.
So when I saw Tony Moore's "iconic" cover on Victorian Undead #1 (Wildstorm) on the rack with a blurb that says "Sherlock Holmes Vs. Zombies," my hand shot out faster than John H. Watson, M.D.'s revolver. And I wasn't disappointed. Far from being as "out there" as its B-movie subject matter might suggest, it actually feels like a real Sherlock Holmes adventure but with, y'know zombies. And Automata (aka robots). Following a celestial event in the skies of London in 1854, there are rumors of the dead coming back to life and desecration of the bodies by beheading. By 1898, when two London workmen succumb to zombiness, leaving one in the custody of Inspector Lestrade, the call goes out for Sherlock Holmes who's busy on a seemingly separate case trying to figure out who's behind the robot that just tried to kill him. (I've read stories where Holmes has gone up against the aliens from War of the Worlds, and also Dracula, Jack The Ripper and The Invisible Man, so zombies and Victorian robots don't feel out of place in my personal Holmes canon.)
© Gear Live Inc. – User-posted content, unless source is quoted, is licensed under a Creative Commons Public Domain License. Gear Live graphics, logos, designs, page headers, button icons, videos, articles, blogs, forums, scripts and other service names are the trademarks of Gear Live Inc.