Posted by Lolita Beckwith Categories: Household, Toys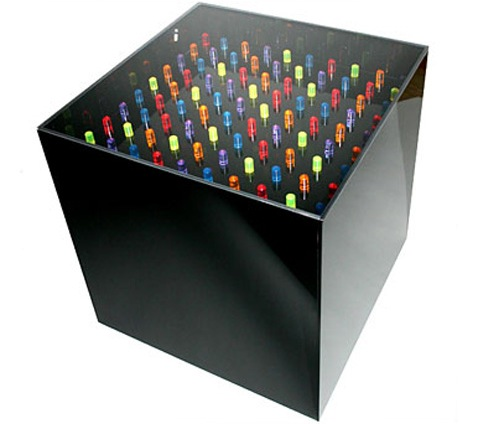 Retro clothing, gadgets, toys, accessories, etc. seem to be the rage these days (that is if your idea of "retro" is the 70s and 80s), which is why we loved the Gold Cassette Belt Buckle, the Boombox Bag and the Pac-Man Belt. Now we're getting all wistful over Jellio's Lite Table, which has 100 large, colorful acrylic pegs to arrange and re-arrange to create your own designs. And of course the pegs light up when "positioned over a small light source." Somehow we suspect grown-ups will create decidedly different —and more adult—designs from the rainbows and unicorns we made as kids. Sounds like fun and it's a great conversation piece, but feel it's a tad expensive at $600 USD.
Read More

| Jellio Lite Table Product Page via Gizmodo

Posted by Lolita Beckwith Categories: Wearables, Video Games

Similar to the gold cassette belt buckle, we bring you retro attire that is guaranteed to elicit wistful, nostalgic smiles from passersby. This time it's the Pac-Man Belt, adjustable up to 42", made of black canvas and trimmed in blue, with Inky, Pinky, Blinky and the oddly-named Clyde running all around the belt. But we're wondering if all that even matters to hardcore fans of the game. Just looking at it makes us long for the 80's, when it was all about putting quarters on the arcade machine to guarantee "we have next". But the belt —and the game—is likely to find a whole new audience, thanks to the new Xbox 360 version, with new mazes to conquer - Pac-Man Championship Edition. Available for almost $20 USD.
Read More

| Truffle Shuffle


Posted by Chris Pereira Categories: Casual, Retro, Xbox 360, Xbox Live, Xbox Live Arcade, Xbox Live Marketplace
Today's XBLA release was first revealed yesterday as Pac-Man Championship Edition. Before you roll your eyes thinking that this is another port, you'd be well advised to give it a look – despite being 800 points ($10), this is a pretty rock solid release. I spent some time with it earlier today and had a blast; expect a review in the next few days.
New modes and redesigned mazes are the big attraction here (although those neon visuals sure are pretty). The new modes are as follows:
The Championship Mode. This is the main game mode designed by NAMCO BANDAI Games and Iwatani specifically for the championship round of the Xbox 360 Pac-Man World Championship. This mode – as well as all others within the "Pac-Man Championship Edition" – features redesigned mazes with wide maze walls and a widescreen configuration to better enable high-speed game play. Timed limit of five minutes.
Challenge Mode 1 (Patience and Reward Course). This mode is an evolution of the Championship Mode. Patience mazes strategically offer fewer Power Pellets and Reward mazes provide a large number of Power Pellets – providing unique challenges and rewards for the player. Timed limit of 10 minutes.
Challenge Mode 2 (The Darkness Course). In this mode, only the area directly around Pac-Man and the Ghosts is visible and the maze walls are completely hidden. Timed limit of 10 minutes.
Extra Mode 1 (The Freeway Course). An extremely high-speed mode for advanced players, this mode features warp-speed Pac-Man and Ghosts and plenty of tunnels. Timed limit of five minutes.
Extra Mode 2 (The Manhattan Course). A mode inspired by the streets of Manhattan — the home for the first-ever Xbox 360 Pac-Man World Championship. Timed limit of five minutes.
Extra Mode 3 (The Overall Course). A mix of all other modes resulting in extreme mazes for the most devout Pac-Man fans. Timed limit of 10 minutes.


Posted by Lolita Beckwith Categories: Internet, Video Games

Classic video game fans, rejoice! GameTap.com, the website where you can play hundreds of old-school video games for a $10 monthly fee, will start offering a handful of games for free, starting next month. The catch? You must sit through a video commercial first, and there will be an ad on the side of the screen during gameplay. Sounds easy enough, and the free titles are a great bunch, including Space Invaders, Rampage, Metal Slug, Joust (woo hoo!) and a Tomb Raider game. Just wish the site offered Berzerk, which we'd so pay for…
Read More

| GameTap

Posted by Christopher Sasaki Categories: Nintendo, Retro, Virtual Console, Wii
Headlining this week's Virtual Console releases is the original Castlevania for the NES. At 500 points, gamers can explore the origins of the franchise as it appeared on the Nintendo Entertainment System. Those used to the later entries in the series will find this version somewhat limiting – the exploration elements and many of the control refinements wouldn't appear until later releases. Instead, gamers will get six levels of sidescrolling platform action.
The other two releases this week could best be defined as "cult classics." The Legend of the Mystical Ninja for the SNES probably didn't have a huge following on its original release, but for 800 points gamers can experience the US-localized version of the Goemon series from Japan. The gameplay is fairly strong and graphically the game holds its own. Shockman is another arcade like title that mixes standard platforming stages with 2D shooting. At 600 points, the Turbografx16 title adds another quirky entry into the Virtual Console catalog.
Nintendo's full press release continues below.
Click to continue reading Castlevania Heads To Virtual Console
Posted by Christopher Sasaki Categories: Retro, Strategy, Xbox 360, Xbox Live, Xbox Live Arcade, Xbox Live Marketplace
Microsoft continues its string of multiple Live Arcade releases this week, this time with the hugely anticipated Catan along with arcade classics Centipede and Millipede. Catan has had board game geeks waiting eagerly; the Live Arcade version of the classic Settlers of Catan strategy board game will hopefully live up to expectations. The game will sell for 800 points ($10) and features decent single player offerings with a supposedly strong AI along with four player multiplayer support over Xbox Live. Centipede and Millipede get bundled together for 400 points ($5) and promise updated graphical modes. Both titles will hit Xbox Live this Wednesday.
Read More

| Gamerscoreblog

Posted by Christopher Sasaki Categories: Music, PSP, Retro
Sony Computer Entertainment's re-release of the classic PlayStation title, Parappa The Rapper, is headed to the United States this July. Sony Computer Entertainment America today announced the title's release. For the most part, the title is a straight-up re-make of the original, with a few changes. First, the graphics have been remade to fit the PSP's widescreen format display. Second, the company has added support for wireless networking. In ad-hoc mode, gamers will be able to compete against three other players wirelessly, and SCEA will also be providing downloadable content via the PSP infrastructure connection.
SCEA's full press release continues below.
Click to continue reading Parappa PSP Gets US Release
Posted by Christopher Sasaki Categories: PC, Retro, SEGA
Gamasutra is reporting that following last week's Easter Egg featuring Bug for the Sega Saturn, the 3D shooter series Panzer Dragoon will be coming to the GameTap subscription service; both Panzer Dragoon and Panzer Dragoon Zwei are listed as "coming soon." While the original Panzer Dragoon appeared in a PC port, Gamasutra confirmed that the two games are the original Sega Saturn versions. The release of the shooters in the series gives hope that Panzer Dragoon Saga may also be coming.
Read More

| Gamasutra

Posted by Christopher Sasaki Categories: Nintendo, Retro, Virtual Console, Wii
This week's Virtual Console releases aren't stellar, but are still a decent collection of retro games that may entertain, at least for a while. Gamers can pick up Galaga for the NES, a decent but not spectacular port of the arcade game for 500 points. The original arcade version is available on Microsoft's Xbox Live Marketplace, so that might be the better option for those with both consoles. Alex Kidd in the Enchanted Castle for the Genesis is also available for 800 points; the sequel to the original Alex Kidd for the Sega Master System is an average platformer with some gameplay quirks that set it slightly apart from others in the genre. Finally, Bravoman is a side-scrolling beat-em-up style game, more known for its unusual humor that for any gameplay excellence. At 600 points, though, it might be worth a look. Overall, a middling week for the Virtual Console and hopefully A-list titles will return soon.
Nintendo's full press release continues after the jump.
Click to continue reading Galaga, Alex Kidd, Bravoman Hit Virtual Console
Posted by Christopher Sasaki Categories: Retro, SEGA
The great retro gaming blog at Racketboy has a fairly in-depth round up of Sega classic franchises, past and present with short updates on their current status. Some of the inclusions might be kind of a stretch to label a "franchise" – there are a number of games on the list that have only had one release in their lifetimes. The list, however, is a good reminder of all the original IP that Sega has to mine for new offerings. Sega's track record for updates hasn't been that great lately, the next generation Sonic release on the Xbox 360 and PlayStation 3 was notoriously bad, with some redemption coming with Sonic and The Secret Rings on the Wii. As the article mentions, Sega has become more and more risk averse due to the financial issues the company has faced, but it does seem like there is a lot of potential in Sega's history. Certainly there seem to be a lot of RPG franchises that could stand to be revisited, including Beyond Oasis, Skies of Arcadia, and Shining Force, but there are also a bunch of great action games that would be great to see updated and released on any of the downloadable content platforms.
Read More

| Racketboy

© Gear Live Inc. – User-posted content, unless source is quoted, is licensed under a Creative Commons Public Domain License. Gear Live graphics, logos, designs, page headers, button icons, videos, articles, blogs, forums, scripts and other service names are the trademarks of Gear Live Inc.