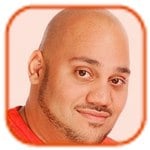 Posted by Andru Edwards Categories: Features, Nintendo, Wii,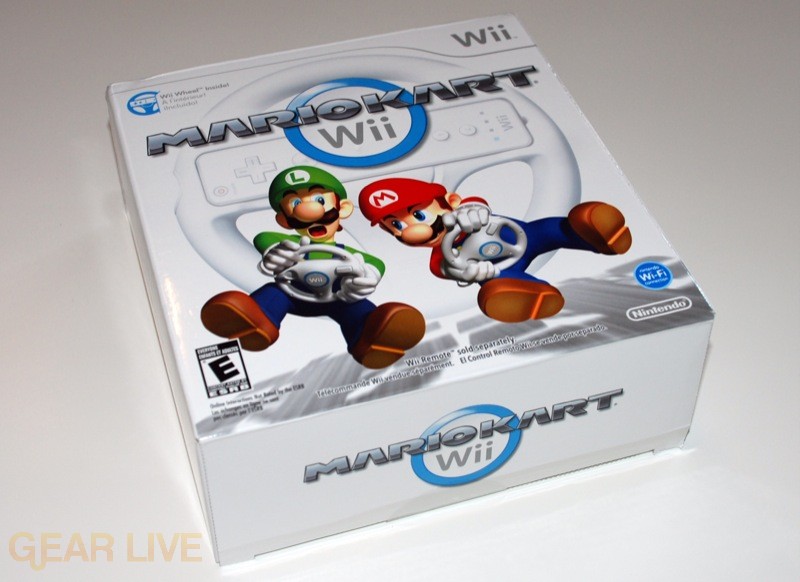 Okay, so we've been graced with a copy of Mario Kart Wii a few days early by Nintendo themselves. We've played the game a bit, and will be will be reporting back with our initial thoughts, but for now, we wanted to hit you with an unboxing gallery. We have a bunch of images of the Wii Wheel for you to take a gander at, as well as the box, game disc, and the like. Just a little something to tide you over until Sunday. Go ahead and click on over to our Mario Kart Wii gallery for the images.
Gallery:

Posted by Paul Hamilton Categories: Driving, Internet, Nintendo, Nintendo DS, Wii,
Nintendo's popular arcadey racing game, Mario Kart is inevitably coming to the Wii. When it does, a blurb clipped from the Official Nintendo Magazine UK says it will support 16 players in the popular battle mode.
Mario Kart DS solidified the WiFi features of the handheld unit and it's quite possible that the Wii version is being positioned to do the same.
As with earlier versions the Wii Mario Kart will include updated versions of older tracks (in this case Wii translations of DS tracks) as well as all new racing locations. Mario Kart for the Wii is scheduled to be released next spring.
Read More

| Go Nintendo via Evil Avatar

Posted by Paul Hamilton Categories: Action, Driving, Electronic Arts, PlayStation 3, Xbox 360,
Tom Bramwell has a preview for the upcoming Burnout Paradise that is surprisingly thoughtful and critically considered as far as previews go. He discusses the challenges faced by Criterion Games in re-inventing a popular series practically from the ground up and asks some pertinent questions where they ought to be asked. For example, when the topic of the Crash mode comes up and Criterion mentions that they have scrapped the original concept of the popular mode, Bramwell presses the point, getting Criterion rep Matt Webster to confess they don't yet know exactly how it will all work out:
Asked whether they're opting for a Burnout 3 approach of trying to manoeuvre the car in slow motion between power-ups and Crashbreakers, or a Burnout Revenge "golf swing" of perfect start and target cars, Webster admits it's not all there yet. "We're still throwing ideas around. I think we'll be talking about it more in the coming weeks."
The preview isn't about sticking it to the Burnout devs, though, it reads more like a fan of the series seeing drastic changes and slowly coming to the realization that if executed properly, these could make for a remarkable game. Among the more exciting aspects of Criterion's open-world approach to Burnout is the focus on seamless online play that works the way most gamers prefer, by putting the folks in your Friends list first.
Burnout Paradise is scheduled to hit shelves early next year for Xbox 360 and PS3.
Read More

| Eurogamer


Posted by Paul Hamilton Categories: Adventure, Nintendo, Platformers, Retro, Third Person Shooters, Virtual Console, Wii, Xbox 360, Xbox Live Arcade,
People with virtual currency burning pixelated holes in their alternate reality pockets can check out the Xbox Live Arcade and the Wii Virtual Console this week for some new (or perhaps old) titles. The most exciting offerings this week look to be the Jeff Minter shooter Space Giraffe and the wonderful SNES classic, Super Metroid.
Click to continue reading Console Downloads Feature Space Bounty Hunters and Also Giraffes
Read More

| Nintendo Press Release


Posted by Chris Pereira Categories: Driving, PlayStation 3, Sony,
The latest Famitsu magazine has an interview with Gran Turismo producer Kazunori Yamauchi, and 1UP has highlighted some parts of the story. Among other things, Gran Turismo 5 Prologue will include two online modes – one with chat and one without. There will be "about" 40 cars and four courses with eight different layouts for those courses. (I smell reversed courses.) The game will feature 16 cars in offline races, but the number may potentially be only 12 when racing online.
For more details on the game's integration with PlayStation Home and the My Page feature, check out the 1UP story.
Read More

| 1UP


Posted by Chris Pereira Categories: Driving, Electronic Arts, Nintendo DS, Nintendo Gamecube, PC, PlayStation 2, PlayStation 3, PSP, Trailers, Wii, Xbox, Xbox 360,
On the heels of EA's new Madden video comes this brief look at the newest Need for Speed title, which we know next to nothing about - not a title or even the platforms it'll be released on. The video is entitled "Damage," and if you take a look at the video, you'll agree that it's an appropriate name. One of the features in the new NFS is apparently going to be the ability to rip your car to shreds in an accident, Burnout-style.
Like the Madden video before it, the game certainly looks pretty, but hopefully the game will play as well as the competition. As the video alludes, there apparently will be some sort of announcement on May 31 at the official Need for Speed website, and we'll get word of whatever that might be to you as soon as it's made available.
Posted by Christopher Sasaki Categories: Driving, Hardware, Internet, PlayStation 3,
European owners of the PS3 have been able to get a rumble-enabled version of Gran Turismo HD since launch. Now, US owners can get the free update from the PlayStation Store, according to IGN. The update adds a world-wide ranking system, so US gamers can now compare their times with others across the world and adds rumble support for owners of Logitech's Driving Force, Driving Force Pro, and Driving Force EX wheels. The quick addition of rumble support gives hopes to PS3 gamers that rumble support in other PS3 games as well as in new controllers will be coming soon.
Read More

| IGN

Posted by Christopher Sasaki Categories: Driving, Internet, PlayStation 3,
IGN is reporting that European PS3 owners are getting an updated version of Gran Turismo HD in conjunction with the system launch. Dubbed Gran Turismo HD Concept 2.0, it looks like the game is essentially the same as the previous release, with one key added feature – support for force feedback wheels. While the SIXAXIS is woefully still without rumble, those gamers with access to third-party racing wheels like Logitech's Driving Force Pro. IGN indicates that the force feedback implementation isn't as detailed as they would like it for the game, but this does give hope that full rumble implementation is on its way. Hopefully the updated Gran Turismo will make it to other territories soon.
Read More

| IGN

Posted by Christopher Sasaki Categories: Driving, Hardware, PlayStation 3,
The upcoming F1 Championship Edition is looking really sharp; with the US release coming at the end of February and as a launch title for the European launch, Game Director Graeme Ankers talked technical details with N'Gai Croal's Level Up blog about developing for the Playstation 3. Of course, nobody would expect someone from an internal development studio at Sony to badmouth the hardware or the tools, but the interview does give some insight into how developers will be utilizing the RSX GPU, the PPU and the seven SPUs in the console.
Read More

| Level Up

Posted by Michael Cardiff Categories: Accessories, Driving, PlayStation 3, Rumors, Simulation,
It's old news by now that the PS3 controller doesn't have force feedback built into it - it's just one of those things that you'll have to deal with if you decide to go with Sony's expensive new console. What's new, breaking news to us is the fact that the PS3 doesn't even know how to transmit a signal telling ANY controller to vibrate or give force-feedback. And for all you racing fanatics out there, that means that Gran Turismo 5 on the PS3 is going to feel like you're driving on ice.
Rumors that force feedback for the PS3 isn't possible started circulating earlier this week on the NeoGAF forums, but just recently 1up.com received confirmation that, indeed, driving on the PS3 just isn't going to be the same:
All PS3 games are programmed for the SIXAXIS which doesn't have force feedback, therefore the force feedback in the wheels won't be recognized.
Yikes. Looks like the Xbox 360 may soon become the console of choice for driving fans.
Update: It looks like, whoever the Sony rep is that gave 1up the above quote, they got something wrong. As seen in the comments, several users have pointed out that NFS:Carbon features force feedback for 3rd-party steering wheels. So perhaps this just means that any steering wheels designed specifically by Sony won't have force feedback? We're going to wait for Sony to give some further clarification on this one before we comment any further.
Read More

| 1Up

© Gear Live Inc. – User-posted content, unless source is quoted, is licensed under a Creative Commons Public Domain License. Gear Live graphics, logos, designs, page headers, button icons, videos, articles, blogs, forums, scripts and other service names are the trademarks of Gear Live Inc.