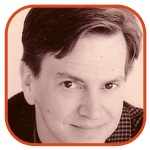 Posted by Tom Mason Categories: Editorials, Independent
Great Googly Moogly! Writer Mike McGee and artist Tamas Jakab are prepping the third issue of their creation, El Gorgo! If you're already on board with the "world's greatest Luchador gorilla" read no further, but if you haven't checked out these whacked-out, Kirby-inspired, cosmic adventures yet, what the heck are you waiting for?
The creators put each issue up on the El Gorgo! website for free-reading, but they also create a print version for those of us who still like to hold printed matter in our hands. And the print version is nice too - quality paper and vibrant colors make El Gorgo leap from the page. And since he has enough power and courage to kick a dinosaur in the face, you'd better duck.
The color cover and the first 11 pages of the impending third issue - "The Hour of Dagon" - are up at the El Gorgo! site right now. They're in black and white, but they'll be in color when the issue's finished.
If you're feeling like the third issue might be too difficult a spot to join in, fear not. Mike and Tamas have posted the complete first and second issues of El Gorgo! for free-reading.
Click to continue reading Sneak Peek: El Gorgo! #3 Is Coming!
Read More

| El Gorgo Site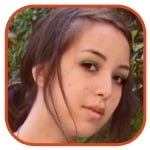 Posted by Robin Paulson Categories: Reviews, Image Comics
Image Comics released a five-page preview (which can be seen after the jump) of Robert Kirkman's upcoming The Walking Dead #64.
The issue, which hits your local comic book store next Wednesday, is the third part of the five-issue "Fear the Hunters" arc. Last issue left us with a chilling image of a helpless Dale surrounded by the merciless hunters.
From the looks of the preview, Robert Kirkman masterfully delivers readers the disturbing dialogue perfectly in tune with Charlie Adlard's gruesome images. While I have lamented about my dislike of the last couple issues, the preview alone has satisfied my insatiable craving for a nice twist.
Click to continue reading Preview: The Walking Dead #64
Read More

| Comic Book Resources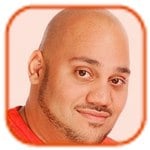 Posted by Andru Edwards Categories: Corporate News, Google, Internet, Software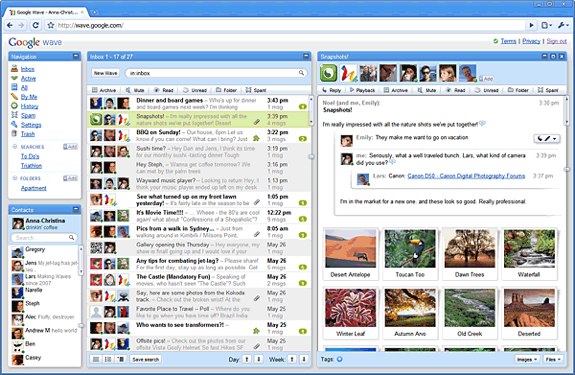 In case you missed it, Google introduced Google Wave to the world a couple of months ago during their Google I/O conference back in May. It was instantly heralded as one of the best things ever seen on these here Internets, and regardless of how you feel about it, you've got to at least admit that there is some serious innovation happening there. Now, Google is preparing to release Google Wave in public beta. Starting September 30th, 100,000 people will get access to the Google Wave public beta. Wanna be a part of it? Hit the link below to apply.
If you haven't seen it, here is the video where Google reveals Google Wave.
Read More

| Google Wave Sign-up


Posted by Paul Hamilton Categories: Action, Driving, Electronic Arts, PlayStation 3, Xbox 360
Tom Bramwell has a preview for the upcoming Burnout Paradise that is surprisingly thoughtful and critically considered as far as previews go. He discusses the challenges faced by Criterion Games in re-inventing a popular series practically from the ground up and asks some pertinent questions where they ought to be asked. For example, when the topic of the Crash mode comes up and Criterion mentions that they have scrapped the original concept of the popular mode, Bramwell presses the point, getting Criterion rep Matt Webster to confess they don't yet know exactly how it will all work out:
Asked whether they're opting for a Burnout 3 approach of trying to manoeuvre the car in slow motion between power-ups and Crashbreakers, or a Burnout Revenge "golf swing" of perfect start and target cars, Webster admits it's not all there yet. "We're still throwing ideas around. I think we'll be talking about it more in the coming weeks."
The preview isn't about sticking it to the Burnout devs, though, it reads more like a fan of the series seeing drastic changes and slowly coming to the realization that if executed properly, these could make for a remarkable game. Among the more exciting aspects of Criterion's open-world approach to Burnout is the focus on seamless online play that works the way most gamers prefer, by putting the folks in your Friends list first.
Burnout Paradise is scheduled to hit shelves early next year for Xbox 360 and PS3.
Read More

| Eurogamer

Posted by Edie Sellers Categories: Action, E3, Games for Windows, MMORPG, PC, Role Playing Games
Here's a quick rundown of what we learned about Hellgate: London as I got a tour of a few levels with Tyler Thompson, Flagship Studio's director of technology.
Platform: PC
Release date: Still shooting for summer 2007 - which, let's face it, is right now. According to Tyler, "We're still working for that. If it takes a little bit longer, then we'll let it take a little bit longer." In industry speak that means, "If you don't see it by August, you'll see it for the holidays."
Look: Flagship Studios, at its top levels, is populated by ex-Blizzard brains, including Diablo creators Erich Schaefer and David Brevik (and don't forget Bill Roper, who played an integral role in the Warcraft, Starcraft and Diablo series). So, think Diablo, but much, much better looking. Tyler told me that the game is in the alpha stage. I'm used to seeing games in alpha looking a bit rough around the edges. This game was, in the levels he toured me, free of jaggies and visual glitches. The word that comes to mind is "shiny." I found it to be very reminiscent of Diablo in look and feel. Of course, bear in mind the tour was guided, which means I only got to see the best looking areas.
The biggest improvement in look, and, ultimately, playability, is the improved camera from Diablo 2. Gone is the fixed, third-person isometric camera in favor of 360-degree, fully rotational viewing.

More after the break.
Click to continue reading E3 2007: Preview: Hellgate: London
Posted by Edie Sellers Categories: Action, E3, First Person Shooters, PC, Third Person Shooters, Xbox 360
Here's a quick rundown of what we learned from Bethesda's demonstration of Fallout 3.
Story: Post-apocalyptic teen ventures out of underground vault in which he's been born and raised to find his dad and his fate in new-post nuclear world. Mutants, animals and humans hate you.
Setting: Washington DC, both downtown and outskirts.
Look: It's Bethesda. Of course it looks good - for a post apocalyptic world. Very cool mix of art deco and post-modern '50s kitsch.
More after the break.
Click to continue reading E3 2007: Preview: Fallout 3 Details And Impressions
Posted by Christopher Sasaki Categories: Action, Nintendo, Role Playing Games, Wii
EGM's Shane Bettenhausen has played through a full preview build of Super Paper Mario and he took some time out after completing the game to answer questions about the game at 1up. There's some interesting ground covered in the Q & A, particularly since not a whole lot is known about the game other than some short previews and some movies of boss fights that have hit YouTube. It was known that the game would neither be a straight platformer, nor an updated version of the other RPGs in the Paper Mario franchise, but the preview gives some insight into how the combination is going to work. The game also looks to feature a lot of content, roughly 27 hours for the main game, plus more for some of the side quests and extras. From previously released screenshots, gamers know the game will support 16:9 presentation modes, but Bettenhausen also clarifies that the title will support progressive scan as well. The preview also briefly touches on the story, characters, and Wii-mote support. The preview screen shots released look great, and this update gives gamers something to look forward to on April 9th when the game releases in the US.
Read More

| 1up


Posted by Chris Cardinal Categories: CES, CES 2007, Features, PC / Laptop, Storage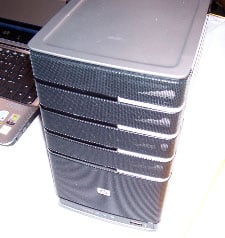 HP's MediaSmart Server was announced as part of Bill Gates' keynote last night. It looks rather dashing, and runs Windows Home Server, a variant of Windows Server 2003. The box has a few USB ports and a network port and that's about it. It comes with an install disc that lets you interface to it through the network, allowing you to configure which media is shared, and how. It includes a neat psuedo-RAID, psuedo-JBOD (just a bunch of discs) approach, that allows file- and folder-specific replication at your choosing, and hot swapability, to boot. (Heh.) They don't have the full launch config specs down, but we're guessing 700+ GB, 2GB RAM and probably not terribly expensive, since you don't have a pricey SLI graphics solution to include. It's ready to launch, Q2 2007.
Posted by Christopher Sasaki Categories: Action, Adventure, Nintendo, Role Playing Games, Wii
Nintendo's embargo on all things Zelda ended on Friday, and those people who were invited up to Nintendo HQ to preview The Legend Of Zelda: Twilight Princess were finally able to talk about what they saw and experienced. Overall, the tone has been that Nintendo has released another masterpiece in the Zelda series. Some sites were more effusive than others, with some believing that this release is close to being the "greatest Zelda ever." Some were a little more cautious about their praise, citing such issues as the quality of the graphics and the adjustment needed for the Wii-mote. Most everyone agreed that this should be one of the longest Zelda outings ever, clocking in with at least 50 hours of gameplay. Overall the previews have been very positive, and Twilight Princess looks to be the launch title to have this holiday season. Those gamers looking to avoid spoilers may wish to stay away from some of the previews; Wired's Game|Life blog does a very good job in avoiding plot points and details over giving an overall impression of the game, and GameSpot contains the majority of their spoilers to a single page within the preview. Other previews, though, seem to sprinkle the plot points through their coverage, so those looking to go into the new Zelda fresh might want to stay away. Still, reading through all of the coverage for any new details of the game will be really hard to resist for fans of the series. The previews are (in alphabetical order):
Read More

| 1up
Read More

| GameDaily
Read More

| Game|Life
Read More

| GameSpot
Read More

| GoNintendo
Read More

| IGN
Read More

| Kotaku
Posted by Christopher Sasaki Categories: Nintendo, Role Playing Games, Trailers, Wii
Nintendo has posted a couple of new trailer videos for Legend of Zelda: Twilight Princess on the Wii. The first shows off the introduction to the game, with Link riding through the game world. The second offers some tidbits of the gameplay and the cutscenes for the game. Also available on Wii.com are some gameplay experience videos, with other players taking on the new Zelda on the Wii. The new videos definitely recall the previous incarnations of Link on the Nintendo 64, with new twists and upgrades for Nintendo's new console.
Read More

| Wii.com

© Gear Live Inc. – User-posted content, unless source is quoted, is licensed under a Creative Commons Public Domain License. Gear Live graphics, logos, designs, page headers, button icons, videos, articles, blogs, forums, scripts and other service names are the trademarks of Gear Live Inc.