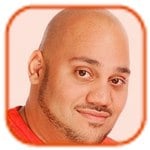 Posted by Andru Edwards Categories: Music, Television, Rumors,
Brandi Glanville thinks Eddie Cibrian that will cheat on LeAnn Rimes.
The Real Housewives of Beverly Hills star - who has two sons, Jake, six, and Mason, 10, with her ex-husband - doesn't think he will be able to stay faithful to the country singer, whom he first got together with when he was still married to Brandi.
The 41-year-old reality TV star told California radio station Q104.5's Up & Adam in the Morning, "I hope that I'm wrong, but I do feel that [the saying] 'Once a cheater, always a cheater' applies in this instance. I feel like once you cross that line, it's easier to do another time, but I hope not."
The Drinking & Dating: P.S. Social Media is Ruining Romance author accused Eddie, who recently bought a new $3 million home with LeAnn, of asking her for child support earlier this week.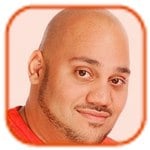 Posted by Andru Edwards Categories: Corporate News, Hot Deals, Internet,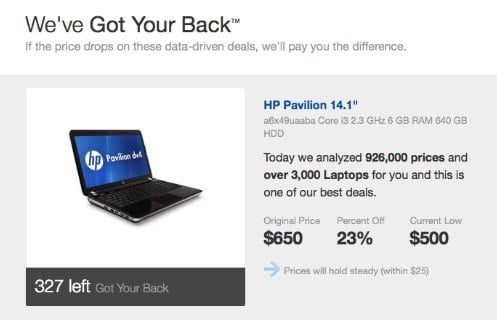 Decide is one of the sites we recommend people visit when they're unsure about a gadget purchase (and they also gave one of you an iPhone 4S at launch.) They've helped many people determine whether they should pick up a certain digital camera or smartphone, or if they should wait a few weeks due to an impending new model set to hit the scene (or a price drop that's right around the corner.) Today, the company launches a new product that aims to give you a bit of confidence in that you are getting the best price out there, period.
Click to continue reading Decide's 'Got Your Back' ensures you best prices on gadgets, or your money back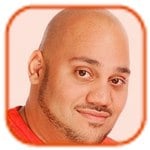 Posted by Andru Edwards Categories: Editorial, Features, Handhelds, PC / Laptop,
Normally at this time of the year, I predict tech trends for the New Year. As I think about 2012, I realize that over the next 12 months, the personal computing and consumer electronics industries are poised to see some big disruptions that could change their course for the next five years.
In fact, I believe that when we end 2012, we will look back and realize that it was the most disruptive year we will have had in personal computing in over a decade. In the next 12 months, the market for personal computers of all shapes and sizes will have changed dramatically.
So, what will be the major forces that could reshape the PC business in 2012? There are four technologies and trends in the works that I believe will force the computer industry in a new direction.
The first will be Intel's huge push to make ultraportables 40 percent of its laptop mix by the end of 2012. Although I don't believe it will achieve that goal, especially if ultrabooks are priced above $899, the fact is that ultrabooks are the future of portable computing. Instead of thin and light laptops driving the market as they are now, ultrabooks, which are thinner and lighter, with SSDs and longer battery life, will eventually be what all laptops will look like in five years. The heavier and more powerful laptops that exist now won't go away completely since there are power users who will still need that kind of processing power. But ultrabooks will be the laptops of the future and 2012 will be the first year of their major push to change the portable computing landscape.
There is an interesting twist with ultraportables that could be even more important starting next year: the introduction of ultraportables with detachable screens that turn into tablets. In the past, this hybrid, as it is called, ran Windows when in laptop mode and Android when in tablet mode. But this approach was dead in the water from the start. With Windows 8 tablets ready to hit the market next fall, you will see ultraportables with detachable screens that will run Windows 8 with the Metro UI both on the laptop and in tablet mode. This will bring a level of OS consistency across both device modes and I think that this concept is a sleeper. In fact, if done right, this alone could reshape the traditional PC market in the near term.
Click to continue reading 2012: The Year everything gets disrupted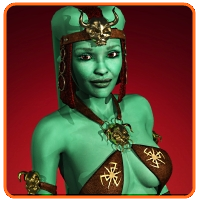 Posted by Patrick Lambert Categories: Features, Social Media,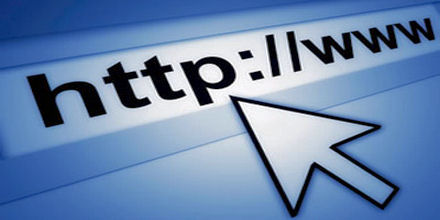 As the last decade ends and a new one begins, it may be interesting to look at what has happened so far on the web, and what it means for the next 10 years. In a time when Facebook is everywhere, now reported to be valued at $50 billion, having raised $500 million recently and being expected to raise another $1.5 billion in the coming months, it's hard to remember what it was like in the year 2000. The tech bubble had just burst, a lot of web sites had gone down in flames, the Y2K bug proved to be nothing, and Windows 98 was still the dominant operating system. Google was something few people knew about, using instead Altavista and Yahoo. Social media was a mostly unknown concept. Just think of what the world was without smartphones and connectivity everywhere. In just 10 years, technology changed so fast, especially online, that it's hard to wrap our heads around it. Let's take it one domain at a time.
Click to continue reading Will Facebook and Google still be relevant in 10 years?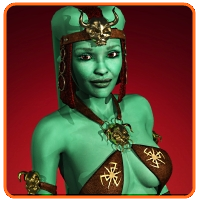 Posted by Patrick Lambert Categories: CES, CES 2011, Handhelds,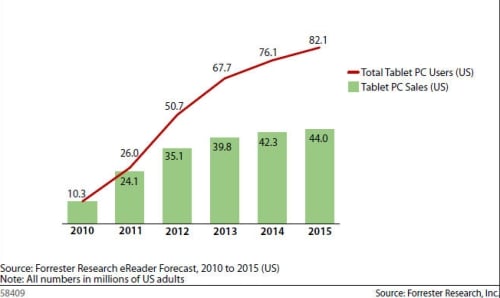 According to a new study by Forrester Research, the US sale of tablets, whether it's the iPad, Android or others, will more than double in 2011. The trend will keep going up, until more than one third of Americans own one by 2015. Their previous figures were much more conservative, and the outlook is likely to change again in the future. Still, this is probably closer to reality, as the iPad showed us that people really do want tablets, as long as the software and hardware are well executed. While the iPad will dominate at least for the foreseeable future, most device makers have already jumped on the bandwagon (you'll see proof of this at CES this week.) By 2015, the yearly amount of units sold should reach 44 millions.
Read More

| Forrester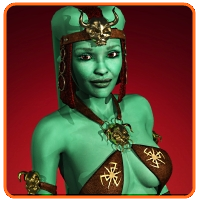 Posted by Patrick Lambert Categories: Google, Software,

Last night Paul Buchheit, the former Google employee who created Gmail, tweeted his rather bold prediction that Chome OS was doomed:
"Prediction: ChromeOS will be killed next year (or "merged" with Android)"
He then added on the FriendFeed thread that Chrome OS has "no purpose that isn't better served by Android" and asking "is this too obvious to even state?" As Google started to ship CR-48 preview devices, with tech blogs reviewing them endlessly, people found themselves in front of a new type of system, one that provides much less than Android, or any other OS has provided before. Google is hoping that the web is all that many people need, and targeting Chrome OS at them. But as people started to plug in devices and finding that they don't work, being unable to do simple things like save photos from their digital cameras locally, or write a document without having to be online, it seems that the company still has a long way to go to convince people that Chrome OS is a good idea, for any market.
Read More

| FriendFeed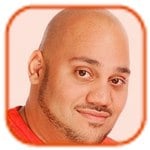 Posted by Andru Edwards Categories: Apple, Cell Phones, Corporate News,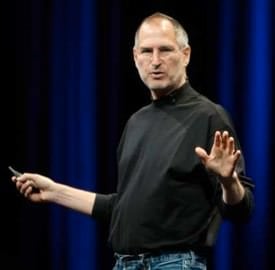 In just about 30 minutes, Apple will be holding a rare press conference to address issues surrounding the iPhone 4. They've been pretty vague about the content that they will address, but it's pretty obvious to all that they will be talking about the antenna issue that many have been complaining about (although we also wouldn't mind hearing about a ship date for the white iPhone 4, and an update on the proximity sensor issue.) We figured we'd take a stab at predicting what Apple is gonna do. Aside from going over numbers and explaining what's going on, it seems that the easiest and most inexpensive fix would be to offer up a gift card to those who have purchased an iPhone 4 already to cover the cost of a Bumper Case, while offering a bumper case to new buyers at the point of sale. So, we think we'll go with that.
Now it's your turn—hit us in the comments and let us know how you think Apple will handle this mess.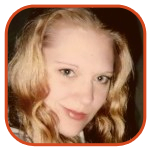 Posted by K.C. Morgan Categories: Music, Prime Time, Reality, FOX, American Idol, Gossip,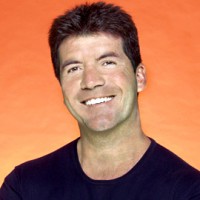 "I would put my money on Adam and Danny," Simon Cowell, American Idol's notoriously hard-to-please judge, was open about his predictions for the finale (scheduled to air May 19).
The competition has been narrowed down to five: Allison Iraheta, Kris Allen, Matt Giraud, Adam Lambert and Danny Gokey. "It is going to be Adam and somebody," Cowell predicted for the finale. "I would like to see Adam and Danny, because I think they are the best two singers, and at the end of the day that is what should happen."
American Idol's eighth season has been marked by changes. This year, the Wild Card round was reintroduced, the judges' save was used and a fourth judge has been added to the panel. The media is convinced that Kara DioGuardi is on her last leg with the show…but what does Simon Cowell say about it?
"I like Kara. The more I get to know her, the more I like her," Cowell told reporters. "You can't make the same show for ever. You have got to make changes, because people will get bored."
(You can find all the American Idol 8 posts here.)
Read More

| Entertainment Tonight

Posted by Sal Traina Categories: Editorials, Elections, Media,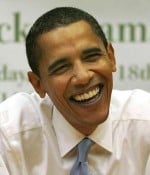 It's been a while since I posted here, but my past work is starting to seem pretty prophetic. I predicted the hard turn to the left, after President Obama pretended to be a moderate while campaigning. I also touched upon media bias, broken campaign promises, empty slogans, and radical ties, among other things.
I'm glad a small number of people are starting to open their eyes and question this administration, but why did so many people not see what I saw coming this past fall?
Click to continue reading To The People Surprised By Obama's Radicalism
Read More

| Gear Live


Posted by Milo Taibi Categories: Editorials, Post Season, Site Announcements, Site Features,

Get ready, because here come Ice Hype's own 2008/2009 NHL season predictions! Which teams will wind up making the post-season? Which team will be the unexpected bust? Which team will win the Stanley Cup? Read my predictions on all of these subjects inside!
Click to continue reading 2008 NHL Post-Season Predictions
© Gear Live Inc. – User-posted content, unless source is quoted, is licensed under a Creative Commons Public Domain License. Gear Live graphics, logos, designs, page headers, button icons, videos, articles, blogs, forums, scripts and other service names are the trademarks of Gear Live Inc.