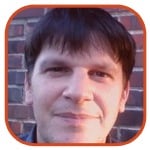 Posted by Mark Rollins Categories: Accessories, Peripherals, Video Games,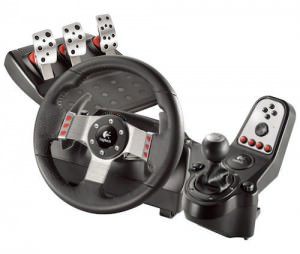 Logitech keeps doing a lot of cool things with its webcams and their Unifying Receiver and whatnot. The latest trick up their sleeve is an upgrade to the G25 Racing Wheel, with the G27. This one has a shift-indicator telling you when to go up or down a gear, and six programmable buttons (three on each side of the wheel.) It is good for PS3, PS2, and Windows games. You can pick one up for $300, and they're available for pre-order on Amazon.
Read More

| Logitech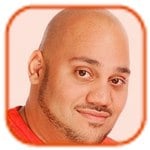 Posted by Andru Edwards Categories: Action, Adventure, Corporate News, Downloadable Content, E3, Features, PlayStation 2, PlayStation 3, Portable/Mobile, PSP, Sony, Sports,
We've got notes galore for you as it pertains to the Sony E3 2008 Media Briefing, and we've also got a full gallery from the event for you as well. As if that weren't enough, we've even got E3 2008 Sony Media Briefing video highlights as well. Anyhow, here's the scoop, live from the Sony event.
Jack Tretton hits the stage after a montage of upcoming games for PS3, PS2, and PSP. He starts joking around and giving a brief history of the Shrine Auditorium. Playstation brand was seeded 15 years ago this week, where Sony decided to create it's own videogame console. He talks about the long-term 10 year strategies employed into the Playstation and Playstation 2. Says there were marquee games for those titles, but they came out years after teh console debut. Same for the Playstation 3. He gives some props to PS3 as well, talking about Blu-ray and the Cell processor.
"We're here to talk about genre-defining kick-ass games" - alright, let's do it. That would be a big change from what Nintendo had to offer us. Games like Metal Gear Solid 4 is the reason why you buy a Playstation 3. Over 75 titles are exclusive to the console. Today Sony has three successful platforms on the market at once. They start with PS3.
Click to continue reading Live from Sony's E3 2008 Media Briefing
Gallery:

Posted by Steve Van Neil Categories: Casual, Electronic Arts, Music, Nintendo DS, PlayStation 2, Portable/Mobile, Trailers,
Ignoring a collective shrug on the part of game reviewers, Electronic Arts has announced that the formerly Wii-exclusive rhythm game, Boogie, is headed to the DS and PS2. EA tells us that the PS2 version will incorporate a music video creator and allow players to record themselves singing along with their favorite pop songs. Meanwhile, the DS version jettisons the karaoke element entirely and revs up the minigame factor. In addition, Boogie DS boasts "the first 3D gameplay on the handheld system," thanks to the snazzy (or not) 3D glasses that will come packed in with the game. Check out the DS trailer above, but only if you can stomach a whole lot of Brickhouse.
Read More

| EA

Posted by Max Dickey Categories: Electronic Arts, Hot Deals, PlayStation 3, Sports, Xbox 360,
Today Madden 08, the latest installment in the perennial bestselling series from EA Sports, hits stores around the country. It's available for pretty much every system you can think of, although naturally the big contenders are the technically superior Xbox 360 and PS3 versions. A lot of press in the weeks leading up to this release has noted the framerate differential between the two: the Xbox 360 version runs at 60fps, whereas the PS3 version runs at 30fps. Some might argue that the human eye can only register up to 24fps, so this is a moot point, but many FPS fans swear by blistering framerates and therefore would say that the difference is huge. Whatever side you may take in that debate, word on the street says that the PS3 game does indeed look choppy at times, although it's not a dealbreaker.
The new Madden showcases a big new feature that designates top players at all positions as "Weapons". You might have a fast receiver, a big hitter, and a smart QB, all of whom can outperform their competition in certain areas and are capable of some awesome plays. These designations go a long way toward rendering each team unique, a far cry from old school games where you could only tell an Pro Bowler from a rookie by the number on his jersey. Aside from this new feature, classic Madden gameplay has been tweaked and tightened up based on praise and complaints about previous incarnations to give us more of what we want.
If you're looking to pick the new Madden up soon, take a look at Toys R Us, where you can get any other game in the store for 50% off if you get Madden on the same receipt.
Read More

| Gamespot


Posted by Chris Pereira Categories: Action, Driving, Electronic Arts, PC, PlayStation 2, PSP, Sports, Xbox, Xbox 360,
People always ask, "Why buy the newest Madden game? They're all the same." Well, here's one very cut-and-dry reason you can use to explain: because, eventually, these game's servers get taken down. EA is planning to take down 42 games' servers on September 1 (although many of these are the same game across multiple platforms), and an additional seven on November 1. This isn't a new trend, as there's a sizable list of servers for EA games that have gone offline over time.
Apparently there really is a reason to pick up that newest Madden.
September 1, 2007 Online Service Shutdown
Arena Football for PlayStation 2
Arena Football for Xbox
FIFA Soccer 06 for Xbox 360
FIFA Soccer 06 for PC
FIFA06 for PC
FIFA Soccer 06 for PlayStation 2
FIFA Soccer 06 for PlayStation Portable
FIFA Soccer 06 for Xbox
FIFA World Cup 2006 for PC
FIFA World Cup 2006 for PlayStation 2
FIFA World Cup 2006 for PlayStation Portable
FIFA World Cup 2006 for Xbox
Fight Night Round 3 for PlayStation Portable
Fight Night Round 3 for Xbox
Check out the full list of September and November shutdowns after the break.
Click to continue reading EA Shutting Down Servers For Madden 06, NBA Live 06, And More

Posted by Chris Pereira Categories: Corporate News, E3, Microsoft, Xbox 360,
In a truncated interview with 1UP (the full version is coming), Microsoft's Shane Kim discussed what he believes is a mass-market price. "If you look back in history—again, it's not just going to follow what's in history—in some cases, 75 to 80 percent of the business gets done $199 and below. … Maybe $249 will be a mass-market price point—but historically, $199 has been when you're talking a PlayStation 2-like install base."
He also went on to say July was an "odd" time to announce a price drop, when referring to the PlayStation 3 price drop. Additionally, Kim even said, "I'm not even sure Sony announced a price reduction, anyway," referring to the fact that there was initially a $499 PlayStation 3 available, and today there is no cheaper option than $499 if you're looking for a new PS3.
It's hinted that a price drop may be in store this year, and to "stay tuned" – Kim acknowledged that this holiday is extremely important for Microsoft to win. So if you're holding off for a price drop to pick up an Xbox 360, don't lose hope just yet.
Read More

| 1UP

Posted by Edie Sellers Categories: Casual, Corporate News, E3, Editorial, Hardware, Microsoft, Nintendo, Nintendo DS, PC, PlayStation 2, PlayStation 3, PSP, Wii, Xbox 360,
It always seems a bit silly to declare a "winner" of E3. It's just so juvenile. This is a complex industry that can't be distilled down to the simple question of "who beat whom."
But we just can't help it, can we?
Comparing the three keynotes this year, however, really is a grab-bag of possible outcomes. All three offered something interesting, and picking a single "winner" this year more than ever depends how you define "winning."
My rundown is after the break.
Click to continue reading E3 2007: The Big Three: Who "Won" E3?

Posted by Chris Pereira Categories: Action, Activision, Adventure, CAPCOM, Corporate News, Driving, E3, Electronic Arts, First Person Shooters, Hardware, Internet, LucasArts, MMORPG, Mods/Hacks, Music, PlayStation 2, PlayStation 3, PSP, Release Dates, Role Playing Games, SEGA, Sony, Special Editions, Sports, Trailers, Ubisoft,
I'm going to come right out and say it: I'm coming away from Sony's presentation more impressed than I was either Nintendo's or Microsoft's. They were very straightforward and showed exactly what we all wanted to see: the games.
In fact, this was one of the more impressive E3 press conferences in recent memory – check inside to find out why.
Click to continue reading E3 2007: Sony's Press Conference Recap And Impressions

Posted by Chris Pereira Categories: Activision, CAPCOM, E3, Eidos, Electronic Arts, LucasArts, Microsoft, Nintendo, Nintendo DS, PC, PlayStation 2, PlayStation 3, Portable/Mobile, PSP, SEGA, Take2, THQ, Ubisoft, Wii, Xbox 360,
Sure, the convention is much smaller this year and all, but that doesn't mean that there aren't a ton of games to be seen. Eurogamer has posted a list of the announced lineups and then some of what you'll be seeing at E3. Nintendo, Microsoft and Sony have been quiet on what they'll be showing, so it looks like we'll need to wait until their respective showings to know for sure. The event is taking place next week, so expect it to be a busy week in news.
But please, please, please, Nintendo, show me Animal Crossing Wii. Something. Anything. Please?
Read More

| Eurogamer


Posted by Chris Pereira Categories: Activision, Music, PlayStation 2, Release Dates, Rumors, Xbox 360, Xbox Live Marketplace,
The list of songs that will appear in Guitar Hero Encore: Rocks the '80s has been fully revealed with the announcement of the final eight, making for a total of 30 songs. Overall, the list isn't terrible; it's got a mixture of everything, from A Flock of Seagulls to The Vapors to Dio, but it just seems to be lacking any true flavor. It feels like a completely random selection of '80s songs, as opposed to, say, a really sweet group of '80s songs or one that captures a particular aspect of '80s music.. We still don't have any official word on why Bow Wow Wow's "I Want Candy" disappeared after being seen in earlier builds of the game.
The game is set for release on PlayStation 2 on July 24 at a full retail price of $49.99. Nothing has been announced, but 360 Guitar Hero II owners might be seeing a downloadable content package (read: lots of microtransactions) later this year containing these songs.
The newly announced songs:
Anthrax's "Caught In A Mosh"
Accept's "Balls to the Wall"
Judas Priest's "Electric Eye"
Dead Kennedy's "Police Truck"
X's "Los Angeles"
The Go Gos' "We Got the Beat"
The Vapors' "Turning Japanese"
Winger's "Seventeen"
Limozeen's "Because, it's Midnite"
Click to continue reading Guitar Hero '80s Final Tracks Unveiled
© Gear Live Inc. – User-posted content, unless source is quoted, is licensed under a Creative Commons Public Domain License. Gear Live graphics, logos, designs, page headers, button icons, videos, articles, blogs, forums, scripts and other service names are the trademarks of Gear Live Inc.