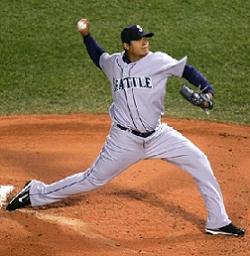 It seems like the baseball writers may finally be coming around. They selected Felix Hernandez as the 2010 American League Cy Young Award winner, and for the second year in a row, they've opted to overlook win-loss record and give the top pitcher's award to a pitcher who truly deserves it. With a 13-12 record, Hernandez looks like one of the most average pitchers in the game, but when you look deeper, you'll find that his record is a gross misrepresentation of what he did.
Click to continue reading King Felix Hernandez finally gets his win with AL Cy Young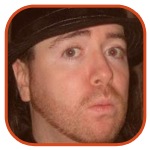 Posted by Adrien Griffin Categories: Athletes, MLB, Rumors,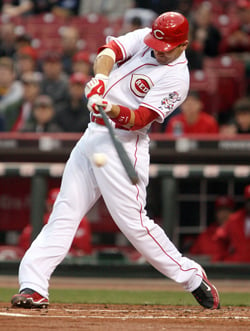 The Cincinnati Reds may have found an expensive problem for themselves this offseason. All of Edinson Volquez, Johnny Cueto and MVP candidate Joey Votto are all eligible for arbitration, and all have made cases that they're worth significantly more than the $1.5M combined they have earned this past year. It's likely that each one will earn money individually next season that will eclipse this combined total. But can the Reds afford to spend that much more money?
Click to continue reading Joey Votto, Edison Volquez and Johnny Cueto all arbitration-eligible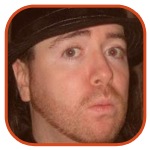 Posted by Adrien Griffin Categories: Athletes, MLB, Playoffs,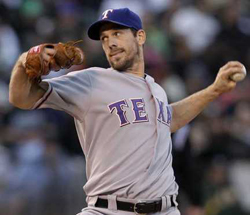 If you ever try to define the word "that," you should start by describing Cliff Lee; as in "Cliff Lee is that good." The oft-traded ace went out on Tuesday night and made pitching look as easy as finger painting in shutting down the Tampa Bay Rays for the second time in their ALDS matchup, setting a number of records along the way. If you saw the game, you could only be left with one thought: "That was one hell of a performance."
Click to continue reading Cliff Lee makes history with the Texas Rangers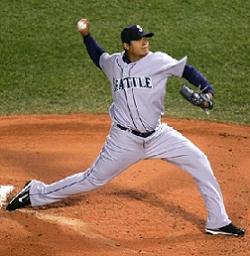 In Thursday's historic game at Rogers Centre in Toronto, many fantastic accomplishments were achieved. Jose Bautista hit his 50th home run of the season, becoming just the 26th player ever to do so, as well as the first Blue Jay. Ichiro Suzuki rapped two hits, including a single to center field that was his 200th of the season, marking 10 straight years of 200-hits for Ichiro; the first time that's ever been done by an MLB player. However, some achievements will fly under the radar: the pitching performances.
Click to continue reading Ichiro makes MLB history and Jose Bautista makes Blue Jays history
In 1968, Denny McLain won 31 games for the Detroit Tigers during a World Championship season. His 31-victory total has not been touched by any pitcher in baseball since. Detroit's four-man pitching rotation gave them more opportunities than today's teams to field higher-quality pitchers throughout the season, and it paid off by the end. Today, with less than three weeks left in the season, we have yet to see a pitcher win 20 games.
Click to continue reading Denny McLain's 31 victories untouchable in today's game?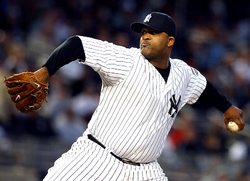 CC Sabathia, New York's ace, is a four-time all-star. He is also a World Series Champion, won a Cy Young Award with the lowly Cleveland Indians in 2007, finished in the top five in voting two other times, finished runner-up for Rookie of the Year in 2001, and has even made a couple of attempts at league MVP. At 29-years of age, Sabathia has already had a better career than most. Despite all of this, he has never been a 20-game winner.
Click to continue reading Sabathia ready for first 20-win season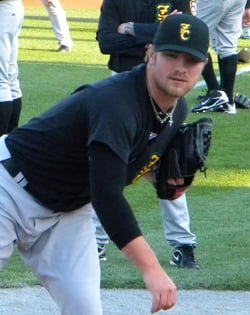 This year has been called The Year of the Pitcher in baseball. With so many no-hitters and two (three?) perfect games, not to mention countless close calls for no-hit bids, pitching truly has been at the top of the conversation this season. But the marvels on the mound do not stop with major league hurlers. There are dozens of guys with blue chip arms in the minors who will not even step into a major league stadium. One of those guys is Kyle Drabek.
Click to continue reading Young Drabek almost ready to make big leagues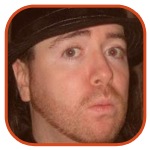 Posted by Adrien Griffin Categories: Athletes, Drafts, MLB,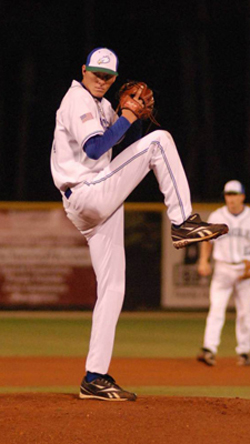 Chris Sale has become the fastest player to go from a draft to the major leagues since Ryan Wagner in 2003. The Chicago White Sox picked Sale 13th overall in the 2010 MLB Draft then signed him quickly, despite reservations from teams with higher selections that Sale might be a tough sign. He started in high A-Winston Salem and moved quickly through to triple-A Charlotte before getting the call to Chicago's South Side before Wednesday's game against the Tigers.
Click to continue reading Chris Sale makes jump to major league roster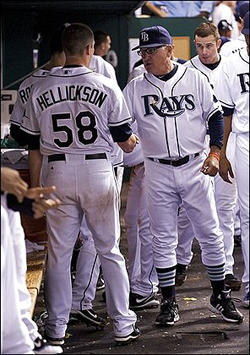 Just three years ago, the Tampa Bay Rays were the laughing stock of the American League. With a World Series appearance in 2008, they served notice that the kids were finally ready to compete with the Yankees and the Red Sox, leapfrogging in talent over Baltimore and Toronto. While not exactly baseball's biggest stage, the Rays served notice again that their system is still full of talent when they brought up pitcher Jeremy Hellickson to make a start against the Minnesota Twins on Monday night.
Click to continue reading Jeremy Hellickson debuts for Tampa Bay Rays by crushing Minnesota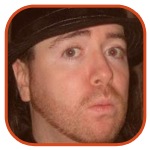 Posted by Adrien Griffin Categories: Athletes, Injuries, MLB,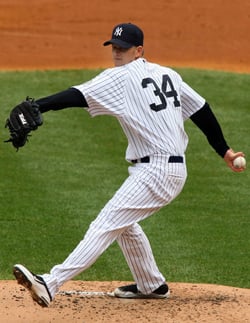 A.J. Burnett is having a tough season. It continued in his latest start on Saturday, when he went two innings against the Tampa Bay Rays. After the second, he disappeared into the clubhouse only to return with a cut above his right hand which he told Yankees manager Joe Girardi that he fell down stairs and ended up staying in the game for two more batters. Afterwards, he admitted he lied to the manager and said he really cut his hand when he slammed open double doors with a Plexiglas cover.
Burnett took ownership and apologized for lying to Girardi, but that may have had as much to do with maturity as it does his wearing a Yankees uniform. Frankly said, the Yankees will not tolerate that behavior. Things might have been different if he were still in Florida or Toronto or anywhere else for that matter, but he is a New York Yankee and excellence is not only the goal of everybody in the organization, it is also expected.
Burnett is no stranger to injuries, having landed on the DL almost a dozen times in his career, but none have been quite like this. Luckily for him, the cut is just above the wrist and not on his fingers. If so, he could really have had some difficulty holding the baseball. Regardless though, the two hitters he threw to after taking the mound in the third both reached base. At that point, Girardi came out with the hook.
It is hard to love a guy like Burnett. His dragon-like behavior is as temperamental as his arm and you never quite know what he's going to be like both on the mound and off. Saturday was one of those double-bad days as his arm got him into trouble then his attitude made it worse before his arm completely derailed him. Burnett isn't supposed to miss his next start, but there will be some hard looks going his way when he does take the mound again, and he'll deserve every one of them.
© Gear Live Inc. – User-posted content, unless source is quoted, is licensed under a Creative Commons Public Domain License. Gear Live graphics, logos, designs, page headers, button icons, videos, articles, blogs, forums, scripts and other service names are the trademarks of Gear Live Inc.