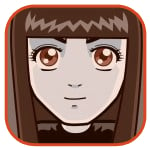 Posted by Sheila Franklin Categories: Misc. Tech, Music, Portable Audio / Video,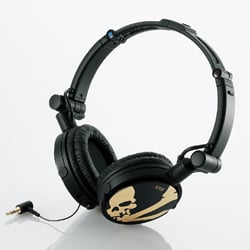 Elecom's Xcalgo Series headphones handily fold up when not in use and its cord retracts to keep it from tangling by the push of a button. Available in 3 colors or the pirate design, they have an impedance of 32 ohms, frequency range of 20 Hz to 20kHz, pressure response of 101dB/1mW and a cord length of 0.8m. Add to that the EHP-OH-900's soft earpads to keep comfortable while eliminating extraneous noise. The Xcalgos are available for $75.99.
Read More

| Audio Cubes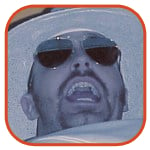 Posted by Patrick Snajder Categories: Editorials, History, US Economy,

This week's werd pirate, as told by the other OED:
pirate (n.)
1254, from O.Fr. pirate, from L. pirata "sailor, sea robber," from Gk. peirates "brigand, pirate," lit. "one who attacks," from peiran "to attack, make a hostile attempt on, try," from peira "trial, an attempt, attack," from PIE base *per- "try" (cf. L. peritus "experienced," periculum "trial, experiment, risk, danger," see peril). Meaning "one who takes another's work without permission" first recorded 1701; sense of "unlicensed radio broadcaster" is from 1913. The verb is first recorded 1574.
From its earliest roots, we can see that the word is based on the seafaring attack definition that we know very well and "one who attacks." Then, in 1701, that very concrete definition gains an abstraction – it becomes the piracy of copyright, a taking of thought. You can say that 1701 marks the death of the singular pirate and welcomes a broader definition founded in the world of Gutenberg's movable type.
We should not find it ironic, then, that Captain William Kidd was executed in 1701 for his act of piracy.
Click to continue reading Werd: Pirate - Part Five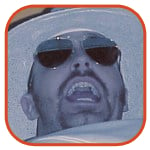 Posted by Patrick Snajder Categories: Editorials, History, US Economy,

So in case some of you didn't get the subtle satire, Part Three of this week's Werd said that pirates can't exist without capitalists. If we want capitalism, we should expect pirates; if we want to rid ourselves of pirates, all of the laws and security in the world won't ever get rid of them, so long as we still cling to capitalism.
Today I received my copy of the January issue of Harper's Magazine. The very first entry I read is by former Editor-in-Chief Lewis H. Lapham, who writes about the financial crisis, etc. Spurred by Thomas Friedman's myopic quote that says Americans need to get back to their roots and "thinking about how—not just how much," Lapham notes that the foundation of America's independence from Britain was largely due to America's embrace of privateers, who attacked British merchant ships and sold the profits of the booty to the French to support the revolution. Loathe as I am to include huge block quotes of pirated text, I can't help but reprint part of Lapham's opening editorial that relates directly to this week's Werd and essentially proves the subtle slants of arguments about pirates that I have been setting up all week.[1] Lapham, better than I, writes my perfect and fitting conclusion. Here we go…:
Click to continue reading Werd: Pirate - Part Four
Read More

| Harper's Magazine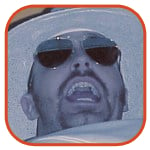 Posted by Patrick Snajder Categories: Business, Editorials, Humor, US Economy, Wall Street,

Where, precisely, is the line crossed that separates Robin Hood, the hero to the lower class, from Robin Hood, terrorist?
As usual, it seems to be a matter of perspective. If you were sending gilded coins to your dear mother by way of carriage to pay for her The Plague medicine and Robin Hood up and stole your ducats, surely you would see Hood as the terrorist. Even if the money Hood swiped was going to pay for the conspiracy to infect the lower class with The Plague, chances are that the sender would want Hood's head on a platter. I guess the overriding feeling is that if people take things that belong to you, you tend to want revenge or at least want to call them a thief, hoping that they will be prosecuted so you can get back the money that rightfully belongs to you.
But, if you are struggling to make ends meet as a cobbler and you can't afford your child's The Plague medicine, then when Hood arrives at your door with a burlap sack full of free money, surely you would sing his graces. Thanks to the beneficence of your green-suited savior, little Sally will live to see another day. So what if some highfalutin dingleberry lost the spending money for his elaborate vacation? Is his happiness more important than little Sally's health? From the viewpoint of the cobbler's eye: Hood is a hero.
All of us have either found ourselves in moments of Hood-worship or Hood-hate. If we follow the genealogy of the dollar bills in our own accounts, surely we will find some dollars buried in our past that have known thievery and charity. Some times our lives are subsidized for our benefit and some times we subsidize others for their benefit.
Click to continue reading Werd: Pirate - Part Three
Read More

| Ladhe burns his bridges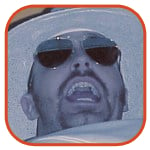 Posted by Patrick Snajder Categories: Editorials, Humor,

For the invocation of the Werd, I have made a pirate joke for your enjoyment:
What's the difference between an AIG CEO and a college student downloading a CD?
The CEO won't be criminally prosecuted!
Hi-HO!
And now, for something completely different:
© Gear Live Inc. – User-posted content, unless source is quoted, is licensed under a Creative Commons Public Domain License. Gear Live graphics, logos, designs, page headers, button icons, videos, articles, blogs, forums, scripts and other service names are the trademarks of Gear Live Inc.