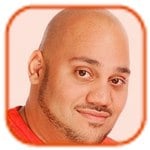 Posted by Andru Edwards Categories: Apple, PC / Laptop, Software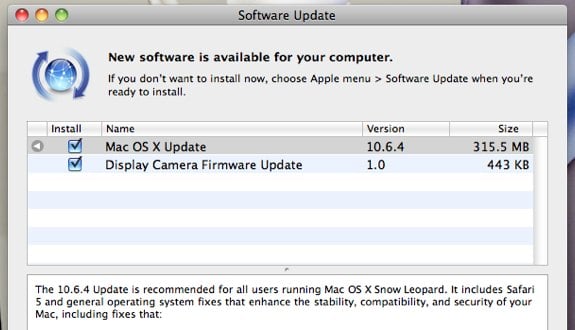 Apple just released Mac OS X 10.6.4 update to the masses, and if you are running Snow Leopard, you can get the update right now by running Software Update. According to Apple:
The 10.6.4 Update is recommended for all users running Mac OS X Snow Leopard. It includes Safari 5 and general operating system fixes that enhance the stability, compatibility, and security of your Mac, including fixes that:
resolve an issue that causes the keyboard or trackpad to become unresponsive
resolve an issue that may prevent some Adobe Creative Suite 3 applications from opening
address issues copying, renaming, or deleting files on SMB file servers
improve reliability of VPN connections
resolve a playback issue in DVD Player when using Good Quality deinterlacing
resolve an issue editing photos with iPhoto or Aperture in full screen view
improve compatibility with some braille displays
For more info on the update, hit the link below.
Read More

| Mac OS X 10.6.4 details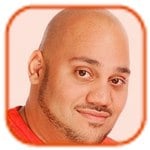 Posted by Andru Edwards Categories: Apple, Software
Apple finally released Mac OS X 10.6.3 yesterday morning, aimed at providing fixes that enhance the stabilit and security of your Mac, but it seems that a few people are experiencing some major issues after installing. On the bright side, we've heard that manually downloading the update, rather than bringing it in using Software Update, results in no problems at all. Here's the quick list of fixes you'll find in 10.6.3:
improve the reliability and compatibility of QuickTime X
address compatibility issues with OpenGL-based applications
address an issue that causes background message colors to display incorrectly in Mail
resolve an issue that prevented files with the # or & characters in their names from opening in Rosetta applications
resolve an issue that prevented files from copying to Windows file servers
improve performance of Logic Pro 9 and Main Stage 2 when running in 64-bit mode
improve sleep and wake reliability when using Bonjour wake on demand
address a color issue in iMovie with HD content
improve printing reliability
resolve issues with recurring events in iCal when connected to an Exchange server
improve the reliability of 3rd party USB input devices
fix glowing, stuck, or dark pixels when viewing video from the iMac (Late 2009) built-in iSight camera
You can go ahead and grab it now if you're running Snow Leopard.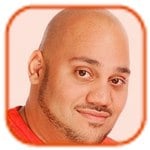 Posted by Andru Edwards Categories: Google, Internet, Software, Videos
For all of you running the Google Chrome browser on Mac and Linux platforms, you'll wanna update to the latest version of the beta, which includes support for extensions, as well as bookmark syncing. There are already over 2,200 extensions available in the Chrome Extensions Gallery, so you can get a bunch more functionality in your browser, dare we say, a more Firefox-like experience, just by updating. Seriously, go do it. Oh, and if you need to see how it all works visually, hit the demo video above that Google put together.
Read More

| Google Chrome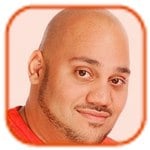 Posted by Andru Edwards Categories: Microsoft, Software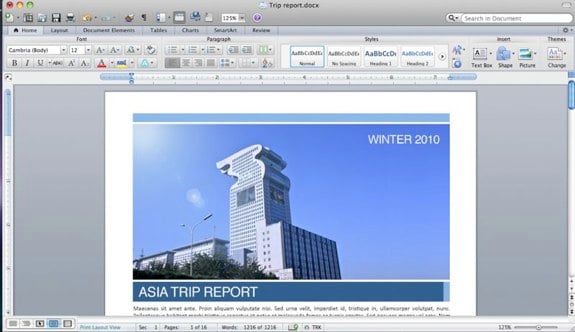 The Mac Business Unit over at Microsoft is hard at work on Office for Mac 2011, and released some new details about the product, slated to ship in the 2010 holiday season. The biggest change, at least visually, is the inclusion of the ribbon interface, which has been a part of the Windows Office suite since 2007. Microsoft did say that they took great care to make the ribbon on the Mac side of things feel very Mac-like, so that's a plus, we guess. Another big change/addition here is that Entourage goes away, and gets replaced with Outlook for Mac. You'll be able to import a PST file and get right to work, and you'll have Time Machine and Spotlight support as well, which we think is fantastic for those of you who live in Outlook and currently rely on a product like Parallels or Fusion to make that happen.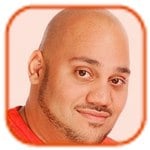 Posted by Andru Edwards Categories: Apple, PC / Laptop, Software, Family, Techies, Under $25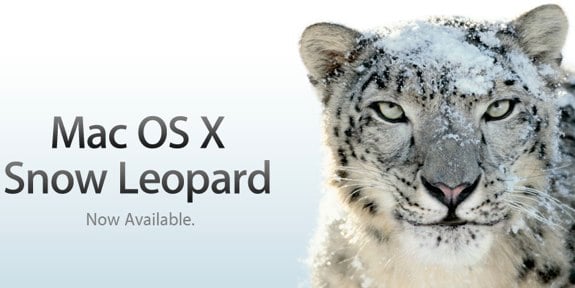 If you've got any Mac users in your life who haven't upgraded to OS X 10.6 Snow Leopard, we think it's time you give them the nudge this holiday season. Snow Leopard is faster, leaner, and more intuitive. It's also simple to install, and even hits the user back with some freed up hard drive space. The best part, though, is the price. Snow Leopard is just $24.99 at Amazon. Here's the price breakdown: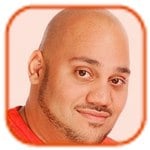 Posted by Andru Edwards Categories: Apple, PC / Laptop, Software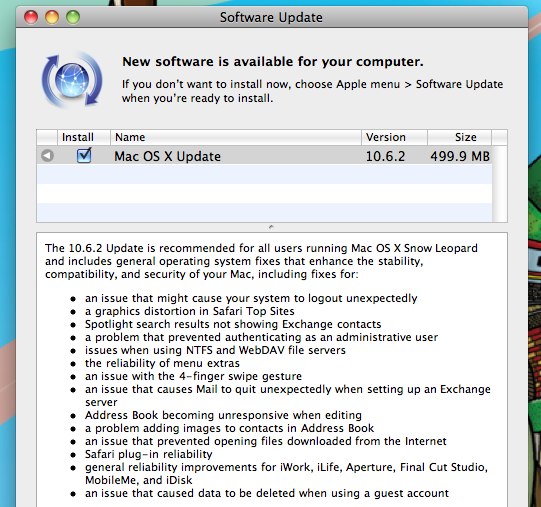 Apple just released the second big update to Snow Leopard with Mac OS X 10.6.2. You can fire up Software Update right now to grab the good, which on my system looks to be about 500 MB in size. Here is a look at some of the fixes
an issue that might cause your system to logout unexpectedly
a graphics distortion in Safari Top Sites
Spotlight search results not showing Exchange contacts
a problem that prevented authenticating as an administrative user
issues when using NTFS and WebDAV file servers
the reliability of menu extras
an issue with the 4-finger swipe gesture
an issue that causes Mail to quit unexpectedly when setting up an Exchange server
Address Book becoming unresponsive when editing
a problem adding images to contacts in Address Book
an issue that prevented opening files downloaded from the Internet
Safari plug-in reliability
general reliability improvements for iWork, iLife, Aperture, Final Cut Studio, MobileMe, and iDisk
an issue that caused data to be deleted when using a guest account
There's a lot there, and that's without mention of the rumored killing of Intel Atom support in 10.6.2 as well. If you are running OS X on a Hackintosh, you may want to wait and see how this plays out. As for the rest of you, get to downloading!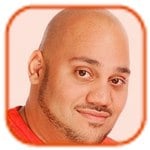 Posted by Andru Edwards Categories: Apple, PC / Laptop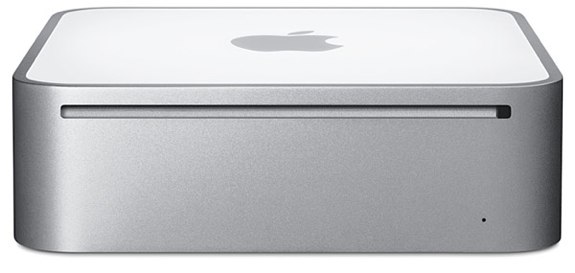 Apple has updated the Mac mini today, giving the two configurations that were previously available a nice bump in the specs department, and also adding a third to the mix, that being a Mac mini server. Starting with the $599 Mac mini, it now sports a 2.26GHz Core 2 Duo processor (previously it was 2GHz,) 2GB RAM (previously 1GB,) and a 160GB HDD (up from 120GB). Next step up from there is the $799 Mac mini, which has a 2.53GHz Core 2 Duo, 4GB RAM, and 320GB HDD.
As for the new server version, it sits in the same enclosure as the other Mac minis, but has no optical drive. Instead, they throw in a second hard drive. So for $999, you get a Mac mini that includes two 500GB drives, includes Snow Leopard Server, 2.53GHz Core 2 Duo processor, 4GB RAM, and GeForce 9400M GPU. Definitely a good idea for a small business where an Xserve might be overkill, or even an advanced home network solution. The new Mac mini is available now.
Read More

| Mac mini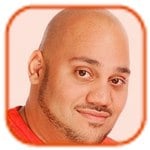 Posted by Andru Edwards Categories: Apple, PC / Laptop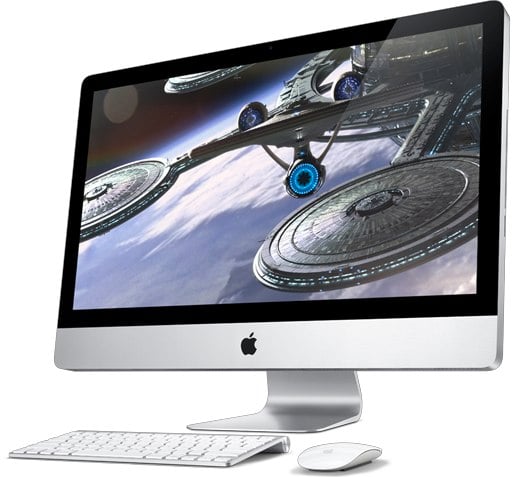 Apple continues with today's slew of updates with the new iMac (on sale now,) which sees a bunch of improvements. First, it comes in two new sizes, 21.-inch and 27-inch widescreen 16x9 LED-backlit displays, which have a 178-degree viewing angle. The 27-inch model rocks a 2,560 x 1,440 resolution, while the 21.5-inch model checks in at 1,920 x 1,080 (1080p.) Standard with these iMacs are the Apple wireless keyboard, and the brand new Magic Mouse - so the iMac has gone completely wireless. Both models gain an SD card slot, and the 27-incher also has a video in port, a first for the iMac.
As far as price goes, the introductory model starts at $1,199 and gets you the 21.5-inch display with 3.06GHz Core 2 Duo, NVIDIA GeForce 9400M graphics, 4GM RAM, and a 500GB hard drive. For $300 more, you get a 1TB drive, and the ATI Radeon HD 4670 graphics card. The 27-inch model starts at $1,699 with a 1TB drive and ATI Radeon HD 4670 graphics card. Lastly, there is a $1,999 27-incher that sports a 2.06GHz quad-core Core i5 processor and ATI Radeon HD 4850 graphics card. That one won't ship until next month, but all the rest are available now.
Read More

| Apple iMac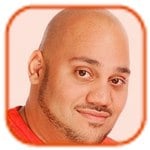 Posted by Andru Edwards Categories: PC / Laptop, Software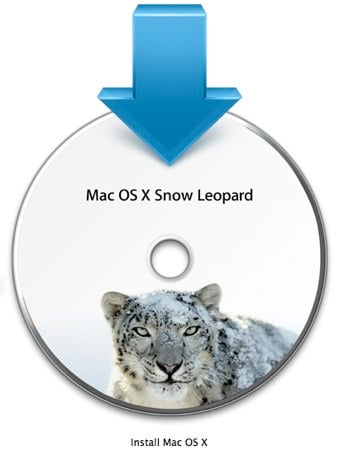 All you Snow Leopard users, take heed: if you have the Guest account enabled, you'll wanna remove it until Apple fixes the latest bug that's been found, if you don't want to lose your data. In a nutshell, what's happening is that if you attempt to log into the Guest account, and the system hangs, it could lead to mass deletion of all user files on the primary account. That means everything. So you reboot to clear out the frozen system, log in to the main account, and files have vanished. Yeah, that's pretty bad, and worse, Apple has yet to acknowledge it and issue any sort of statement to users on how to avoid this until they release a patch.
To be safe, we recommend simply disabling the Guest account on all your Macs that happen to be running Snow Leopard until a fix is released. Seriously, better safe than sorry.
Read More

| Neowin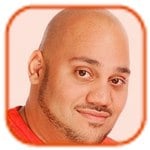 Posted by Andru Edwards Categories: Internet, Microsoft, Music, Software
One of the main gripes we've had with Microsoft as it pertains to the Zune platform is that they have stubbornly decided to keep it to a PC-only experience, leaving those of us who live in OS X out in the cold. Well, starting today, that changes. Kind of.
You see, the Zune Marketplace is now a part of Zune.net. Aside from having the largest audio and video podcast streaming directory, Zune now allows you to log in and listen to music from the Marketplace in any browser that supports Silverlight 3. Technically, Microsoft says that this experience is officially supported in Internet Explorer and Firefox, but we will have to give it a shot in Safari. Anyhow, the caveat here is that you can log in as a Zune Pass subscriber and stream music. This doesn't solve the problem that those on a Mac have where they can't sync their Zune hardware or download music. Still, though, it's a step in the right direction, and a nice bonus for Zune Pass subscribers to be able to access and stream music, including Smart DJ playlists, on the fly. This basically turns any computer running IE or Firefox into a terminal for you to log in and crank those Zune tunes, and we like it.
For those wondering, any activities you do with Zune.net stream will also be reflected in your Zune account and Zune Card. How cool is that?
© Gear Live Inc. – User-posted content, unless source is quoted, is licensed under a Creative Commons Public Domain License. Gear Live graphics, logos, designs, page headers, button icons, videos, articles, blogs, forums, scripts and other service names are the trademarks of Gear Live Inc.