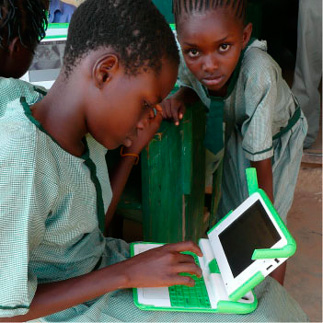 Speaking of the OLPC Program, if you took back some of the gifts you received already or are feeling particularly beneficent, you can still participate in the Give One Get One Project if you live in the United States or Canada. The deadline has been extended through December 31. For your $399.00 donation, one XO laptop will be given to your child and one sent to a girl or boy in a developing country. Don't forget that $200.00 is tax deductible. (Yes, it's already that time again.)
Read More

| OLPC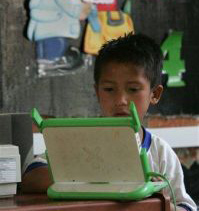 It appears that the OLPC has already become a hit in Peru. At the Santiago Apostol School, it seems that the children in the small town of 800 can't get enough of the computer. In fact, the school population rose by 10 when families heard the it was coming. Many of the children there leave after finishing schools because they don't want to farm like their parents.
Maria Antonieta Mendoza, an Education Ministry psychologist who is helping to prepare for the rollout in March, claims that they love the built-in camera best, since many of them had only seen them previously belonging to tourists. In all, more than 272,000 units will be distributed in the county.
Read More

| Psyorg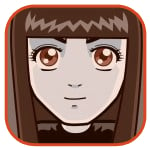 Posted by Sheila Franklin Categories: Corporate News, Hot Deals, PC / Laptop,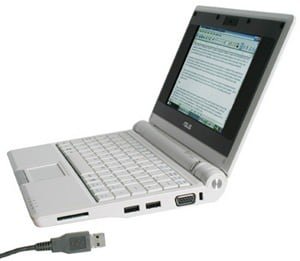 Asus has countered the OLPC with its Eee (easy work, easy learn, easy play) PC. With a 7-inch screen and a weight of about 2 lbs., the inexpensive laptop runs on Linux with Open Office and built-in dictionary, but can also handle Windows XP. With quick boot time, it uses Flash for memory storage on its 4400mAh battery, has a one-click graphic intuitive interface, and can be pre-ordered for a mere $299.99. Asus also offers an Eee PC 4GB with a larger 5200 mAh battery and a 0.3 megapixel webcam. Add $100.00 for the deluxe version, which is available now. Both come with 3 USB ports to allow for expansion and added external storage.
Read More

| Smartphone Thoughts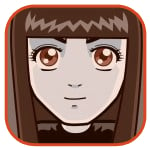 Posted by Sheila Franklin Categories: Corporate News, PC / Laptop,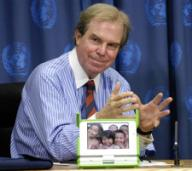 Nicholas Negroponte's One Laptop Per Child vision seems to have hit a snag. Although the computer was supposed to cost a mere $100.00, the price has doubled since its release on its Web site. This is partially due to fewer orders for the plastic encased device than expected. Its 1.1 version software should become available December 7 but there is no exact date for the units themselves. Apparently what was to be worldwide distribution has been narrowed down to only Uruguay and Mongolia. It seems to us that there would be plenty of room for sales right here in the States, where many children are also without computers.
Read More

| Reuters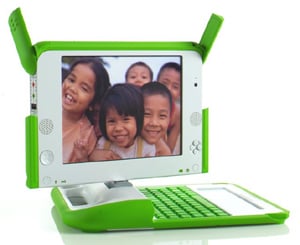 Three million OLPC XO-1s, at a price of $175.00 apiece, have been ordered by various governments around the planet, giving the company sufficient funding to start mass production of the units in October. No specific countries have been named, probably in an effort to dispel competition from other companies' low cost computer sales efforts.
Even better news is that the non-profit organization may launch a commercial version for about $350.00 for children (and adults) who like many of the features, such as a sunlight readable display, low power consumption, and built-in wireless networking, and want their own XO-1s. This will be around that same time frame, right in line with the Christmas season. We hope that Santa will be packing lots of those in with his other goodies this year.
Read More

| ABC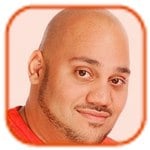 Posted by Andru Edwards Categories: Corporate News, Design, Features, PC / Laptop, Toys, Videocasts, Videos,
Read More

| The Bleeding Edge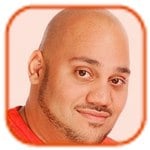 Posted by Andru Edwards Categories: Corporate News, Design, Features, PC / Laptop, Video Games, Videocasts, Videos,
Read More

| The Bleeding Edge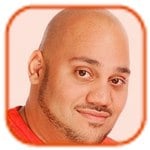 Posted by Andru Edwards Categories: Gizmatic, Short Bytes, Corporate News, Design, Features, PC / Laptop, Videocasts, Wireless / WiFi,
Following the press conference where AMD formally introduced us to the 690 chipset, was a fairly lengthy Q&A session, which we captured in it's entirety. Check out the video for the full, unedited version - or check out our summarized notes after the jump.
Someone asked about wattage per teraflop. In the demo we saw, about 200 watts per chip. They are working to develop a standard for wattage per teraflop. Talking about power consumption, going forward they can focus on power-down throughout the platform as opposed to just on the chip or cores themselves.
Question about doing things about what AMD and ATI can do now that they couldn't do as separate companies. Why the merger?
The 690 was architected in a combined environment. With a tighter cooperation with the R&D teams, you find a level of integration between the chips now. Power management is going to be better, partitioning across the HT bus. In late 2007, you will start seeing exactly what is being talked about. Fantastic batter life in a notebook for example, and in 2009, Fusion. That is what it's all about, getting everything on the same piece of silicon.
Benchmark of R600, looks to be 260 watts. Can anything be done to bring that down as time goes on? That is fairly high consumption.
With the next version of the R600-based cards, you will see power go down, while performance goes up. Another result of the two companies coming together. Gamers want performance at any cost, and AMD is focused on optimizing dissipation of that thermal energy. 30db noise level coming on multiple CPU and GPU in the near future.
When is the R600 going to hit retail, and what happened?
Moving to 65 nm chips, scheduling was just a bit off. Rather than going with a limited deployment with a single point launch, they chose to delay by a couple of weeks to have a full line launch. It isn't a silicon problem, it was an internal decision made to allow for a full launch. They will still be available in the first half of 2007.
When will Barcelona systems be available?
Second half of 2007.
Teraflop computing - when is it going to be a reality and not just a demo?
The demo was R600-based. Once the product launches, you will get to see and hear more about that. Second half of this year - XP box, R600 card, Opterons - that will result in teraflop computing. Absolutely this year.
In regards to OLPC, what is the strategy there?
There is something tragic in thinking we are going to teach kids in an emerging country how to use PowerPoint. The goal isn't to teach kids in Uganda how to use Office 2007, despite how great it is. Take the OLPC and use it for an hour and think about what the implications are. Different strategies lead to different results. OLPCs philosophy is to help kids have access to the world, not to teach them how to use computers. The last time you had a chance for a kid to teach you something, how special was that? It's okay if the children have these computers and get to teach their teachers something. The approach of the competition doesn't empower children as much as it empowers teachers. It doesn't hurt, it's just a different route. AMD isn't trying to market to that environment, they are trying to change it. That is evidenced by OLPC being a non-profit organization.
The screen on the OLPC is amazing. Better than any of the screens any of us sitting here has. Can be read in direct, full sunlight. Will last 30 times as long. Very scratch resistant, and consumes less than 2 watts.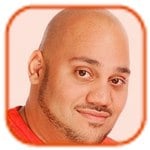 Posted by Andru Edwards Categories: Gizmatic, Short Bytes, Corporate News, Design, Features, PC / Laptop, Toys, Videocasts, Wireless / WiFi,
We speak with Eric Deritis from AMD as he gives us an overview of the OLPC. The One Laptop Per Child project is an important one, and Eric not only shows us a near-final build of the hardware and software, but he also gives us some background on the project itself, and why it's impact could be so huge. One quote he gave us was that the product isn't meant to reach the next billion people in the world, but rather it's meant to reach the last billion people. Powerful stuff.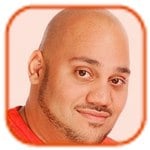 Posted by Andru Edwards Categories: Corporate News, Design, Features, PC / Laptop, Video Games, Videocasts, Videos,
Read More

| The Bleeding Edge

© Gear Live Inc. – User-posted content, unless source is quoted, is licensed under a Creative Commons Public Domain License. Gear Live graphics, logos, designs, page headers, button icons, videos, articles, blogs, forums, scripts and other service names are the trademarks of Gear Live Inc.