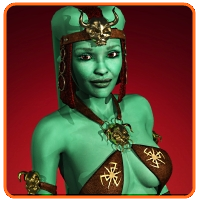 Posted by Patrick Lambert Categories: Editorials,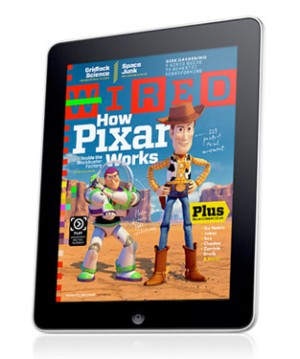 Fred Wilson, a known venture capitalist, put up a post this week arguing that magazine and newspaper apps are not a viable strategy for content publishers. It's no secret that the print industry has been in decline, with print companies shutting down. As information moves to the web, some of the core principles they could rely on before, exclusivity and scarcity, are no longer available to them as anyone can easily blog about everything in this link economy. The arrival of the iPad made many magazines and newspapers jump on board, because with apps, there's an illusion that these core principles exist again.
Whereas it soon became clear that most people were not willing to pay to have access to a web site, they thought that it would be easier to get these same people to pay to download an app which has basically the same content, with some 'pretty' layer on top of it. With recent figures showing that sales of those types of apps have been declining recently however, Wilson argues that this is only temporary. Instead, he sees the mobile space heading more towards the web model, where information want to be free, and with billions of devices accessing mostly free content.
Read More

| AVC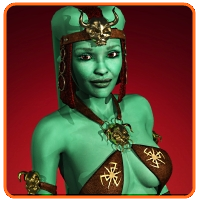 Posted by Patrick Lambert Categories: Apple, Handhelds, Rumors,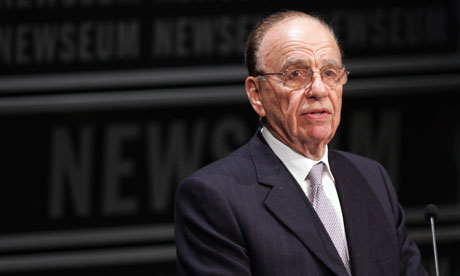 The rumor has been going for a while now, a subscription service which would allow you to subscribe to a magazine or newspaper, and receive each issue automatically on your iPad. It's been one of the big components missing for digital papers to really take off. Right now, most known names either have you download a free app and then offer in-app purchases, like Wired, or others like The Wall Street Journal only provide limited content unless you register and subscribe to the periodical on their web site.
The Guardian is reporting that Rupert Murdoch is in talks with Apple to create the first iPad-only magazine, which would bring the first subscription service directly to the device. The new product would be called The Daily, and would be the first of its kind. It wouldn't be pulling content from a current web or paper entity; it would be something new made specifically for the device, called an iNewspaper. If this happens, it'll be interesting to see what kind of pricing structure will be set, and how much Apple will control, since this is sure to set a precedent for other publications.
We're hearing that Apple may have something to announce in regards to The Daily and iPad subscriptions on December 9, so we should know more soon.
Read More

| The Guardian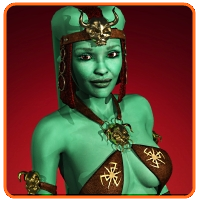 Posted by Patrick Lambert Categories: News, Editorials, iPad Apps, Free Apps,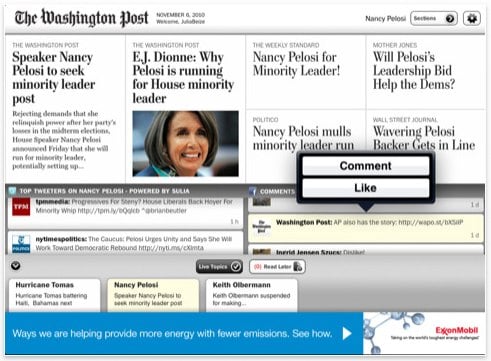 This week, the Washington Post is the latest of the big, well known newspapers to add itself to the growing list of digital apps available on the iPad, alongside other well known names like the New York Times, the Wall Street Journal, Globe and Mail, The Times and more. But are these worth your time? Do they replace their paper versions, and do they deliver a good value for the price?
Click to continue reading The state of newspapers on the iPad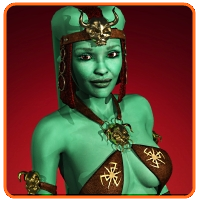 Posted by Patrick Lambert Categories: Corporate News, Editorial,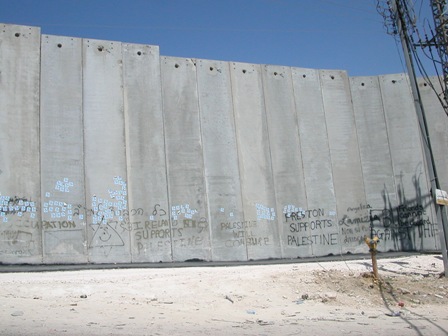 The web model of free content supported by advertising is now well known and accepted. Yet, some old style corporations, especially in the newspaper industry, would still like to translate their subscriber based services online. That's the case of News Corp., the media giant behind some of UK's biggest newspapers, the Times and the Sunday Times. Recently, they switched from the traditional online model, to moving the entire sites behind paywalls.
There's been a lot of speculation as to how this model would do. The analyst expectations were low, since there's countless free online sites offering the same news reports, so people who don't want to pay could get most of that same content elsewhere. Still, proponents pointed to the commentaries, editorials and other unique content as a way to entice subscribers. Rumors ran wild while this experiment went on.
Click to continue reading Why Internet paywalls don't work
Read More

| GigaOM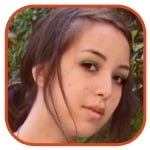 Posted by Robin Paulson Categories: Conventions, Image Comics,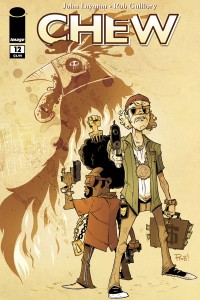 The congratulations keep coming for Chew writer John Layman and artist Rob Guillory!
Following in the footsteps of the Image comic's first trade paperback, Taster's Choice, the second volume, International Flavor landed on the New York Times Best Sellers List this week. Considering that the Scott Pilgrim movie buzz has sent fans flocking to comic book stores and blockading much of the list, this is quite an accomplishment.
The series follows Tony Chu, an FDA agent who receives psychic sensations from anything he consumes (coined a "cibopath"😉, on his adventures in a reality where eating chickens is illegal.
Layman and Guillory are scheduled to be at San Diego Comic Con, selling the hardcover Chew Omnivore Edition (set for wide release on August 11) as well as a special convention variant cover for Chew #12 (in stores next week, on July 14). Make sure you get there quick—I have a hard time believing that a cover titled "The Radioactive Mona Lisa Chicken Cover" will take long to sell out.
Read More

| NY Times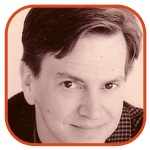 Posted by Tom Mason Categories: Editorials,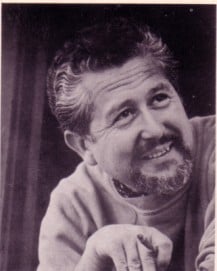 I never got to read Gordo when it was syndicated - it never ran in any papers in my area when I was a kid. It was always a strip that I read about, instead of actually reading. That changed as I got older and got to read longer runs of of it. It deserves all the praise it gets for its gentle humor and its brilliant design. You can read comics on the iPhone all day long, but it's one panel at a time. To appreciate the craftsmanship of a Gordo strip, you need to take in the whole thing. The guy was just great, and he deserved a much wider audience and he deserves to be read and experienced still today. With comics in this Golden Age period of archival reprint heaven - c'mon, even Gasoline Alley is getting collected - Gordo should be right there with everyone else. (I'm looking at you, Dean Mullaney)!
Continuing my series on cartooning and cartoonists, Gus wrote about himself and his work back in 1964. This is pulled from an oversized saddle-stitched magazine from Allied Publications with the creatively-challenged title These Top Cartoonists Tell How They Create America's Favorite Comics. It featured an introduction by Beetle Bailey's Mort Walker and was compiled by Allen Willette.
Here's Gus on Gus and Gordo:
Click to continue reading Gus Arriola and Gordo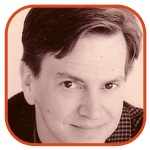 Posted by Tom Mason Categories: Movies, Independent,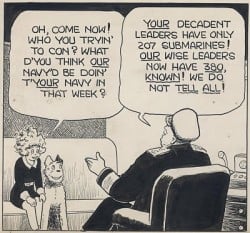 Little Orphan Annie, the plucky little orphan girl, died today after an extended illness, just a few weeks shy of her 86th birthday. The official cause of death was listed as a broken heart after discovering that she'd been appearing in just 20 newspapers.
Afflicted by a disease that gave her blank eyeballs and kept her perpetually a little girl, Annie began her career in the self-titled comic strip as the ward of the infamous war profiteer Daddy Warbucks, a mouthpiece for conservative politics who launched frequent anti-union tirades. Because of her association with one of the world's richest men, Annie was often the target of thieves, spies, and villains.
Click to continue reading Little Orphan Annie, Dead at 85
Read More

| Little Orphan Annie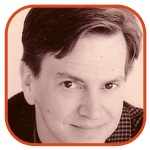 Posted by Tom Mason Categories: Editorials,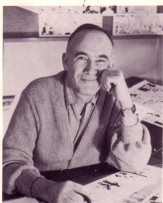 Buford Tune appears to be one of the forgotten cartoonists of the mid-20th Century, even though he had a comic strip that ran for nearly 30 years. I'd never heard of him or his strip which made this article about him all the more fascinating.
Continuing my series on cartooning and cartoonists, Tune sang about his own work back in 1964. This is pulled from an oversized saddle-stitched magazine from Allied Publications with the creatively-challenged title These Top Cartoonists Tell How They Create America's Favorite Comics. It featured an introduction by Beetle Bailey's Mort Walker and was compiled by Allen Willette.
Now, here's Tune on key:
Click to continue reading Buford Tune and Dotty Dripple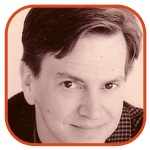 Posted by Tom Mason Categories: Editorials, DC Comics, Independent,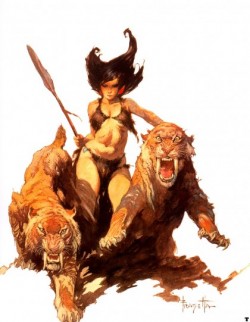 It's old-school comic book week for the past several days as Wally Wood, Frank Frazetta, Stan Lee and that crazy caveman Alley Oop pop up. If that's not all, Evan Dorkin opened up an excellent thread on health insurance and freelance artists that's must read for anyone who's ever seen a 1099 form.
Wally Wood: Gold Key Stories posts a complete issue of M.A.R.S. Patrol Total War, with art by the great Wally Wood. Fanboys drool over this kind of stuff, and I'm not ashamed to say I'm one of them.
Frank Frazetta: A backhoe, a museum and millions of dollars worth of original art add up to a very sad family tragedy for the great artist. Heidi MacDonald over at The Beat has been on top of the story here and here and that'll get you started. Be sure to follow through and read all the comments and updates.
Free Content: Xark has a great take on why newspapers complain so much about the online readership who wants it for free, but it's really diners and coffee-sippers who are the real content thieves who don't pay for what they read.
Click to continue reading Weekend Reading: James Bond, Wally Wood, Stan Lee and Frank Frazetta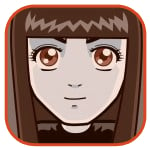 Posted by Sheila Franklin Categories: Internet, Misc. Tech,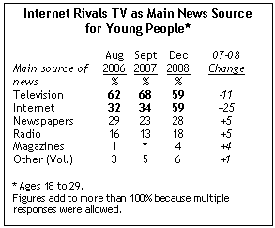 A report from PEW says that the Internet is second in use as a source for news. About 40% reported that they get their news there. That's up from 24% in September 2007. The survey also stated that 70% still get their news from TV while only 35% read newspapers. (Yes, we know that is more than 100%, but some had multiple responses.) This diagram certainly reflects a change in those 18 to 29. We expect that the figure will keep going up. A couple of weeks ago both the Detroit Free Press and News were the first to end daily home delivery.
Read More

| PEW

© Gear Live Inc. – User-posted content, unless source is quoted, is licensed under a Creative Commons Public Domain License. Gear Live graphics, logos, designs, page headers, button icons, videos, articles, blogs, forums, scripts and other service names are the trademarks of Gear Live Inc.