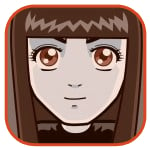 Posted by Sheila Franklin Categories: HDTV, Home Entertainment, Movies, Videos

And the Netflix/Blockbuster beat goes on. Samsung has announced that its BD-P2500 and BD-P2550 Blu-ray Players, as of the first week in December, will have access to movies and TV shows via Netflix in HD via a firmware update. While both models can already access over 12,000 videos, so far they have been in standard definition. At this point, there are 300 titles available in HD, with many more expected in the months to come.
Read More

| DVD Town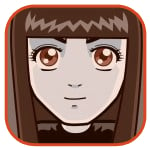 Posted by Sheila Franklin Categories: HDTV, Home Entertainment, Movies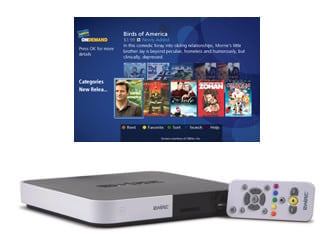 Still trying to compete with their nemesis, Blockbuster has announced their own set-top box. The MediaPoint Player was made by 2Wire and will set you back $99.00 with an initial 25 films. After that, customers can download HD movies via broadband for $1.99 and keep them up to 30 days. However, once play is pushed, it must be watched within 24 hours. Blockbuster OnDemand is available now and will be to future customers who do not subscribe to Blockbuster Online.
Read More

| Reuters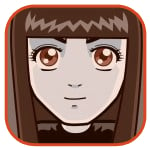 Posted by Sheila Franklin Categories: Corporate News, HDTV, Home Entertainment, Movies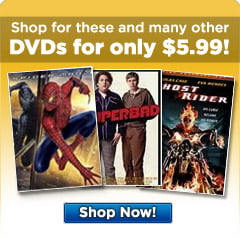 Netflix has decided to stop selling previously viewed DVDs. Some are as low as $5.99 and include such titles at that price as "Casino Royale," "Into the Wild," "Charlie Wilson's War," "American Gangster," and "Spiderman 3." Of course there will also be suggestions according to your previous favorites. After November 30, they will focus on simply renting. That's fine with us. We love the fact that we can watch a film as often or as much as we want and not have extra DVDs taking up space.
Read More

| Hacking Netflix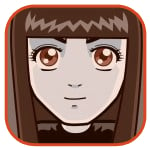 Posted by Sheila Franklin Categories: Home Entertainment, Microsoft, Movies, PC / Laptop, Video Games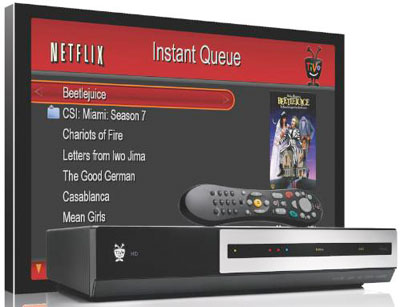 Netflix has been busy, busy, busy. We already knew that Netflix will be available for Macs by the end of the year and on Xbox Live for Gold members next month, and now they have announced that they are adding TiVo as a partner that already includes LG, Microsoft and Samsung. You will be able to receive movies on your TiVo Series3, TiVo HD or TiVo HD XL. Testing has already begun and the service should be available to all by December.
Read More

| New TeeVee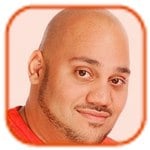 Posted by Andru Edwards Categories: Full Episodes, High Score, Design, Features, HDTV, Home Entertainment, Podcasts, Video Games, Videocasts, Videos
We know a lot of you Xbox 360 owners are counting down the days to November 19th, which is the day that everyone will be able to download the New Xbox Experience dashboard update. Until then, we figured we'd give you a nice, full walkthrough of the update and its interface. Our friends up in Redmond were able to send the update to one of our two Xbox 360 consoles, which in turn, allows us to bring you this exclusive first-look walkthrough.
We show you everything, from the boot-up video, the new HDTV display output options, Xbox avatars, Netflix, and a whole lot more. Our early thoughts? We love it. In fact, we love it so much, that we now hate our second Xbox 360, which still has the old, busted blade interface. We want NXE on that one as well.
One thing we mentioned in the video that we need to clarify, though. As it turns out, Netflix HD streaming should be available on other Netflix-enabled hardware devices on November 19th as well, as opposed to HD streaming being exclusive to the Xbox 360 at first.
Oh, and be sure to check our New Xbox Experience gallery if you wanna see some screenshots in addition to the video - and if you have any NXE questions about anything we didn't cover, or didn't delve into enough, let us know on the forum.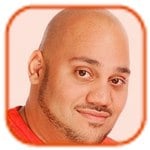 Posted by Andru Edwards Categories: Features, Microsoft, Software, Video Games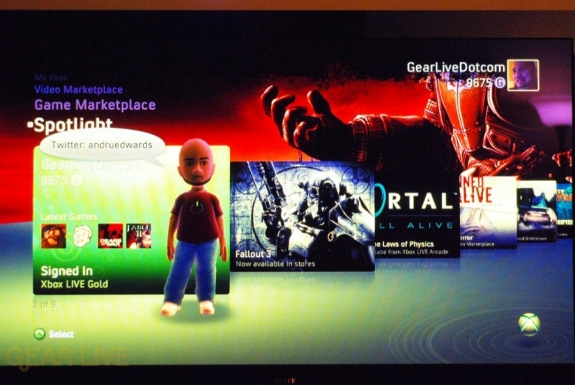 So, you know that nifty New Xbox Experience you've been hearing about all over the place? Well, our pals up in Redmond gave us the opportunity to grab the dashboard a few weeks before it becomes publicly available on November 19th. We have a bunch of info coming your way in the coming days (and, please, feel free to leave any questions on the forum and we will answer them all - seriously, ask away!). In the meantime, though, we thought we would take you through the setup process. After downloading the update (which takes a good, I dunno, 10 seconds), your Xbox 360 will reboot, load the new firmware, and hit you with a high impact video before dumping you into the new dashboard. It really is all sorts of fancy. We've created a New Xbox Experience setup gallery with a bunch of pictures showing you the process of installing, setting up, creating your avatar, and browsing around the new interface. Go ahead and take a look, and don't forget, leave your questions here.
Read More

| New Xbox Experience Gallery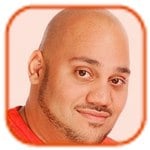 Posted by Andru Edwards Categories: Corporate News, HDTV, Home Entertainment, Internet, Movies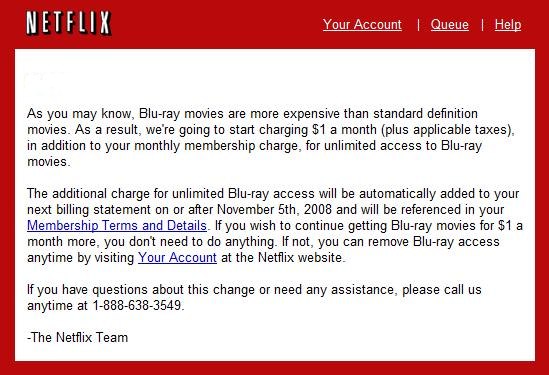 Netflix has been charging new members a $1 monthly fee, in addition to the price of their standard monthly rate, for the pleasure of renting Blu-ray discs, while those who have been members of the service for a long while have had no such increase to deal with. Well, as of November 5th, Netflix will make the $1 fee mandatory for all members. If you don't want to rent Blu-ray discs, you are fine, no change in price - but if you, like us, are all about the 1080p, lossless surround sound goodness, then I think you'll find that paying one extra dollar isn't really so bad. Seriously, it could have been a lot worse.
Read More

| Netflix Blog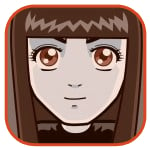 Posted by Sheila Franklin Categories: HDTV, Home Entertainment, Internet, Movies

LG's BD-300 Blu-ray Player is almost here. As we told you back in August, the player up-converts standard DVD to 1080p and allows Netflix subscribers access to over 12,000 titles. You can now pre-order the player from Circuit City for $349.99 and it will begin shipping soon. Amazon offers the BD-300 in price ranges of $379.00 up to $399.95 and says that they are in stock. This is certainly one instance that Amazon is not the bargain site for ordering.
Read More

| Boy Genius Report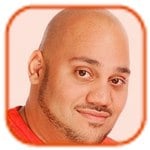 Posted by Andru Edwards Categories: Apple, Home Entertainment, Movies, PC / Laptop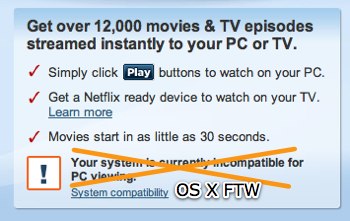 One of the main reasons we switch from Blockbuster Online to Netflix here at our home is the Netflix Watch Instantly functionality that is set to come to the Xbox 360 with the New Xbox Experience Fall dashboard update. However, if you don't have a 360, or you just want more variety in your Watch Instantly lifestyle, you'll be pleased to know that the functionality is finally gonna hit OS X by the end of this year, after being available only on Windows for almost two years. By our estimation, that means sometime in the next three months, and that excites us. Apparently, the holdup was based the fact that the DRM used on Windows boxes wasn't compatible with OS X, and since Apple doesn't license out their FairPlay DRM to third-parties, Netflix had to roll their own. From Netflix:
And, for all of you Mac users (of which I am one) we've been busy working getting a solution that will allow you to watch instantly on your Mac. So hang in there - we'll have something for you by the end of the year.
Good news all around.
Read More

| Netflix Blog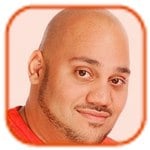 Posted by Andru Edwards Categories: Apple, Cell Phones, Movies, Software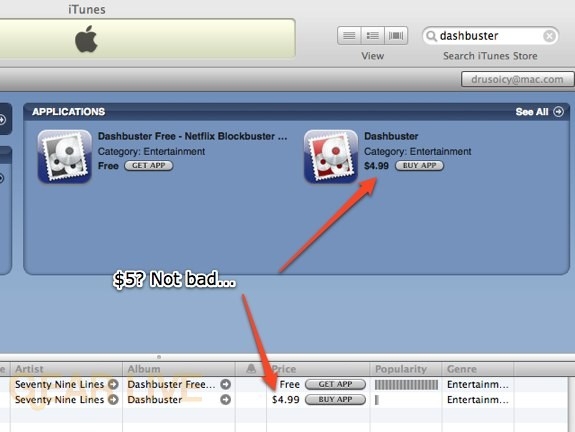 Okay, Apple, we know that you've had some trouble getting your act together since the iPhone 3G launch, but when you list two different prices in different areas of iTunes for the same app, that is when it is just getting ridiculous. Case in point, Dashbuster. I downloaded the free version from the App Store about a week ago, as it sounded fantastic to be able to manage my Netflix queue from the iPhone. The app, however, was missing a couple of features that I wanted - namely, the ability to add movies to the queue, select the format of the disc, etc. That was to come in the pad version.
Well, due to the fact that Apple has been unable to push updates out in a timely fashion, the paid version was finished, but I had to wait about a week for it to hit the App Store. I searched for the app, saw it was available for $5, and proceeded to download it. I then saw that there was a bug in the app, where it wouldn't show my queue at all. I emailed the developer, and he responded (almost immediately) offering help. He also mentioned that the app should have been $3.99, not $4.99 like I paid.
Click to continue reading Apple lists different prices for same Dashbuster iPhone app!
Read More

| Gallery: Dashbuster pricing screwed up
© Gear Live Inc. – User-posted content, unless source is quoted, is licensed under a Creative Commons Public Domain License. Gear Live graphics, logos, designs, page headers, button icons, videos, articles, blogs, forums, scripts and other service names are the trademarks of Gear Live Inc.