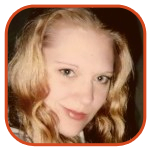 Posted by K.C. Morgan Categories: Adventure, Independent, Music, Musicals, Period, Political, Romance, Home Entertainment, New Releases,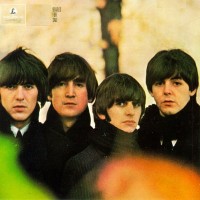 They helped unify a generation and defined what successful recording artists should aspire to…so maybe they can become alien ambassadors, too?
NASA will broadcast Across the Universe, a Beatles tune, literally across the universe next week. Or at least, some small portion of the universe. The song will be broadcast to Polaris, the North Star. This will be the first time a radio song is beamed into deep space, perfect timing as this marks the 40th anniversary of the song, the 45th anniversary of the NASA Deep Space Network, and the 50th anniversary of NASA itself. The Lennon/McCartney tune will take 431 years to reach the star Polaris. It will be broadcast at 7 pm (EST) on Monday from Madrid, Spain.
Personally, I'm a lifelong Beatles fan (What can I say? My dad turned me on to them) so I can't think of a better song to fill the universe. The big-screen version of last year's Across the Universe will also hit the DVD shelves just hours after the song's broadcast (Feb. 5th).
Read More

|
AOL News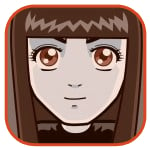 Posted by Sheila Franklin Categories: Science, Transportation,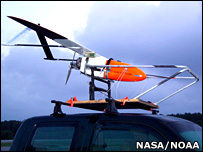 While the military has been utilizing robotic planes for a while now, academic types have now decided to get into the act by using them for scientific purposes. The NOAA (National Oceanic and Atmospheric Administration) has decided to invest $3 million to use UAS (Unmanned Aircraft Systems) for what one researcher calls "the missions we call dirty, dull and dangerous." These include predicting intensity of hurricanes, tracking Arctic ice melting, and flooding of the west coast of the U.S. They also feel an advantage is that they can use the robo-planes for continuous sampling without needing the dreaded coffee break by whining employees.
Read More

| BBC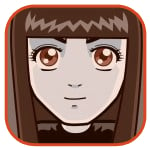 Posted by Sheila Franklin Categories: Internet, Science, Video Games,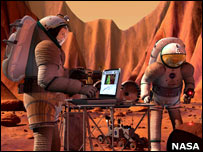 NASA is considering creating a multiplayer online game which would simulate some of their missions. They are hoping that it might attract the next generation of astronauts and are seeking volunteer companies to invest in their idea by February 15. As they put it, "Virtual worlds with scientifically accurate simulations could permit learners to tinker with chemical reactions in living cells, practice operating and repairing expensive equipment, and experience microgravity."
NASA already has an island on Second Life called Co-Lab that may someday invite avatars to come along on future space missions. Perhaps willing organizations' avatars can meet their avatars for virtual lunch.
Read More

| BBC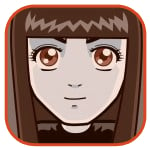 Posted by Sheila Franklin Categories: Corporate News, HDTV, Home Entertainment, Movies, Science, Transportation,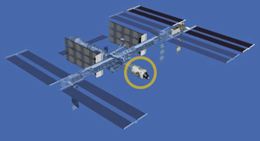 Talk about great free advertising. DirectTV has decided to endow the newly designed International Space Station's Harmony module with an HD makeover. If NASA agrees, the company will include access to all channels, a DVR, and a 42-inch flat screen HDTV. An engineer to install the equipment comes with the offer. For the rest of us, DirectTV is offering such online subscription goodies as a $10.00 a month savings over the next year with a free Visa worth $50.00, and 3 months of HBO, Cinemax, Starz, and Showtime with certain packages.
Read More

| Forbes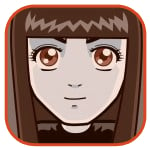 Posted by Sheila Franklin Categories: Cameras, Corporate News, Science,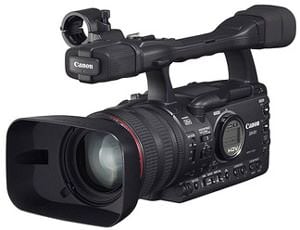 This has to be worth megabucks in advertising. First introduced in November of 2006, the HX G1 camcorder was launched October 23 from NASA's Kennedy Space Center in Cape Canaveral, Florida. The cam for professionals features a DIGIC DV II HD image processor, a 20x zoom lens, and a Super-Range Optical Image Stabilizer, at shoots at 24 fps. After performing a number of tests, the XH was given the "a-ok." Just as the Timex watch will be remembered as the watch that could go underwater, "take a licking, and keep on ticking," the XH may be remembered as the cam that not only has been to space and keeps on filming, it carries a price tag of around $6,000.00.
Read More

| Canon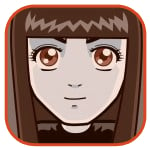 Posted by Sheila Franklin Categories: Misc. Tech, Science,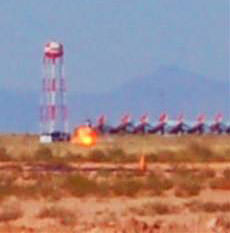 We don't really like to look at the down side of things, but we wanted to commiserate a bit with Armadillo Aerospace. In an attempt to win a prize of $350,000.00 in NASA's X Prize Cup, their lunar lander module caught fire when launched in new Mexico. Fortunately, there were no injuries. This was their fourth attempt at the Level 1 challenge, in which a rocket must ascend 50 meters, move to another pad 100 meters away and stay there for 90 seconds. Total trip time must be within 150 minutes.
There is a total of $2 million up for grabs in the contest with its Level 2 which is designed to promote more capable space exploration vehicles, but Armadillo says they are done for the year. Here's hoping they get back to the drawing board successfully.
Read More

| MSNBC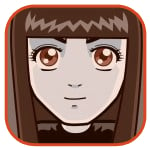 Posted by Sheila Franklin Categories: Misc. Tech, Science, Transportation,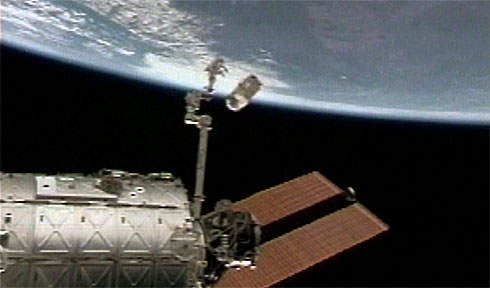 Clayton Anderson has become an official litterer in space by tossing a 200 lb. camera mounting and 1,400 pound ammonia tank off the Space Station yesterday. NASA officials believe that the container will circle Earth for almost a year before it goes back into the atmosphere and burns itself up. Anderson's comment about the task was, "I'll be sending my bill in the mail for trash disposal."
There are at present over 9,000 pieces of debris out in space that are trackable, leaving us to believe that some of those UFOs or meteors that get reported might possibly be space rubbish that they have just tossed out for lack of room. What is junk to one might be treasure to another, so it seems to us that they could just put up an orbital shed to house the stuff, bring it down later, and have a heck of a garage sale.
Read More

| USA Today

© Gear Live Inc. – User-posted content, unless source is quoted, is licensed under a Creative Commons Public Domain License. Gear Live graphics, logos, designs, page headers, button icons, videos, articles, blogs, forums, scripts and other service names are the trademarks of Gear Live Inc.