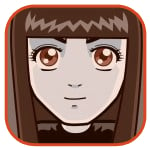 Posted by Sheila Franklin Categories: Internet, Science, Transportation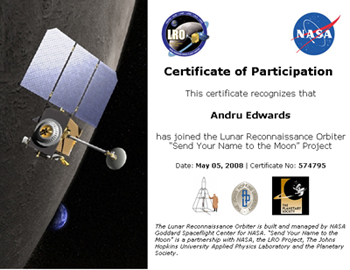 Want to go to the Moon, but can't afford the ticket? You and your buds, family members, and pets can be put on the Send Your Name to the Moon Website. After you enter your name, you will be added to a database. That will be put on a microchip integrated into a future moon-hopping spacecraft and orbit around Luna for years.You can even print a certificate of proof. The deadline for submissions is June 28.
Read More

| NASA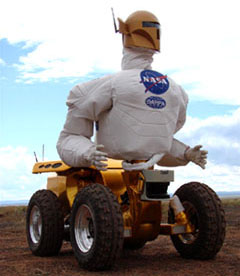 We were watching an episode of "60 Minutes" this week that featured NASA getting back into moon and Mars voyages because people were just not all that excited about us being in space anymore. One of the things they have planned to include is the Robonaut that will be sent to do jobs that men can do with dexterous manipulation. Plans include setting up a moon colony to practice hanging out there for up to a month. Look for the project to begin around 2020 because right now there is not enough funding. Maybe NASA should contact Richard Branson for a monetary jump start.
Read More

| CBS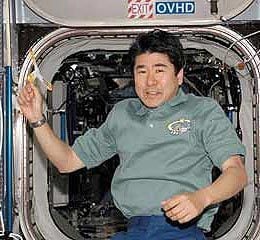 Good news for those of you who couldn't wait to find out if a boomerang bounces back in space. According to astronaut Takao Doi, it does indeed. Chatting to his wife from the ISS, he confided that he was surprised but that it worked the same there as it does on the planet. Although there is no video evidence as yet, NASA says they will release some at a later date. Uh-huh. This reminds us of a "scare" many years back when skeptics of the space race claimed that we never made it to the moon and that it was simply faked on a movie set.
Read More

| Digital Journal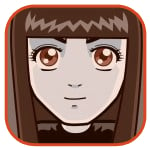 Posted by Sheila Franklin Categories: Design, Misc. Tech, Science, Transportation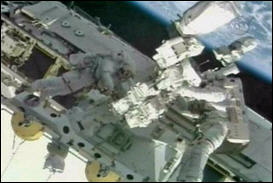 When we last told you about Dextre, he was about to be launched to the ISS via Endeavor. It seems that all did not go well with the bot, who decided to sleep in a bit longer. It turns out that a cable design flaw wouldn't allow power to turn him on. The astronauts finally got him up and running, then attached his hands to his arms and his arms to his torso. No one is sure yet about the reason for the dilemma since it wasn't apparent in pre-flight testing, but NASA promises a thorough investigation.
Read More

| USA Today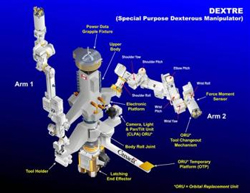 When Endeavor takes off this week, it will have more than a paper airplane and space boomerangs for the astronauts to play with. Dextre (for dexterous) will have to be built once he arrives on the ISS, for he is 12 feet tall with multi-jointed 11 foot arms. Costing about $200 million, he is tele-operated and will attend to some of the station repair jobs. Apparently the Canadian bot has a sensitive touch and precise control even without legs.
Read More

| CSA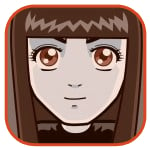 Posted by Sheila Franklin Categories: Design, Misc. Tech, Science, Transportation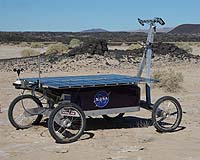 Zoe is learning cartography. The robot contains a hard disk with a basic map with data from ASTER (Astrobiology Science and Technology for Exploring Planets,) an infrared spectrometer on NASA's Earth Observing Satellite. It works on about a kilometer of area at a time and takes one astral image/second. So far the bot is working on differentiating clay from basalt, with the researchers hoping that someday a similar device could be sent to a planet like Mars, where we won't be tripping around for quite some time. Zoe has already mastered avoiding obstacles and fair-field sensing, simple for humans, but not for bots.
Read More

| Space Daily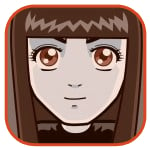 Posted by Sheila Franklin Categories: Science, Transportation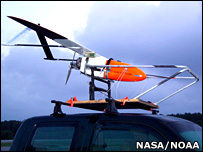 While the military has been utilizing robotic planes for a while now, academic types have now decided to get into the act by using them for scientific purposes. The NOAA (National Oceanic and Atmospheric Administration) has decided to invest $3 million to use UAS (Unmanned Aircraft Systems) for what one researcher calls "the missions we call dirty, dull and dangerous." These include predicting intensity of hurricanes, tracking Arctic ice melting, and flooding of the west coast of the U.S. They also feel an advantage is that they can use the robo-planes for continuous sampling without needing the dreaded coffee break by whining employees.
Read More

| BBC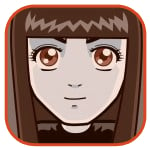 Posted by Sheila Franklin Categories: Internet, Science, Video Games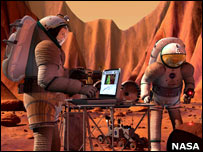 NASA is considering creating a multiplayer online game which would simulate some of their missions. They are hoping that it might attract the next generation of astronauts and are seeking volunteer companies to invest in their idea by February 15. As they put it, "Virtual worlds with scientifically accurate simulations could permit learners to tinker with chemical reactions in living cells, practice operating and repairing expensive equipment, and experience microgravity."
NASA already has an island on Second Life called Co-Lab that may someday invite avatars to come along on future space missions. Perhaps willing organizations' avatars can meet their avatars for virtual lunch.
Read More

| BBC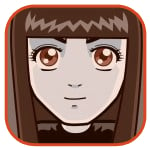 Posted by Sheila Franklin Categories: Corporate News, HDTV, Home Entertainment, Movies, Science, Transportation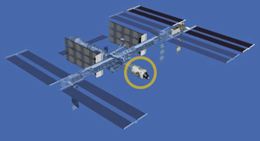 Talk about great free advertising. DirectTV has decided to endow the newly designed International Space Station's Harmony module with an HD makeover. If NASA agrees, the company will include access to all channels, a DVR, and a 42-inch flat screen HDTV. An engineer to install the equipment comes with the offer. For the rest of us, DirectTV is offering such online subscription goodies as a $10.00 a month savings over the next year with a free Visa worth $50.00, and 3 months of HBO, Cinemax, Starz, and Showtime with certain packages.
Read More

| Forbes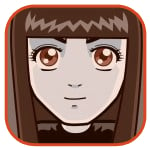 Posted by Sheila Franklin Categories: Cameras, Corporate News, Science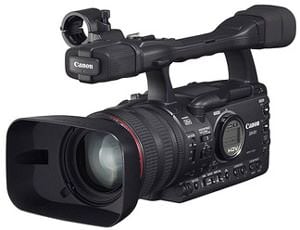 This has to be worth megabucks in advertising. First introduced in November of 2006, the HX G1 camcorder was launched October 23 from NASA's Kennedy Space Center in Cape Canaveral, Florida. The cam for professionals features a DIGIC DV II HD image processor, a 20x zoom lens, and a Super-Range Optical Image Stabilizer, at shoots at 24 fps. After performing a number of tests, the XH was given the "a-ok." Just as the Timex watch will be remembered as the watch that could go underwater, "take a licking, and keep on ticking," the XH may be remembered as the cam that not only has been to space and keeps on filming, it carries a price tag of around $6,000.00.
Read More

| Canon

© Gear Live Inc. – User-posted content, unless source is quoted, is licensed under a Creative Commons Public Domain License. Gear Live graphics, logos, designs, page headers, button icons, videos, articles, blogs, forums, scripts and other service names are the trademarks of Gear Live Inc.