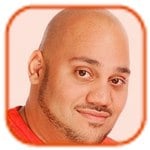 Posted by Andru Edwards Categories: Rumors, Transportation,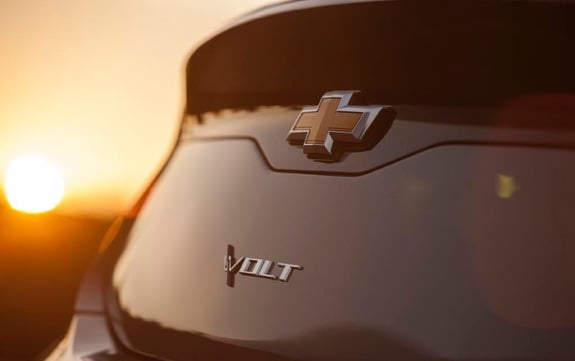 GM is set to debut the next-generation Chevy Volt at the North American International Auto Show, which is just over five months away, taking place in Detroit in January 2015. The 2016 Chevy Volt will be the first redesign for the game-changing electric car, and details are obviously scarce since the company is going for the element of surprise. However, this morning they gave us a peek at the next design. Above you see what appears to be the rear liftgate, lit up by a sunset. My wish list? As a Chevy Volt owner, I'd like to see the 2016 model pick up a 50-mile electric range, 50 miles-per-gallon in range-extending mode, and a redesigned battery pack that will allow for three seats in the rear. We'll know more in a few months!
Read More

| Chevy Volt Twitter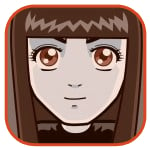 Posted by Sheila Franklin Categories: Corporate News, Science, Storage, Transportation,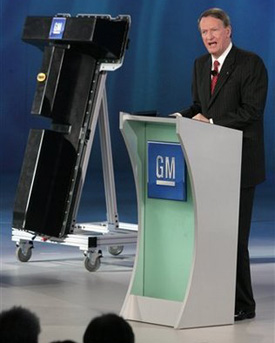 It seems that at least one of the "Big Three" of Detroit finally has caught on. Yesterday at the NAIAS, GM's CEO G. Richard Wagoner Jr. announced that it is opening the first U.S. lithium-ion battery plant. They will be making them to go into their Chevy Volt, due out in 2012. GM has already invested over a billion dollars in the eco-friendly vehicle. They will also be erecting a research facility. This is good news for those who live in the beleaguered state in terms of jobs and better news for those who want to go green and do it American.
Read More

| Washington Post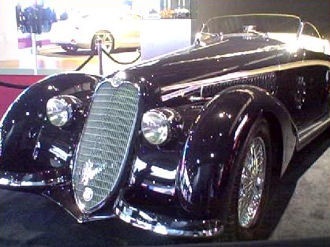 Okay, so we didn't get all the facts and figures and stats of the major three players in the NAIAS, although they did get a major portion of the showroom floor. What we did get was a peek at some of the cars we could only covet, including this Alfa Romeo, the most expensive vehicle at the show at a cool million. After the jump, a few of the other sights we appreciated.
Click to continue reading NAIAS 2008: More Images
Read More

| NAIAS 2008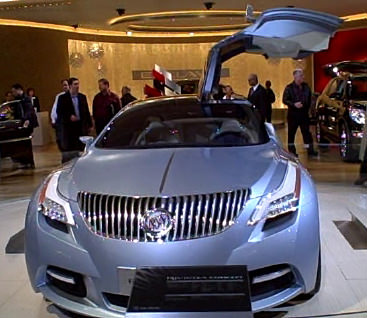 We didn't really see anything to write home about with this Buick Riviera Concept, although it is obvious that they believe big grills will make a comeback. But when we looked around the back, we noticed some Chinese lettering. We were told that the car was made in China for the company and that the words translate into "Buick Future." Be that as it may, we suspect that if American Car Companies spend more on concepts than on keeping their workers from losing their jobs, there won't be much of a future left. More images after the jump.
Click to continue reading Buick Riviera Concept
Read More

| NAIAS 2008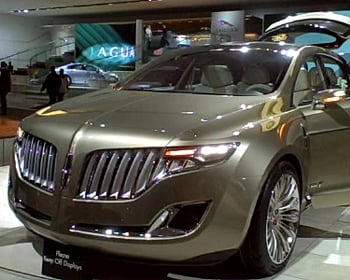 We were fortunate enough to chat with Steve, who told us all about the newest concept car from Lincoln. The 2010 MKT is destined to reach showroom floors in the fall of 2009 and will be made in Chicago. While we mistakenly assumed that concept cars were supposed to be something unique, Steve's spiel was full of these comments:
It has same frame as the new Taurus X
It has a platform similar to the new Ford Flex.
There is a commonality here, "exactly like Toyota does."
We are expanding our portfolio to include a crossover utility vehicle.
Ho-hum. Whatever happened to ingenuity? More shots after the jump.
Click to continue reading NAIAS 2008: Lincoln Goes Mainstream
Read More

| NAIAS 2008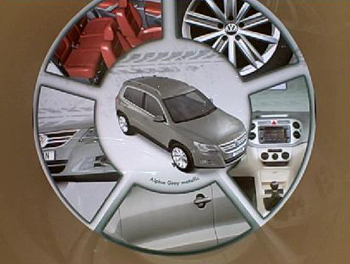 There weren't as many clever toys at the NAIAS this year. Almost everything was interactive touchscreen technology, cutting down on the paperwork and the need for real humans to talk to us. We did find a machine tucked away in the Volkswagen area that would print pictures and specs on demand of their new Tiguan. You specify the options you desire, push print, and voila! We suspect that by next year, there will be no need for humans at all.
By the way, we did check out the newest Beetle, which an associate told us featured a built-in flower bud vase on the console last year. This year it is simply a roomy, clean-looking sedan at a MSRP of about $24,000. A couple of shots after the jump.
Click to continue reading NAIAS 2008: Volkswagen Tiguan Printer
Read More

| NAIAS 2008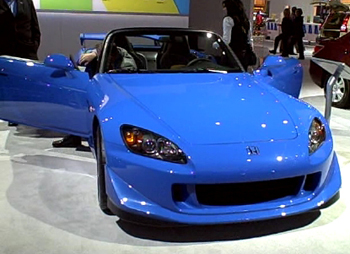 We were fairly impressed by Honda's bright blue S2000CR (Club Racer,) which we were told has this title, "The S2000 CR is the closest thing you can get to a Honda-built racecar with license plate holders and a horn."
While this may not be the least expensive sportster on the block (about $37,000,) it did stand out as one of the brightest stars on the showroom floor and undoubtedly a speed trap of the future. Check out a couple more shots of the hot car after the jump.
Click to continue reading NAIAS 2008: Honda S2000CR
Read More

| NAIAS 2008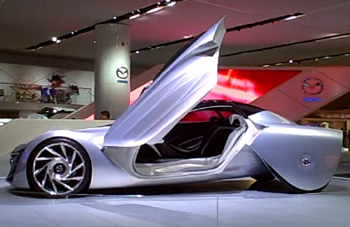 We don't know why they spend money on concept cars that may never see the light of day, we are only grateful that they do. This Mazda has all the bells and whistles, the shiny paint job, the doors that go up, a design that looks like it could almost defy gravity. We just want to know how to change a flat on it. Unfortunately, Mazdanians were too busy answering questions about their other zoom-zooms, the ones that would actually earn them a commission, so we settled on taking a few shots and thinking that is enough for now. See another shot after the jump.
Click to continue reading NAIAS 2008: Mazda Concept Car
Read More

| NAIAS 2008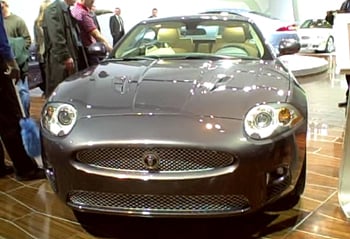 The Jaguar XKR was just too special to pass by. It carries a MSRP of ~$90,000 and is the elitest of the elite. With 420 horsepower and a 4.2 liter V-8 engine, we assume you are going to rule the road with this one as it can hit a top speed of 155 mph and accelerate to 60 in 4.9 seconds. It was the luxury that we just couldn't get past. Reach up and the ceiling is all kid leather. You don't just get new car smell in this car. It figuratively screams, "I am so rich!" The seats and steering wheel adjustments are so exact, even the shortest of us fit. A couple of interior shots after the jump. All we can say is that this is the car we want to be buried in.
Click to continue reading NAIAS 2008: Jaguar XKR
Read More

| NAIAS 2008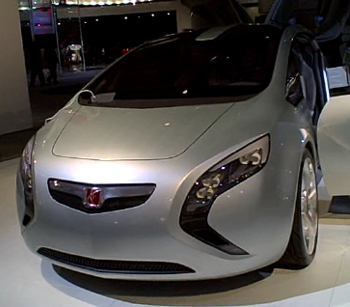 Our award for the most creative use of paraphernalia goes to the Saturn Flextreme Plug-in Concept. The vehicle has a 1.3 turbo diesel engine with electric components if you prefer to run it that way. It takes 3 hours to charge for a run of about 34 miles, according to our helpful rep. But the reason we especially loved this car was for the extras in back. See them after the jump.
Click to continue reading NAIAS 2008: Saturn Flextreme
Read More

| NAIAS 2008

© Gear Live Inc. – User-posted content, unless source is quoted, is licensed under a Creative Commons Public Domain License. Gear Live graphics, logos, designs, page headers, button icons, videos, articles, blogs, forums, scripts and other service names are the trademarks of Gear Live Inc.