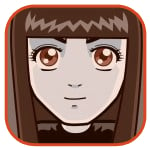 Posted by Sheila Franklin Categories: Corporate News, Home Entertainment, Movies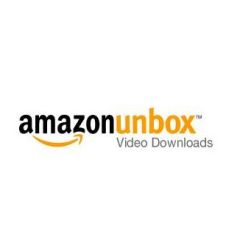 AOL has decided to give up its pay-for-download service and allow Amazon to sell the movies via its Unbox service. Although AOL's service has only been around a year, it let everyone know last Friday when it displayed a banner for Unbox after a click on its movie tab. We are certain that Amazon is thrilled that it has one more coup and AOL must be relieved to be following in the footsteps of Google, who discontinued the same service in August to concentrate on its baby, YouTube.
Read More

| Post-Bulletin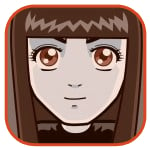 Posted by Sheila Franklin Categories: Movies, Music, Portable Audio / Video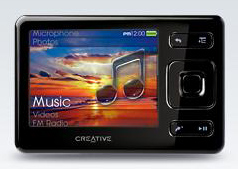 Creative has finally released its 32 GB ZEN PMP. The company says it will store up to 8,000 tunes in MP3, WMA, Audible 2, 3, 4 and AAC by pay-per-download or subscription. It is also compatible with iTunes and features an FM tuner and voice recording. It will handle WMV9, MJPEG, MPEG4-SP, DivX 4/5 and XviD videos and boasts a 2.5-inch TFT display with 16.7 million color support. The Zen should be good for up to 30 hours of music or 5 video with its Li-ion battery and its memory can be expanded with SD cards. Check with Creative for a price and availability near you.
Read More

| Creative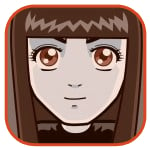 Posted by Sheila Franklin Categories: Internet, Misc. Tech, Movies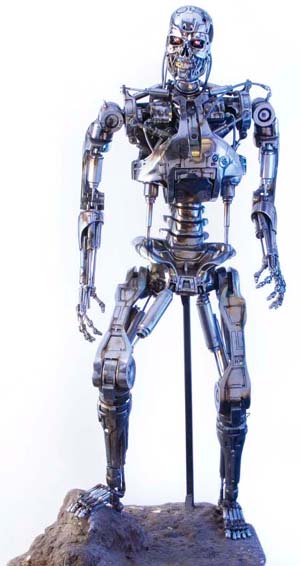 Suppose you had an endless budget for the holidays. You could select the ultimate in gift giving at this upcoming auction from Profiles in History. Choose between the T-800 Endoskeleton from "Terminator 2: Judgment Day" ($80,000 opening bid,) Jean Luc Picard's "Enterprise E" command chair from the Star Trek film ($45,000 open,), or a screen-used, full-scale T-Rex head from "Jurassic Park" ($60,000 opening bid.) For a few less bucks, you may be able to score Geordi's Visor from "Star Trek: Generations" ($2,000 minimum.) Taking place December 13 and 14, if you win the lotto by then, show up yourself in Calabasas Hills, CA., or mail, phone, or fax a bid via eBay.
(Thanks, Marc)
Read More

| Profiles in History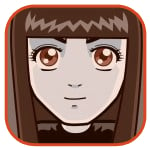 Posted by Sheila Franklin Categories: Cell Phones, Misc. Tech, Movies, Music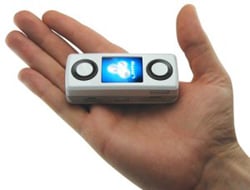 The Mini-Boombox Cell Phone with sliding keypad allows you to take your Sim card out of your regular phone, slide it in the back, and power up. The unlocked quad-band GSM device features a 1.5-inch 65K color TFT LCD screen, a 1.3 megapixel camera, voice dialing, speakerphone, and SMS/MMS messaging with a WAP browser. It also plays MP3 and MPEG4 files, has a 256MB memory that can expand up to 4GB and transfers via USB (cable included.) It will even announce incoming calls with voice synthesis. While it won't work with Verizon or Sprint, you can purchase a a pre-paid SIM card from T-Mobile or AT&T. It's available for $149.99 at ThinkGeek.
Read More

| ThinkGeek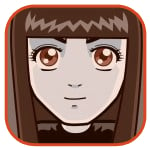 Posted by Sheila Franklin Categories: Corporate News, HDTV, Home Entertainment, Movies

Continuing its fight on the blu side, Panasonic introduced its HD DMP-BD30, the next generation of their BD10. The player offers Final Standard Profile for creating picture-in-picture and audio mixing, which means that you can have the director's comments drone on during the entire movie without having watch it a second time. The DMP also offers Deep Color Compatibility and 1080/24p playback. With the use of its AVCHD codec, the DMP-BD30 allows recorded images on a HD SD card to be outputted from the user's HDMI terminal in their original 1080p form. While it will not have the $1,295.00 price of its predecessor, it will still set you back a hefty $499.95.
Read More

| Panasonic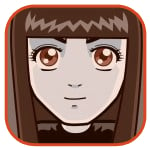 Posted by Sheila Franklin Categories: Misc. Tech, Movies, Science, Transportation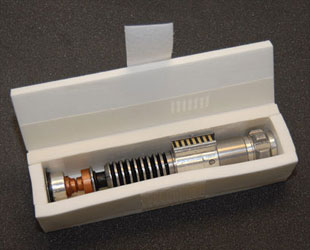 Who says that astronauts are all work and no play? Luke Skywalker's actual lightsaber from "Return of the Jedi" was bundled up and taken on the latest trip to the Discovery. Before being packed away in its flight kit and stowed away in an area in the space shuttle, it was personally given a sendoff from George Lucas, Chewbacca, and some Jedi Knights. Ever since Gus Grissom carried a few dimes on his spaceflight in 1961, many items have been taken along for the ride. Although astronauts are not allowed to bring anything personal for profit, sometimes memorabilia will find its way to sites such as CollectSPACE. We prefer to think they they brought the weapon along just in case they need the Force to be with them.
Read More

| USA Today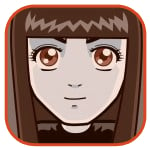 Posted by Sheila Franklin Categories: Movies, Music, Portable Audio / Video, Wireless / WiFi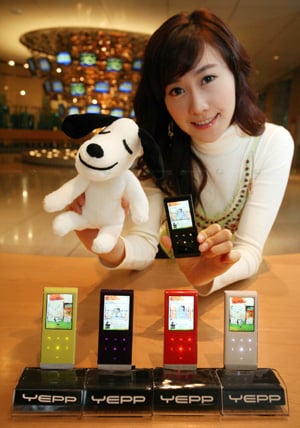 Today, Samsung Korea introduced its latest digital multimedia player, the YP-T10. It will play MP3s, WMAs, OGGs, and WMVs, and features an FM tuner, Bluetooth capability, voice recorder, and Character GUI. The DMP is available in four colors and can play up to 30 hours of audio time and 4 hours of video. The MSRP for the YP is 159000 Won (~$175.00) for the 2GB version and 189000 Won (~$208.00) for 4GB. While we don't see anything particularly outstanding about the player, we might consider purchase if they throw in the YEPP pup.
Read More

| Akihabara News


Posted by Paul Hamilton Categories: SEGA, Survival Horror, Xbox 360
A movie based on the game Condemned: Criminal Origins is in production and the director of the visually arresting 2000 movie The Cell, Tarsem Singh, is set to helm. The movie, which is shooting under the title 'Unforgettable', was written by one of the writers of the TV show The Shield, Kurt Sutter and is currently slated for 2008.
Singh hasn't done much feature film work beyond The Cell, but while that movie didn't exactly set any box office records, it did have a compelling atmosphere which bodes well for adapting the moody game. So far no actors have been associated with the feature, and it isn't clear how closely Sutter's script follows the plot of the game. However, with the movie not even bothering to try and capitalize on the brand recognition (minor though it may be), it could easily be one of those "inspired by" rather than "based on" kinds of projects.
And of course you can always count your lucky stars that so far Uwe Boll's name hasn't come up in association with the project in any way.
Read More

| The Hollywood Reporter

Posted by Edie Sellers Categories: Corporate News, E3, Electronic Arts, Hot Deals, Microsoft, Mods/Hacks, Nintendo DS, PC, PlayStation 3, Politics, Release Dates, Reviews, Rumors, Square Enix, Survival Horror, Take2, Third Person Shooters, Xbox 360, Xbox Live, Xbox Live Arcade, GamerAndy
Yes, 100 percent less Andy this episode, as he's in L.A. for a CoD4 event. Instead, Edie and Hawkes cover the week's gaming news and go off on wild tangents. On the plus side, this episode may be Andy-free, but it has 100 percent MORE of Hawkes' cat.
Topics discussed:
- The unusually large amount of games released this week, including The Darkness and The Bigs.
- Toys 'R Us is holding a 3-for-2 sale on Nintendo DS games until this Saturday. U Bai Now!
- Microsoft sues Immersion back. If you can't take it, don't deal it!
- New York Times reporter plays Manhunt 2 and deems it less violent than R-rated horror movies. Hypocracy much?
- The new Hitman movie trailer… and yes, we blew it. It's Agent 47. Stoopid internets.
- Square Enix says on one hand that it's not releasing any games for PS3 until April 2008 at the very earliest. Then it says, baby, I'm sorry. The PS3 really is the only console it could ever love. Why does watching these two feel like family-night at Ike and Tina Turner's place.
- A group of psychologists want to label video games as an addictive substance. Someone's been sucking on the lead popsicles again….
- Larry Flint had hoped to fire the entire staff of Tips and Tricks magazine while they were all at E3. Too bad he fired the freelancers a week early and they told the staff. Don't you hate when being a nice guy blows a really great evil plan? And isn't it ironic that the guy who built his empire on other people s*cking c*ocks turns out to the the biggest c*cks*ucker of them all?
- Shadowrun for Vista has been cracked to run on XP. And there was much rejoicing. (yaaay!)
- Lyndon LaRouch, notorious conspiracy theorist and gay hater, and his merry band of crazy geezers are ticked because the final report on the Virginia Tech massacre doesn't mention video games—despite the fact there's been no evidence the shooter ever played games. LaRouch figures it's… wait for it… A CONSPIRACY!!
Ed. Note: Edie apologizes to for mistaking LaRouche as a guy who was notorious for anti-gay legislation. Actually, he is the freak who tried to get anti-gay legislation passed by California voters back in the 1980s that would have quarentined gays to prevent AIDS. I knew he smelled crazy…
- The 100th episode of Red vs. Blue! Gratz, guys!
Off-topic hits include Paris Hilton, porn (again), the iPhone, how to properly prepare for a night of binge drinking, Andy's impending move, and… did we mention Hawkes' cat?
If you want to hear it? Go get subscibe on iTunes already… ya slacker.
Posted by Kyle Ulrich Categories: Xbox 360, Xbox Live, Xbox Live Marketplace
Over in Microsoft's camp, chest thumping has commenced with their announcement of over 7,000 pieces of digital content for their burgeoning, yet still controversial – see Guitar Hero II, horse armor – Xbox Live Marketplace. The month of June will absolutely clobber their current video collection with brand new stuff.
Geneon/Funimation is preparing an all new addition to the Video Marketplace stable: Anime! Akira, Samurai 7, Basilisk, and Lupin the 3rd should be tempting you as early as next week. It's said that more are to come soon, so let's cross our fingers for HD Evangelion and Samurai Champloo, shall we?
MTV is offering a slate of Country Music Television programs to the table, including Comedy Stage, Foxworthy's Big Night Out, and Prankville. Another slate comes from the networks gay/lesbian channel, Logo, offering up The Big Gay Sketch Show and Noah's Arc. While it's nice to see companies attempting to broaden the current demographic, one has to wonder how this kind of content will do on the notoriously immature Xbox Live service.
The obligatory new movies are also on their way: Pan's Labyrinth, Dreamgirls, Shooter, Black Snake Moan, Team America: World Police, and Letters from Iwo Jima are all scheduled to arrive in June.
© Gear Live Inc. – User-posted content, unless source is quoted, is licensed under a Creative Commons Public Domain License. Gear Live graphics, logos, designs, page headers, button icons, videos, articles, blogs, forums, scripts and other service names are the trademarks of Gear Live Inc.