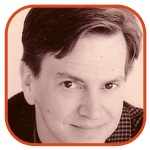 Posted by Tom Mason Categories: Conventions, Editorials, Movies,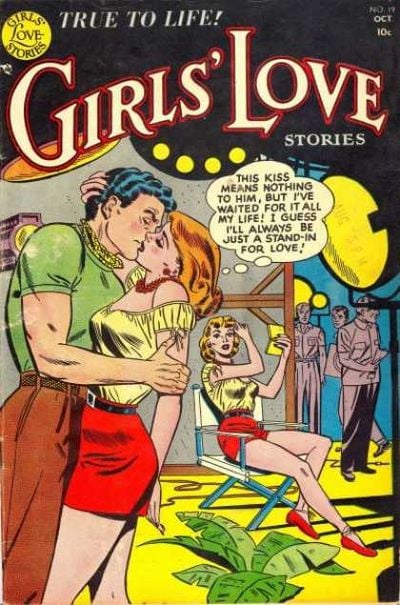 It's that time of the week again! Time to check out my favorite website for job listings in the wide-ranging and eclectic field of comic book jobs.
Here's what's happening on craigslist:
A production company in the San Fernando Valley (California) is "seeking a lead actress for a live action comic book film." For the right superheroine, they'll be $350 per day. "Think comic book meets really goofy lines and fight scenes."
And if you're a guy, they're also looking for a villain. But comic book movie villainy pays less, $125 per day.
The Los Angeles Comic Book And Science Fiction Convention is looking for vendors interesting in setting up at their April 17th show.
Nostalgic Books and Comics in San Gabriel (California) is looking for "any comic-related costume people who may be interested in showing up and being a part of" their Free Comic Book Day celebration.
Click to continue reading Comic Book Jobs: Checking Out Craigslist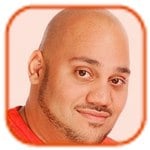 Posted by Andru Edwards Categories: Movies,
Gwyneth Paltrow has revealed she was propositioned for sex in return for a part when she started her acting career.
The Oscar-winning star was left stunned when an unnamed guy suggested they should conclude their meeting in "the bedroom"—an offer she refused.
"When I was just starting out, someone suggested that we finish a meeting in the bedroom, I left. I was pretty shocked. I could see how someone who didn't know better might worry, 'My career will be ruined if I don't give this guy a b**w j*b!'"
Just as it is hard for actresses starting out in Hollywood, Gwyneth insists it is also tough for female stars approaching their 40s. The 38-year-old blonde is stunned by the lack of variety in the roles she is offered, and often feels "dejected." Speaking in the annual Women in Hollywood issue of Elle magazine, Gwyneth said, "There are a lot of roles that are OK, but there's little that's really good, especially for someone my age. Sometimes you find out that something you really liked is going to someone 10 years younger. I find it heartening that Meryl Streep and Sandra Bullock have been able to find and create amazing projects."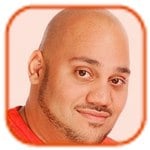 Posted by Andru Edwards Categories: Movies, Television, Dating, Style,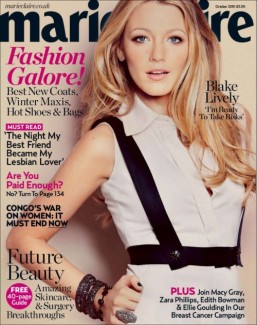 Blake Lively wants to take risks in her career.
The Gossip Girl star - who shot to fame after starring in The Sisterhood of the Travelling Pants at the age of 16 - admitted she doesn't want to "play it safe" in her professional life, as the projects she has worked on so far have been very "commercial."
"I'm on a very commercial show, so the last thing I want to do is a commercial movie. I wanna take risks, I don't wanna play it safe. I mean, I could probably make more money if I did more commercial projects. It would be nice to buy an apartment but I'm 22 and I don't need to yet… I live in New York City. So, I'm able to differentiate between what I want and need and what I want more is to do great roles."
The 23-year-old actress - who is currently dating Gossip Girl co-star Penn Badgley - also revealed despite seeing her boyfriend on set on a daily basis, she considers their relationship to be just like any other: "At the end of the day, you're just in any relationship. How does anybody go to work every day and come home? You just do it and it either works or it doesn't."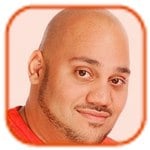 Posted by Andru Edwards Categories: Movies, Rants,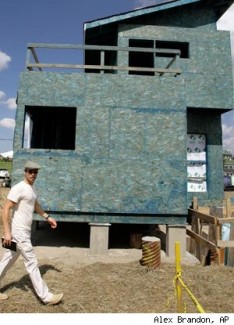 Environmentally-conscious Brad Pitt has hinted the executives responsible for the Gulf of Mexico oil spill deserve the death penalty.
The Inglourious Basterds star speaks out against those behind the oil rig explosion in April - which caused the worst environmental disaster in US history with millions of gallons of oil flooding into the sea - in a new documentary If God is Willing and Da Creek Don't Rise.
"I was never for the death penalty before - I am willing to look at it again," Brad said of the people responsible for the disaster.
The oil spill, which happened after an explosion on the BP operated Deepwater Horizon rig, resulted in the decimation of wildlife and habitat of marine and coastal animals, as well as loss of livelihood for many fishermen and other people who depend of the area for work. As yet the root cause of the disaster remains unconfirmed.
Brad's comments are at the end of the documentary, filmed by Spike Lee, about the effects of Hurricane Katrina on the city of New Orleans, Louisiana - the closest major US city to the Deepwater rig - five years after the hurricane devastated the city, leaving 80 per cent of it waterlogged. Brad spearheaded the Make it Right project after the natural disaster, which built 150 affordable and sustainable homes in one of the areas of New Orleans that was worst hit.
Click to continue reading Brad Pitt Wants Death Penalty For Oil Spill Executives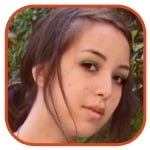 Posted by Robin Paulson Categories: Movies, Videos,
When asked about crazy Twilight merchandise, Robert Pattinson can barely keep a straight face when revealing that there's "glitter lube stuff" with his face on it!
"I like the glitter lube stuff. I thought that was really funny. I was just like, 'I did not sign that! Where is the paper?' I think, yeah, I'm pretty sure it's glitter… I think it's lube."
I know what I'm using for my Twilight costume this Halloween. What's the most outrageous vampiric product you've seen lately?
Read More

| MTV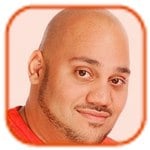 Posted by Andru Edwards Categories: Movies, Style,
Unlike many actresses, Eva Mendes is happy to be naked on screen.
The Bad Lieutenant: Port of Call New Orleans star is not prudish about uncovering her sexy curves in front of the cameras as long as the part requires it.
"I've never had a problem with nudity, but I don't put it out there without a reason. I'm not an exhibitionist. But, honestly, for my art I'll do anything almost. I'll go there."
Although she is comfortable with nudity, the 36-year-old actress recognises her willingness to embrace her sexuality can influence the types of roles she is offered: "I know I walk a fine line between being a respected actor and being a sex symbol. But I've never felt objectified. Nothing you see me do is an accident. I might act like it's an accident but the opposite is true. I'm incredibly calculated when it comes to my career."
It seems Eva's willingness to bare all also extends to her private life. She previously revealed she does her gardening in the nude and thinks her Cuban roots are the source of her naturist tendencies. "I love being naked. I do everything in the nude, even the gardening! We're Cuban, and it's a hot island. Why not go nude?"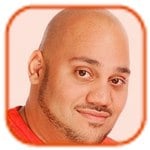 Posted by Andru Edwards Categories: Movies,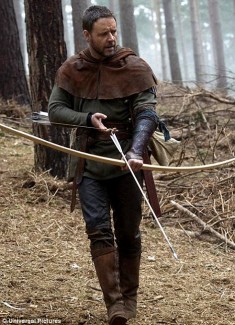 Gladiator Russell Crowe is "in love" with archery.
The actor learned how to use a bow and arrow ahead of taking on the title role in Robin Hood and believes his training made the movie better.
"It's a bit like learning golf, which I did for The Insider. And man, I loved it. It's great. I said to the guy who was teaching me, 'I'm in love with the flight. I just love it when the arrow is released from the bow…' and he was like, 'Well, it's your sport then.' We've done so much more than we expected to do in the film in terms of being able to get actual shots in there where we can shoot an arrow and a target. But you can only do that sort of stuff if you really take the time to learn the sport. It's cool man, very cool."
Russell also singled out a battle scene set in Pembrokeshire, Wales, as his favorite to film: "It was incredible. We had 130 horses going at full gallop on that beautiful beach and 500-odd extras on foot. The adrenaline rush was extraordinary."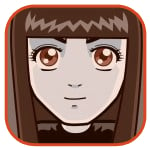 Posted by Sheila Franklin Categories: Internet, Movies,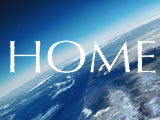 In an effort to up their reputation, YouTube is planning to premiere the movie "Home" on their site today, the same time as its theatrical release. Directed by Yann Arthus-Bertrand, the film concerns the impact that humans have on the environment and ecosystems and asks them to change their evil ways. Distributed by EuropaCorp as non-profit, it shows footage from locations worldwide. While this is not the first time for a premiere as the site aired the drama "The Princess of Nebraska" last year, it was not set for theatrical release.
Read More

| Digital Trends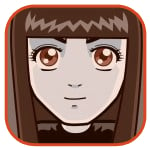 Posted by Sheila Franklin Categories: Wearables, Movies,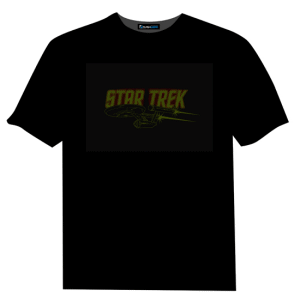 It didn't take long for makers of flashing t-shirts to come up with one for the new Star Trek movie. Although you cannot beam up with it, it should probably scare any Klingons or fashionistas away. The battery pack is in the cotton shirt's lining, is removable for washing and needs 4 AAA batteries (not included.) Choose from medium, large or extra large and live long and prosper in the officially licensed shirt that will cost you 29.95 GBP (~$46.00.)
Read More

| Gadgets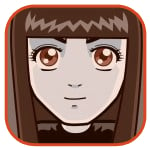 Posted by Sheila Franklin Categories: Accessories, USB, Cell Phones,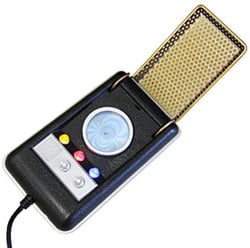 We found a very kewl Star Trek gadget in honor of the movie's opening day. Plug the Communicator Internet Phone with built-in speaker, earphone and mic into your USB port and speak through Skype, MSN, AIM, Ichat and other IMs. Its LCD Moirà spins when the cover is open and of course it has 12 different side effects. Compatible with both Windows and Mac, it also has a 6 ft. cord, mute button and volume switch. The Communicator carries a MSRP of $44.00.
Read More

| gadget4all

© Gear Live Inc. – User-posted content, unless source is quoted, is licensed under a Creative Commons Public Domain License. Gear Live graphics, logos, designs, page headers, button icons, videos, articles, blogs, forums, scripts and other service names are the trademarks of Gear Live Inc.