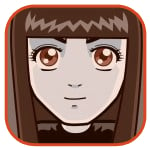 Posted by Sheila Franklin Categories: Editorial, Misc. Tech, Science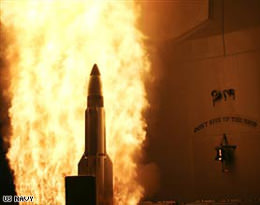 Now that the Pentagon claims to have hit the evil spy satellite and rendered it harmless by their SM-3 missile, experts there say
believe that they made a direct hit.
"As we continue to do the post-strike analysis, (it) continues to give us confidence that the hydrazine tank was ruptured. However, the analysis is still ongoing," spokesman Bryan Whitman said.
There are also reports that some debris has already fallen and that none were larger than footballs. Ouch. We suggest you stay indoors or be alert, just in case.
Read More

| USA Today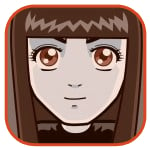 Posted by Sheila Franklin Categories: Editorial, Internet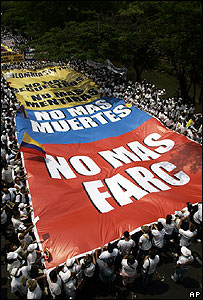 Hundreds of thousands of citizens protested against the Marxist Farcs in Colombia yesterday. What is most remarkable about this is the fact that it was started on Facebook by 33 year-old Oscar Morales Guevara from his home in Barranquilla, Colombia. Over 250,00 Facebook users joined the application to support the message and soon other media joined in. Protesting also occurred in other countries. Many organizations, such as the Wisconsin-based Columbia Support Network, have been protesting for decades in an effort to reach a negotiated solution and fear that it may backfire on the captives that still remain with them, but we think that the best way to fight injustice is any way you can these days.
(Thanks, Cecilia)
Read More

| BBC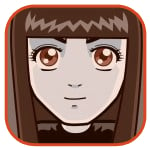 Posted by Sheila Franklin Categories: Apple, Portable Audio / Video, Software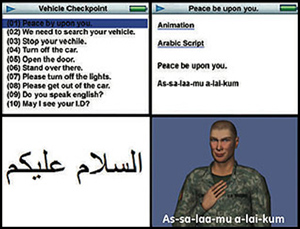 Even the military is Apple friendly. It has supplied iPod software to soldiers that speaks Arabic and Kurdish so that they can chat with the local population The report, issued in February's National Defense Magazine, says that they are guided by a Vcommunicator application, which can also be used to read maps, study missions, and can be connected to a speaker or megaphone. What do you suppose the locals will do when one of our troops slips up and plays a bit of U2 by accident? The technology will soon be available for us civilians.
Read More

| Computerworld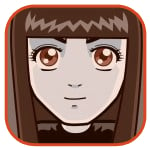 Posted by Sheila Franklin Categories: Corporate News, PC / Laptop

GETAC may not be in the top three of computers but it is certainly trying. Their new tablet, the E100, weighs only 3 pounds but has been designed for those with the most macho of professions, i.e. the military. It can stand up to the adverse conditions of temperature, water, dirt, and vibration. It has an 8.4-inch touchscreen and runs on Intel Stealey at 800MHz. Optional are mission boxes which allow RFID, magnetic strip and barcode reading. How handy for the traveler who wants to keep track of inflation. Check with GETAC for price and availability.
Read More

| I4U News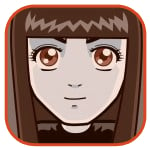 Posted by Sheila Franklin Categories: Design, Misc. Tech, Science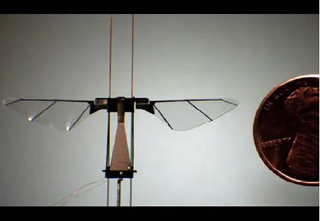 Shades of Jeff Goldblum! Engineer Robert Wood has been working on a robotic fly since the late 90's. After studying houseflies, bees, and fruit flies, he and his team created a layered composite that bends when electricity hits it, creating a micro-scale gearbox hooked to the wings. While the mass of a fly's wings was figured to be 80 watts per kilo, this design produced more than 400W.
The Department of Defense liked his idea so much that they funded him, hoping the technology will be used for such applications as lost miners and military spying. Wood claims that he is only a third of the way there, as the next steps are to create an "on-board" power source and then teach the little buggers to fly en masse.
Read More

| Harvard Magazine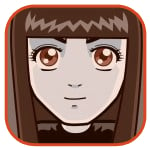 Posted by Sheila Franklin Categories: Misc. Tech, Science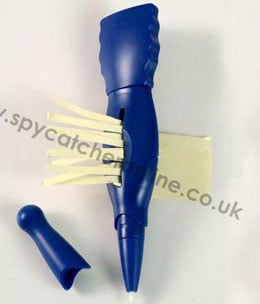 This ingenious device not only allows you to write last minute notes, but to destroy them as well. Use the Pen for messages that will only show up under ultra-violet light. If you are the worried that the baddies will see it, you can shred it instead of eating it. The pen comes with a message pad and batteries for £4.99 (~$10.00.) We can see this being used with other applications, such as destroying ATM slips or that extra receipt when your partner/spouse didn't know you took that side trip to McDonalds on the way home from work.
Read More

| Spycatcher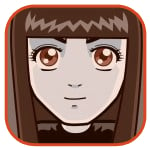 Posted by Sheila Franklin Categories: Editorial, Internet, PC / Laptop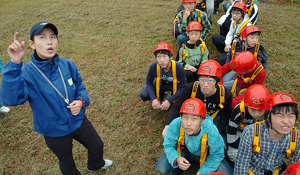 South Korea has decided that Cyberspace Addiction is a definite problem and has created the Jump Up Internet Rescue School to fix it. Students must go through military type obstacle courses, counseling sessions, and workshops to teach pottery and drumming to get away from those keyboards to break "bad" habits. The government has come up with an actual checklist based on the K-Scale (for Korea) and claims that about 2.4 million people under 18 are close to becoming addicts there. We are thinking that instead of trying to cure them, they might just take those same users and find out how they can help their country with their obvious technological skills.
Read More

| International Herald Tribune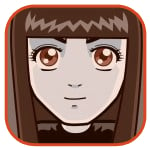 Posted by Sheila Franklin Categories: Design, Misc. Tech, Science, Transportation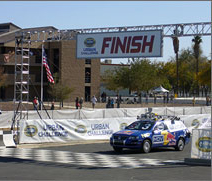 This past weekend, the Defense Department's Urban Challenge 2007 took place in the desert between LA and Las Vegas. Driverless, the computer-run vehicles had to maneuver around neighborhood streets and obstacles at a deserted AF base. Although "Junior," Stanford's 2006 Volkswagen Passat station wagon diesel, crossed the finish line first, the grand prize went to the Tartan Racing team, based on safety as well as speed. Stanford was second, followed by team Victor Tango. This time, 6 of the 11 finalists crossed the finish line. We can see why the military would be interested in this technology, especially when you consider its shock value application. Check out a video we shot of the Carnegie-Mellon team qualifying for the DARPA event.
Read More

| USA Today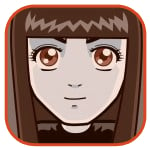 Posted by Sheila Franklin Categories: Editorial, Misc. Tech, Science, Toys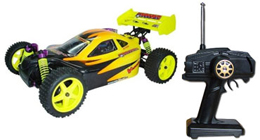 Next time you take a plane trip, don't bring your RC gadgets along with you. The Transportation Security Administration said this week, "It appears that terrorists may have an interest to use these remote-control toys as a means to initiate devices used in a terrorist attack."
A Congressional Research Service claims that the toys have been improvised by both U.S. and Iraqi troops so that they can be run into unsuspecting areas and explode insurgent bombs, while the remotes can be set to trigger explosive devices. The only problem we see with this is that every time we are told that we cannot bring something on an airplane, those that make the announcements tell everyone, including the potential bad guys. Perhaps we should also caution Radio Shack not to open an outlet in the Middle East.
Read More

| Reuters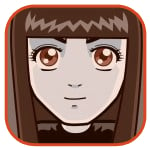 Posted by Sheila Franklin Categories: Cameras, Corporate News, Portable Audio / Video, Science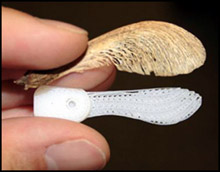 Lockheed is pleased to announce that the Pentagon is using our tax dollars to fund the development of a small rocket-thrusted spy cam based on the design of a maple seed. The mini-copter houses communication, navigation, telemetry devices, along with its own imaging sensors and power source.
The NAV (Nano Air Vehicle) could be used for biological or chemical detection, evidence of humans via body heat and breathing, or maybe even seeking out elusive WMDs. We suspect that the term "released in swarms" refers to dispersing them by air, although they might consider the fact that many of these NAVs will look somewhat foolish because we don't think there are a lot of Silver Maples trees in deserts.
Read More

| Scientific American via The Raw Feed
© Gear Live Inc. – User-posted content, unless source is quoted, is licensed under a Creative Commons Public Domain License. Gear Live graphics, logos, designs, page headers, button icons, videos, articles, blogs, forums, scripts and other service names are the trademarks of Gear Live Inc.