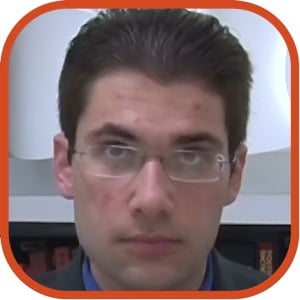 Posted by Ariel Levin-Waldman Categories: Corporate News, Software, Transportation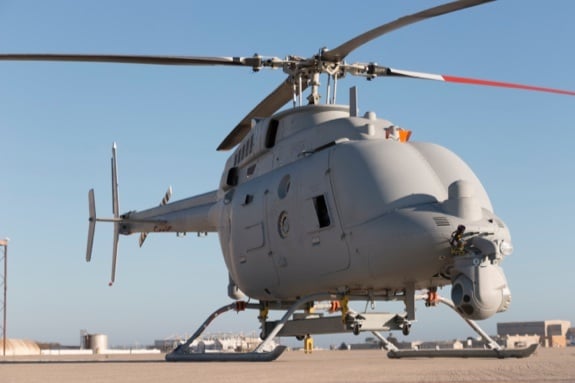 Everyone knows at least one guy who uses Linux. I don't use it myself, but I knew that one guy. He built all his PCs from spart parts, he knew the ins and outs of programming, he was a little bit of an anarchist (ok, more than a little). He fits the bill of the Linux user stereotype-- the young hobbyist and hacker.
But now Linux has a new user. The United States military. Oddly, if I were to describe the military in a few words, hobbyist and hacker would be the dead last words I picked.
Raytheon makes drone and missile systems for the United States. These systems used to run on the Solaris operating system, but the Navy has asked Raytheon to help make some code switches so that they can use Linux for their upcoming unmanned helicopter project, the Mq-8B Fire Scout.
The move is expected to create more intuitive controls for the new unarmed aerial vehicles and save money in the long run. The military originally held that open source software presented too great a security risk for defense applications. It seems that Linux has changed minds.
How do you feel about the Navy's choice to go open source? Chime in in the comments to let us know.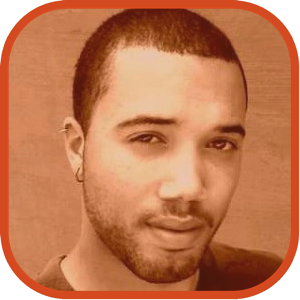 Posted by John Kilhefner Categories: Science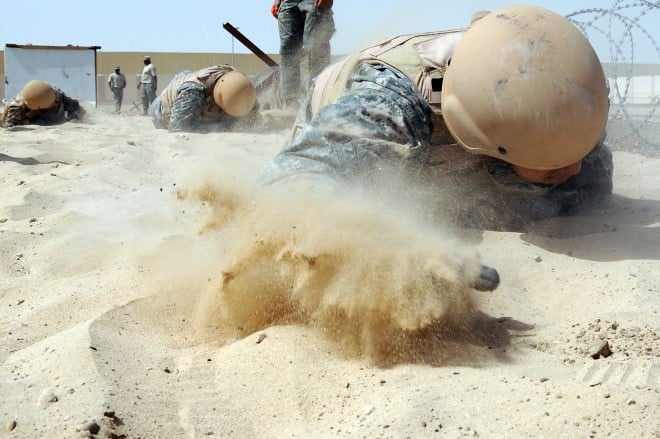 DARPA is looking to get their hands on soldiers minds from the outside in, by using a gadget that installs in the helmet to regulate things such as alertness, cognition, pain, and psychiatric well-being.
William Tyler, a neuroscientist from Arizona State University has been working with funds from the Army Research Laboratory for several years, and his work has caught the eye of DARPA.
The mind-control device basically works through a "transcranial pulsed ultrasound" method to stimulate brain circuits from outside of the skull. This is much more convenient than other deep-brain approaches that require invasive surgery to implant electrodes and the like. Furthermore, the technology has proven capable of penetrating deep brain regions, and can zero in on specific brain zones as small as two millimeters.
The device fits snugly into a soldiers helmet and is controlled by a microcontroller. The ultrasound of the device stimulates different brain regions to improve soldier alertness and cognition, and relieve stress and pain, and other traumatic brain injuries.
We're not too far off from a Metal Gear Solid universe after all.
Read More

| Wired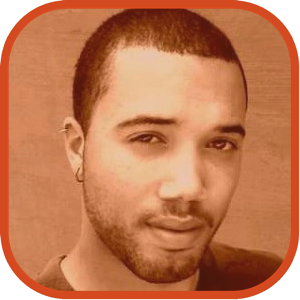 Posted by John Kilhefner Categories: Misc. Tech, Science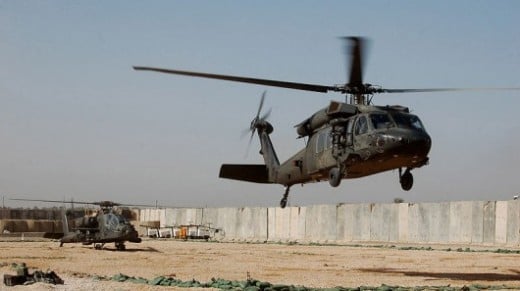 It's always good news to hear of a military device intended for war that isn't branded "death from above," and that actually saves lives instead of taking them. This can be attributed to the researchers at the University of Michigan who have created a new way to protect helicopters from incoming missile up to 1.8 miles away. What's different about this missile defense is that it uses a laser based technology to "blind" incoming missiles instead of destroying them. This is done by using a mid-infrared super continuum laser that takes on the heat properties of a helicopter, confusing the missile and causing it to lose "sight" of the helicopter. The device has no moving parts, giving it a long life span on the adverse conditions of aircraft operations. Mohammed Islam, a professor in the Department of Electrical Engineering and Computer Science stated: "The laser-based infrared countermeasures in use now for some aircraft have 84 pieces of moving optics. They couldn't withstand the shake, rattle and roll of helicopters. We've used good, old-fashioned stuff from your telephone network to build a laser that has no moving parts." This technology has enabled University of Michigan to start a company called Omni Sciences, funded up to $1 million from the Army and DARPA, to develop a second generation version.
Read More

| Gizmag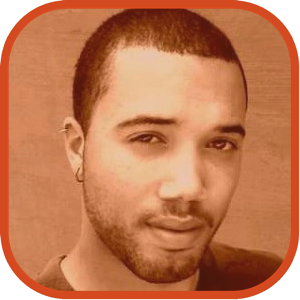 Posted by John Kilhefner Categories: Misc. Tech, Science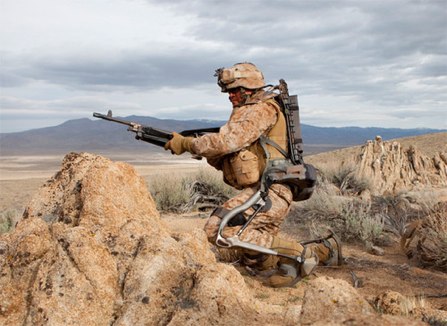 Lockheed Martin has at least brought us into the era of exo-skeleton suits with their Human Universal Load Carrier, or 'HULC' for short. HULC works by transferring weight carried on the soldier to the ground by way of its titanium (sorry, no adamantium just yet) legs. While the exo-skeleton itself weighs about 53 pounds, it also manages to transfer its own weight so the user hardly notices the exo-suit is there. The suit is also tauted as having a wide range of natural movements, managed by an inboard computer that mirrors every movement of the wearer. This means that soldiers can run, jump, and crawl without being restricted by the exo-skeleton. HULC allows for the soldier to move heavy loads across rugged terrain without breaking so much as a sweat, hence the name 'HULC' (Hulk). We don't know if this name was intentional, but the similarities are striking. Perhaps we can get some adamantium claws and regenerative shields too while we're at it, Lockheed?
Check out a video after the break.
Click to continue reading Lockheed Martin HULC Military Exo-skeleton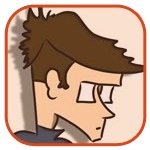 Posted by Kris Madden Categories: Collecting, Reviews
You're probably familiar with Will Eisner's work on The Spirit, and maybe you've read The Contract With God trilogy, but are you familiar with his WWII panels for "Joe's Dope Sheet"? Courtesy of Virginia Commonwealth University, 254 complete issues of Eisner's work for PS magazine are available for viewing here.
Eisner created "Joe's Dope Sheet" for the US Army to illustrate consequences for soldiers who didn't keep their gear up to code. Every issue is filled with classic Eisner's technically-taut cartoon/comic illustrations.
It also hosts hundreds of old-school DIY instructionals on army gear maintenance. Even today, PS Magazine is a great read, and must-link for all Will Eisner fans. Here's a classic example from 1954's issue #20 of PS Magazine:
Click to continue reading Free Comics!: Will Eisner's Complete Run of PS Magazine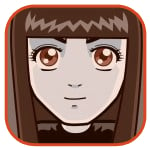 Posted by Sheila Franklin Categories: Misc. Tech, Portable Audio / Video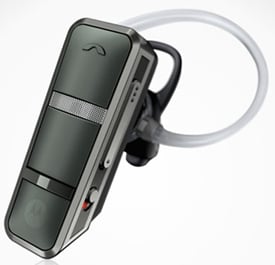 Motorola has a new bone-conduction headset. The Bluetooth Endeavor HX1 catches jaw vibrations that allows the user an option to speak in a normal voice even if there is ambient noise around you. Based on the same technology used by the military, the headset can be used in normal mic mode. The HX1 can go about 7 hours per charge and can be paired with multiple devices and gets spoken status updates. Look for it to appear next month.
Read More

| Motorola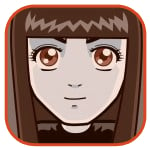 Posted by Sheila Franklin Categories: Internet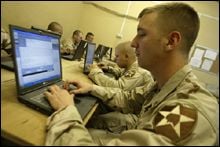 US troops in Afghanistan can now keep in better contact with their loved ones. The military is launching a Facebook page, Twitter feeds and a YouTube site. Their plan is that it will counter the Taliban, who often publish propaganda on the Internet. They are hoping that soldiers will post stories and photos to better represent their daily lives. So far only in limited testing, the formal launch is this week.
Read More

| MSNBC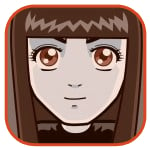 Posted by Sheila Franklin Categories: GPS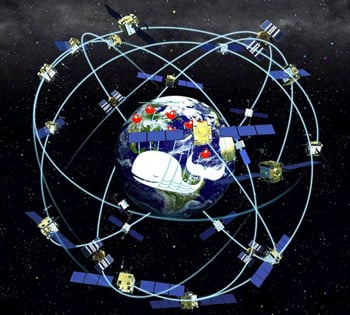 The U.S. Government Accountability Office recently issued a report that claims that unless the Air Force puts up new GPS III satellites by 2010, older ones may stop working and service may fail. As of now there are 31 in orbit and although we only need 24 for positioning, the AF seems to have fallen behind in their maintenance. No need to fear yet, as the AF promises the new system will be up and running and may increase the signal by as much as 10 times the present rate.
Read More

| GAO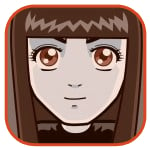 Posted by Sheila Franklin Categories: PC / Laptop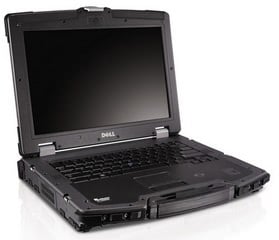 Dell's new Latitude E6400 XFR is a second generation, obviously intended to take on Panasonic's Toughbook. Designed for factories, the military, field technicians and the terminally clumsy, the company says that the 2.2-inch thick laptop can dropped up to 4 ft., not that you would want to intentionally test it. Dell utilizes a "Ballistic Armor Protection System featuring PR-481" which, although is strong enough to be used in missile nose cones, they say is not bulletproof. The system is available in the U.S., Canada, France, Spain, the UK, Germany and Italy with a starting price of $4,299.00.
Read More

| Forbes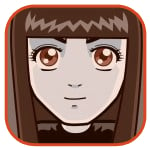 Posted by Sheila Franklin Categories: Science, Transportation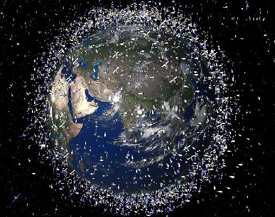 After last week's collision of two satellites in space, experts estimate tens of thousands of pieces of space junk that they will now have to monitor. They already track over 17,000 pieces larger than 2 to 4 inches in diameter. The incident occurred between a U.S. Iridium commercial satellite and a derelict Russian military one about 500 miles above the planet. The FAA has received reports of falling debris over Texas, which could be related to the crash but was not confirmed. Either way, it may be 10,000 years before the floating stuff, seen in this artist's rendering, will not be a threat to other satellites.
Read More

| MSNBC

© Gear Live Inc. – User-posted content, unless source is quoted, is licensed under a Creative Commons Public Domain License. Gear Live graphics, logos, designs, page headers, button icons, videos, articles, blogs, forums, scripts and other service names are the trademarks of Gear Live Inc.