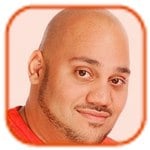 Posted by Andru Edwards Categories: Corporate News, Microsoft, PC / Laptop, Software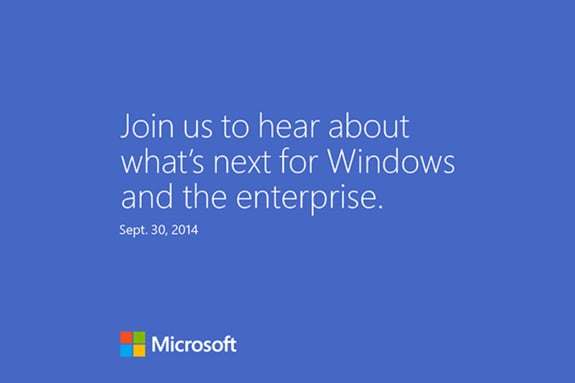 Microsoft has started sending out invitation to select press to its Windows 9 reveal event that will take place in San Francisco, California on September 30th. Microsoft execs Joe Belfiore and Terry Myerson will both be on hand to talk about "what's next for Windows and the enterprise." At the end of the event, we expect the company to release a Windows 9 Technical Preview that will allow developers and enterprise users to take the new software for a test drive to get apps updated and deployment scenarios tested. New features for Windows 9 include Cortana integration, virtual desktops, a new Start menu, Notification Center, and a refreshed UI that will see flatter icons (similar to Apple's OS X Yosemite.)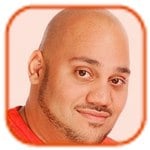 Posted by Andru Edwards Categories: Hot Deals, Microsoft, Video Games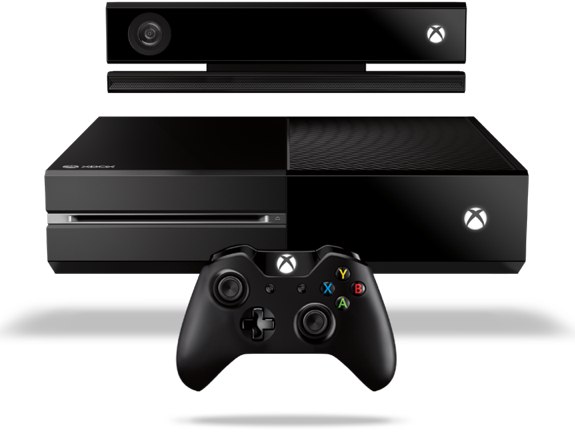 If you haven't picked up an Xbox One yet (or, if you need an extra one for the bedroom,) next week will be a great time to buy. Microsoft is running a promotion from September 7 through 13th where buying an Xbox One at participating retailers will include any free game of your choosing that costs $59.99 or less. Yes, that includes Destiny, Bungie's new title, which drops on September 9. That's a nice savings, since you'll probably want at least one game to play on your new console anyway. Speaking of which, the offer applies to Xbox One bundles as well, so if you buy the Xbox One Madden NFL 15 Bundle or the Forza Motorsport 5 Bundle, each of which already comes with a free game, you get another free game of your choosing on top of that.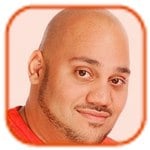 Posted by Andru Edwards Categories: Driving, Microsoft, Xbox Live, Xbox One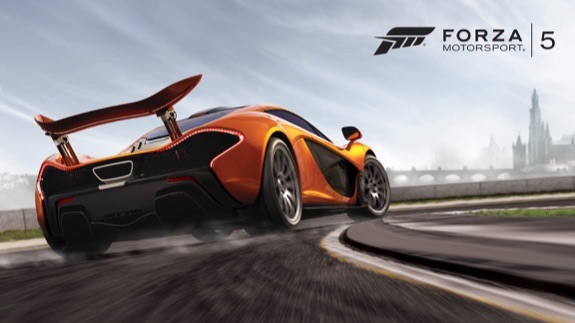 Forza Motorsport 5 is going free this weekend for all Xbox Live Gold subscribers. You'll also need an Xbox One to get in on the action, which starts at 12:01am on Friday and ends on Sunday night. During that timeframe, you'll be able to download Forza Motorsport 5 and play it to your hearts content for the weekend, including all single-player and multiplayer content. DLC add-ons don't come as part of the deal, but still, this is basically like a free rental.
All US residents who spend time playing Forza Motorsport 5 during the free weekend are entered to win a three-day trip to the Forza Motorsport Grand Prix Road Racing Class to be held at the Bondurant School of High Performance Driving.
So, who jumping in to Forza to help pass the time until Destiny arrives next week?
For a peek behind-the-scenes of Forza Motorsport 5, check out our video after the break.
Click to continue reading Xbox Live Gold members get Forza 5 free all weekend long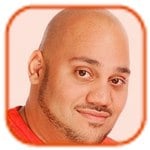 Posted by Andru Edwards Categories: Accessories, Hardware, Kinect, Microsoft, Xbox One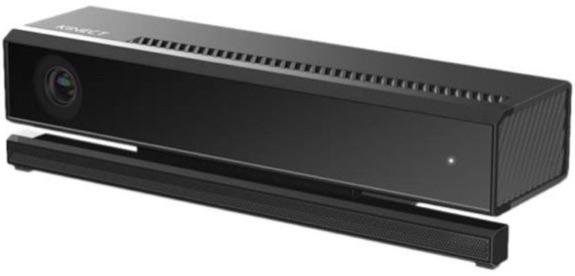 When Microsoft removed Kinect from the lower-end Xbox One bundle (making the promise of what Kinect would be go up in smoke,) it also announced that it would make the Kinect sensor for Xbox One available as a standalone purchase for anyone who might want to add it to their console after purchasing one without it, but never announced a date. Now we know that the Kinect for Xbox One will be available in stores in October, and will cost $150.
It makes sense that Microsoft would offer Kinect separately, but the extra $50 that it's taking on to the price may made it a dud out of the gate, but hey, at least now the fact that you can get an Xbox One with Kinect for $100 more appears to be a $50 savings. For what it's worth, the Kinect will be packed in with a copy of Dance Central Spotlight, which is probably the main Kinect game that people really care about in the first place.
That said--who's planning on buying one?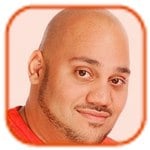 Posted by Andru Edwards Categories: Apple, Cell Phones, Handhelds, Microsoft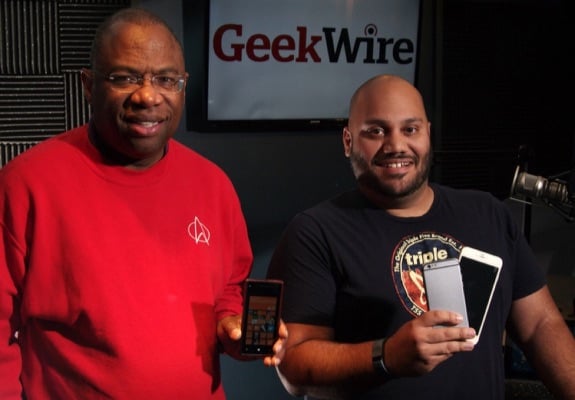 I made another appearance on this weeks episode of GeekWire Radio here in Seattle, Washington, keeping my streak alive as the person with the most guest appearances in GeekWire Radio history! In this episode, which also features Eyewitness News reporter Essex Porter (pictured with me above, and a huge Windows Phone advocate), we talk about a couple of recent Gear Live stories, including:
I brought in the two iPhone 6 mockups in both 4.7- and 5.5-inch varieties, which made for some good conversation. We also chat about the news of the week, which included the release of the Amazon Fire Phone, and we also had a discussion about what Microsoft needs to do to make Windows Phone more accepted by the general consumer. You can listen to the show now by grabbing the MP3 below, or hitting play in the widget.
Click to continue reading Andru Edwards on GeekWire Radio: iPhone 6, Surface Watch, Fire Phone, and more
Read More

| GeekWire Radio (MP3)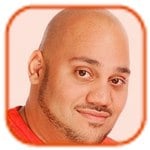 Posted by Andru Edwards Categories: Microsoft, PC / Laptop, Rumors, Software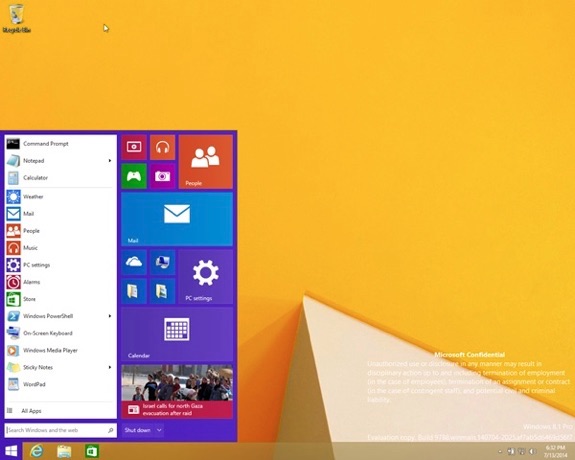 One of the biggest complaints about Windows 8 is the lack of the Start button, but the feature is about to make a return with an overhauled look and feel. In the leaked screenshot above, you see the new Start menu, which incorporates Microsoft's tile design that you'll find it using across its product line in areas like Xbox, Windows Phone, Office, and of course, Windows itself.
As you see in the screenshot, there are tiles embedded into the Start menu for items like People, Mail, PC Settings, Calendar, Xbox, Camera, and more. We'd imagine that you'd be able to rearrange items, pin your favorites, and remove things you'd never use. Bringing back the Start menu could be seen as a big step back, with Microsoft succumbing to users who refuse to embrace change; others may see it as the company finally listening to user feedback and addressing those needs. The Start button is much more usable on a computer that doesn't have a touchscreen than the home screen version of the Start menu. No word on when the change will go public.
What do you think? Have you been waiting for the return of the Start button on the Windows 8 desktop?
Read More

| MyDigitalLife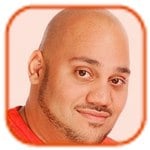 Posted by Andru Edwards Categories: Cell Phones, Corporate News, Features, Handhelds, Microsoft, PC / Laptop, Software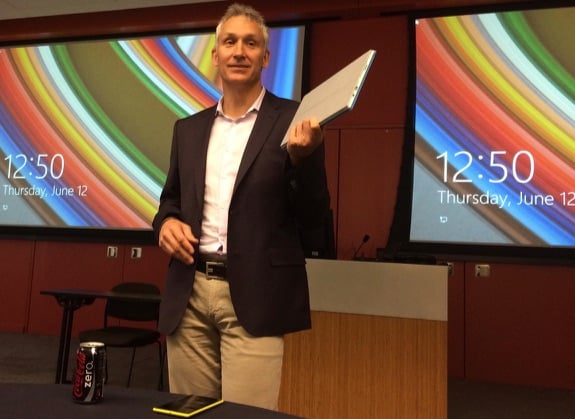 Chris Weber is the CVP of Mobile Devices Sales at Microsoft, re-joining the company through it's purchase of Nokia, where he was in charge of global sales. He knows his way around every Lumia device, and is now aiming to make sure that Windows Phone first-party hardware is an even player at the devices table. We were able to sit down with Chris to talk about Nokia, Lumia, Windows Phone, and what changes need to be made in order to realize the success he is seeking. Check out the full interview below:
When is Windows Phone 8.1 coming out?
The answer varies by device and operator. The Lumia 630 and 635 are the first 8.1 products, launched internationally. We're also working with our current products, and any Windows 8 phone is upgradeable to 8.1. There is currently a developer preview, but the operator version requires further testing. 8.1 is a completely different experience. Things like the background wallpaper, increased customization, and especially Cortana, which is one of the best features.
There are key differences between Cortana and similar services on other devices. It proactively learns. The other day I was flying to Moscow. The week before, it asked if it wanted me to track my flight to Moscow. There is a link that says "Do you want to know how I knew that?" Cortana looked at my calendar and started looking up flight numbers. It also has geo-fencing. You can say "Remind me that Ignacio owes me $100." I can say remind me when I send an email, when I arrive home, etc. Or "Remind me to pick up my dry cleaning" and when you get in the area, the message pops up. "Remind me to pick up milk at the grocery store" and you get the choice of having it remind you when you are near any grocery store, not just one specific one.
Back to being on the plane, I said "Remind me to download the music for guitar when I get home." It's really, really good. Flow writing, which is similar to Swype, means I can do emails faster on my phone than on the keyboard now. I got a new phone and it wasn't running 8.1 and the hunt and peck was tough!
Click to continue reading Chris Weber interview: The future of device branding for Windows Phone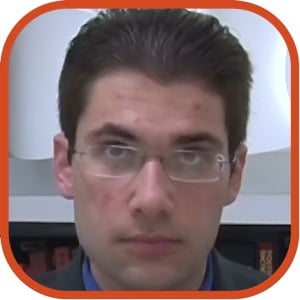 Posted by Ariel Levin-Waldman Categories: Cell Phones, Handhelds, Microsoft, Software, Video Games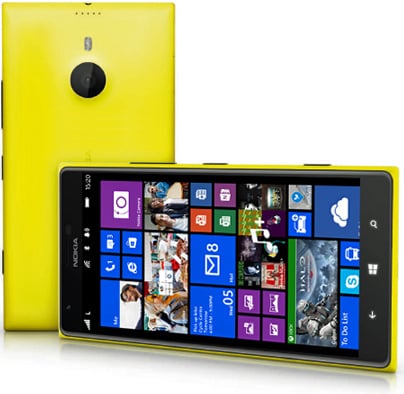 Microsoft has an ambitious new idea to set themselves apart from Android and iOS. They want to install their video game motion sensor technology in an upcoming Windows Phone. Tom Warren of The Verge says that Microsoft insiders have slipped him some elusive information on the new phone.
The goal is to eliminate as many buttons and screen swipes as possible from the new phone. It should be able to answer a call simply by holding it up to your ear and end a call when it is dropped into a pocket. Place it on the table to put it on speaker, wave a hand in front of the screen to dismiss alerts, and push buttons without touching the phone, these are the feats that Warren says the phone will be capable of.
The 3D features, as they are being called, are not unique to Microsoft. Amazon is purportedly going to reveal a similar device June 18th. Eliminating screen smudges is cool, but I am not certain if I would be willing to buy a whole new phone to do it though. Given that the Kinect didn't sell consoles on its own merit, I am skeptical if it will do so in the even more competitive smartphone market.
Still, if the 3D sensor allows me a full size keyboard without taking up any real space, it might just be worth a glance.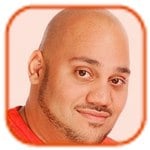 Posted by Andru Edwards Categories: Accessories, Wearables, Features, Microsoft, Rumors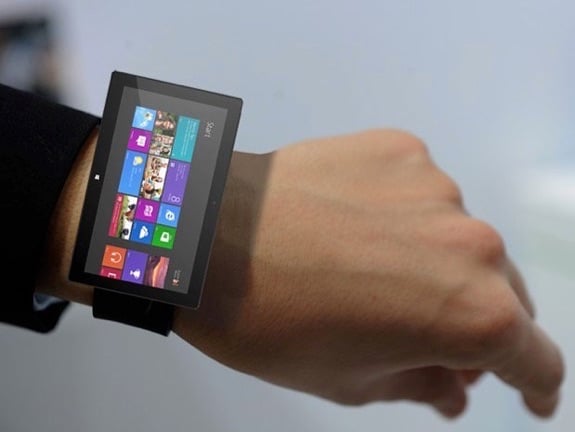 Yes, it's true—Microsoft is about to get into the smartwatch game, and I got the opportunity to play with it. As we'd previously reported, Microsoft has filed a patent that details a smartwatch. However, often these patent filings aren't exactly what we see companies end up releasing. So, let's separate the cruft and get to the meat of the matter. A number of months ago I took a trip to New York where I came across someone who was testing the upcoming Microsoft wearable device. I saw it on their wrist and asked about it. They tried to explain that it was a random fitness wristband ordered from China at first, but eventually (with some prodding) gave me the scoop. Here is your exclusive first look at what Microsoft is planning for its first wearable smart device, what we are referring to as the Surface Watch:
As far as looks, the image above is a parody, but not far off. It has an elongated form factor, but isn't as comically large as what's in the image. It is much more akin to something like the Fitbit One or Samsung Galaxy Gear Fit in shape rather than taking on the shape of a traditional watch, like Pebble did, or like what Google showed off with Android Wear. What we saw had a flat display, while the inner portion that would rest against your skin was curved.
The icons are the flat style that Microsoft has been using on its other devices like Windows 8, Windows Phone, and Xbox One. That's what tipped me off in the first place.
Bluetooth 4.0 Low Energy is how it interacts with the rest of the world
The flat glass display, and was definitely not high resolution. We hope that both of these change in the final product--a high-resolution curved display already exists on the Samsung Gear Fit, and the Microsoft device just didn't look as good.
The watch is packed with sensors. It has a heart rate monitor, accelerometer, gyroscope, GPS, and most interestingly, a galvanic skin response sensor all built-in. The galvanic skin response sensor is built into the watch band, while everything else is built into the unit itself.
Click to continue reading Exclusive: I used Microsoft's Surface watch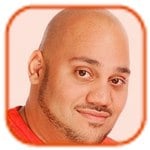 Posted by Andru Edwards Categories: Accessories, Handhelds, Microsoft, PC / Laptop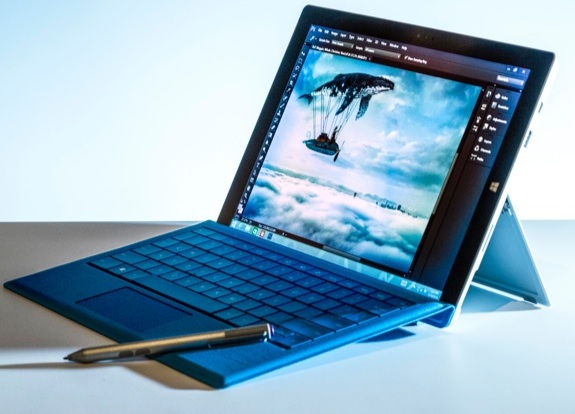 Microsoft announced the Surface Pro 3 this morning, and noted that the device would be priced starting at $799. Of course, with multiple configurations and processors available, you're probably wondering what pricing across the entire Surface Pro 3 line might look like. Well, we've got the answer:
Intel Core i3, 64GB SSD, 4GB RAM: $799
Intel Core i5, 128GB SSD, 4GB RAM: $999
Intel Core i5, 256GB SSD, 8GB RAM: $1299
Intel Core i7, 512GB SSD, 8GB RAM: $1,549
Intel Core i7, 512GB SSD, 8GB RAM: $1,949
Here's the kicker, though. Microsoft has positioned the Surface Pro 3 as the tablet that can replace your laptop. Well, in order to do that, you need a keyboard. The Surface Pro 3 Type Cover keyboard costs a ridiculous $129.99. So, in other words, that $799 entry-level Surface Pro 3 price jumps to $929 with keyboard. Extra Surface Pens cost $49.99 as well, so, you'll want to not lose the one that comes with the device.
You can pre-order the Surface Pro 3 now. Who's buying one?
© Gear Live Inc. – User-posted content, unless source is quoted, is licensed under a Creative Commons Public Domain License. Gear Live graphics, logos, designs, page headers, button icons, videos, articles, blogs, forums, scripts and other service names are the trademarks of Gear Live Inc.