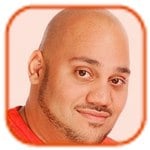 Posted by Andru Edwards Categories: First Person Shooters, Microsoft, Xbox One,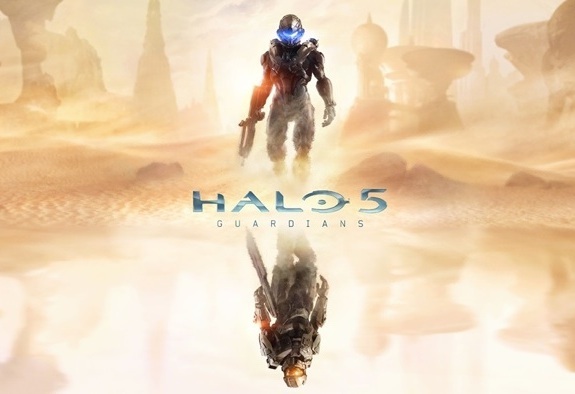 Microsoft has officially announced the next entry in the Halo series in Halo 5: Guardians. Exclusive to the Xbox One, Halo 5: Guardians will star Master Chief as he begins a new journey, which was previously teased at E3 2013.
"Halo 5: Guardians" is a bigger effort than "Halo 4." That applies to the content and scope of the game, as well as the technology in what's now a brand new and more powerful engine. Certainly there are some core elements carried over from prior games, but we've invested a huge effort in retooling our tech to take full advantage of the Xbox One's hardware and ecosystem to create worlds and experiences worthy of next-gen.
You can bet that 343 Industries will take full advantage of Microsoft's Xbox Live cloud infrastructure--but probably not too much Kinect integration. I'm sure we'll know much more at E3.
Read More

| Xbox Wire

After months of development and secrecy, 343 Industries has released its first official 'ViDoc" explaining just a little bit of what they are working on for Halo 4. The video goes into detail about how the Master Chief looks with his upgraded suit and HUD, and also explain that the multiplayer for Halo 4 will be fairly independent from the campaign with newly designed multiplayer maps. This also goes on to explain that in multiplayer, instead of playing your campaign character, you are a completely new breed of Spartan, The Spartan IV. This, we can assume, will also give us a deeper look into the Halo Universe.
Right away in the ViDoc we notice that the Spartan model as well and the Battle Rifle have had a major overhaul and graphics update. The multiplayer, according to 343, will also give a reason as to why a Red Spartan should fight a Blue Spartan. We get a good look at two of the multiplayer maps throughout the video, one of which is "Warhouse", an abandoned Military base with a giant mech in the middle that, while you play, is built. 343 stated that they want the player to feel completely submersed when they play the game, and go on to hint that the player will be able to manually open doors and even make jumps that would previously seem impossible in previous Halo games.
All of this news has come fast and will most likely be ushering more and more information from 343 Industries as the game gets closer to release.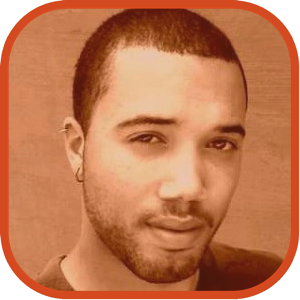 Posted by John Kilhefner Categories: Design, Video Games,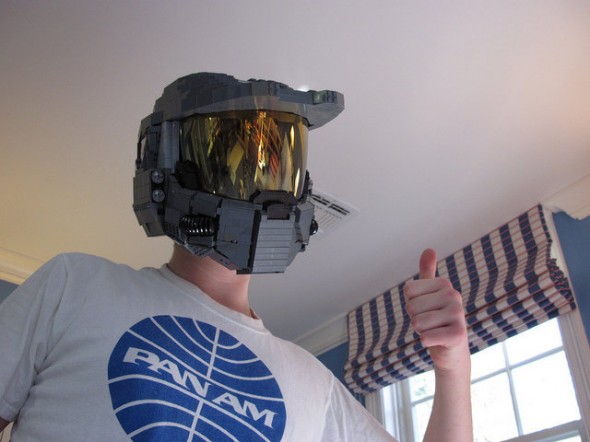 Ben Caulkins (a.k.a. Benny Brickster) created this gray LEGO Master Chief helmet from scratch, and yes, it is wearable. Just don't go running around expecting your shields to recharge after a well placed head shot. At least not until they invent bulletproof LEGO blocks.
Read More

| Brothers Brick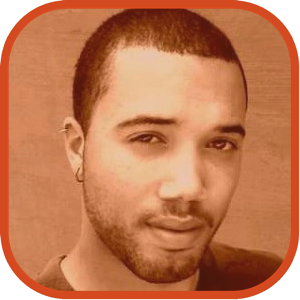 Posted by John Kilhefner Categories: Cell Phones, Handhelds, Video Games, Videos,
If you've seen the new Samsung Epic 4G commercial then you might have been fooled into watching the whole thing thinking it was a new Halo: Reach commercial (raises hand). The similarities are probably not a coincidence considering Halo: Reach is set to be the biggest game of the year, and all eyes are on it right now. Knowing this, Samsung could have purposely chosen to borrow the money making look of Master Chief.
The start of the ad depicts a character bearing a strong resemblance to Halo's Master Chief. The pseudo Chief is then chased by an alien space craft which bombards the Spartan-like clone with some heavy missile fire. Unmasking himself, the Samsung's Spartan hops into his own aircraft, epic chase ensues. The terrain containing the massive battle is then revealed to take place in the palm of your hand - the slogan for the theater-like experience promised by the Samsung Galaxy S. All Halo inspired themes aside, it's a pretty cool commercial, though you have no clue what it's about until the very end. Microsoft states that "the commercial in question is not sanctioned by Microsoft." However, whether or not Microsoft will want to have the look alike Master Chief hero pulled from the air is not known at this point.
Check out the ad for yourself below.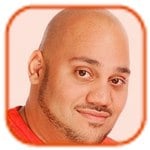 Posted by Andru Edwards Categories: Accessories, Microsoft, Special Editions, Xbox 360,
Check it out guys, the Halo 3 hype is officially in full effect over the next couple of days. We have been receiving some Halo 3-themed deliveries over the past couple of days. You've gotta see the latest. This is a briefcase that arrived with a simple Halo 3 logo on it. We opened it up to find a couple of autographed Halo 3 Xbox 360 controllers, along with the Halo 3 wireless headset. Check out the Halo 3 Briefcase gallery for a closer look at everything, and if you missed it, check out our Xbox 360 Halo 3 Special Edition unboxing gallery as well!
Read More

| Opening the Halo 3 Briefcase


Posted by Chris Pereira Categories: Bungie, First Person Shooters, Microsoft, Xbox 360, Xbox Live,
UPDATE: For all of you Negative Nancys out there, the news has been made official on Bungie.net. Head over there for details on the two Elites players three and four will take the role of (pictured above).
ORIGINAL STORY: While the news has yet to make it onto Bungie.net, a post made on the NeoGAF forums a short while ago posted a translation from Dutch website Inside Gamer stating that Halo 3 would support 4-player co-op. While the wording was difficult to understand (and initially looked like it might only be confirming 4-player split-screen co-op), Bungie's Luke Smith has given this the thumbs up with a single word: "Believe."
He later in the thread stated that news about this would make its way onto the official Bungie website later today, but this is huge news for Halo fans who were told that Halo 3 wouldn't even be supporting online co-op.
As a huge Halo fan, I'm absolutely ecstatic over this. Online co-op in any form would have been fantastic. But FOUR players? That's ridiculously awesome. I just wonder who the third and fourth players will play the role of.
Read More

| NeoGAF


Posted by Chris Pereira Categories: Bungie, First Person Shooters, Microsoft, Release Dates, Xbox 360, Xbox Live,
The speculation is true – the latest issue of EGM confirms that Halo 3's co-op (which will exist offline, with player two playing as the Arbiter) is not currently online. Bungie is working to get the feature implemented, but currently it isn't happening. Considering they have a very limited amount of time left to work on the game, it seems highly unlikely that online co-op will make it into the retail version of the game. Of course, we could always get it through a patch or downloadable content down the road – but so help me if it costs even a penny.
"We're not dumb," says Bungie's Frank O'Conner. "We know that people want it and we're trying to make it happen. I think the biggest problem for us for online co-op is that we have a situation where you can be in a Warthog with five troops, almost a mile away from the other player. That's a significant challenge. And there's lots of design things you could do to prevent that from happening, but they would make it not feel like Halo anymore. If we can make it happen in a way that works well, we will - and if it works badly, we won't."
A smattering of other things are revealed in the EGM story, as well, including new weapons and gear: the Flare (flashbang), the Mauler (dual-wieldable Brute shotgun),the Gravity Hammer (according to CVG it sends vehicles flying), and the Regenerator (opposite of the power drainer). New vehicles include the Prowler, Hornet, and Elephant. They don't sound quite as cool as Ghosts, Banshees and Warthogs, but hopefully they play well. Additionally, a remake of the popular Halo 2 map Lockout was revealed, now known as Guardian.
Read More

| CVG


Posted by Chris Pereira Categories: Bungie, E3, First Person Shooters, Microsoft, Release Dates, Trailers, Xbox 360,
As opposed to the other Halo 3 video which was practically nothing but live action, this video is filled with just over two minutes of Halo 3's single player – and it looks good. Cortana makes a brief appearance, and what looks to be an array of new Covenant dropships, new armor for the Brutes and a lot of other things only Halo fanatics can really appreciate. Nevertheless, give it a watch and keep counting down the days until September 25.

Posted by Chris Pereira Categories: Accessories, Action, Activision, Adventure, Bungie, CAPCOM, Casual, Corporate News, Driving, E3, Electronic Arts, First Person Shooters, Hardware, Microsoft, Party Games, PC, Puzzle, Release Dates, Retro, Role Playing Games, SEGA, Simulation, Special Editions, Sports, Strategy, Survival Horror, Take2, Third Person Shooters, Trailers, Ubisoft, Xbox 360, Xbox Live, Xbox Live Arcade, Xbox Live Marketplace,
Unfortunately, I wasn't able to attend E3 this year – instead, I'm on vacation in Cape Cod, using awful hotel Wi-Fi to watch streamed press conferences. Not the most glamorous way to take it all in, but exciting announcements, great games and new details are welcome no matter how you hear about them.
Here's my personal transcription (in very brief form) of all the announcements and showings, along with some reflection on what Microsoft had to show.
Click to continue reading E3 2007: Microsoft's Press Conference Recap And Impressions

Posted by Chris Pereira Categories: Bungie, First Person Shooters, Release Dates, Xbox 360, Xbox Live,
With the Halo 3 beta just hours away from release comes this bombshell: Halo 3 will be headed to retailers on September 25 (26 if you're unluckily living in Europe). The beta alone has caused a tremendous whirlwind of press coverage and buzz among the community, and the release of the game is only going to be bigger.
"'Halo 3' is much more than a video game release; it's the biggest entertainment event of the year," said Peter Moore, corporate vice president of Microsoft's Interactive Entertainment Business. "On Sept. 25, we intend to deliver a finale that will go down in entertainment history and leave people around the world with an experience that will be shared and enjoyed for years to come."
Previous proclamations from Microsoft and Bungie placed Halo 3's release this fall, which September 25 certainly qualifies for. Many people, myself included, predicted the game would launch in November, as to avoid the October release of Grand Theft Auto IV, and to be on store shelves by the holidays. Apparently, Microsoft is instead opting to ride on the initial wave of sales in September and October, and then benefit from the holiday shopping season.
Halo 3 will no doubt be working in tandem with Mass Effect in order to counter the onslaught of PlayStation 3 titles that will be seeing release later this year. Expect to see plenty more Halo-branded things in the coming months, too – another Halo novel, the Halo 3 Zune and that limited edition Master Chief Mountain Dew can you see on the right.
© Gear Live Inc. – User-posted content, unless source is quoted, is licensed under a Creative Commons Public Domain License. Gear Live graphics, logos, designs, page headers, button icons, videos, articles, blogs, forums, scripts and other service names are the trademarks of Gear Live Inc.