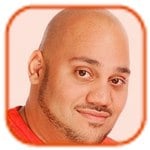 Posted by Andru Edwards Categories: Apple, Google, Software,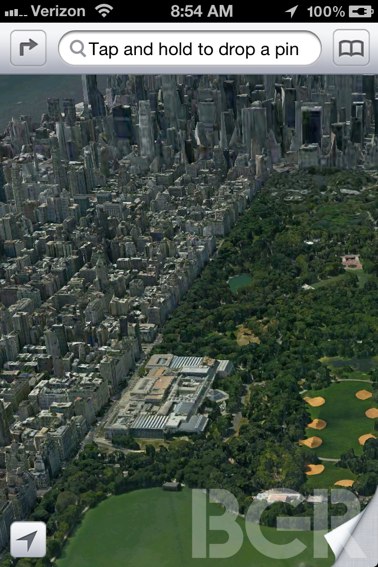 As previously reported, Apple is set to replace Google Maps in iOS 6 with an in-house solution that's the result of the company acquiring mapping companies like C3 Technologies, Poly9, and Placebase. Today, we see leaked screenshots from a BGR "trusted source" that shows off a bit more of what we can expect.
The screenshots show that the new 3D mode is certainly in the works in build 10A314 of iOS 6. Again, this is a total replacement for Google Maps, allowing Apple to provide the exact Maps experience that it want to provide on the iPhone, iPod touch, and iPad. We expect to get a full preview of iOS 6 at WWDC next month.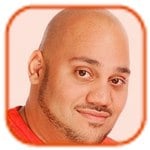 Posted by Andru Edwards Categories: GPS, Internet, Software,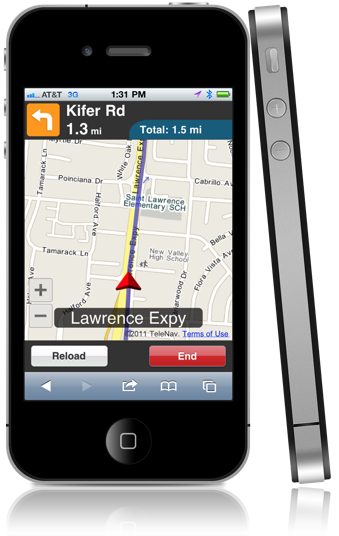 TeleNav, the GPS software company, has unveiled a browser-based HTML5 app that will deliver voice-enabled, turn-by-turn GPS navigation on almost any mobile device—and that other sites can call up with a single line of code.
The concept behind the app is similar to that of Amazon Kindle Cloud Reader: You input the URL and then run TeleNav from within a browser, without installing a native app first. An added benefit: TeleNav can continuously update the service over time whenever it wants, without inconveniencing consumers with periodic software updates.
In an e-mail to us, Mary Beth Lowell, TeleNav's associate director of public relations, confirmed that the HTML5-based app will tap into each device's GPS chip. The combination puts it several leagues ahead of Google Maps, which provides directions without voice prompts, meaning you can also use it in a car while behind the wheel, since you don't have to look at the screen for the next step.
"For example, if I'm in a travel app and I'm looking at my hotel address, I could click on the address and get full voice-guided TBT [turn-by-turn] directions to the hotel," Lowell said. "I wouldn't need to be a TeleNav customer or even download an app."
Click to continue reading TeleNav shows off HTML5-powered GPS app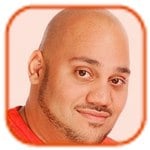 Posted by Andru Edwards Categories: Apple, Cell Phones, Editorial, GPS,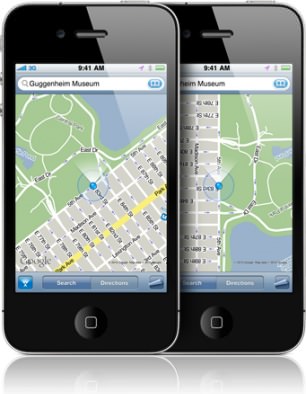 Buried in Apple's statement on how the iPhone tracks a user's location data, the company admitted it was collecting anonymous location information to create a "crowd-sourced traffic database" that will be part of a future "improved traffic service."
The thing is, there's already a traffic service on the iPhone, provided by Google. If a user launches the Maps app and selects "Show Traffic," the map overlays colors on roads that show traffic congestion. Google gets the traffic data by—surprise!—crowd-sourcing it, aggregating information from Google Maps users who have approved the app for location services on their mobile devices.
Apple's statement reveals that the company is working on its own version of such a service. Whether that service will be something that Apple will use to improve traffic in Google Maps, or if Apple will launch a competing maps app, or something else entirely isn't known. Apple didn't respond to multiple requests for comment on the topic.
Click to continue reading Okay, what's up with Apple creating its own traffic database?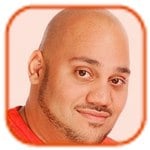 Posted by Andru Edwards Categories: Business Tools, Social Networks,
Business social networking site LinkedIn launched a number of new products for its users on Thursday, including a customized news aggregation site.
In total, LinkedIn launched the LinkedIn Today news site, LinkedIn Skills, LinkedIn Maps, and updated its LinkedIn iOS app with the new news focus. The company also said that its LinkedIn Signal product would be opened up to all users.
According to Jeff Weiner, LinkedIn's chief executive, the site's historical mission has been about connecting users and new jobs, as they move down their career path. Now, he said, the site's purpose is to "connect talent and opportunity on a massive scale". LinkedIn counts 90 million members, all of which can be connected at either a primary, secondary, or tertiary level of interaction.
Weiner said that LinkedIn has three objectives: to be the professional profile of record, to ensure that users are connected to essential sources of professional insights, and to work wherever members work - reference to the company's mobile apps.
Deep Nishar, LinkedIn's senior vice president of products and user experience, related an anecdote where his teenage daughter applied to an won an internship at Johns Hopkins in 2008. Suddenly, as the opportunity approached, he was faced with checking out the program. Nishar said that he posted a message to LinkedIn, looking for responses, and found them. Searching for facts on a search engine wasn't enough.
"Suddenly it ht me that when we make important life decisions, you just don't rely on facts," he said.
Click to continue reading LinkedIn introduces social news, skills, 'maps' pages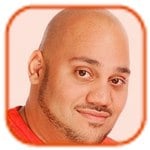 Posted by Andru Edwards Categories: Google, GPS, Internet,
Google said Monday that it is expanding the reach of its Street View mapping program beyond the road and into various tourist attractions, thanks to its off-road "trike."
Google has now added Street View access to attractions in France, Ireland, and the United States. That includes France's Château de Chenonceaux in Civray-de-Touraine, the National Botanic Gardens in Dublin, as well as the gardens at the San Diego Art Institute and several spots in San Diego's Balboa Park.
Google normally collects its Street View images by attaching its equipment to the roofs of Google-owned vehicles that drive up and down public streets capturing 360-degree images. In 2009, Google introduced the trike - "a three-wheeled tricycle in a device reminiscent of an ice cream cart [that] lets us reach areas not accessible by car, such as hiking trails, biking trails and college campuses, just to name a few," Google said at the time.
Google said Monday that private property owners can join its partner program if they want to have their location included in Street View.
Click to continue reading Google brings Street View off-road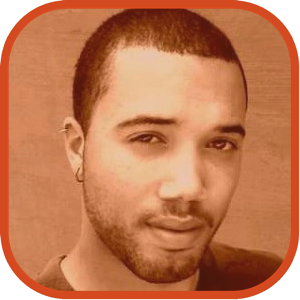 Posted by John Kilhefner Categories: Internet, Microsoft, Software,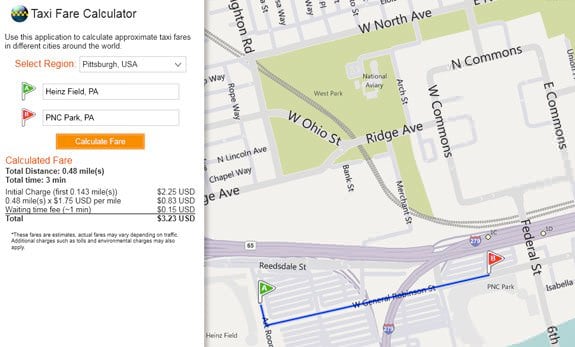 Tired of hailing down cab drivers who pretend to take you the fastest route, only to bog down your travelling with weird routes that add to the total fare? Bing is, as they've now added the 'Taxi Fare Calculator'. This enables you to keep track of the best routes your taxi driver should be going, as well as an estimate on the total fare. Bing Map's Taxi Fare Calculator was developed during the 'King of Bing Maps' competition, and is being tweaked to include more cities. As of now only a few dozen cities around the world are included. However, when more routes are mapped out and a dedicated mobile version is available, you can expect everyone in the know to use the Taxi Fare Calculator to avoid getting the run around from cabbies in unfamiliar cities. Check out the calculator here
Read More

| Bing Community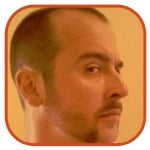 Posted by Finnian Durkan Categories: Accessories, Cell Phones, Corporate News, GPS, Transportation,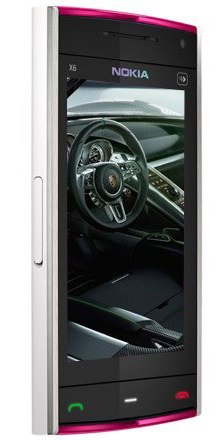 Need a reason to chuck your Garmin/Tom-Tom, etc. out of your car other than 'has stupid name and labels me as a poor-driving tourist wherever I go'? Well wait no longer, avid reader: today Alpine announced a strategic partnership with the Finnish cel phone giant, Nokia, to fully integrate smartphones into car infotainment systems. While I was surprised that 'infotainment' was actually a word, I was more surprised that this type of alliance hasn't been made sooner. Not only are these two electronics giants looking to elbow in to the lucrative GPS/Nav market, but they are also bringing a few bells and whistles of their own, namely widgets that can monitor fuel levels and direct you to the nearest and cheapest gas station. Might as well go ahead and chuck that gas gauge now, Chachi, 'cause you're not going to need it anymore; welcome to the future, only 48 years after your grandpa thought he'd have a flying car.
Read More

| Alpine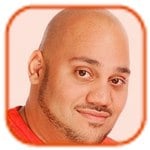 Posted by Andru Edwards Categories: Cell Phones, Google, GPS, Handhelds, Software,
One of the nicest features in Android 2.0 is Google Maps Navigation. In a nutshell, it's Google Maps with turn-by-turn GPS navigation, and voice guidance. Google has put together a video that introduces Google Maps Navigation, which we've embedded above, but there are some of the features that stand out to us:
Live traffic: Since Google Maps can show you traffic info, it's obviously built-in to Google Maps Navigation, at no extra cost.
Routes always current: When you search for directions, Google Maps Navigation searches the cloud, and gives you the best current route based on the most recent data
Layers: You can overlay different types on data over your maps, like restaurants, gas stations, and more.
Live street view: This is just awesome. You can use the Google Street View feature to get a fantastic visual of your surroundings while driving
FREE!: Google Maps Navigation is free. That includes the GPS, the live traffic data, and the always updated maps. That is a big deal.
The first handset to ship with Android 2.0, and thusly Google Maps Navigation, will be the Motorola Droid.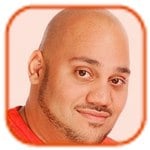 Posted by Andru Edwards Categories: Bungie, First Person Shooters, Microsoft, Screenshots, Xbox 360, Xbox Live,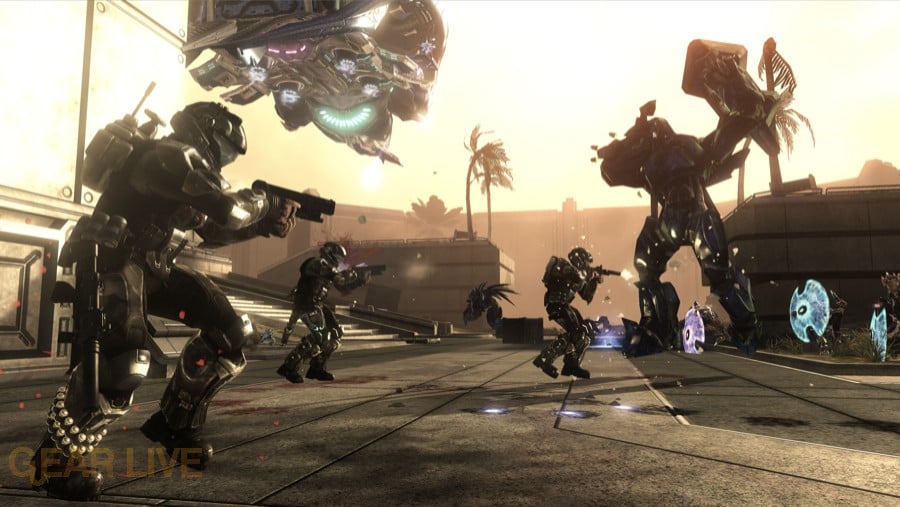 One of the biggest updates coming in Halo 3: ODST is the addition of the Firefight mode. Firefight lets you team up with three other friends to take on round after round of enemies. It's a nice divergence from the standard Halo 3 multiplayer fare, and makes ODST a very attractive package. I was able to spend about 90 minutes playing Firefight yesterday, and I've gotta say, I can see this being a new favorite. Firefight is to Halo 3: ODST what Horde is to Gears of War 2 - it allows you to team up with friends against a common enemy, and it doesn't end until all four of you are dead at once.
We will have our Firefight impressions up in just a bit, but for now, check out all the screenshots we've amassed of the maps we were able to check out. There are definitely more, but what we've got for you is a look at Crater (Night), Security Zone, and Alpha Site. Have a look at our Halo 3: ODST Firefight Map Screenshot gallery.
Gallery: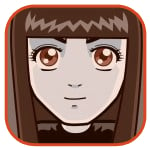 Posted by Sheila Franklin Categories: Cameras, Science, Transportation,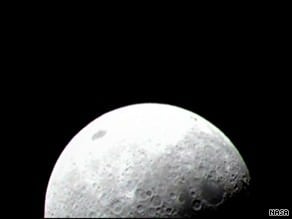 Thank goodness all is well with NASA's LRO and LCROSS. The LCROSS is already streaming video back to earth and will crash land on the moon Oct. 9 to look for water on the South Pole. The LRO just completed the last of its four engine burns and has settled into a comfortable orbit. It will be compiling 3D maps of the surface for about a year. All told, it will provide more data than any other mission.
Read More

| NASA

© Gear Live Inc. – User-posted content, unless source is quoted, is licensed under a Creative Commons Public Domain License. Gear Live graphics, logos, designs, page headers, button icons, videos, articles, blogs, forums, scripts and other service names are the trademarks of Gear Live Inc.