Posted by Chris Pereira Categories: Adventure, Editorial, Reviews, Role Playing Games, Xbox One,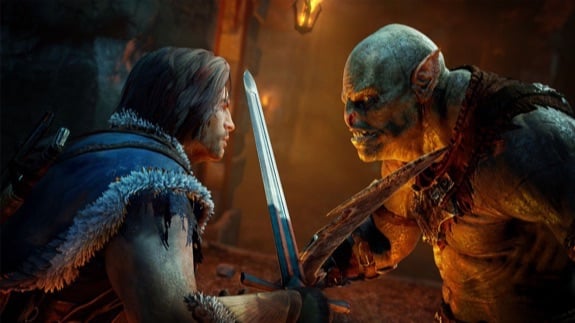 There were any number of reasons to be excited for Middle Earth: Shadow of Mordor, which launched earlier this week. For myself and many others, it was the Nemesis system--which promises unique enemies and emergent gameplay--that was the most exciting aspect of all. And while it's certainly an intriguing feature, I can't help but feel I've been missing out on it for basically being too good at the game.
Until reviews started to hit the web, I was very cautious in being optimistic about Monolith's first-ever Lord of the Rings game. For being such a major franchise, quality games based on it have been few and far between--something that's especially surprising considering its renewed popularity following the release of Peter Jackson's movies. Once I heard the almost-unanimous praise from the reviewers I trust, I was onboard. I was ready to finally play a LotR game that was a genuinely good game, not another passable one that I accepted because it happened to make use of one of my favorite franchises.
Click to continue reading Is being too good at Shadow of Mordor robbing me of a better experience?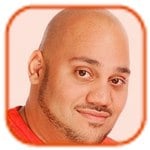 Posted by Andru Edwards Categories: Artist News, Gossip, Performances, Pop,
Lorde thinks she looks like Gollum from Lord of the Rings when she performs on stage.
The 17-year-old star likened herself to the ugly fictional character from J.R.R Tolkien's tales during a question and answer session with fans on entertainment website Reddit. "I know when I'm on stage, I don't think about how it looks, I just concentrate on really feeling what I hear. But I totally know I look like Gollum when I perform, so it's cool," the "Royals" singer explained.
Lorde also revealed she "hates dentists," when asked why she referred to her teeth so much in her debut album, Pure Heroine. In an hour, the Kiwi singer attracted almost 5,000 questions and comments during the "Ask Me Anything" session. During that time, she confirmed she would be performing at a "major festival" in North America in 2014 and revealed for her next video, she is deciding between the album tracks Ribs, 400 Lux and Buzzcut.
Click to continue reading Lorde: I Look Like Gollum on Stage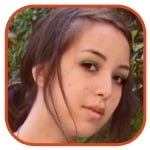 Posted by Robin Paulson Categories: MGM, New Line, Adaptation, Adventure, Drama, Sequels, Celeb News, New Releases,
"Before they started shooting, back in 2008, one of the producers did ask if I would be interested. I said, 'You do know, don't you, that Aragorn isn't in The Hobbit? That there is a 60-year gap between the books?'"
- Lord of the Rings actor Viggo Mortensen shares why he wasn't in The Hobbit: An Unexpected Journey (in which LOTR castmates Ian McKellen and Elijah Wood appeared).
(Make sure to check out other notable quotes.)
Read More

| Huffington Post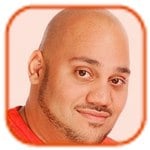 Posted by Andru Edwards Categories: Home Entertainment, Movies, Men, Teens, Under $100, Under $250, Under $50, Under $500,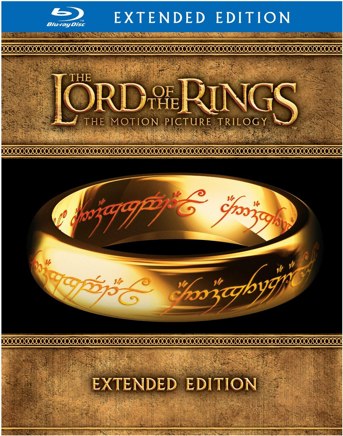 We love to focus on great tech deals in our 2012 Holiday Gift Guide as well, and that's why we are recommending The Lord of the Rings Extended Edition Blu-ray--it's currently available as an Amazon Gold Box special, and that makes it $43.49. That is a 64% discount off of Amazon's regular price, and makes a great gift for the movie lover in your life. The set includes the entire Lord of the Rings trilogy (The Fellowship of the Ring, The Two Towers, and The Return of the King Extended Editions,) and has a bunch of footage that was left out of the theatrical releases of the films. Pick this set up today from Amazon before the price goes back up!
Read More

| Lord of the Rings Extended Edition Blu-ray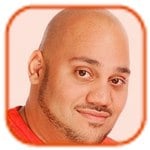 Posted by Andru Edwards Categories: MGM, New Line, Adaptation, Adventure, Celeb News, Filmmaking, Upcoming Releases,
Elijah Wood thought it was "bonkers" to return to New Zealand to film The Hobbit.
The 31-year-old actor visited Hobbiton, New Zealand, to reprise his role as hobbit Frodo Baggins in the Lord of the Rings prequel, and he admitted it was like a "family reunion" being back with his fellow castmates.
"I was there 11 years ago. That's bonkers! And it hasn't changed. It was really amazing! It was a remarkable experience, and a great family reunion. It felt like stepping back into time. It was a gift. It was awesome!"
Elijah has also been filming animated project TRON: Uprising, a prequel to the TRON: Legacy blockbuster, and he found it was "super-cool" to be part of a mythological world he is so familiar with whilst voicing new character Beck for Disney's upcoming animated production.
Click to continue reading Elijah Wood's 'Family Reunion' Filming The Hobbit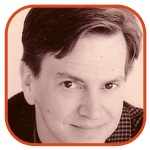 Posted by Tom Mason Categories: Editorials, Movies, Independent,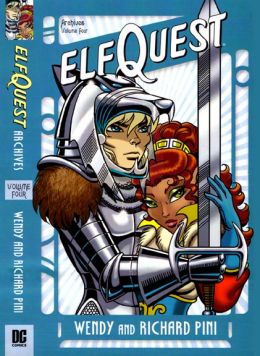 This was posted by WaRP Graphics employee "Wendy Masque," on Elfquest's official Facebook page:
"After close to four years of suspense - and longer than four years of your much-appreciated interest and support - the word has come down from Warner Bros. And the word is 'no.' Their simple explanation is that they don't want to compete with The Hobbit. This was a possibility, among several, that we were prepared for. It is a relief, at last, to know."
Sad news for fans.
Movie studios make similarly-themed competing movies all the time (Armageddon and Deep Impact, anyone?) so that can't be the real reason. In fact, it sounds like movie studio bs.
Click to continue reading ElfQuest Movie: No Go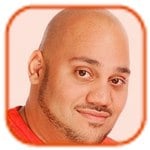 Posted by Andru Edwards Categories: MGM, New Line, Action, Adaptation, Adventure, Drama, Casting, Celeb News, Celebrity Gossip, Upcoming Releases,
It has been confirmed that Elijah Wood will appear in The Hobbit.
The 29-year-old actor, who played Frodo Baggins in the Lords of the Rings film franchise, will definitely appear in the forthcoming movie prequel, despite his character not featuring in the original J.R.R. Tolkein novel.
Producers are rumored to have written the film with an opening sequence in which Frodo begins to read about his uncle Bilbo Baggins' adventures.
A statement by Elijah's representatives confirmed his involvement and also revealed that he is set for a busy few months as he will also feature in a TV mini-series of Treasure Island alongside Eddie Izzard. "Wood is confirmed to star in Peter Jackson's The Hobbit, to be shot in New Zealand. In addition, he has signed on to play Ben Gunn in Stewart Harcourt's adaptation of Robert Louis Stevenson's Treasure Island alongside Eddie Izzard. The two part/ four hour miniseries will be airing on Sky TV in the UK," the statement read.
Filming for The Hobbit - which will be split into two parts and also stars Martin Freeman and Cate Blanchett- is due to begin in New Zealand next month.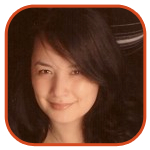 Posted by Veronica Santiago Categories: 20th Century Fox, Disney, Lionsgate, New Line, Sony, Universal, Action, Adaptation, Adventure, Animation, Family, Foreign, Horror, Musicals, Romance, Comedy, Home Entertainment, Lists, New Releases,
Here are some of the DVD and Blu-ray options available today:
Delicatessan: Blu-ray
Jacob's Ladder: DVD, Blu-ray
James and the Giant Peach: DVD
Just Wright: DVD, Blu-ray
Letters to Juliet: DVD, Blu-ray
The Lord of the Rings: The Fellowship of the Ring: Blu-ray
The Lord of the Rings: The Return of the King: Blu-ray
The Lord of the Rings: The Two Towers: Blu-ray
Monster House: Blu-ray 3D
My Son, My Son, What Have Ye Done?: DVD
Prince of Persia: The Sands of Time: DVD, Blu-ray
Seven: Blu-ray
Make sure to also check out the TV-on-DVD options for this week.
Read More

| Amazon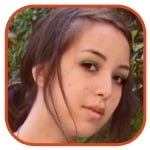 Posted by Robin Paulson Categories: New Line, Action, Adaptation, Adventure, Classics, Drama, Celeb News, Celebrity Gossip,
"I'm a Lord of the Rings fan. And I'll go on the forums. And they'll complain that Frodo is eating the Lembas bread outside of Mordor instead of in the Mines of Moria. And they get really mad. You cannot focus completely on pleasing them because you'll never win. They'll never be happy no matter what you do… Peter Jackson and company won like 30 something Oscars for those movies."
—Jonah Hex actress Megan Fox reveals more about her nerdy habits.
(Make sure to check out other notable quotes.)
Read More

| Perez Hilton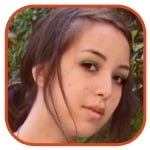 Posted by Robin Paulson Categories: MGM, New Line, Adaptation, Adventure, Drama, Science Fiction, Thrillers, Filmmaking, Rumors, Upcoming Releases,
Will The Hobbit ever be made? Just when Andy Serkis reports that filming will be delayed until the end of the year, director Guillermo Del Toro calls it quits. Thankfully, however, Del Toro will be sticking around to finish co-writing the screenplays.
"In light of ongoing delays in the setting of a start date for filming The Hobbit, I am faced with the hardest decision of my life. After nearly two years of living, breathing and designing a world as rich as Tolkien's Middle Earth, I must, with great regret, take leave from helming these wonderful pictures. Both as a co-writer and as a director, I wish the production nothing but the very best of luck and I will be first in line to see the finished product. I remain an ally to it and its makers, present and future, and fully support a smooth transition to a new director."
No word yet as to who is to take over Del Toro's job, but executive producer Peter Jackson revealed the reasoning behind Del Toro's decision: "[Del Toro] has compromised his commitment to other long term projects… The bottom line is that Guillermo just didn't feel he could commit six years to living in New Zealand, exclusively making these films, when his original commitment was for three years."
The film, which is to be released as two separate movies, is still expected to hit theaters in December 2012 and December 2013.
Read More

| The One Ring

© Gear Live Inc. – User-posted content, unless source is quoted, is licensed under a Creative Commons Public Domain License. Gear Live graphics, logos, designs, page headers, button icons, videos, articles, blogs, forums, scripts and other service names are the trademarks of Gear Live Inc.