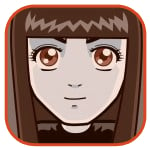 Posted by Sheila Franklin Categories: Cell Phones, Corporate News, Design, Google, Software,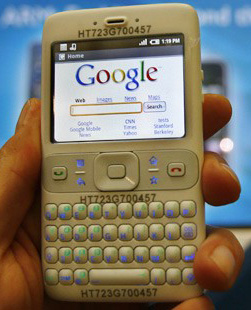 This week during the GSMA's Mobile World Congress in Barcelona, Google showed off its software platform Android for cell phones in solid form. Acquired in 2005 and launched last year, the company rounded up a team to show how it may look. They also announced the formation of the Open Handset Alliance, 34 handset manufacturers, carriers and chipmakers that will support Android. Based on open-source coding, Google is counting on the prototype to give the competition, including Microsoft, Nokia, and RIM a run for their money. Hooray for free enterprise.
Read More

| c/net news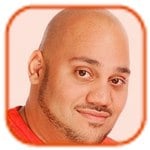 Posted by Andru Edwards Categories: Full Episodes, Gizmatic, Features, Mods / Hacks, PC / Laptop, Podcasts, Software, Videocasts,
The second in our series of Asus Eee PC how-to videos, this episode features instructions on how to activate the Eee PC's hidden Full Desktop Mode, a power-user mode featuring a launcher similar to the Start menu from Windows. Additionally, Nate True demonstrates how to activate Beryl, a 3d desktop effect engine that adds stunning visual effects to your desktop, including windows that stretch and wobble like Jell-O when you move them around and a rotating desktop cube display.
The process to install and activate Beryl is a bit involved, though the results are quite worth it. Check out the video for the details - and as promised, here are the two long lines so you can copy and paste them to your console:
To authorize the community Eee PC repository:
curl http://download.tuxfamily.org/eeepcrepos/key.asc | sudo apt-key add -
Remember the trailing hyphen (-) IS required. To authorize the Beryl repository:
curl http://debian.beryl-project.org/root@lupine.me.uk.gpg | sudo apt-key add -
Again, the ending hyphen (-) is required. We have a few more Eee PC hacks on the way, so be sure you are subscribed so you don't miss any.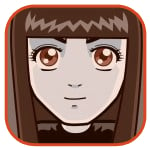 Posted by Sheila Franklin Categories: Hot Deals, Internet, Microsoft, Video Games,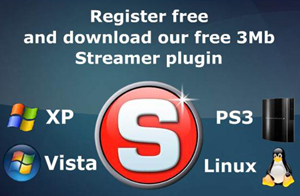 Good news for Linux Users. StreamMyGame has released a free Player that allows playing any PC game via a Playstation without lag. Compatible with Windows XP or Vista with MS DirectX8 to X10, and Linux installations up to Super HDTV 3200 x 2400, the services will be extended by March to include FiOS, Comcast's Wideband, and British Telecom's FTTP.
CEO Richard Faria is certainly jazzed about the idea. "I have a PS3 in my living room and PC in my office and my two kids both have old PCs in their bedrooms," he said. "Now we can play games anywhere around the home."
We wonder if they ever take time out to have a meal together. Sign up now for your free subscription.
Read More

| Akihabara News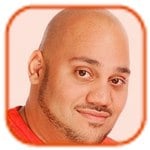 Posted by Andru Edwards Categories: Gizmatic, Short Bytes, Features, Home Entertainment, Movies, Podcasts, Portable Audio / Video, Videocasts,
When it comes to the SanDisk Sansa TakeTV device, we've done an unboxing video and even show you how to set up the TakeTV in your home. In our latest video, we show you how the darn thing works. We have it hooked up already, so now it's time to put some content on it and fire it up. Do note, the Sansa TakeTV does ship with a couple of sample video clips already on it in case you just want to test your setup.
Once we put some video files on it, we were able to watch some of them on the device - we forgot that the TakeTV doesn't support high definition video, so those clips failed to play. Other than that, this is really a no brainer. There isn't even a complicated menu system. You plug the device in to your TV, and you get a list of videos to play. Easy. Check it out, and let us know if there are any other questions we can answer for you guys.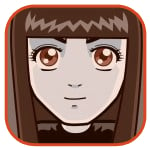 Posted by Sheila Franklin Categories: Accessories, Internet, PC / Laptop,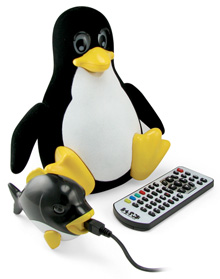 We have neglected Linux users for awhile, but we figure this wireless creature will make up for the faux pas. The Tux Droid connects to your PC and lets you know with sound, lights, and noise if you have e-mail. He will respond by voice recognition or touch with infrared sensor, and can be used as a VOIP phone. His eyes and beak open and close, he turns left and right, and his wings move up and down, and he dances with happy feet in his own way. Connectible with a USB fish, his open source software allows for programming of Tux widgets in Python and creating other applications.
Tux comes with a remote, a built-in rechargeable battery, a wireless 2.4GHz link, and will run on Linux kermel 2.4 or later. Pre-order for $99.00 for a delivery date of 1 to 3 weeks.
Read More

| ThinkGeek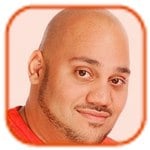 Posted by Andru Edwards Categories: Accessories, Features, Home Entertainment, Portable Video, Videocasts,
Sandisk's Sansa TakeTV product aims to make it super simple to view videos from your PC on your television. It comes with a 4 or 8GB flash drive, a dock, a remote control, and a power cable - that's all you need. Drag and drop files onto the drive from your Windows, Mac, or Linux computer, take the USB stick and dock it, and you are ready to watch. We feature the TakeTV in this episode of Unboxing Live.
Let us know what you think, or what you want us to unbox next!
Read More

|
SanDisk Sansa TakeTV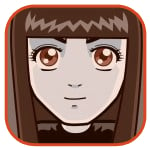 Posted by Sheila Franklin Categories: Corporate News, Hot Deals, PC / Laptop,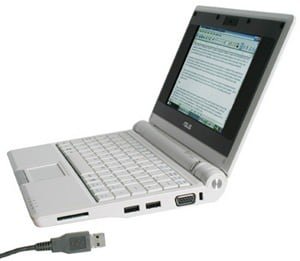 Asus has countered the OLPC with its Eee (easy work, easy learn, easy play) PC. With a 7-inch screen and a weight of about 2 lbs., the inexpensive laptop runs on Linux with Open Office and built-in dictionary, but can also handle Windows XP. With quick boot time, it uses Flash for memory storage on its 4400mAh battery, has a one-click graphic intuitive interface, and can be pre-ordered for a mere $299.99. Asus also offers an Eee PC 4GB with a larger 5200 mAh battery and a 0.3 megapixel webcam. Add $100.00 for the deluxe version, which is available now. Both come with 3 USB ports to allow for expansion and added external storage.
Read More

| Smartphone Thoughts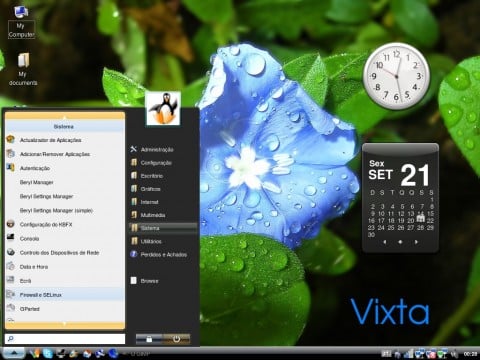 Crazy about the Windows Vista UI, but love Linux? Vixta could be your your thing. Vixta is a new Fedora-based Linux distribution featuring a surprisingly Windows Vista like look and feel. In fact, it's so surprisingly like Windows Vista that Redmond based lawyers can't be far behind - it's a pretty blatant rip of the Aero interface.
While Vixta captures the look of Vista, one wonders if it's truly as evolved as Vista is. Windows Vista may have it's flaws, but ove all it is a highly polished operating system with lots of features to make it easy to use for the not so computer literate. No, really. This kind of refinement in a user interface takes a lot of time and energy to develop. The Linux underpinnings might be rock solid, but if Vixta's stated goal is bringing Linux to the masses, it's the chrome that will make a difference.
Read More

| Vixta via Tux Enclave

Posted by Sparky Categories: Internet, PC / Laptop, Software,
Most modern operating systems, including Microsoft Windows and OS X by Apple, feature technology to turn off internal devices and manage power to be more environmentally friendly and squeeze every last drop of juice out of batteries on portable computers. Unfortunately many Linux distributions don't offer these features built in quite yet.
Enter Less Watts, a site dedicated to configuring Linux systems and machines to consume less power. Featuring tips and tricks for reducing power consumption in Linux, and links to a number of projects aimed at bringing these technologies to more and more distributions soon. The site looks to be fairly new, but has a great mailing list which looks like a great resource for anyone trying to reign in their power use on Linux boxes.
Read More

| Less Watts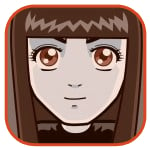 Posted by Sheila Franklin Categories: Internet, Misc. Tech, PC / Laptop,

The University of Washington LUG (Linux User Group) was told that they needed more females among their ranks to attract them into the WSU's computer science programs. The nerds came up with a plan to auction themselves off. They suggested that the delegated male students can fix the females' computers, help with homework, or act as dinner partners.
LUG President Ben Ford says that he and a selected sorority sister will host the event, which he hopes will become a YouTube extravaganza. Unfortunately, although the club has contacted many of the sororities on campus, there have been no takers thusfar. We suspect that any female who is using Linux is already intelligent enough to fix her own computer and can do her homework by herself, thank you very much.
Read More

| CNN

© Gear Live Inc. – User-posted content, unless source is quoted, is licensed under a Creative Commons Public Domain License. Gear Live graphics, logos, designs, page headers, button icons, videos, articles, blogs, forums, scripts and other service names are the trademarks of Gear Live Inc.