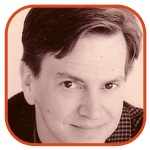 Posted by Tom Mason Categories: Editorials, Marvel Comics
This made the rounds of Facebook all day the other day. It's a little snippet about Gary Friedrich, Ghost Rider and who created what.
I couldn't trace it back to the original poster, so I apologize for not giving him or her their deserved credit, especially in a post about credits!
One of the issues between Marvel Comics and Gary is the issue of Gary's credit as the sole creator of Ghost Rider.
While it may not be definitive, this is an excerpt from Marvel's own Bullpen Bulletins page in August 1972.
Marvel says of Ghost Rider: "...this GR is a mad, mod, mystic hero who straddles both the world of motorcycles - and the supernatural! (And that's some job of straddling!) It's by the titanic team of Groovy Gary Friedrich who dreamed the whole thing up, and Madcap Mike Ploog, whose own Werewolf by Night series is scheduled to gain its very own mag in a month or two!"
Daniel Best, who originally broke the story of Gary's fight with Marvel, has an update separating fact from rumor.
[Artwork: Bullpen Bulletins, © Marvel Comics]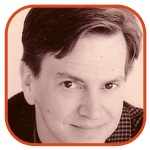 Posted by Tom Mason Categories: Editorials, Marvel Comics
Unless you've been living in a hole for the last several days, you've no doubt heard about Marvel Comics' demand against one of their former writers, Gary Friedrich.
Friedrich sued Marvel for compensation related to exploitation of a character he created, Ghost Rider. He lost the first round, and Marvel's coming after him. Here's a round-up of just a handful of links and commentary to get you better acquainted.
Daniel Best at 20th Century Danny Boy broke the story about Marvel's pushback against Friedrich, with a post that includes documentation.
Here's an update with a note from Friedrich.
Mark Evanier has a sane and rational view of the situation.
One of the greatly appealing things about webcomics is that the creators managed to hold onto their rights and are free to exploit their work according to their own path. Gary Tyrrell at Fleen has some thoughts on Friedrich's situation.
Click to continue reading Marvel Comics And Gary Friedrich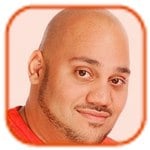 Posted by Andru Edwards Categories: Apple, Cell Phones, Corporate News, Handhelds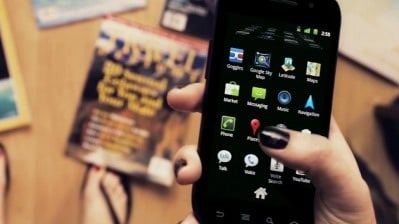 If Apple gets its way with a California court, Samsung Galaxy devices could be removed from shelves within two months.
As patent blogger Florian Mueller noted on Saturday, Apple is pushing for a an injunction over Samsung devices to take place on September 8, claiming they rip off the look and feel of Apple iPhones and iPads. Meanwhile, Samsung has proposed a hearing date of October 14. Apple's original request for an August 5 hearing was denied by the judge as too soon.
Apple's aggression is an obvious way to make things as difficult as possible for Samsung, since the injunction would force Samsung to cease sales of four products: the Infuse 4G, Galaxy S 4G, Droid Charge, and Galaxy Tab 10.1.
Mueller thinks presiding Judge Lucy Koh will choose a hearing date sometime between the two proposals, skewed towards Apple.
Click to continue reading Apple looking to get Samsung banned from selling Galaxy devices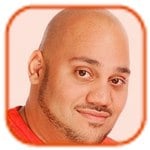 Posted by Andru Edwards Categories: Apple, Cell Phones, Corporate News, Handhelds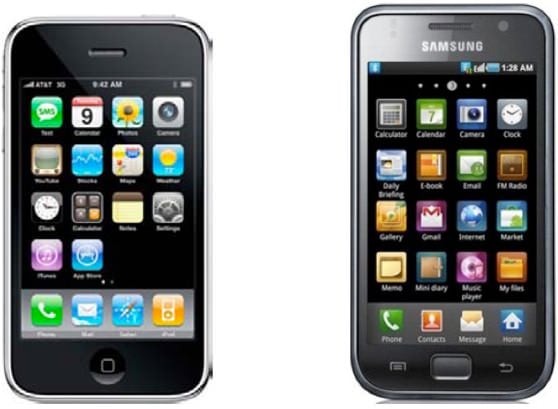 A federal judge last week ordered Samsung to hand over several unreleased cell phones and tablets to Apple as part of the latter's lawsuit against Samsung claiming patent and trademark infringement, as first reported by Courthouse News Service.
"Apple has demonstrated good cause for some, limited expedited discovery," said Judge Lucy Koh last Wednesday in a ruling for Apple in its request for samples of five Samsung products earlier than would normally be granted in such cases.
At the time of the ruling, Samsung had 30 days to deliver product samples, packaging and package inserts pertaining to its Google Android-based Galaxy S2, Infuse 4G, and Infuse 4G LTE smartphones, as well as two tablets, the Galaxy Tab 8.9 and Galaxy Tab 10.1.
Samsung will not be required to provide Apple with testimony from its executives.
Click to continue reading Judge says Samsung must provide Apple with unreleased smartphones and tablets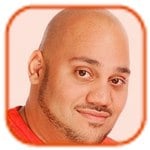 Posted by Andru Edwards Categories: Apple, Corporate News, Software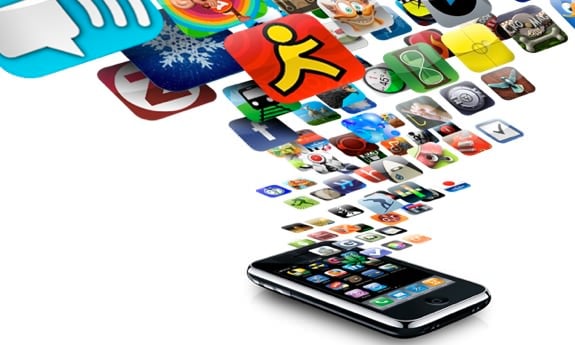 According to Apple, an "app store" is not a store for apps. Right. Apple warns, the phrase "app store" is not generic and can only be used to describe their App Store, which is their...um, app store?
"Apple denies that, based on their common meaning, the words 'app store' together denote a store for apps," Apple said in a Thursday filing with a California district court.
Apple has been fighting several tech giants on this point lately. In March, Apple sued Amazon over its Amazon Appstore, arguing that Apple has the exclusive rights to the phrase because of its iTunes App Store. Apple has targeted Microsoft on similar grounds.
Last month, Amazon responded to the suit, arguing that the term "app store" is generic and that Apple should not be allowed to use it exclusively. Amazon cited the American Dialect Society, which recently voted "app" as the Word of the Year for 2010, noting "that although the word 'has been around for ages,' it 'really exploded in the last 12 months,' with the arrival of 'app stores' for a wide spectrum of operating systems for phones and computers.' Indeed the words 'app store' are commonly used among many businesses in the app store market," Amazon argued.
Apple is not buying it, at least not publicly. "Apple denies that the words 'app store' are commonly used among many businesses to describe mobile software download services and further denies that the term 'app store market' is used to describe the market for mobile software download services," the company reiterated in response to Amazon's filing.
Click to continue reading Apple says that "App Store" does not imply a store for buying apps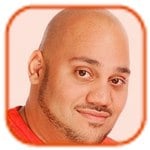 Posted by Andru Edwards Categories: Corporate News, Transportation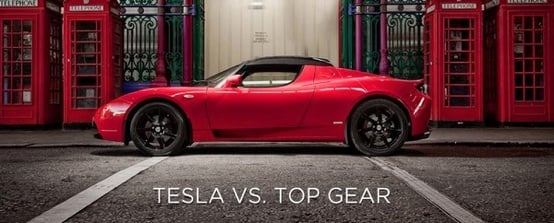 Tesla Motors is suing the BBC show "Top Gear" for allegedly falsely representing the performance of one of its electric vehicles.
In a segment that aired three years ago, "Top Gear" showed a Tesla Roadster running out of electric charge during a race with the gas-powered Lotus Elise, a car that the Roadster is based on. Tesla claims that neither of the two cars it loaned to "Top Gear" for the segment dipped below 20 percent charge. The company contends there's no way the Roadster ran out of juice, and it wants the BBC to stop airing the segment.
"When 'Top Gear' reviewed the Tesla Roadster, the episode that aired contained lies and misinformation about the Roadster's performance, behavior, and reliability," Tesla said in a statement. "Tesla reluctantly took legal action after its repeated attempts to contact the BBC, over the course of months, were ignored."
A spokesperson for "Top Gear" defended the show's integrity. "We can confirm that we have received notification that Tesla have issued proceedings against the BBC. The BBC stands by the program and will be vigorously defending this claim."
Click to continue reading Tesla Motors suing 'Top Gear' for libel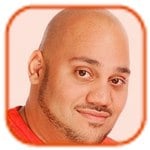 Posted by Andru Edwards Categories: Apple, Cell Phones, Corporate News, Handhelds, Wireless / WiFi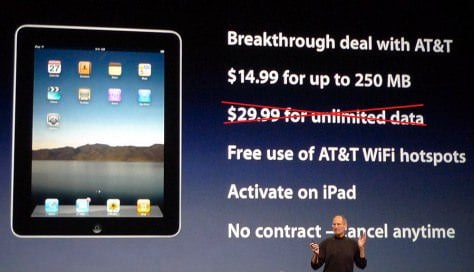 Remember that AT&T iPad 3G data plan bait-and-switch that we were so upset about a few weeks ago? Well, it turns out that many people felt the same way as there's now a class-action lawsuit filed against Apple and AT&T due to the situation. Specifically, the plaintiffs in the nationwide suit claim that both Apple and AT&T "deceptively promoted" that they could start and stop the iPad 3G plan at any time, and switch between the unlimited plan and the 250MB plan. Now customers who opt for the unlimited plan cannot switch back to a limited plan, or start and stop service at will, as originally promised.
Hit the link below to check out the details from law firm Lieff Cabraser, and if you have thoughts on the issue, you can submit them through their contact form.
Read More

| Lieff Cabraser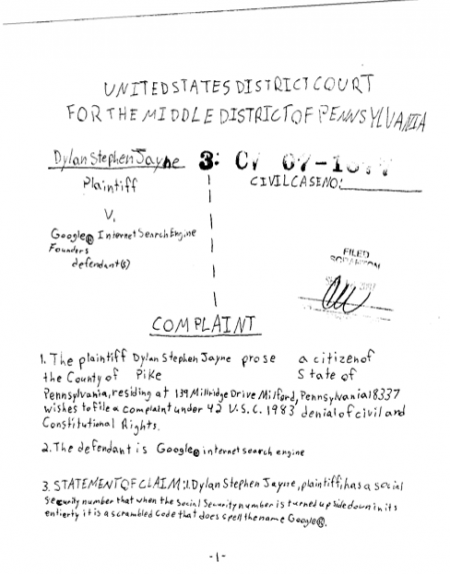 Citing claims of privacy invasion and terrorisim, a one Dylan Jayne has filed a (handwritten) suit against Google. Mr. Jayne (who gives one of our favorite Firefly characters a bad name) seems a bit off his rocker on this one. He states that not only has Google failed to fight terrorisim, but they also seem to have invaded his privacy as indicated by the following statement: "I, Dylan Stephen Jayne, plaintiff, has [sic] a social security number that when the social security number is turned upside down in its entirety it is a scrambled code that does spell the name Google®."
Last time I checked Google's business model didn't seem to cover stopping terrorism, leaving that job to the 'professionals' over at Homeland Security. His claims of privacy invasion also seem a little far fetched - it's hard to think a fortune 100 company would pick it's name based soley on the Social Security number of a lone loser from Pennsylvania.
In a way it's a sad statement about the United States legal system that a case like this will even be heard by a judge. If Mr. Jayne can't even be bothered to type up his Complaint can he really be considered compentent enough with computers to really even understand what exactly it is that Google does? Check out the Ars Technica article for more information on this weird little case and keep your eyes peeled here late breaking news as it percolates through the Justice system.
Read More

| Ars Technica

© Gear Live Inc. – User-posted content, unless source is quoted, is licensed under a Creative Commons Public Domain License. Gear Live graphics, logos, designs, page headers, button icons, videos, articles, blogs, forums, scripts and other service names are the trademarks of Gear Live Inc.