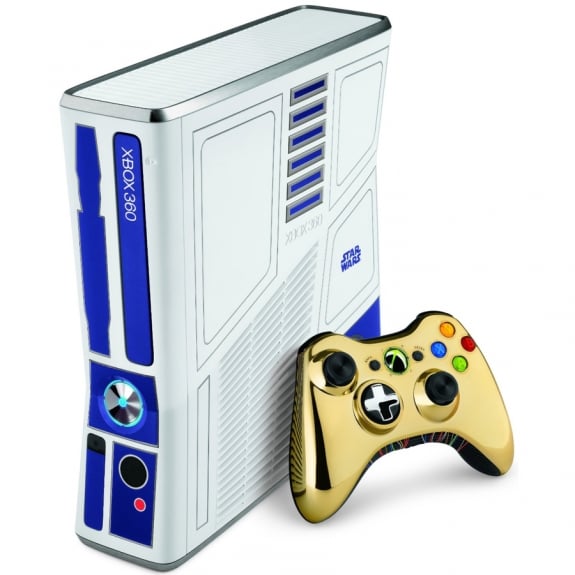 Kinect and Star Wars, a perfect match some might say. George Lucas has teamed up with Microsoft to bring us the wonderful and whimsical Star Wars Xbox 360 Kinect bundle. The bundle includes a custom painted R2D2 themed Xbox 360 with matching Kinect sensor. The Xbox itself also has custom R2D2 sound effects when turning the console on or off or, as well as when ejecting a disc.
That's not all; the bundle also includes a copy of the game Kinect Star Wars and a C3PO-themed controller. On the front of the console it can also be noticed that the standard green LED lights that make up the iconic XBOX 360 face have been replaced with blue LEDs to match the whole R2D2 thing. Finally, the Xbox 360 comes equipped with a massive 360 GB hard drive, the newest and largest drive to date available for the console. All of these wonderful treasures are available for pre-order now, and will be available for purchase on June 1 of this year for $449.00.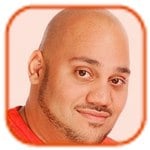 Posted by Andru Edwards Categories: Features, Microsoft, Video Games, Videos,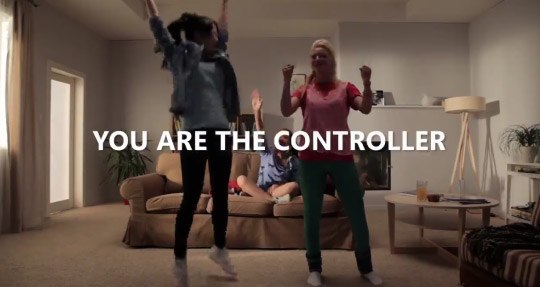 We're back with another edition of Ask Andru - this time we're focusing on the wildly popular Kinect add-on, and how useful it might be for Xbox 360 owners who primarily use their consoles for watching streaming video. On to the question:
My family has an Xbox 360 but we end up using it primarily for Netflix, not games. I've read that the recent Xbox Live update added more ways to navigate menus and content using voice and gestures with Kinect. Is it worth buying a Kinect just for those controls, if we don't use it to play games? Is talking and waving at the TV better than using the controller?
It's true--Microsoft recently released an update for the Xbox 360, known as the Fall 2011 Dashboard Update, that has fully optimized the console's interface for use alongside the Kinect add-on. Many early adopters of Kinect complained about how clunky and tacked on the experience felt when trying to navigate menus while using the Xbox 360 outside of gaming, and the update pretty much solved all of those problems. Now, it's easy to "grab" something on screen, swipe through menus, and make selections using hand gestures. Even cooler, though, is that the dashboard is now pretty much fully navigable using just your voice. Simply say "Xbox" and all your options for where you can go are displayed on the screen. If you can see it, you can pretty much say it. Here's a video I made that looks at the features you'll find in the latest update:
Click to continue reading Ask Andru: Should I get Kinect if I use my Xbox 360 primarily for watching Netflix?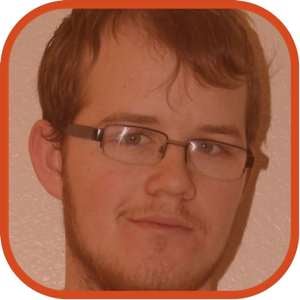 Posted by John Ball Categories: Electronic Arts, Kinect, Third Person Shooters, Xbox 360,

Microsoft's Kinect for Xbox 360, it seems, keeps getting bigger and better as developers have more time to play with it. Some believe that the Kinect's abilities can go far beyond that which was defined by its initial title releases. Bioware, the makers of the Mass Effect series, is no exception to this belief. Adding Kinect voice capabilities, Bioware promises Mass Effect 3 will be their most immersive game yet.
On the whole, this seems like a really good move for the franchise. The ability to interact with other characters, not only in conversation, but combat as well will leave many with a better impression that what they say and do in real life matters a whole lot more in game. With the Mass Effect trilogy coming to an end, Bioware is pulling out all the stops to make sure the fans have the best experience in the final chapter.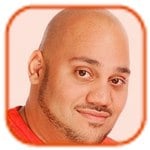 Posted by Andru Edwards Categories: Corporate News, Home Entertainment, Microsoft, Video Games,
Microsoft said Sunday night that it plans to launch its fall 2011 dashboard update for its Xbox 360 game console, complete with voice search via Xbox Kinect, this week.
Microsoft also announced a significant number of related content partnerships, bringing most major services to the Xbox platform this week or by early 2012. On Dec. 6, Starting Dec. 6, a free Xbox Companion app for Windows Phone will let also let users find, learn more about and control content from popular entertainment services on Xbox LIVE.
Shortly after midnight on Sunday night, Microsoft said that the "Bing on Xbox" update would arrive on U.S. consoles beginning "tomorrow," and roll out to U.S. console owners over the coming weeks. Those without a Kinect peripheral will be able to search using Bing text search.
The voice search capability, first revealed in June, will work with both the Xbox Live Marketplace, Zune Video, and selected content partners. On Dec. 6, presumably the date of the update, Microsoft plans to add content from new entertainment partners, including apps, from EPIX, ESPN, Hulu Plus, Netflix, and MSNBC's Today.
Microsoft's vision for the Xbox platform, including voice search via Kinect, probably was more significant six months ago before Apple's Siri began dominating headlines with its ability to naturally search and interact with the user and a variety of apps. Nevertheless, it allows users to interact with a growing sea of content as simply as possible.
Click to continue reading Xbox 360 voice search, TV content deals launch December 6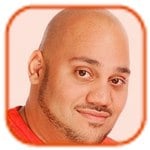 Posted by Andru Edwards Categories: Full Episodes, High Score, Features, Microsoft, Podcasts, Video Games, Videocasts, Videos,
The next major Xbox 360 dashboard update happens on December 6th, and we've got a look at all the new changes and additions in this episode of Bleeding Edge TV. The Fall 2011 Xbox 360 Dashboard Update is the official name of this release, and we show you the update process, and then walk you through the new interface. We give you a look at new features like Bing, Cloud Storage for games and profiles, the new Social, Games, Movies, and Music channels, and more. Expect good things from Microsoft's latest update, including full Kinect integration. This is a big update that brings another big redesign to the Xbox 360, similar to what they did a couple years ago with the New Xbox Experience. Things are a lot more flat...even boxy. It's somewhat similar to the Metro UI that you'd find on Windows Phone 7 devices or Windows 8, and the synergy is understandable…plus, it makes things a lot more user-friendly as it pertains to Kinect.
Big thank you to GoToMeeting and JackThreads for sponsoring the show - be sure to check them out! As for JackThreads, we've got exclusive invite codes that give you $5 to use towards anything you'd like.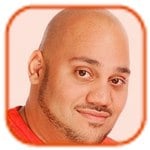 Posted by Andru Edwards Categories: Accessories, USB, Microsoft, PC / Laptop, Video Games,

Microsoft is adjusting firmware and optimizing certain hardware components to ready its Kinect motion-sensing input device for PCs running Windows, the company said Tuesday. Microsoft currently sells Kinect as a peripheral for its Xbox 360 game consoles, but has announced a Kinect for Windows commercial program that begins in early 2012.
"Coupled with the numerous upgrades and improvements our team is making to the Software Development Kit (SDK) and runtime, the new hardware delivers features and functionality that Windows developers and Microsoft customers have been asking for," Craig Eisler, general manager of Kinect for Windows, wrote in a blog post.
"Simple changes include shortening the USB cable to ensure reliability across a broad range of computers and the inclusion of a small dongle to improve coexistence with other USB peripherals," Eisler elaborated. "Of particular interest to developers will be the new firmware which enables the depth camera to see objects as close as 50 centimeters in front of the device without losing accuracy or precision, with graceful degradation down to 40 centimeters. 'Near Mode' will enable a whole new class of 'close up' applications, beyond the living room scenarios for Kinect for Xbox 360. This is one of the most requested features from the many developers and companies participating in our Kinect for Windows pilot program and folks commenting on our forums, and we're pleased to deliver this, and more, at launch."
The announcement comes the same day that Microsoft acquired VideoSurf for $70 million with an eye towards integrating the San Mateo, Calif.-based company's online video search technology into its Xbox Live ecosystem.
Click to continue reading Microsoft readying Kinect for Windows PCs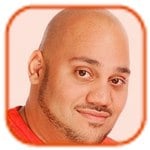 Posted by Andru Edwards Categories: Accessories, HDTV, Home Entertainment, Hot Deals, Music, PC / Laptop,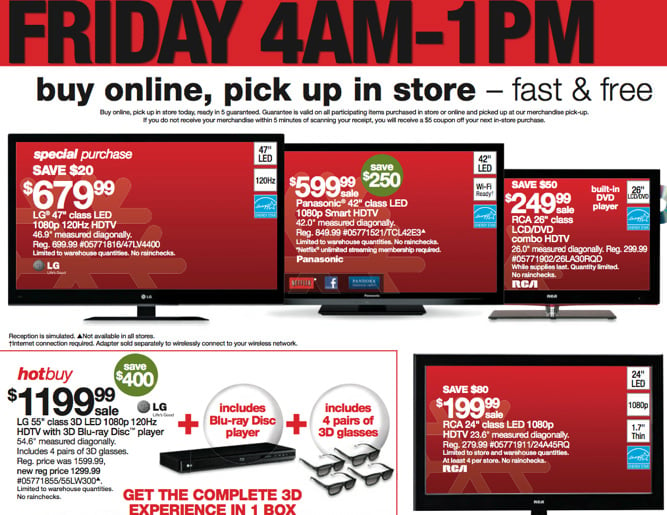 Sears is looking to bring the heat on Black Friday 2011 with a sale that begins at 4:00 am the day after Thanksgiving. We've got the highlights of the sale for you after the break, which include a $99 Kinect sensor, some cheap digital photo frames, and a $30 HD camcorder.
Click to continue reading Black Friday 2011: Sears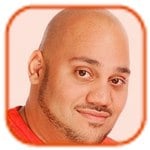 Posted by Andru Edwards Categories: Hot Deals, Microsoft, Video Games,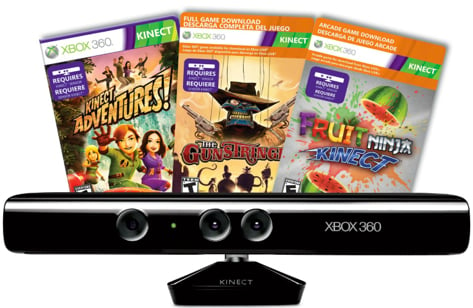 Amazon has a great deal on the Kinect going today. While supplies last, you can get the Kinect sensor with three games included for $125 - that's $25 less than Kinect sells for without the extra games. The titles are Kinect Adventures, Fruit Ninja Kinect, and The Gunstringer. Go and grab it now!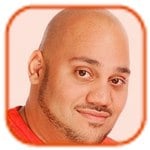 Posted by Andru Edwards Categories: Accessories, Apple, HDTV, Home Entertainment, Hot Deals, Music, PC / Laptop, Video Games,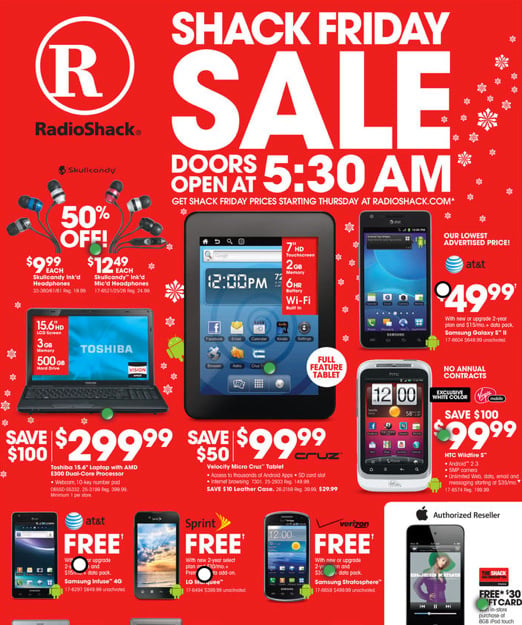 RadioShack's Black Friday 2011 sale looks enticing, and we rarely say that kind of stuff about The Shack. Doors open at 5:30 am the day after Thanksgiving, but you can get the Black Friday prices a day early by shopping on radioshack.com. We've got the highlights of the sale for you after the break, which include a $300 15-inch Toshiba laptop, a $99 7-inch Velocity Micro Cruz tablet, 20% off Beats by Dr. Dre Solo headphones, and more.
Click to continue reading Black Friday 2011: RadioShack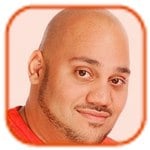 Posted by Andru Edwards Categories: Accessories, Apple, HDTV, Home Entertainment, Hot Deals, Music, Video Games,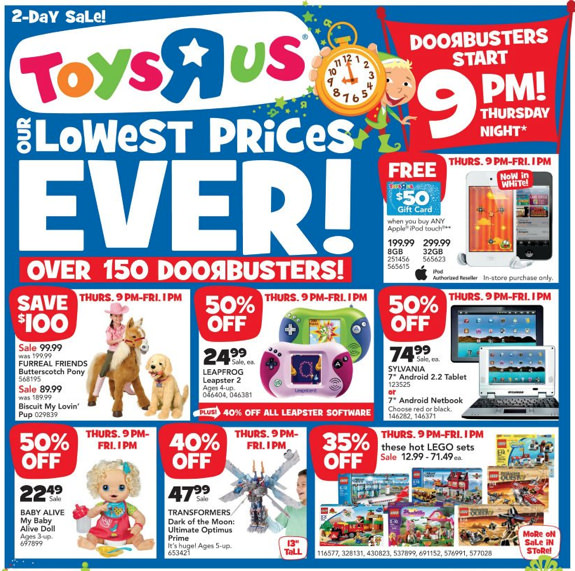 Black Friday 2011 is near, and we've been collecting the best ads we can find, highlighting the good stuff. Here we've got the best from what Toys R Us will have to offer. Interestingly enough, Toys R Us isn't even waiting for Friday to arrive, as their sales start at 9:00 pm on Thanksgiving, three hours before other stores will be kicking off their midnight Black Friday sales. Some highlights include a free $50 gift card when you buy an iPod touch, as well as great discounts on games for Xbox 360, Nintendo 3DS, DS, PS3, Wii, and Kinect.
Click to continue reading Black Friday 2011: Toys R Us
© Gear Live Inc. – User-posted content, unless source is quoted, is licensed under a Creative Commons Public Domain License. Gear Live graphics, logos, designs, page headers, button icons, videos, articles, blogs, forums, scripts and other service names are the trademarks of Gear Live Inc.