My old funnybook pal Mark McKenna has a great-looking project that you should take a look at on Kickstarter: Combat Jacks.
Created and written by Mark (who also inks) and pencilled by Jason Baroody, this looks like a really fun deal.
Mark says in his video that it's a throwback to the old EC comics of the '50s - like Weird Science Fantasy meets Vault of Horror - but with a modern twist.
What's it about? Space Marines Vs. Monster Jack O'Lanterns on a distant planet.
Click to continue reading Kickstarter: Combat Jacks by Mark McKenna
Read More

| Kickstarter

Let's take a quick look at some of my favorite Kickstarter projects and see how they're doing.
The Devil Is Due In Dreary is really close to getting fully funded. There's not much time left, so go over there and check it out.
"Two strangers with a questionable past arrive in the reclusive town of Dreary and unknowingly fulfill a prophecy the town believes will precede the coming of the apocalypse." This looks like a very fun and original project, deserving of support.
Click to continue reading Kickstarter: Updates!
I love funny stuff and after reading about Lea Hernandez's new Kickstarter program for her graphic novel, The Garlicks, I knew I wanted it.
According to Lea's PR material, The Garlicks is "a webcomic/graphic novel about a vampire girl, for girls." But guys apparently dig it too and it's a lot of fun. You can check out some archived strips at the Garlicks website.
Lea's going to serialize three color pages each week on her site and the Kickstarter fund is to finance those strips and the publication of the first story into a nice 148-page trade, with an introduction by Scary Godmother's Jill Thompson.
But what is The Garlicks? Says Lea, "It's a vampire tale, told from the POV of Pandora, a vampire with zero vampire abilities and the big sister of baby Pamila (who's usually called Ham), who seems to have gotten everything Pandora didn't, like being able to shapeshift into an adorable flying fish and eat meat."
Click to continue reading Kickstarter: The Garlicks by Lea Hernandez
Read More

| The Garlicks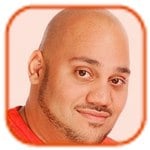 Posted by Andru Edwards Categories: Accessories, Apple, Design, Hot Deals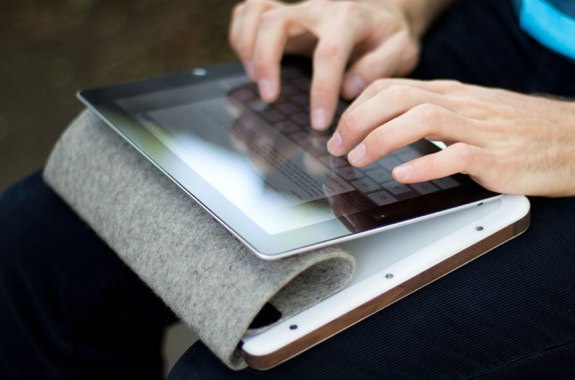 We know that it's hard to find variety when looking for a great iPad case. Our main problem with the cases is that we want something that adds a level of form and function while also offering protection, but we don't want something that hard to take the iPad out of, because we don't want to use an iPad that's stuck in a bulky case. Up until now, there's been no way for us to have our cake and eat it too, but that's set to change with the success of the Bowden + Sheffield Minimalist iPad Cases Kickstarter project. While the project wraps up in 16 more hours as of this writing, it's surpassed its $20,000 goal. What makes this case so good? Well, for starters, both cases look fantastic. The case designs are similar, with the difference lying in the materials.
Click to continue reading Bowden + Sheffield Minimalist iPad cases are beautifully functional
David Willis, creator of the popular webcomic Dumbing of Age, is using Kickstarter to raise funds for a collection of his strips.
This Campus Is A Friggin' Escher Print will be "185 full-color pages with author commentary, character profiles, and behind-the-scenes material" promises Willis.
More than a year's worth of stuff will be inside, from September 10, 2010, to October 28, 2011. This includes storylines: "Move-in Day," "Uphill from Here," "Men Are from Beck, Women Are from Clark," "The Bechdel Test," "Media Rumble," and "Yesterday Was Thursday."
Click to continue reading Kickstarter: Dumbing of Age
Read More

| Kickstarter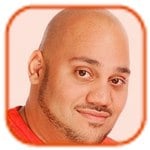 Posted by Andru Edwards Categories: Wearables, Wireless / WiFi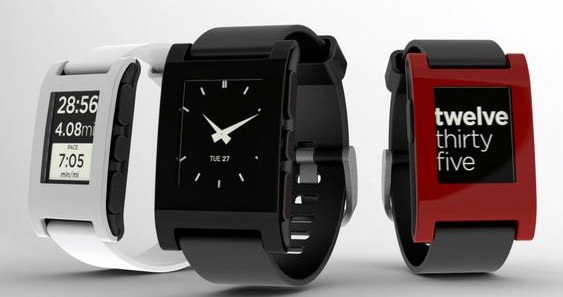 Allerta, the group behind the Pebble Bluetooth watch that became an overnight Kickstarter sensation, has announced that due to overwhelming demand, the watch will be compatible with Bluetooth 4.0. If you scour the comments on the Pebble Kickstarter page, you'll notice Bluetooth 4.0 requests by the plenty. We figured it was just too late in the game to switch around the design of a watch that's slated to ship so soon, but the company says that Bluetooth 4.0 inclusion was on the list for a while, and therefore, the decision won't affect the ship date at all. That said, when the Pebble watch does ship, it'll be Bluetooth 2.1 out of the gate, with the Bluetooth 4.0 module being activated later through a software update that'll be available to all.
Read More

| Pebble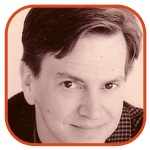 Posted by Tom Mason Categories: Editorials
Dinosaurs Vs. Dump Trucks! When it comes to moving earth, my vote's with the dinosaurs, especially the ones called Build-o-saurs.
My pal, animation writer Richard Clark, created Build-o-saurs as an interactive book app. He's Kickstartering to raise the necessary cash to make it a reality.
"They're not machines," Richard says, "they're just special dinosaurs who are born to build!"
And they look cool, too. Clark, and his creative partner, artist and animator Richard Murray, have created delightful kid-friendly dinosaurs that look like they want to dig, crunch and get dirty on the job site. I've got young kids and they loved the character designs.
Click to continue reading Kickstarter: Build-O-Saurs
Read More

| Build-O-Saurs

"When you wake up in a morgue drawer with a hole in your chest the size of a cantaloupe, it's only natural to have certain questions."
Now that's a first sentence that grabs my attention and it's from writer Logan Giannini in his pitch for Soulless, a new Kickstarter project that's illustrated by a friend of mine, George Kambadais.
Neill is the star of Soulless and after waking up in the morgue he sets out to uncover not just himself but what happened to him as well.
As Neill searches, according to writer Giannini, he "learns a great deal about the true nature of the people around him, from his girlfriend Sarah (who, it would seem, didn't exactly wait for Neill to be dead to start seeing other guys), to Neill's vampire friend Bradley (a name he hates), to a young ghost girl (with questions of her own) who's accompanied by a large gorilla and a parrot..."
Click to continue reading Kickstarter: Soulless by Logan Giannini & George Kambadais
Read More

| Kickstarter

I love comics with a Western-style setting, and if you throw in some apocalypse too, even better. Creator David Parkin and Executive Editor Daryl Freimark describe The Devil Is Due In Dreary as "Classic cars, pompadours and rock-n-roll meet the folklore of the American southwest in this rockabilly take on the classic western."
Team Dreary, in conjunction with artist Allan Jefferson, successfully published their first issue through Ardden. Now they're going through Kickstarter to fund issues 2-4 and wrap up the story.
Click to continue reading Kickstarter: The Devil Is Due In Dreary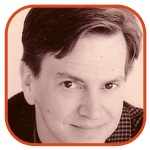 Posted by Tom Mason Categories: Editorials
I'm a geek and I certainly was in high school.
My life was full of comics, television, and all the usual school stuff. Unfortunately, I didn't write any of my life down at the time. But I know a guy who did: Steven Thompson, the creator of the popular pop-culture blog Booksteve's Library, wrote it all down in 1976 and kept it up.
He recently discovered his old diary and posted it on the internet, one entry per day along with modern commentary as the author looked back on his teenaged life.
It's a funny, fascinating look at one fan's life, as he tries to get something going with girls, hangs out with friends, goes to concerts, buys records and comics, watches television and masturbates (yep, he goes there).
Click to continue reading Kickstarter: A Geek's Journal 1976
Read More

| Kickstarter

© Gear Live Inc. – User-posted content, unless source is quoted, is licensed under a Creative Commons Public Domain License. Gear Live graphics, logos, designs, page headers, button icons, videos, articles, blogs, forums, scripts and other service names are the trademarks of Gear Live Inc.