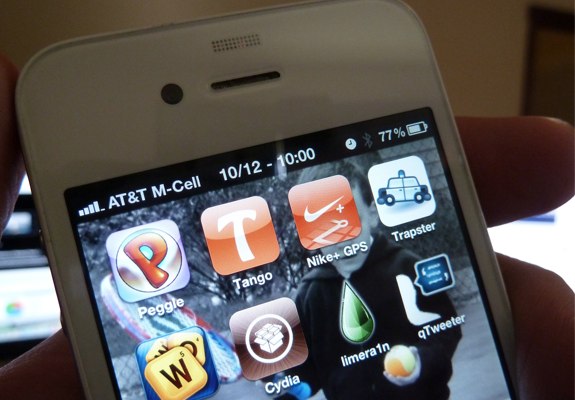 After a short two-day delay, the GreenPois0n iOS 4.1 jailbreak tool is now available for download. Unfortunately, like Limera1n before it, it's a Windows-only tool for now, and the OS X version should be available shortly. We used Limera1n to jailbreak an iPhone 4 a couple of days ago, and while it's nice to have tools like SBSettings, and BiteSMS back in our lives, we've found that quite a few of the jailbreak apps that we know and love are in beta, pending a full release that is compatible with iOS 4.1. Still, we're definitely happy to have our phones functioning the way we want them to, rather than the way Apple wants them to. GreenPois0n is free, and supports iPhone 4, iPad, iPhone 3GS, and the third- and fourth-gen iPod touch.
Read More

| Chronic Dev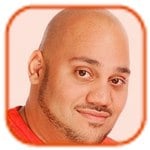 Posted by Andru Edwards Categories: Apple, HDTV, Home Entertainment, Mods / Hacks,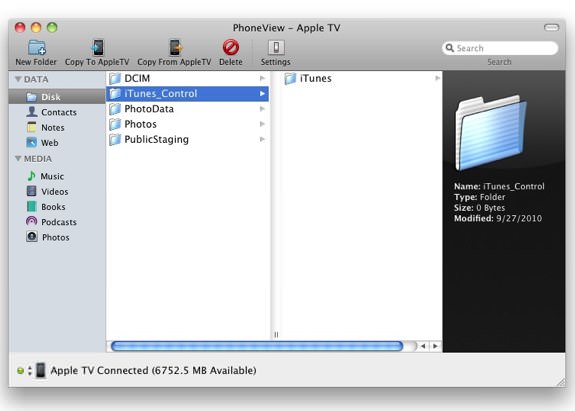 Looks like Eric Sadun over at TUAW has found that the new Apple TV is definitely hackable, as the device is instantly recognizable by PhoneView (an OS X app that let's you browse the disk of your iOS devices.) Since the Apple TV runs iOS and has been found to pack 8GB of storage, aside from the fact that the Apple TV version os iOS has already been hacked by the iOS Dev-Team using their SHAtter jailbreak, it's a no-brainer that we will be seeing third-party apps on this thing at some point in the very near future.
Read More

| TUAW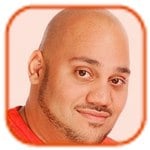 Posted by Andru Edwards Categories: Apple, Cell Phones, Mods / Hacks, Software,

So you know that JailbreakMe site that let's you jailbreak your iOS device? Well, Apple published an iPhone and iPad update today to plug that hole, and right after, iPhone hacker "comex" published the source code of the JailbreakMe site. Why is this relevant? Well, now any would-be evildoer has access to that exploit and can thusly infect any pre-iOS 4.0.2 device using the same exploit. So you have two options here if you want to stay safe. You can update to 4.0.2, or if you want to stay jailbroken, download the PDF Warning tool. One interesting thing in all this is that if you are running the original iPhone or iPod touch, Apple doesn't have a fix for you. So you are essentially stuck with a vulnerable device unless you jailbreak it. How's that for backwards?
Read More

| Twitter


Following up on their promise to quickly plug the gaping hole in MobileSafari that allowed a PDF exploit to jailbreak your iPhone using the JailbreakMe website, Apple has just released iOS 4.0.2 for the iPhone, and 3.2.2 for the iPad. There don't seem to be any other changes other than plugging that hole, and remember, if you are already jailbroken and want to stay that way, hold off on updating. To anyone else, go for it—the update awaits.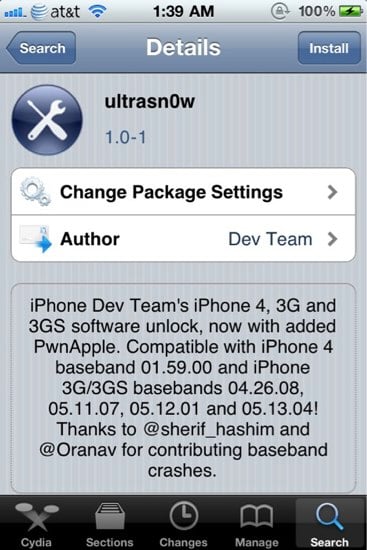 We knew that once the iPhone 4 jailbreak dropped, it would be just a matter of time before the unlock method would be made available. Well, two days later, it's here. Ultrasn0w, the software unlock we've come to know and love over the years, has been updated to version 1.0-1. With that update comes support for the iPhone 4 baseband 01.59 and iPhone 3G and iPhone 3GS basebands 04.26.08, 05.12.01, and 05.13.04. If those numbers confuse you, no worries, this basically just means that any iPhone 3G/3GS/4 device that you have in your hand as of today is unlockable. Just download ultrasn0w through Cydia, and you're all set!
Read More

| Dev-Team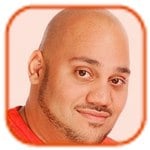 Posted by Andru Edwards Categories: Gizmatic, Apple, Cell Phones, Features, Handhelds, Podcasts, Software, Videocasts, Videos,
Yesterday we told you how to jailbreak your iPhone 4, and today we figured we'd show you. The process really couldn't be simpler. If you want to jailbreak your iPhone 4 running iOS 4.0 or 4.0.1, all you need to do is head over to JailbreakMe.com and use the slider. Everything else happens on its own, over the air. We recorded our iPhone 4 jailbreak to show you the process, what you can expect, and just how long it takes (under 3 minutes.) Check out the video for the full walkthrough.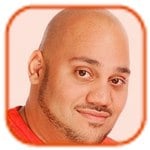 Posted by Andru Edwards Categories: Apple, Cell Phones, Handhelds, Mods / Hacks,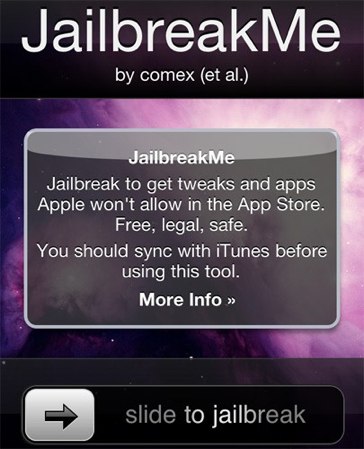 We know that ever since iOS 4 hit the scene, many users have been clamoring for a jailbreak release so they can install hacks and apps that Apple won't approve, or frowns upon. Well, that time has come, as an iOS 4 jailbreak has arrived—and it's super-simple. To do the deed, just head on over to JailbreakMe.com. You'll see the image above. All you need to do is swipe, and the jailbreak process will begin, directly on your iPhone, iPad, or iPod touch. After a couple of minutes, the process will be complete. Couldn't be easier!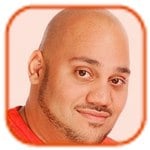 Posted by Andru Edwards Categories: Apple, Handhelds, Mods / Hacks, Software,
Ever since the iPad was announced, one of the many things users had been waiting for was a way to jailbreak the thing. Well, your iPad jailbreak method has arrived in the form of the free Spirit download. It's an untethered hack, and it works with any activated iPhone OS device, including iPhone, iPod touch, and iPad, as long as they are running iPhone OS 3.1.2, 3.1.3, or 3.2. iPad users, listen up—the people behind Spirit say that things are still a little shaky on that end, and any errors or crashes may result in you having to do a factory restore. Now go and download the software, and proceed at your own risk!
Read More

| Spirit Jailbreak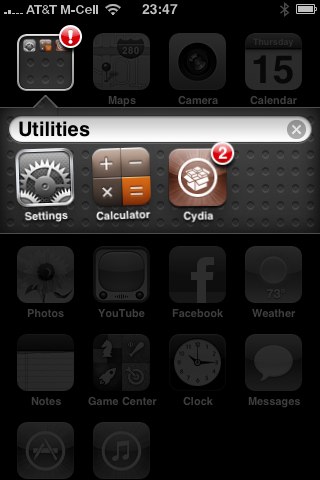 Looks like the jailbreak app developer community can get to work on porting their apps to iPhone OS 4.0, as the current beta has already been jailbroken. However, if you aren't a developer, don't go trying to mess around with the redsn0w 0.9.5 beta, as this is purely a dev release. It currently only works on Mac OS X and with an iPhone 3G running iPhone 4.0 beta 1, but that's good enough to get the devs started on getting everything up to snuff for the official release this summer.
Read More

| iphwn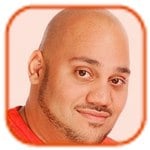 Posted by Andru Edwards Categories: Apple, Cell Phones, Handhelds, Mods / Hacks,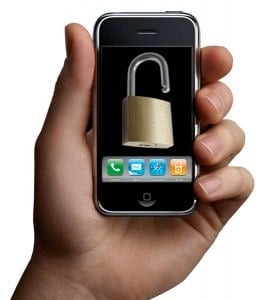 We mentioned the Purplera1n iPhone 3GS jailbreak a few days ago, but many were waiting for the "official" tool, or at least one they were more familiar with for their jailbreaking activities. Well, RedSn0w has been updated, and now works to jailbreak your iPhone 3GS. You just need to download RedSn0w 0.8, which is said to be a bit more stable than Purplera1n, which will allow you to install Cydia, Icy, and UltraSn0w, if you need to jailbreak your device. It's available on Windows, OS X, and Linux, and can be downloaded now.
Read More

| RedSn0w

© Gear Live Inc. – User-posted content, unless source is quoted, is licensed under a Creative Commons Public Domain License. Gear Live graphics, logos, designs, page headers, button icons, videos, articles, blogs, forums, scripts and other service names are the trademarks of Gear Live Inc.