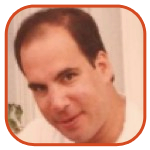 Posted by Charles Mitri Categories: Business, Domestic Policy, Editorials, Foreign Policy, Foreign Relations, History, US Economy, Wall Street, War,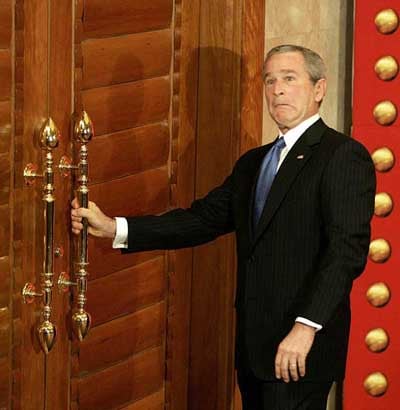 When George W. Bush vacates the White House on January 20, 2009, the floodgates will open, as political pundits line up to take pot shots at his eight years as Chief Executive.
Presidential rankings are nothing new. Every former president has one and have eschewed the usual practice of getting an objective view of a president's legacy after leaving office. These days, the Internet and instant readers' polls have made the tried and true method of waiting a few years for a ranking virtually obsolete.
Down to business. America's best presidents are a very elite group, usually judged by how well they react during a crisis. At the top of the heap there are Lincoln, FDR, Washington, Jefferson, Teddy Roosevelt and Woodrow Wilson. Over the last few years there's been a shift in rankings at the bottom of the barrel. Grant and Harding used to occupy the number one and two slots. Over recent years, James Buchanan has assumed the bottom spot with Herbert Hoover right on his heels. Buchanan gets the blame for the Civil War. Hoover is charged with the 1929 stock market crash and onset of the Great Depression two years later.
Click to continue reading The Bush Legacy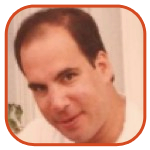 Posted by Charles Mitri Categories: Domestic Policy, Editorials, Education, Foreign Policy, Foreign Relations, Taxes, US Economy, Wall Street, War,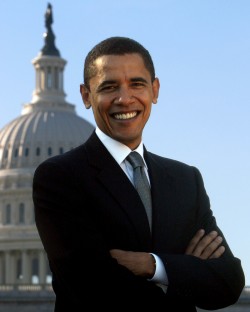 So… January 20, 2009, history takes its latest bow when President-Elect Barack Obama is sworn in as America's 44th Chief Executive. The fortunate ones lucky enough to secure Inauguration tickets will brave arctic temperatures as the rest of America watches this latest chapter in US history unfold on an ocean of televisions from Seattle to the Florida Keys.
January 21, 2009 will mark the real onset of what might be called the Altering Era. That's the day the President-Elect enters the Oval Office and starts work on a world of problems. What follows is a best guess at what to expect from Barack's first hundred days in office.
Click to continue reading Barack Obama's First Hundred Days
Posted by Sal Traina Categories: Editorials, Elections, Foreign Policy, Media,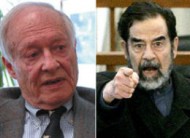 It looks like Democratic Presidential Nominee Barack Obama isn't the only one with shady associations. A new article in the Huffington Post states, "William Timmons, the Washington lobbyist who John McCain has named to head his presidential transition team, aided an influence effort on behalf of Iraqi dictator Saddam Hussein to ease international sanctions against his regime."
Click to continue reading McCain Team Member Tried To Stop Sanctions Against Saddam Hussein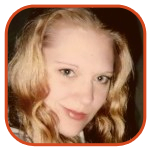 Posted by K.C. Morgan Categories: Prime Time, Reality, Specials, Talk Shows, ABC, Editorial, Video,
In her longest and most in-depth interview since the Republican party's surprising Vice Presidential announcement, Sarah Palin sat down for an intimate one-on-one with ABC anchor Charlie Gibson. She called him "Charlie" like they were old friends, he called her "Governor Palin" to remind us all that she is, indeed, a high-ranking public official. Otherwise, it might be too easy to take one look at her and say "wait, what's she doing on TV?"
"Can you look the country in the eye and say, 'I have the experience and the ability'?" Gibson wanted to know of Palin, whose short political career has never taken her to Washington, D.C. (Palin has not served in the Congress or Senate).
"I do, Charlie…" Palin affirmed, "I'm ready."
In this case, she meant she's ready to lead the country. But I saw her interview, and I'm convinced she wasn't even fully prepped for that much.
Click to continue reading The Palin Interview
Read More

|
YouTube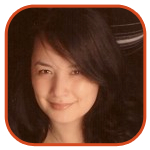 Posted by Veronica Santiago Categories: Television,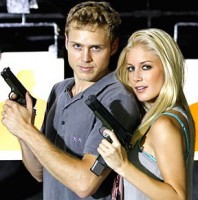 Believing they could someday be the next power couple, Brangelina wannabes Heidi Montag and Spencer Pratt have just announced the next step for Team Speidi: They're going to Iraq.
Wanting to honor the recent death of her stepbrother, Heidi has expressed interest in going overseas to support America's troops. Eric O'Hara, who passed away after a March accident in Colorado, had served both in Iraq and Afghanistan as an airborne ranger.
Recently, Heidi Montag has been seen spending time with John McCain's daughter, Meghan. (Heidi has openly pledged her support to the Republican candidate.) It's believed this relationship will somehow get the two MTV stars an inside track on a Middle East tour. Spencer told Extra, "I think Meghan McCain is helping organize Heidi and our Iraq trip. Her dad definitely has some pull with the military. I think she's going to put that together for us." (Yes - I'm sure she has nothing better to do.)
As for what Heidi and Spencer will exactly do overseas is not exactly known. According to People, Montag apparently wants to "perform" something. Well, I guess she could writhe around on the sand while Spencer holds a boom box again. There's probably an audience somewhere for that.
Read More

|
People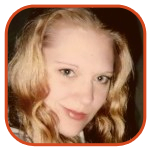 Posted by K.C. Morgan Categories: Kids, Music, Cable, Gossip,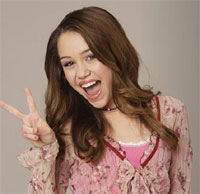 A young Miley Cyrus fan won the contest of a lifetime when she submitted her essay about her father's tour of duty in Iraq, which culminated in his demise. The six-year-old won four highly coveted tickets to a Miley concert and even got a makeover as part of the package. There's just one problem: the essay wasn't true. Okay, so maybe the child's mother thought is was a creative writing contest. That's easily confused…right?
When asked by contest officials if the essay was true, the child's mother admitted outright that it was not. Because of this admission, the six-year-old will no longer attend the concert. Her award has been withdrawn and will be offered to another contestant.
Read More

|
TV Guide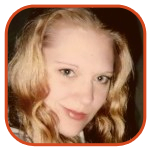 Posted by K.C. Morgan Categories: 20th Century Fox, Columbia Pictures, DreamWorks, Disney, Yari Film Group Releasing, Animation, Drama, Family, Romance, Comedy, Box Office, Casting, Upcoming Releases,
The music, the décor, the treats…the weather. The holidays are drawing near, and that can only mean one thing: lots of sappy heart-wrenchers are going to start appearing in our movie theaters. Even the films couched as comedies are sure to evoke a deeper meaning, all in an effort to open our holiday hearts.
Whether you want tears, laughter, or good old-fashioned family entertainment, this year Hollywood is running the gamut on movies designed to tempt you away from the malls and into the theaters. But will you actually see any of them? Get the scoop on all the upcoming movies being released this holiday season.
Mr. Magorium's Wonder Emporium
I saw the trailer and immediately dismissed this movie out of hand. Never mind that it has Dustin Hoffman and Natalie Portman (a big star cast if ever there was one); this is a movie about a magic toy shop. HUH? Who actually got Hoffman and Portman to agree to this? Designed especially for kids and family, Magorium is about an inventor (Hoffman) and his manager's (Portman) attempts to keep the shop open, despite intervention from an accountant (Jason Bateman).
This one's for the little tykes, people. Mr. Magorium's Wonder Emporium comes to theaters November 16.
Click to continue reading 2007 Holiday Movie Guide
Read More

|
AOL Movies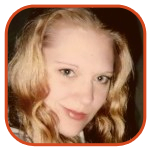 Posted by K.C. Morgan Categories: MGM, Drama, Political, Box Office, Casting, Upcoming Releases,
Watch a Democratic presidential debate, and you'll see it's common for campaigners to malign George W. Bush. Turn on the TV, and you'll find shows (like Comedy Central's Lil' Bush) that revel in poking fun at the White House. But that doesn't necessarily mean America is ready to tackle tricky issues when they're enjoying a night at the movies.
Robert Redford's ambitious Lions for Lambs features a star-studded cast and the prestige of his own name, but handles sticky subject matter. Viewers will be treated to arguments both for and against America's military efforts in Iraq and Afghanistan, but the film makes it clear where the makers, themselves, stand. Movies that deal with America's political problems haven't performed well at the box office in the past…will Lions be different?
Click to continue reading Will Redford Bring A Lion or Lamb to the Box Office?
Read More

| Hollywood Reporter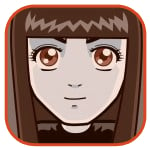 Posted by Sheila Franklin Categories: Editorial, Misc. Tech, Science, Toys,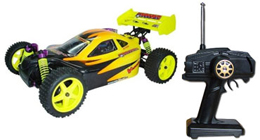 Next time you take a plane trip, don't bring your RC gadgets along with you. The Transportation Security Administration said this week, "It appears that terrorists may have an interest to use these remote-control toys as a means to initiate devices used in a terrorist attack."
A Congressional Research Service claims that the toys have been improvised by both U.S. and Iraqi troops so that they can be run into unsuspecting areas and explode insurgent bombs, while the remotes can be set to trigger explosive devices. The only problem we see with this is that every time we are told that we cannot bring something on an airplane, those that make the announcements tell everyone, including the potential bad guys. Perhaps we should also caution Radio Shack not to open an outlet in the Middle East.
Read More

| Reuters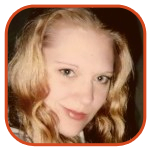 Posted by K.C. Morgan Categories: Awards, Celeb News, Celebrity Gossip,
Richard Gere accepted a lifetime achievement award during the San Sebastian International Film Festival this past Sunday, but his acceptance speech carried a few surprises. Gere talked of lies and the decision to invade Iraq, turning his thank-you speech into a political platform for opinion. Gere further made an appeal to the Chinese government, asking them to rise to the occasion for the Olympics (which are scheduled in country) by becoming an open society. After generations of negotiations with the Chinese government by all of the world's best diplomats, surely it will be an American actor that finally ends Communism in China. Right. Gere delivered an impassioned speech, perhaps better suited for the Presidential debates than a film festival. Will Gere be the catalyst for change in China? Sure. And tomorrow, several of Hollywood's finest will undertake a diplomatic mission to end the war. Or maybe they'll just keep making movies for entertainment value.
Read More

| Yahoo News

© Gear Live Inc. – User-posted content, unless source is quoted, is licensed under a Creative Commons Public Domain License. Gear Live graphics, logos, designs, page headers, button icons, videos, articles, blogs, forums, scripts and other service names are the trademarks of Gear Live Inc.