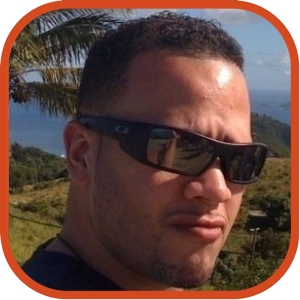 Posted by Jason Diaz Categories: Apple, Cell Phones, Handhelds, Rumors, Software,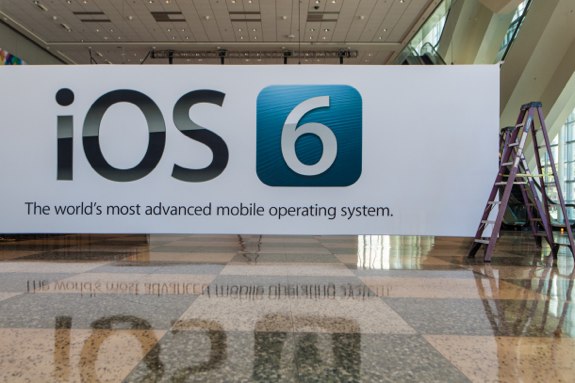 BGR reported this morning that their sources have indicated that Apple is internally testing iOS 6.0.1 with numerous carriers, and this one looks to be focused on fixing a few nagging issues. There have been complaints of the camera flash not firing when expected, bad Wi-Fi connections, and horizontal lines appearing on the display, and iOS 6.0.1 should address these concerns, and more. In addition, there is an Exchange Invite bug that deletes the entire calendar event if any invited party declines. Furthermore, a Passbook update will prevent all the details from your cards from being accessed from the lock screen without your PIN code.
It's also reported that Apple is working on iOS 6.1, which should bring with it a new feature or two, within the confines of its Cupertino labs, but that isn't expected until after the 2012 holiday season. BGR has been somewhat hit or miss with Apple predictions as of late, so this can all be taken with a grain of salt. That said, it would be hard to imagine that Apple didn't have both iOS 6.0.1 and iOS 6.1 in the pipeline.
Read More

| BGR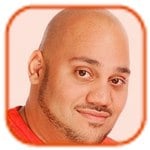 Posted by Andru Edwards Categories: Apple, Cell Phones, Handhelds, Software,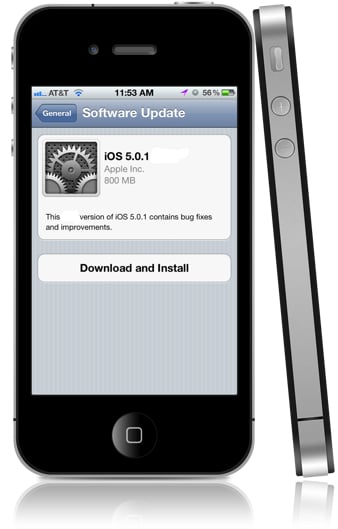 Apple has just released iOS 5.0.1, which is aimed primarily at fixing the battery drain bug introduced in iOS 5. Many iPhone 4S owners have been complaining of extremely poor battery life (here we were seeing the battery drain as much as 10% per hour,) and we can confirm that 5.0.1 fixes that right up. Here are the rest of the release notes:
iOS 5.0.1 Software Update
This update contains improvements and other bug fixes including:
Fixes bugs affecting battery life
Adds Multitasking Gestures for original iPad
Resolves bugs with Documents in the Cloud
Improves voice recognition for Australian users using dictation
Click to continue reading Apple releases iOS 5.0.1, fixes iPhone battery life issues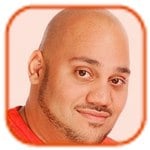 Posted by Andru Edwards Categories: Apple, Cell Phones,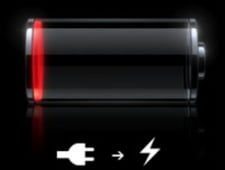 Reports have surfaced that the iPhone 4S is home to a battery drain of a bug, and speculation is mounting that the source of the drain is related to the iPhone's Location Services features. And you might be able to blame time zones for that.
Time zones?
"See, it appears that iOS 5′s GM release introduced a bug that causes the Setting Time Zone function to keep the location tracking circuitry running constantly, draining battery power considerably," writes Oliver Haslam of iDownloadBlog. "Switching it off may mean that your iPhone will no longer set its own time zone when you travel, but that's a small price to pay for having your iPhone last more than 12 hours on a full charge."
Of course, with any proposed fix from the Internet, there's still a crop of naysayers who maintain that the time zone feature has nothing to do with the battery drain issue. And we're not just talking about an hour or so cut out of the iPhone's normal standby time: Some iPhone users claim that their devices only last for a few hours, at best, even when they aren't being used to a great degree. That's a far cry from the promised 200 hours of total standby time listed on the iPhone 4S spec sheet.
Click to continue reading Is rapid iPhone 4S battery drain due to a time zone check bug?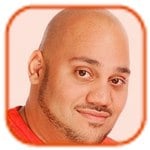 Posted by Andru Edwards Categories: Apple, Cell Phones, Google, GPS, Handhelds, Software,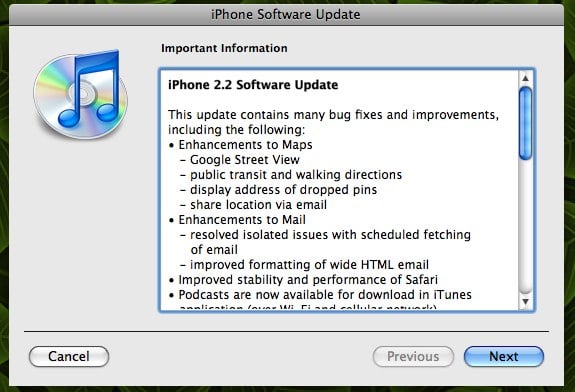 Well, I guess that November 21 rumor was true, because the iPhone 2.2 firmware update is now available. This one is pretty hefty in the feature department too, so color us excited. You've got the a few nice enhancements to Maps, including Google Street View, public transit directions, walking directions, and the ability to share your GPS location with others via email. Speaking of email, the Mail client enjoys some stability improvements in this release as well, along with better handling of wide HTML email. Safari picks up performance improvements, we get the promise of fewer set-up failures and call drops, and better sound quality for Visual Voicemail.
If you're a podcast lover (and seriously, we know that you love our shows,) you'll be ecstatic to hear that, finally, podcasts are available for download in the iTunes application. Seriously, this thing is packed. Connect your iPhone up to your computer and grab the 246MB update now.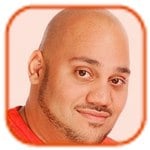 Posted by Andru Edwards Categories: Apple, Cell Phones, Google, Handhelds, Software,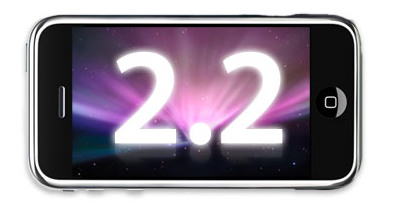 The rumor mill is buzzing today about the soon-to-be-released iPhone 2.2 firmware. iPhone Hellas is saying that we can expect iPhone 2.2 to be available for download on November 21, a mere 10 days away. We have no reason to doubt, since the 2.2 firmware has been in beta for a while now, and everything sounds like it working nicely. With iPhone OS 2.2 you can expect things like walking directions, Google Street View, public transportation information, the ability to share your location with others, over-the-air podcast updates and downloads, and your overall bug fixery.
This is certainly an update we are primed and ready to enjoy, so let's hope this rumor holds true, cool?
Read More

| iPhone Hellas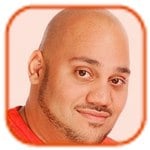 Posted by Andru Edwards Categories: Apple, Cell Phones, Handhelds, Software,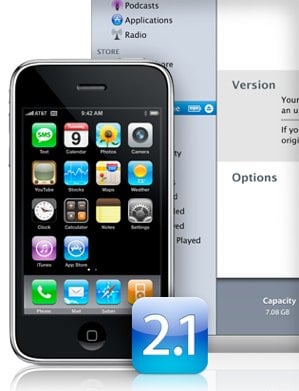 Apple has finally unleashed the iPhone 2.1 firmware to the masses as of an hour or so ago. If you've been running iPhone 2.0 since July, then you've probably been waiting desperately for this firmware release, which is supposed to clear up a ton of bugs and other annoyances about the app-centric iPhone OS. Here's a list of the changes and improvements:
Decrease in call set-up failures and dropped calls
Significantly better battery life for most users
Dramatically reduced time to backup to iTunes
Improved email reliability, notably fetching email from POP and Exchange accounts
Faster installation of 3rd party applications
Fixed bugs causing hangs and crashes for users with lots of third party applications
Improved performance in text messaging
Faster loading and searching of contacts
Improved accuracy of the 3G signal strength display
Repeat alert up to two additional times for incoming text messages
Option to wipe data after ten failed passcode attempts
Genius playlist creation
So, there's a lot of stuff there. Of course, most are concerned primarily with the big fixes. Here's hoping that iPhone 2.1 is the solid OS that the 2.0 release should have been. You can get the update by connecting your iPhone to your computer, firing up iTunes 8 (it's required), and hitting "Check for Update." Good luck!
Read More

| iPhone 2.1 details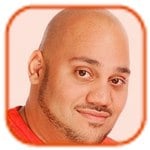 Posted by Andru Edwards Categories: Apple, Cell Phones, Features, Handhelds, Portable Audio / Video,
UPDATE: In case you thought this was fake, Steve Jobs just confirmed that our 1.1.3 coverage is real in his MacWorld 2008 keynote.
We've been getting hit with tons of iPhone 1.1.3 questions on our 1.1.3 forum thread. In case you missed it, check out our iPhone 1.1.3 video - if you have questions, check out our first batch of 1.1.3 answers. If you still have questions, read the rest of this post, as we answer even more of your questions. If we missed anything, let us know, okay? By the way, if you are looking for an excellent program to create custom ringtones for your iPhone, check out iPhone RingToneMaker.
I have 1.1.1. when i play a song on the ipod and start surfing using safari the music stops. i believe this is a bug. i tried this on a 1.1.2 iphone in the apple store and also experience the same behavior. can you please check if this is fixed in 1.1.3? (Asked here)
This isn't so much a bug in 1.1.2 as it is a protection. The music will stop playing if the web page you are visiting consumes too much memory. When you load a page in Safari, if it needs more memory, it will unload pages in other tabs. If that isn't enough, it talks to Springboard, which will start closing other applications, one of which is iPod.
That said, in our testing on 1.1.3, we were able to both listen to music and browse in Safari at the same time.

Do you have any idea how much of this is going to apply to the iPod touch? (Asked here)
I am sure the iPod touch will also gain the ability to move icons around. However, the touch doesn't have the SMS or Maps apps, which is where a lot of the new features are found.
Click to continue reading iPhone 1.1.3 Q&A: Batch Two
© Gear Live Inc. – User-posted content, unless source is quoted, is licensed under a Creative Commons Public Domain License. Gear Live graphics, logos, designs, page headers, button icons, videos, articles, blogs, forums, scripts and other service names are the trademarks of Gear Live Inc.