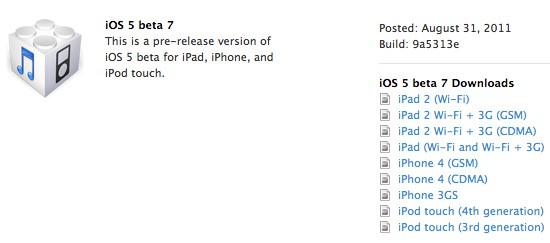 Apple has been busy updating their Dev Center with another iOS 5 beta update, and today developers can go and grab iOS 5 beta 7. If you are already running beta 5 or later, then you can perform an over-the-air (OTA) update directly from your device, with no need to use iTunes. You can now grab iOS 5 beta 7 for iPad, iPhone, iPod touch, and Apple TV, alongside iTunes 10.5 beta 7 and Xcode 4.2 Developer Preview 7 for both Snow Leopard (4C177) and Lion (4D177b.)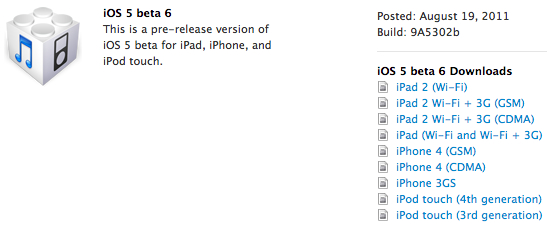 Apple has been busy updating their Dev Center with another iOS 5 beta update, and today developers can go and grab iOS 5 beta 6. If you are already running beta 5, then you can perform an over-the-air (OTA) update directly from your device, with no need to use iTunes. You can now grab iOS 5 beta 6 for iPad, iPhone, iPod touch, and Apple TV, alongside iTunes 10.5 beta 6 and Xcode 4.2 Developer Preview 6 for both Snow Leopard (4C5163c) and Lion (4D163b.)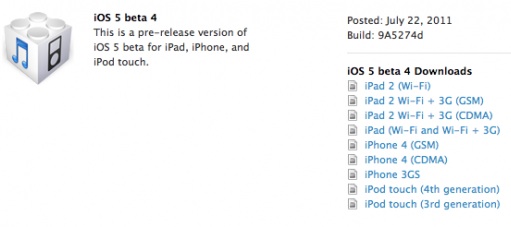 Apple has been busy updating their Dev Center with even more iOS 5 goodness, and today developers can go and grab iOS 5 beta 4. However, if you are already running beta 3, then for the first time ever, you can perform an over-the-air (OTA) update directly from your device, with no need to use iTunes. We will have a video up soon to demonstrate. You can now grab iOS 5 beta 4 for iPad, iPhone, iPod touch, and Apple TV, alongside iTunes 10.5 beta 4 and Xcode 4.2 Developer Preview 4 for both Snow Leopard (4C139) and Lion (4D139.)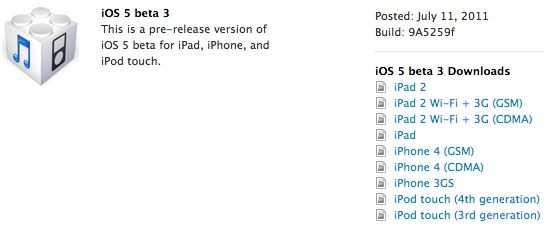 Apple has been busy updating their Dev Center with some new iOS 5 hotness. Developers, you can now grab iOS 5 beta 3 for iPad, iPhone, iPod touch, and Apple TV, alongside iTunes 10.5 beta 3 and Xcode 4.2 Developer Preview 3 for both Snow Leopard (4C128) and Lion (4D75.)

Apple has been busy updating their Dev Center with all of the hotness they talked about today during the WWDC 2011 keynote. They just added in all the iOS 5 beta versions for the various iPhone, iPad, iPod touch, and Apple TV devices that will support it, and if you're a Mac developer, don't forget to also pick up the latest Lion Developer Preview 4.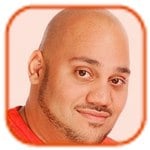 Posted by Andru Edwards Categories: Apple, Cell Phones, GPS, Software,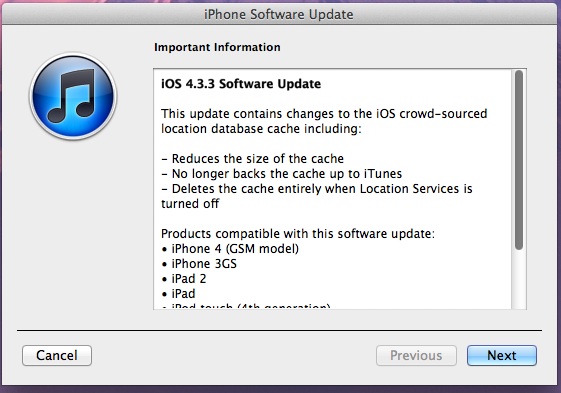 Apple just released iOS 4.3.3, an update aimed to fix the location tracking issue that raised a bunch of concerns over the last couple of weeks. With this update, the consolidated.db database that stores the location data will be reduced in size, and that database will no longer be backed up to iTunes. In addition, if you turn Location Services off, the cache gets deleted entirely. Plug your iPhone in and have iTunes check for the update when you get a chance--jailbreakers, you'll wanna wait until there's a compatible fix.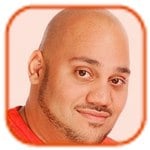 Posted by Andru Edwards Categories: Apple, Cell Phones, Editorial, Features,
Coverage of the iPhone tracking "feature" has ranged from concern to outrage. "I don't know about you, but the fact that this feature exists on an iPhone is a deal-killer," wrote PCMag Columnist John Dvorak, shortly after news broke. Editor Dan Costa drew a softer line, writing, "Apple may not be actively tracking you, but it did turn your phone into a tracking device without telling you."
As frustrating as it is to learn that your iPhone has been spying on you, collecting an unencrypted treasure trove of your travels, the truth is we knew this was happening. Last June we reported that Apple updated its privacy policy, stating that it could, "collect, use, and share precise location data, including real-time geographic location of your Apple computer or device." How precise that location data is remains in question. What is clear, however, is that the update arrived alongside the release of iOS 4—the OS affected by the tracking feature—and identified the four devices (iPhone 3G, iPhone 3GS, iPhone 4, and iPad with 3G) affected by the tracking feature.
I'm not about to give Apple a pass on disclosure or execution. Who combs through an Apple privacy statement when the latest iOS software awaits? And, to "collect" and "share" user data is one thing; to retain it in an unprotected file is quite another.
However, I think it's important that, with a few days' hindsight, we move beyond the bombast, pin down the facts, and see what's actually there. To do this, I've taken a close look at what's at risk and, in empirical spirit, borrowed fellow PCMag software analyst Jeff Wilson's iPhone 3GS to see what I could learn of the man and the travels using Pete Warden's iPhoneTracker app.
Click to continue reading How to view the tracking data in your iPhone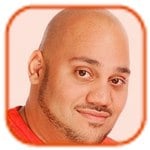 Posted by Andru Edwards Categories: Apple, Cell Phones, Corporate News,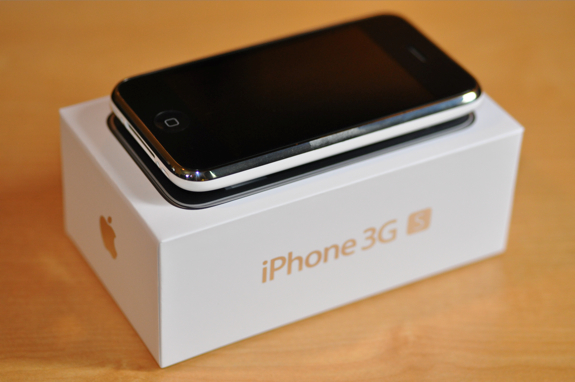 AT&T has revealed its first-quarter earnings, and things certainly smell like they're coming up roses for the carrier. That's probably expected considering it's destined to soon become the nation's largest wireless provider thanks to its recent move to acquire T-Mobile. But there was one part of the company's results that was a bit surprising: the debut of the Verizon iPhone appeared to have little effect on AT&T's iPhone subscriber base. Were there really that few people switching when AT&T finally lost its exclusive grip on the device?
AT&T said it activated 3.6 million iPhones last quarter, the first quarter the Verizon iPhone was available. It also said iPhone subscriber "churn," or the number of iPhone owners ditching AT&T for another carrier, was unchanged from the same period last year. During a call this morning, company executives said the impact was, "significantly less than many in the financial community and the media expected and, frankly, they were less than we expected."
After a close look at the numbers, an X factor becomes apparent: the iPhone 3GS. In January, AT&T reduced the price of the 8GB iPhone 3GS from $99 to $49, and it's been pushing the discounted phone hard. The 3GS is a very capable smartphone and looks extremely cheap next to the iPhone 4, which starts at about $200 on both Verizon and AT&T. Of course, Verizon doesn't offer the iPhone 3GS, so any iPhone cravers not willing to pony up a couple of C notes will be going to the AT&T store (or eBay where you can get them cheap without contract.)
Click to continue reading The iPhone 3GS makes AT&T numbers look great

Apple just released iOS 4.3.2 for download, a small update that aims to fix a couple of annoying bugs that some have been experiencing:
Fixes an issue that may have caused blank or frozen video during FaceTime calls
Resolved the problem preventing some international users from connecting to 3G on their iPads
Includes all the latest and greatest security fixes
The release works with GSM iPhone 4, iPhone 3GS, 3rd and 4th gen iPod touch, and both iPad and iPad 2. For whatever reason, CDMA iPhone 4 owners on Verizon still have no iOS 4.3 update. If you update and find any other additions, let us know in the comments!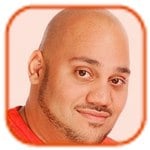 Posted by Andru Edwards Categories: Apple, Cell Phones, Hot Deals, PC / Laptop,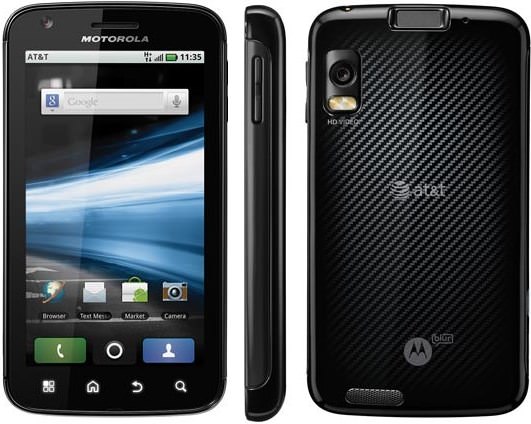 Here's today's Deal of the Day list, where we bring the the top discounts on gadgets and consumer electronics for the day. The highlights for today are a big Walmart clearance sale, the iPhone 3GS for 1 cent, and the cheapest price we've seen on the new Motorola Atrix 4G:
Don't forget, if you're looking for other deals, be sure to check out our Newegg Promo Code thread.
© Gear Live Inc. – User-posted content, unless source is quoted, is licensed under a Creative Commons Public Domain License. Gear Live graphics, logos, designs, page headers, button icons, videos, articles, blogs, forums, scripts and other service names are the trademarks of Gear Live Inc.