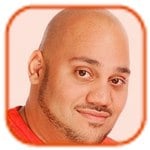 Posted by Andru Edwards Categories: Apple, Handhelds, Transportation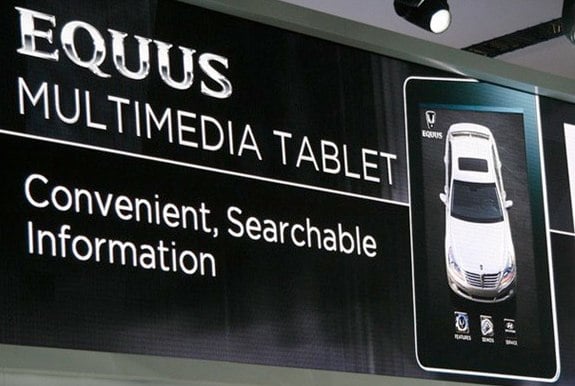 How's this for luxury? The 2011 Hyundai Equus will include a 16GB Wi-Fi iPad with every purchase. What's the connection? Well, Hyundai is trying to be cool, so rather than including a printed manual with the vehicle, the manual will actually be included on the iPad as a custom app. Not only that, but it will come with a custom leather case with an embossed logo, suede on the inside, and the case will double as a stand. Oh, and the manual will include a bunch of video content showing you how to use different features of the Equus. Any updates to the manual will come through iTunes, like any other app. Definitely unique, and a way to stand out from the crowd.
Read More

| Autoblog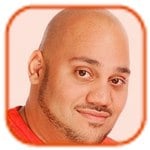 Posted by Andru Edwards Categories: Accessories, PC / Laptop, Video Games
Turtle Beach just let us know that they'd be launching their Ear Force Z2 professional gaming headset at E3 2010 next week, in partnership with game developer Ubisoft. Turtle Beach says the headset will be compatible with PC, Xbox 360, and even the iPad.
"The Ear Force Z2 is an incredible headset that delivers the sound, quality and comfort of products costing more than three times as much. It immerses listeners in the gaming and movie-watching experience by enhancing even the most subtle sound cues, such as faraway footsteps, a car approaching from behind or softly-spoken passages that are difficult to hear with normal speakers," said Michael Arzt, Vice President of Marketing and Business Development, Turtle Beach. "When combined with our new Ear Force DSS Dolby surround sound processor, the Z2 can also be used as a professional-grade surround-sound headset for Xbox or PC gaming. You can even turn the Z2 into a USB headset by combining it with our Amigo II USB sound card."
The Ear Force Z2 should be available soon, and will sell for $69.95 a pair.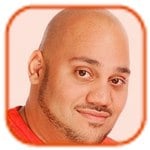 Posted by Andru Edwards Categories: Apple, Cell Phones, Handhelds, Software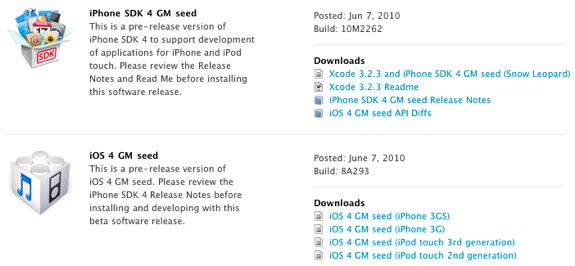 For all you iPhone and iPad devs out there, the iPhone Developer Portal has just been updated with the iOS GM seed, alongside the GM seed of the iOS 4 SDK. Remember, iPhone OS has been renamed iOS, for anyone who is confused. The software build is 8A293, while the SDK build is 10M2262. Apple announced earlier today at WWDC that iOS 4 will officially launch on June 21, available as a free upgrade for iPhone 3G, iPhone 3GS, and iPod touch users—and that's the first time that a major update to iOS has been made available for free to the iPod touch! The iPhone 4 launches three days later.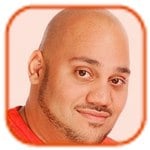 Posted by Andru Edwards Categories: Apple, Corporate News, Software
Apple has decided to retire the iPhone OS name with version 4.0, as they've just announced at the WWDC 2010 keynote. The new name will be iOS 4. It makes perfect sense, since the iPad runs iOS as well (as does the iPod touch,) and isn't a phone.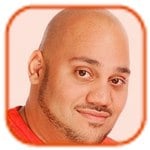 Posted by Andru Edwards Categories: Apple, Software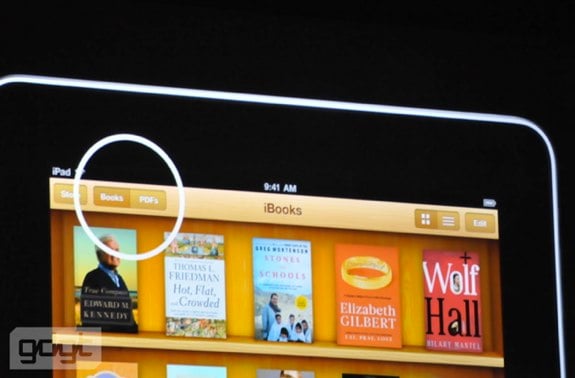 During his WWDC 2010 keynote, Steve Jobs announced some upcoming enhancements to the iBooks app. The biggest, by our estimation, is the addition of native PDF support. You'll be able to drag PDFs into iTunes to have them sync up with iBooks. In order to keep things nice and tidy, PDFs will even have their own bookshelf. Other enhancements include one-touch bookmarking of a page, as well as the ability to add notes. The notes appear as post-it notes on a page. These are in addition to the currently available highlighting. Very nice.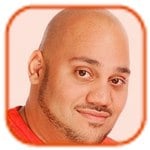 Posted by Andru Edwards Categories: Gizmatic, Accessories, Apple, Cell Phones, Features, Podcasts, Videocasts, Videos
Ever since we heard the news of Square and how they were aiming to change the face of credit card processing and transactions, we'd been excited to try it out. Square wants to give everyone the ability to accept credit cards as payment, making it simple to do with your mobile smartphone device. We had a few friends over to watch UFC 114, and since we all decided we would split the cost of the event, it seemed like as good a time as any to bust out the Square card reader and give it a try for the first time. We captured it all on video, and as you will see, using the Square reader and app was anything but simple. We are gonna chalk this one up to being a defective unit, although multiple customer service requests to Square have gone unanswered. We will let you know what happens if we ever get a replacement card reader dongle. In the meantime, enjoy the mayhem!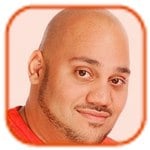 Posted by Andru Edwards Categories: Apple, Editorial, Features, Handhelds, Wireless / WiFi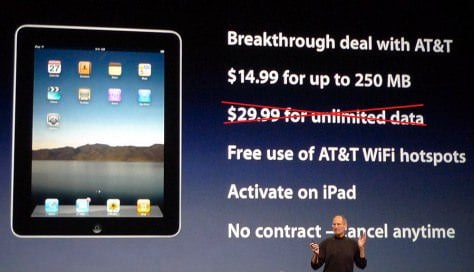 After having a couple of days to let the absolutely ridiculous bait-and-switch that AT&T just pulled on Apple's iPad 3G customers sink in, I've come to the conclusion that one, or both, of these companies needs to do something for the customers that just got screwed.
In a nutshell, when Apple announced the iPad, there was the Wi-Fi-only version, and there was the 3G version. The big draw with the 3G model was that it had a very reasonable unlimited data plan for $29.99 for 30 days of access. You could start and stop at any time, no contract required. Let's not fool ourselves here—this plan was a major selling point for the 3G iPad. However, in just three days—just a little over a month after the iPad 3G went on sale—that unlimited plan goes away and is instead replaced with a $25 plan that allows you just 2GB of data. A true bait-and-switch if we've ever seen one.
Click to continue reading How Apple and ATT can fix the iPad 3G pricing bait-and-switch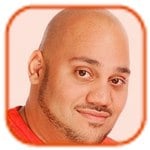 Posted by Andru Edwards Categories: Apple, Handhelds, Wireless / WiFi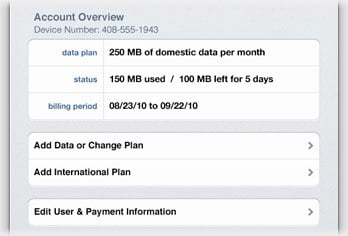 Yeah, so, alongside the sweeping changes that AT&T has made to their data plans comes news that the much-hyped unlimited iPad 3G data plan is ending on June 7th, just 38 days after the iPad 3G went on sale. Honestly, we don't even really see what the point of all the ype was, since you just know that AT&T spent some time going over the details on how their new plans would work. This one almost feels like a bait and switch. We picked up a 3G iPad and have yet to sign up for a data plan. We just wanted to 3G option just in case, with the knowledge that if we needed unlimited 3G in a pinch, it would be there. However, that is no longer the case.
iPad owners will instead get the same DataPro plan option that all other data users on AT&T get—that means you get 2GB of data for $25. If you run out of data, you pay another $10 for each addition gigabyte of data used. The changes go into effect on June 7, but if you're a current subscriber to the $30 per month unlimited plan, you can keep it. Just don't let it lapse, because you won't get it back.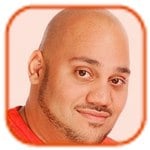 Posted by Andru Edwards Categories: Apple, Corporate News, Handhelds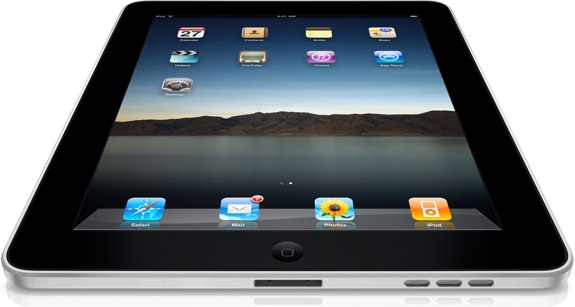 Any way you slice it, the fact that Apple has been able to put an iPad into the willing hands of 2 million customers in just under two months time is pretty amazing. For the record, the iPad is selling faster than even the iPhone did when it launched.
"Customers around the world are experiencing the magic of iPad, and seem to be loving it as much as we do," said Steve Jobs, Apple's CEO. "We appreciate their patience, and are working hard to build enough iPads for everyone."
We can definitely attest to the fact that iPads are hard to find at Apple Stores and Best Buys, but if you really need to get one, and money isn't an issue, there are plenty of people buying and reselling them on eBay and Craigslist for ridiculous amounts of money. Just for reference, it took Apple 28 days to sell the first million iPads, and another 31 to sell the second million.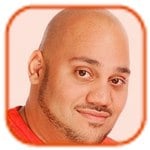 Posted by Andru Edwards Categories: Apple, Handhelds, PC / Laptop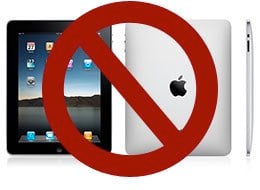 If you plan on taking your iPad with you to Yankee Stadium, you may wanna think again (or wear a loose-fitting jacket with a large pocket.) Yankee Stadium has a policy where they don't allow laptop computers inside their gates, and recently they've decided that the iPad falls under that same category. Over on the IGN Message Boards, user Spacekatgal tells her tale of being turned away at the gate due to having an iPad with her. She walked away, stuffed it in a jacket pocket, and came back and got through.
Of course, we find it odd that the iPad is being given laptop treatment here, when it is an iPhone OS device. In our opinion, if you can bring in an iPhone or iPod touch into Yankee Stadium (which you can,) then the iPad shouldn't really be given a hard time. Your thoughts?
Read More

| IGN Boards

© Gear Live Inc. – User-posted content, unless source is quoted, is licensed under a Creative Commons Public Domain License. Gear Live graphics, logos, designs, page headers, button icons, videos, articles, blogs, forums, scripts and other service names are the trademarks of Gear Live Inc.