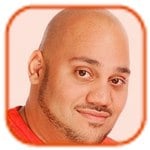 Posted by Andru Edwards Categories: Accessories, Cell Phones, Household, Family, Techies, Under $250, Under $500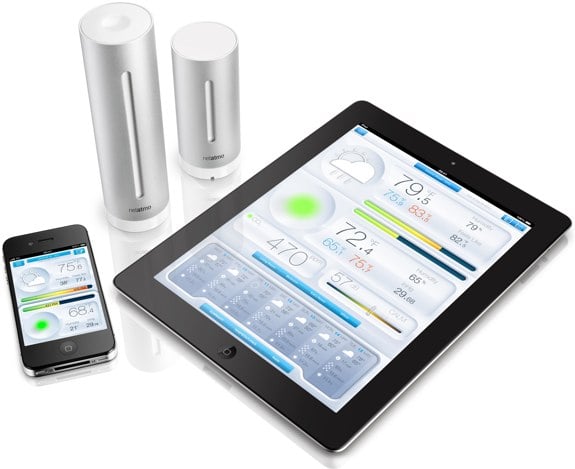 If you want a better handle on the indoor conditions of your home, peep our next 2013 Holiday Gift Guide entry, the Neatmo Urban Weather Station. So, just how much damage did you do to your family's lungs with that batch of really burnt holiday cookies? The Neatmo weather station doesn't just assess the temperature outside your home, it also measures indoor air quality, humidity, and carbon dioxide level. A mobile app lets you monitor your house remotely and get alerts when something is amiss. Knowledge is power.
You can pick up the Neatmo Urban Weather Station now from Amazon for $179.
Read More

| Neatmo Weather Station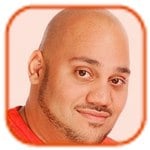 Posted by Andru Edwards Categories: Apple, Handhelds, Women, Men, Techies, Under $500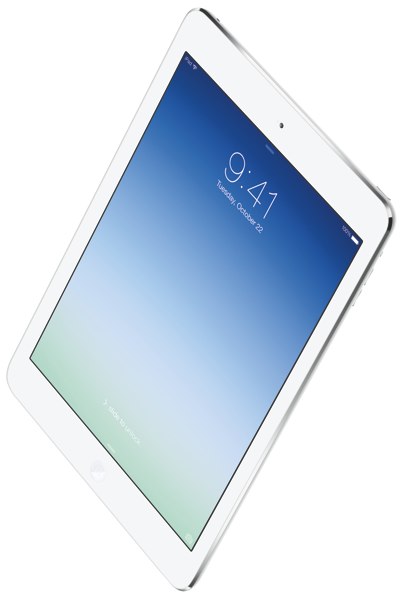 Thanks to its vast ecosystem of apps, great performance, and a fantastic screen, the iPad Air earns a spot in our 2013 Holiday Gift Guide (see our iPad Air review.) Compared to the fourth-generation iPad, the iPad Air is nearly identical in terms of function, although it's much faster and also sports a better front camera for FaceTime chats. The big leap is in the design department, where the iPad Air just dominates on comfortability. The iPad Air is the best full-sized consumer tablet that you can get this holiday season.
You can pick up the iPad Air now from Apple--order now if you want to ensure that it's delivered before Christmas.
Click to continue reading 2013 Holiday Gift Guide: Apple iPad Air
Read More

| Apple iPad Air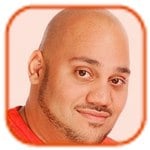 Posted by Andru Edwards Categories: Apple, Features, Handhelds, Product Reviews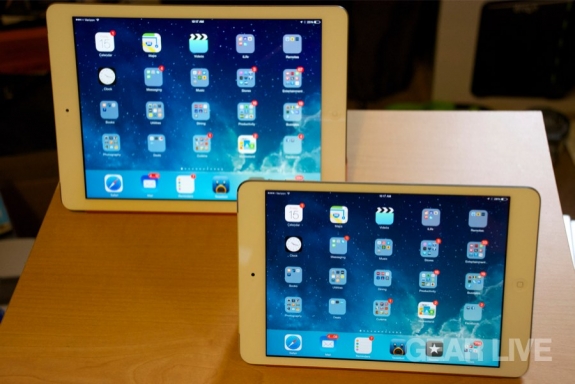 I've been using the iPad mini with Retina display for a couple of weeks now, and after using it as my primary tablet device during that time (setting aside my iPad Air) I think it's time to report back with my findings as it pertains to Apple's second-generation miniature iPad.
Last year, Apple introduced the iPad mini to the world at the same time as the fourth-generation standard-sized iPad. Essentially, Apple took the iPad 2 and forked it into two different products--the Retina display-packing full-sized iPad, and the iPad mini, which was simply an iPad 2 that had been reduced in size. Many (me included) expected that the next iPad mini would remain a year behind as far as internal chips and technologies go, leaving the cutting edge stuff with the larger iPad.
We were wrong.
Instead, Apple released two iPad that are, from a technological standpoint, virtually identical. You got the slimmed down iPad Air (see our iPad Air review), and the iPad mini with Retina display. Both pack the same number of pixels. Both sport the new Apple A7 processor (1.4GHz for the iPad Air, 1.3GHz for the iPad mini.) Same with the M7 co-processor, and the 10-hour battery life. So, the question as it pertains to an iPad purchase becomes, is it more important to you to have a larger display, or a more compact form factor? I've already given you my iPad Air review, now join me after the jump for my review of the iPad mini with Retina display.
Click to continue reading iPad mini with Retina display review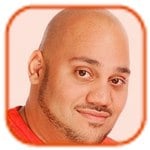 Posted by Andru Edwards Categories: Features, Music, PC / Laptop, Portable Audio / Video, Women, Men, Techies, Teens, Under $100, Under $25, Under $250, Under $50, Under $500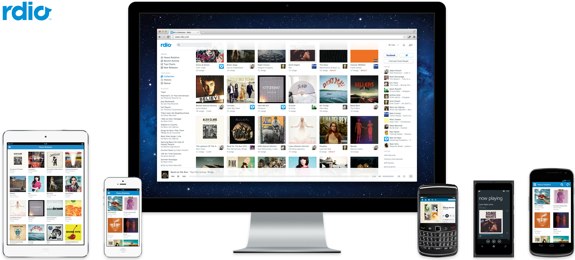 They say music is the universal language, and as music lovers ourselves, we think it's one of the best gifts that you can give, and we're putting it in our 2013 Holiday Gift Guide. Rather than grabbing an iTunes gift card, or worse, a random CD from the bargain bin, we recommend hitting your loves ones up with Rdio gift subscriptions. Why? It allows the user unlimited access to the entire Rdio music streaming catalog. That means on-demand access to millions of tracks from the web, iOS and Android smartphones and tablets, and even your Sonos system. Rdio costs $9.99 per month for full access. We love it--check out Gear Live on Rdio!
We are giving away three 3-month subscriptions to Rdio to our readers as well! To enter, all you need to do is:
Good luck to all entrants, and be sure to look through the rest of our 2013 Holiday Gift Guide for more giveaways!
Read More

| Rdio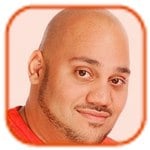 Posted by Andru Edwards Categories: Apple, Features, HDTV, Home Entertainment, Family, Men, Techies, Under $100, Under $25, Under $250, Under $500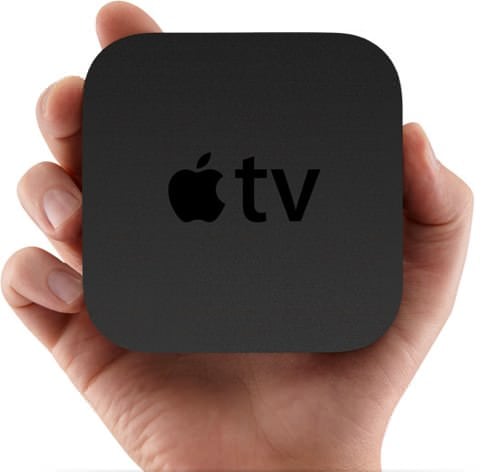 iOS devices like the iPhone, iPad, and iPod touch will be big holiday gifts this year, make no mistake about it. The Apple TV is actually a fantastic complement to Apple's handhelds, worthy of being featured in our 2013 Holiday Gift Guide. A nice little device in its own right, the Apple TV gives you access to Apple's iTunes Store entertainment content right on your television. In addition, you get Netflix, Hulu Plus, YouTube, sports networks, and plenty of other entertainment options. Connect it to your iTunes Home Share, and you can use your iOS devices as remote controls for the Apple TV. The best part, though, is AirPlay. You can beam audio and video content right to the Apple TV with ease from your iOS device, or your Mac. You can also mirror the display of these devices as well, all wireless over your home network.
You can pick up the Apple TV for $99, or $94.95 on Amazon.
Honorable Mention: Roku 2 XS Streaming Player
Read More

| Apple TV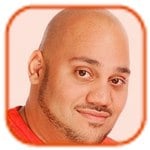 Posted by Andru Edwards Categories: Apple, Features, Handhelds, Product Reviews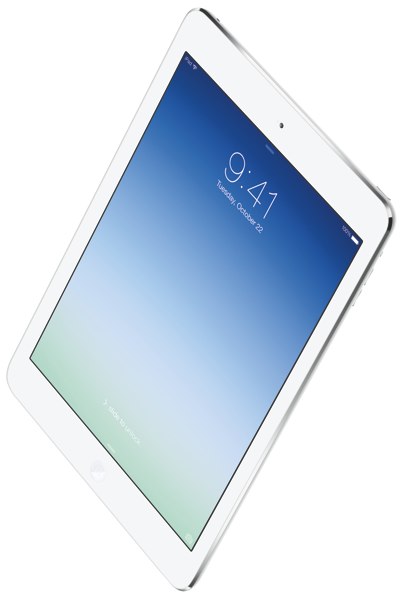 Thinner. Lighter. Anyone familiar with Apple keynote events knows that these two words mean a lot to the company. In essence, Apple aims to reduce the bulks of its products, stripping away any unnecessary heft while simultaneously packing in as much power as possible. It's quite a task, really. The company has backed itself into a corner where it's now expected that anything that's a newer version of a previous thing will be smaller, thinner, and lighter.
Back in 2008, Apple did this with the jaw-dropping MacBook Air. Fully a Mac, but so thin you could slid it into a manila envelope. It was hard to believe that a Mac that thin, with a full-sized keyboard and display, was possible when PC makers were all focusing on grossly underpowered netbooks with cramped keyboards.
Now, Apple has done the same with its tablet lineup. Three-and-a-half years after releasing the original and iconic iPad, Apple has now made it almost impossibly thinner and lighter with the iPad Air. Sporting a new, slim design that borrows heavily from that of the iPad mini, the iPad Air bezel has been reduced by over 40%. Thickness has been reduced as well--20% thinner than the iPad 4 at 7.5mm. Perhaps most importantly, the iPad Air sheds almost half a pound of weight when compared against the two iPads that preceded it, all while maintaining the same impressive 9.7-inch Retina display.
So, the question now is, is the new iPad Air worth your time, attention, and hard-earned cash? Read on for our full iPad Air review as we explore Apple's latest flagship tablet.
Click to continue reading iPad Air review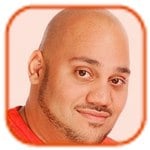 Posted by Andru Edwards Categories: Apple, Home Entertainment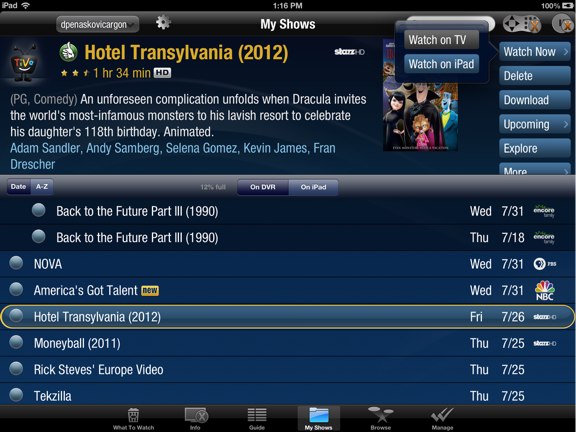 If you're the owner of a TiVo Roamio Pro or Roamio Plus DVR, out-of-home streaming (a.k.a. TiVo's holy grail) has finally arrived, letting you stream and download content from your TiVo to your iPhone, iPod touch, or iPad when you're away from home. Even better? You can also access one of your tuners for live television watching remotely as well, so when you're away from home and wanna watch the big game live, you can do so. For now, out-of-home remote streaming requires that your iOS device be connected to Wi-Fi, but LTE streaming is definitely in the cards, set to launch in 2014.
"Until now, your shows have been locked up in your set top box at home," said Jim Denney, Vice President of Product Marketing at TiVo. "Now with a TiVo Roamio DVR, whether it's a hotel in Denmark, the waiting room at the dentist office, when you're stuck at the airport, or at the gym, out-of-home streaming gives you the level of choice, control and freedom that consumers have come to expect from TiVo."
Out-of-home viewing requires a software update, which begins rolling out to TiVo Roamio Pro and Roamio Plus users today. If you have a base-model TiVo Roamio, you'll need a TiVo Stream in order to enable out-of-home streaming (support for out-of-home for the TiVo Stream is set to roll out next month.) As mentioned, remote TiVo streaming works only on Apple iOS device, and they've gotta be running iOS 5.1 or higher. Android users, don't worry, you'll be able to get in on the remote streaming action in Spring 2014 (let's be honest, you're used to watching iOS get the cool stuff first,) alongside the launch of LTE streaming.
You can pick up the TiVo Roamio Plus, TiVo Roamio Pro, TiVo Roamio, and TiVo Stream right now on Amazon.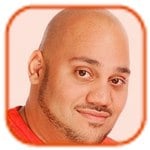 Posted by Andru Edwards Categories: Apple, Cell Phones, Handhelds, Software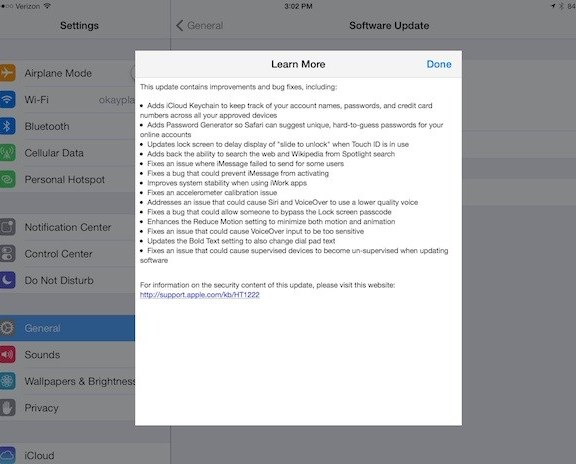 Alongside all the major news coming out of today's Apple iPad event, the company has also released an iOS update. iOS 7.0.3 bring a few new features to the platform, like iCloud Keychain, which works alongside the same feature in OS X Mavericks (which was also released today on the Mac App Store) to keep your account names, passwords, and credit cards synced across your devices, while protecting them with your Apple ID. Here is a rundown of all the changes in iOS 7.0.3:
Adds iCloud Keychain to keep track of your on account names passwords and credit card numbers across all your devices
Adds Password Generator so Safari can suggest unique hard to guess passwords for your online accounts
Updates lock screen to delay display of "slide to unlock" went Touch ID is in use
Adds back the ability to search the web and Wikipedia from Spotlight search
Fixes an issue where iMessage failed to send for some users
Fixes a bug that could prevent iMessage from activating
Improves system stability when using iWork apps
Fixes an accelerometer calibration issue
Address is an issue that could cause Siri and VoiceOver to use a lower quality voice
Fixes a bug that could allow someone to bypass the lock screen passcode
Enhances the Reduce Motion setting to minimize both motion and animation
Fix is an issue that could cause VoiceOver input to be too sensitive
Updates the Bold Text setting to also change dial pad text
Fix is an issue that could cause supervise devices to become unsupervised when updating software
You should be able to check the Software Update area on your iPhone, iPad, or iPod touch to grab the update now.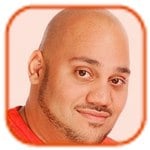 Posted by Andru Edwards Categories: Apple, Cell Phones, Features, Handhelds, Product Reviews, Videos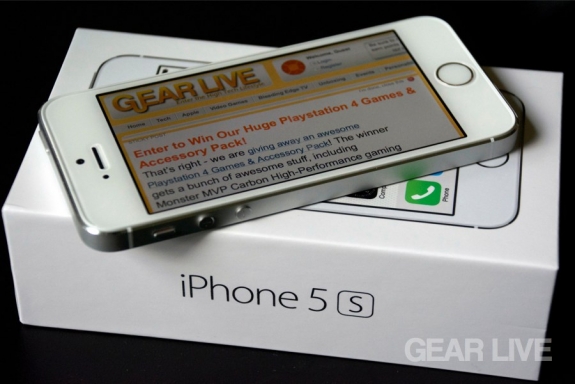 According to Apple, the iPhone 5s is the most forward thinking smartphone ever created. Of course, being that this is an S-model iPhone launching in a year that ends in an odd number, and that means that we'll find plenty of naysayers who dismiss Apple's flagship smartphone as simple and iterative. It looks just like last year's iPhone 5 on the outside, so what can be so different, right?
Well, being an S-class device, the iPhone 5s follows a now-familiar pattern. The iPhone 3GS in 2009 doubled the speed of the iPhone 3G from the year before and added video recording and basic voice commands. The iPhone 4S brought Siri, 1080p video, and dual-core processing. This year, Apple has highly focused the iPhone 5s on three big changes. The iPhone 5s is the first smartphone to ship with a 64-bit processor, and includes the first 64-bit version of iOS in iOS 7. It's also the first smartphone to ship with a capacitive fingerprint sensor, and includes a greatly improved camera system. Sure, these things may not be important to those who are just fine with their current iPhone (or competing device, for that matter,) but for Apple, these moves are a big deal and set up the future.
But is a phone so focused on a future worth your attention today? Join us for our full iPhone 5s review as we seek out the answer.
Click to continue reading iPhone 5s review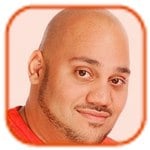 Posted by Andru Edwards Categories: Apple, Cell Phones, Features, Handhelds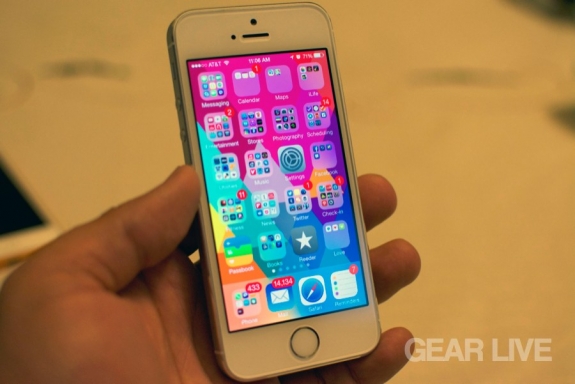 The white and silver iPhone 5s is the only model that maintains a color that was introduced with the iPhone 5, with the other two colors (gold and space gray) being brand new for this model year. Our iPhone 5s review is now live, but if you're interested in seeing the silver 5s up close, we've gathered a bunch of images of the silver iPhone 5 body for your perusal in our iPhone 5s Silver gallery. Be sure to also check out our iPhone 5s Space Gray gallery as well.
You can pick up the iPhone 5s now from Apple.
© Gear Live Inc. – User-posted content, unless source is quoted, is licensed under a Creative Commons Public Domain License. Gear Live graphics, logos, designs, page headers, button icons, videos, articles, blogs, forums, scripts and other service names are the trademarks of Gear Live Inc.