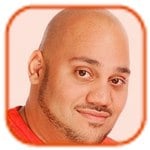 Posted by Andru Edwards Categories: Lifestyle, New Apps, Apple, Free Apps,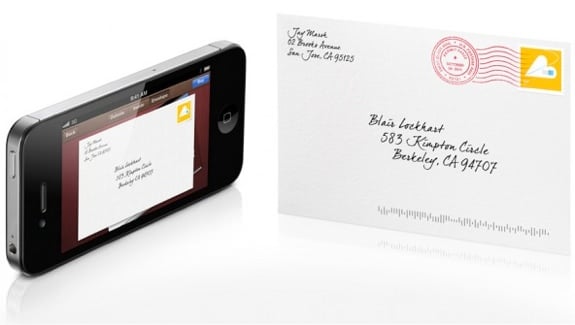 Apple just released Cards, its new app that allows users to create gorgeous greeting cards right from an iPhone, iPod touch, or iPad:
The new Cards app from Apple lets you create and mail beautifully crafted cards personalized with your own text and photos — right from your iPhone or iPod touch. Take a quick snapshot and with a few taps and swipes, an elegant letterpress card is on its way to any address in the world. Each card is just $2.99 when sent within the U.S. and $4.99 when sent to or from anywhere else. And that includes postage.
You can get it now, free, on the App Store.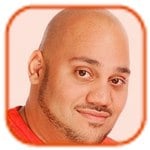 Posted by Andru Edwards Categories: Apple, Cell Phones, Handhelds, Software,

Right on time, Apple has release iOS 5 to the masses, and it's now available for your downloading pleasure for the iPhone 3GS, iPhone 4, the iPad, and the third- and fourth-generation iPod touch. iOS 5 brings with it a bunch of new features, including iMessage, iCloud, Notification Center, Twitter integration, and much more. Plug your iOS device in, and use iTunes to check for updates, and you'll be well on your way. Also, this may be the last time you'll need to tether a cable to your device to update, as iOS 5 also introduces over-the-air updates. Enjoy the new hotness!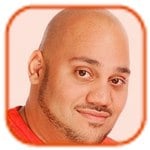 Posted by Andru Edwards Categories: Apple, Music, Software, Storage,
Apple just released iTunes 10.5, one day ahead of the release of iOS 5 and iCloud. The updated version of iTunes will be required to update devices to iOS 5, and also brings with it iTunes in the Cloud, Wi-Fi syncing, and more. Full release notes below:
What's new in iTunes 10.5
iTunes in the Cloud. iTunes now stores your music and TV purchases in iCloud and makes them available on your devices anywhere, any time, at no additional cost.
Automatic Downloads. Purchase music from any device or computer and automatically download a copy to your Mac and iOS devices.
Download Previous Purchases. Download your past music, TV, app, and book purchases again, at no additional cost. Previous purchases may be unavailable if they are no longer on the iTunes Store.
Sync with your iPhone, iPad, or iPod touch with iOS 5.
Wi-Fi Syncing. Automatically sync your iPhone, iPad, or iPod touch with iTunes any time they're both on the same Wi-Fi network.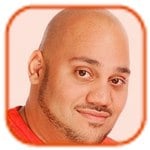 Posted by Andru Edwards Categories: Apple, Cell Phones, Software, Videos,
In advance of yesterday's Let's Talk iPhone Apple event, the rumor mill was in full swing, but among the few predictions to actually come true was voice recognition in the new iPhone, now known as the iPhone 4S.
Last year, Apple acquired voice-recognition application startup Siri and added some voice-to-text features to iOS 4. The feature will be beefed up with the iPhone 4S to understand context and allow you to speak naturally when asking questions.
"Siri on iPhone 4S lets you use your voice to send messages, schedule meetings, place phone calls, and more," Apple said. "Ask Siri to do things just by talking the way you talk. Siri understands what you say, knows what you mean, and even talks back. Siri is so easy to use and does so much, you'll keep finding more and more ways to use it."
Click to continue reading More about Siri, the iPhone 4S killer feature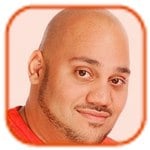 Posted by Andru Edwards Categories: Apple, Cell Phones, Handhelds,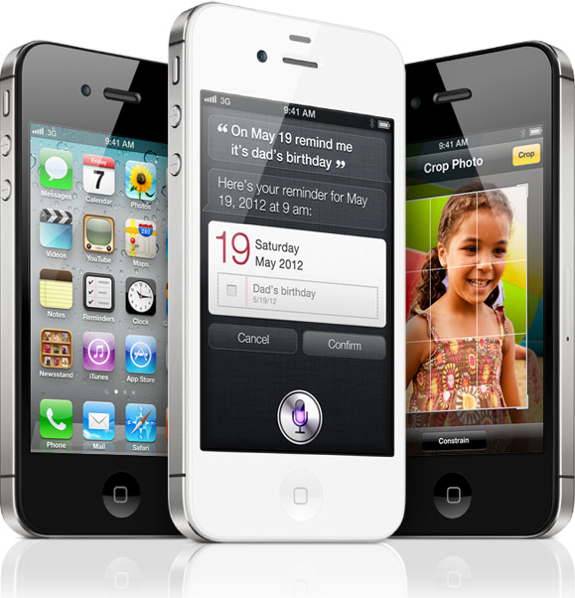 Today (after accidentally outing it) Apple announced the iPhone 4S. The device is the follow-up to the massively popular iPhone 4, and features an internal overhaul while keeping the same iPhone 4 external design. So, what's changed? First, the iPhone 4S is rocking an A5 processor, which makes it 2x faster in performance, and 7x faster graphics performance than the iPhone 4. The camera is upgraded to 8 megapixels, and records in 1080p video.
The iPhone 4S has two cell antennas, and will intelligently switch between the two on the fly. Speaking of antennas, the 4S is also a world phone, supporting both GSM and CDMA networks. The device can download data at about 14.4Mbps, which is double the iPhone 4 and its 7.2Mbps speeds - AT&T actually says this is 4G speed, but we won't get into all that.
The iPhone 4S will be available in black and white on October 14th, and will cost $199 for 16 GB, $299 for 32 GB, and $399 for the 64 GB model, a first for the iPhone. Another first? In addition to AT&T and Verizon, now Sprint customers can get in on the love as well.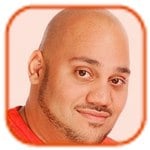 Posted by Andru Edwards Categories: Apple, Cell Phones, Corporate News, Handhelds, Software,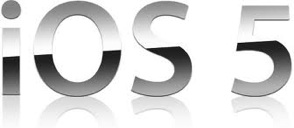 Apple just announced that iOS 5 will be released, as a free download, on October 12th. The update will be available for the iPhone 4, iPhone 3GS, iPad, iPad 2, and third- and fourth-generation iPod touch!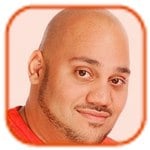 Posted by Andru Edwards Categories: Apple, Cell Phones, Editorial, Software,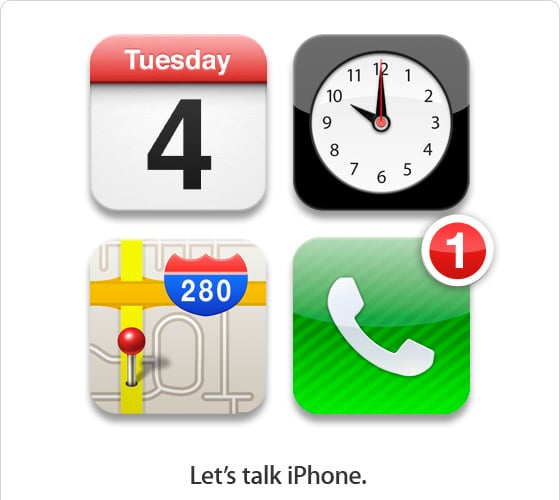 The iPhone 5 will be revealed in under an hour. In all likelihood, it won't be called that—that's just the general name people are calling the device, since it will technically be the fifth iPhone model from Apple. As with any iPhone launch, there have been the obligatory predictions, analysis, and mountains of rumors, but this launch is different from previous ones in a big and obvious way: Apple is unveiling the next iPhone in the fall instead of summer. Why?
It used to be there was a kind of unwritten agreement between Apple and its customers. Apple didn't say word one about any of its products until they were on the verge of general release. On the other side, customers and observers—the whole world, really—could rely on an extremely regular product release schedule: iPods in the fall, iPads in the winter/spring, and iPhones in the summer. It was so predictable you could plan vacations around it.
Click to continue reading Why Apple is announcing the iPhone 5 in October instead of June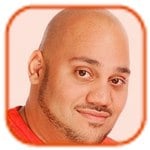 Posted by Andru Edwards Categories: Apple, Cell Phones, Software,
Our friends over at MacRumors comissioned to have the video above put together, which is a mock-up that shows how the new Assistant feature on the iPhone 4S / iPhone 5 will work. Take a look, as it's based on knowledge from trusted sources, and is a result of Apple's purchase of Siri. Of course, the iPhone 4S / iPhone 5 will be revealed tomorrow, and we'll have all the details for you here, live.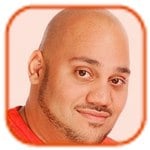 Posted by Andru Edwards Categories: Announcements, Apple, Cell Phones, Features, Handhelds,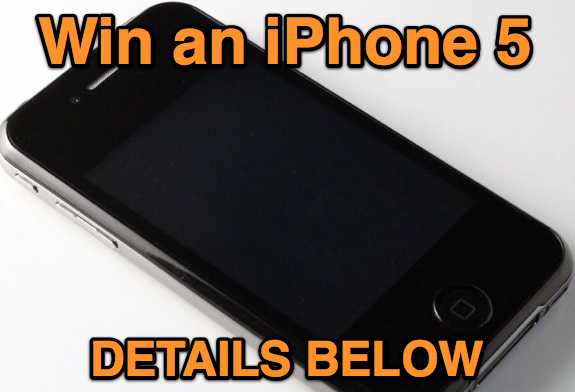 Yep - we are giving away an iPhone 5 to one lucky Gear Live reader as soon as the device launches, and we've got all the details on how to enter below. Hot on the heels of us giving away five iPad 2 tablets, we are set to bring you the newest Apple smartphone. Now, of course, Apple has yet to even formally announce the iPhone 5, but we all know it's coming, and that it should be announced before the end of the month. That said, we do have a few strong rumors about the device:
This giveaway is made possible by Decide.com, which has just launched its new mobile phone section, which helps you track the latest news around smartphones and provides advice on when you should buy or wait on a purchase. Use the widget below to enter--we've got a bunch of options available to allow you to rack up a bunch of bonus entries, and the widget will allow you to track them all. You can enter once per day until 11:59 PM PST on September 19th, and if the iPhone 5 isn't released and available by September 30 and you don't wanna wait, you can opt to select another gadget up to $500 in price.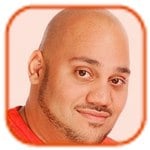 Posted by Andru Edwards Categories: Apple, Cell Phones, Handhelds, Software,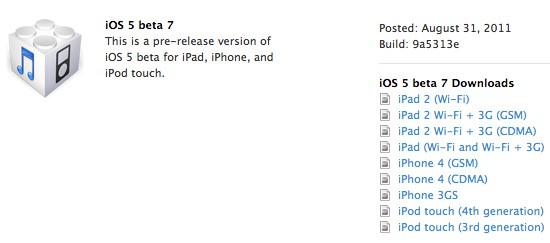 Apple has been busy updating their Dev Center with another iOS 5 beta update, and today developers can go and grab iOS 5 beta 7. If you are already running beta 5 or later, then you can perform an over-the-air (OTA) update directly from your device, with no need to use iTunes. You can now grab iOS 5 beta 7 for iPad, iPhone, iPod touch, and Apple TV, alongside iTunes 10.5 beta 7 and Xcode 4.2 Developer Preview 7 for both Snow Leopard (4C177) and Lion (4D177b.)
© Gear Live Inc. – User-posted content, unless source is quoted, is licensed under a Creative Commons Public Domain License. Gear Live graphics, logos, designs, page headers, button icons, videos, articles, blogs, forums, scripts and other service names are the trademarks of Gear Live Inc.