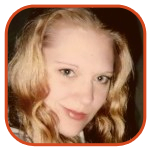 Posted by K.C. Morgan Categories: Fox Searchlight, Drama, Thrillers, Casting, Celebrity Gossip, New Releases,
"It was the first time I understood how you could get so wrapped up in a role that it could sort of take you down," Natalie Portman explained in a recent interview with Entertainment Weekly. "There were some nights that I thought I literally was going to die."
Portman revealed this and more details of what it was like to film Black Swan, a unique thriller set in the mysterious world of the professional ballet.
The actress trained for the role, in which she plays professional ballet dancer Nina, for one year. She lost a great deal of weight, fell in love and delivered a performance that's making many critics take notice. She is currently nominated for a Golden Globe for her work in the film.
Click to continue reading Black Swan Almost Killed Natalie Portman
Read More

| Huffington Post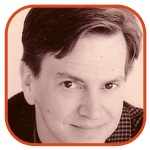 Posted by Tom Mason Categories: Editorials, Interviews, Video Games, DC Comics,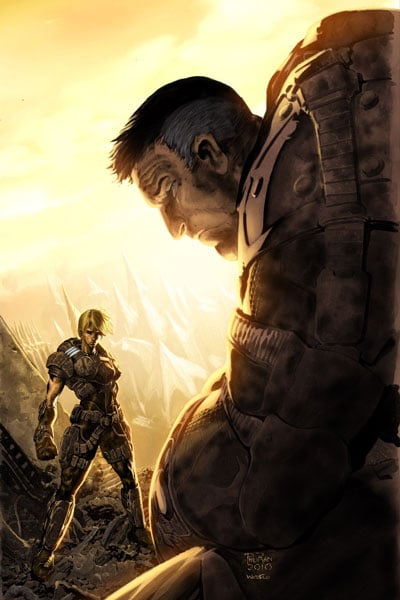 One of my DC pals, Jim Chadwick, is a Wildstorm editor making the switch to DC's Digital Comics division in 2011. One of his print books, Gears Of War #15, goes on sale this week. Written by NY Times' best-selling author Karen Traviss (she also writes the GoW novels) and illustrated by Colin Wilson, Chadwick posted on Facebook "I'm very proud of this one and you should buy it!"
Author Karen Traviss wrote about the stand-alone issue on her blog, and lays out the schedule of her upcoming work on the series. I like her enthusiasm: "It's not the first comic I've written (I'd turned in two DLS scripts before we had to change the schedule, and those really were my first) but it's my debut on the shelves, so that matters to me. Some of my writer friends find it odd that I set such store by comics given my career, but I just do." She also has mad props for artist Wilson.
For more info on Traviss, here's a solid interview with her from Edge.
As a stand-alone issue in the Gears Of War pantheon, I'm checking this one out.
[Artwork: Cover to Gears of War #15]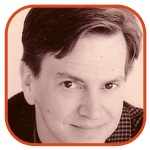 Posted by Tom Mason Categories: Editorials, Movies, DC Comics, Dynamic Forces, IDW Publishing, Independent, Marvel Comics,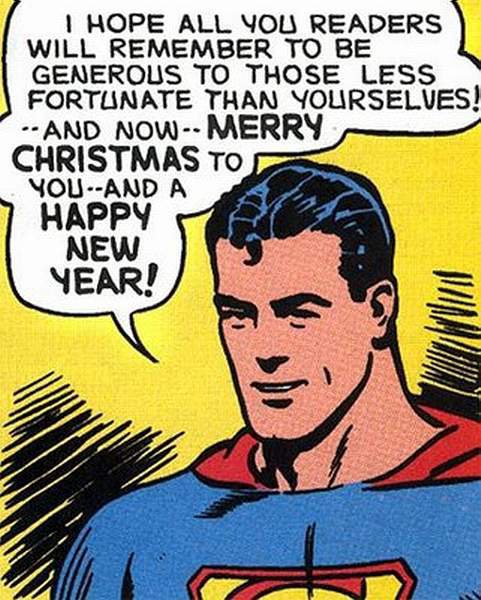 The War on Christmas is nearly done for another year, and there's just enough time left for the War on New Year's. Let's see what you should be reading this week:

Joe: This is simply a great, honest and open interview with Joe Casey, comic book writer/creator and co-creator of Ben 10. Perfect holiday reading from interviewer Tom Spurgeon at The Comics Reporter.

Thor: So there's some controversy from an all-white group that's upset that Marvel has cast an actor of color to play a Norse God in Thor. Ricky Sprague at Project Child Murdering Robot has a thought or two.

Polly: Animator Michael Sporn is happy that Dean Mullaney's new book has arrived (as am I). Polly and Her Pals: the Complete Sunday Comics 1925-1927 comes from Dean's The Library of American Comics via IDW.
Click to continue reading Weekend Reading: Joe Casey, Thor, Dr. Spektor and Drew Friedman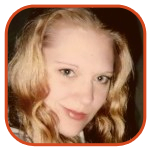 Posted by K.C. Morgan Categories: Television, Videos, Where Are They Now?,
Lea Michele, 12, radiated star power long before millions heard her voice on FOX's hit Glee. In the video above, Michele is being interviewed for a documentary later picked up by MTV's The Seven.
She talks to cameras openly about her experiences on Broadway, explains that she's still "a normal kid," and remains poised and engaging throughout.
Documentary filmmakers Louis Alvarez and Andrew Kolker recall the young Lea Michele in brief asides, remarking that she had a "thousand-watt personality."
"I can do anything and that's how I kind of stay sane in this really tough, dog-eat-dog business," she explains. It took 10 years, but the Emmy-nominated actress has managed to convince many that her words are true: she really can do anything.
Read More

| Entertainment Tonight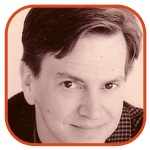 Posted by Tom Mason Categories: Editorials, Interviews, Dark Horse Comics,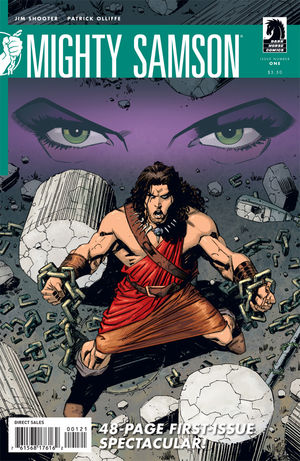 Here's a comic that might be flying under your personal radar that I think merits a look. Mighty Samson is part of Jim Shooter's Gold Key revival at Dark Horse (which also includes Magnus, Turok and Dr. Solar) but it's the only one of the bunch that was never part of Valiant.
This relaunch of the classic character is spearheaded by Shooter and his co-writer J.C. Vaughn, and illustrated by Patrick Olliffe (who does pencils and inks).
Set 500 hundred years after the end of the world in a now-primitive city known as N'Yark, Mighty Samson is filled with "mutated monsters, marauders, and savage subhuman predators." From the ashes of those ruins rises a super-strong champion, Samson, who will defend and protect his piece of the apocalypse from all comers, including the barbarian hordes from across the bridge in Jerz.
It's N'Yark vs. Jerz – a battle as old as time itself! I'm biased because I've met Shooter a couple of times, I'm friends with J.C. Vaughn and I used to work on projects with Patrick Olliffe. That's one heckuva bias, but I also know they can bring the goods, so I'm in.
Here's an interview with Dark Horse editor Chris Warner talking about the series.
And here's a preview of the interiors of the first issue that's on sale now.
Now go and get yours and let me know what you think.
[Artwork: Patrick Olliffe's cover Mighty Samson #1]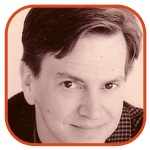 Posted by Tom Mason Categories: Editorials, Movies, Television, DC Comics, IDW Publishing, Independent, Marvel Comics,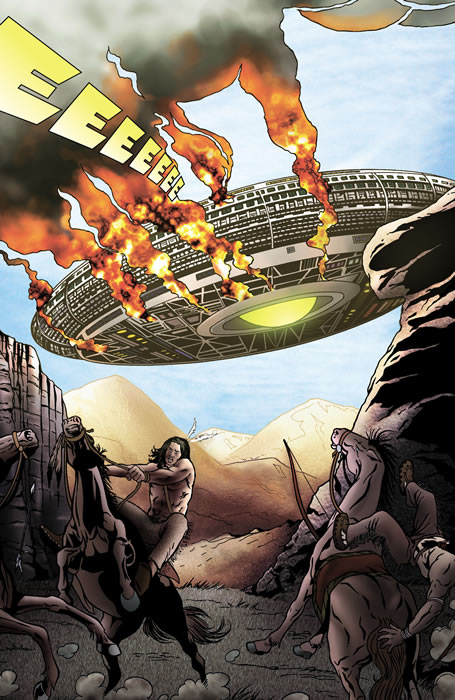 It's the week before Christmas for many people, and we begin, unfortunately, on a sad note. Veteran industry colorist Adrienne Roy passed away this week. ComicMix has the details of her long-running career as a colorist for hundreds of DC's Bronze Age comics. I did not know that she was once voted "Most Beautifully Tattooed Female." She was well-known and highly-regarded, so there are certain to be other remembrances - like this one by Mark Evanier - around the internets.

Cowboys: Robert Orci talks about the upcoming Cowboys & Aliens movie, and Harrison Ford: "I'm assuming Spielberg called in some kind of a favor, because we were shocked to hear that he was interested."

Crime: Novelist and funnybook writer Gary Phillips chooses his favorite crime and mystery graphic novels of 2010 for The Rap Sheet. Yes, Darwyn Cooke's Parker: The Outfit is in there, but so's a bunch of other cool stuff I need to check out now.
Click to continue reading Weekend Reading: Cowboys & Aliens, Jacques Tardi And Adrienne Roy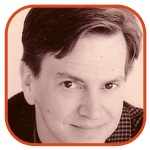 Posted by Tom Mason Categories: Editorials, Reviews, Television, DC Comics, Image Comics,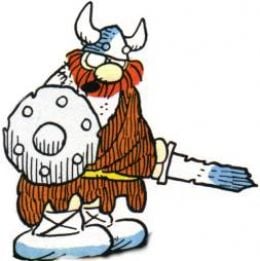 If you need to take a break from Christmas shopping and sit down in front of a warm computer and fill your body with the sweet, sweet taste of egg nog, here are some nice links to keep you company.

I love Christmas cards from cartoonists, and Hogan's Alley has posted a whole pile of them from Dik Browne, creator of Hagar The Horrible and one of the greatest cartoonists, ever. As if that weren't enough, there's this: "Every year since 1936, the Newspaper Enterprise Association has syndicated a Christmas strip. In 1968, Jack Kent produced a daily-only King Aroo sequence, which we are thrilled to present here!"

Castle: If you like Nathan Fillion's TV series, you're not alone. Here's what one loyal fan created.

Amazons: David E. Kelley talks about his Wonder Woman project. The bottom line: don't get your hopes up.
Click to continue reading Weekend Reading: Walking Dead, Castle and Wonder Woman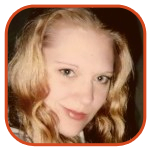 Posted by K.C. Morgan Categories: Music,
Rolling Stone has released an interview with John Lennon conducted 30 years ago, just three days before the musician was killed outside his New York City apartment.
The full interview will be available on Friday. Brief excerpts of the interview appeared in a special story about Lennon's murder, but this will be the first time it has been released in its entirety.
Jonathan Cott, the original interviewer, said that Lennon "didn't mince words" and that the interview is "joyous and vibrant and hopeful and subversive and fearless." Yeah … that sounds like John Lennon.
The musician was, predictably, harsh with his critics. He said "they only like people when they're on their way up … I cannot be on the way up again."
"What they want is dead heroes, like Sid Vicious and James Dean. I'm not interested in being a dead (expletive deleted) hero," Lennon explained, in statements that now seem eerie.
Click to continue reading Rolling Stone Releases Final John Lennon Interview
Read More

| Yahoo! News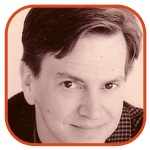 Posted by Tom Mason Categories: Editorials, Interviews, Movies, Television, DC Comics,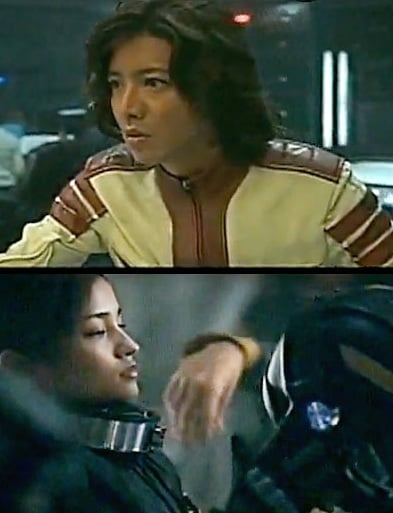 Movies, TV, and video games! This week had it all. And even some stuff about comic books. Let's take a look:

Star Blazers: There's a new live-action Star Blazers movie coming, and Forces of Geek has 7-minutes of it. You know you want to see it, twice.

Mike Grell: Here's a short interview with the writer/artist on Warlord and Jon Sable Freelance. "Grell plans more with his popular Jon Sable character and has hopes that Starslayer may make its way to the movies."

New Comics Friday: Gary Tyrrell at Fleen catches up on some webcomics he was previously unaware of.

Raven: Comic Book Resources is reporting that the CW is interested in a TV series on the mysterious Teen Titans character. This is a way better idea than Aquaman or Green Arrow. I also like it because that means my pal Marv Wolfman gets some checks (as does George Perez) for creating her.
Click to continue reading Weekend Reading: Star Blazers, Shazam! And Monty Python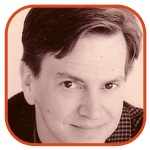 Posted by Tom Mason Categories: Editorials, Movies, Television, DC Comics,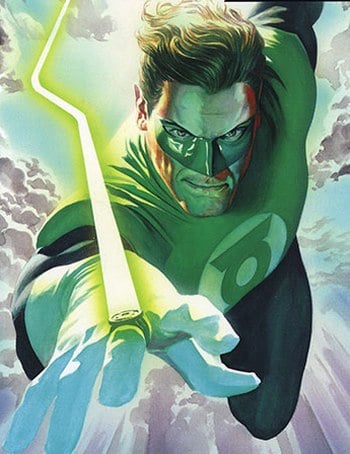 I spent Thanksgiving outside the US this year so I'm stuffed with stir-fried shrimp and chocolate ice cream, which made for an excellent breakfast of leftovers, because that's just how I roll.

If you're out and about shopping now for the holidays, here's the best Holiday Shopping Gift Guide you're ever going to need for the 2010 credit card season, courtesy of Tom Spurgeon at The Comics Reporter.

Let's see what else is going on:

Green Lantern: If you've been in awe of the new Ryan Reynolds trailer for Green Lantern, there's at least one person with an alternate view worth reading: Ricky Sprague at Project Child Murdering Robot. "The Green Lantern Corps is their 'muscle,' enforcing their rules of righteousness. They take creatures from various parts of the universe and have them fight 'evil.' There are lots of different GLs, made up of different species from different planets. You can see where this is starting to get lame."
Click to continue reading Weekend Reading: Green Lantern, Joss Whedon, Jack Kirby And James Bond
© Gear Live Inc. – User-posted content, unless source is quoted, is licensed under a Creative Commons Public Domain License. Gear Live graphics, logos, designs, page headers, button icons, videos, articles, blogs, forums, scripts and other service names are the trademarks of Gear Live Inc.