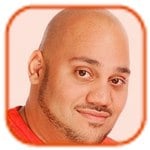 Posted by Andru Edwards Categories: Broadband, Corporate News, Internet

Comcast is finally ready to abandon the 250 GB data cap that it introduced in 2008. While this is certainly a welcome change, don't go firing up that myriad of torrents just yet. The company will be testing what it calls a more "flexible" approach--tiered pricing. Comcast will be doing trials of two different tiered approaches over the next few months. One sees base plans that start at 300 GB per month, and when exceeded, Comcast is considering charging customers an additional $10 for each extra 50 GB of usage in a given month. The other is similar, but gives a larger cap to homes subscribes to the 30 MBps Blast package and 105 Mbps Extreme package. Based on those trials, Comcast will decide how to move forward with pricing its network for the future.
Read More

| Comcast Voices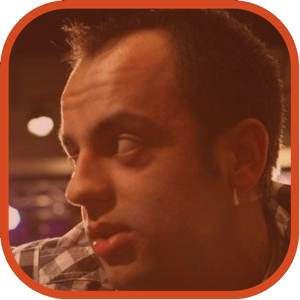 Posted by Andrey Malskiy Categories: Corporate News, Design, Internet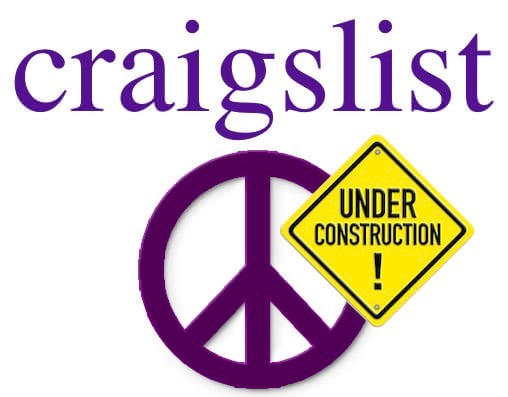 Craigslist is finally seeking to redesign its user interface after years of obligatory misuse of whitespace and text-heavy pages. Earlier this week, Cragslist posted that a job listing for Senior UI / Usability / Front End Engineer to revamp the rather stone-age (looks-wise) website. Craigslist hopse to revive its look, bringing it into the modern day and age. The revamp should also usher in an in-house app (or at the least a mobile friendly web app.)
Though we'd appreciate a mobile-friendly UI, what we would really want to see is an expanded search function, alongside improved navigation. We're not sure if you remember the last time Craigslist made a change in the UI, but even that was a subtle improvement over its predecessor. Even though Craigslist has been going strong with about 30 billion page views a month; it still faces competition from more targeted services like Zaarly and Airbnb, which offer connect users to local selling markets and places to crash.
Regardless of what changes Craigslist decides to make, we hope it'll stay true to its quick-loading pages and ease of use. If you find yourself pulling your hair out due to its lack of creativity and conveniently live in the Bay Area, you can apply for the job here.
Read More

| TechCrunch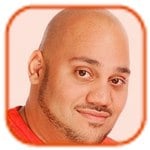 Posted by Andru Edwards Categories: Accessories, Music, Videos, Wireless / WiFi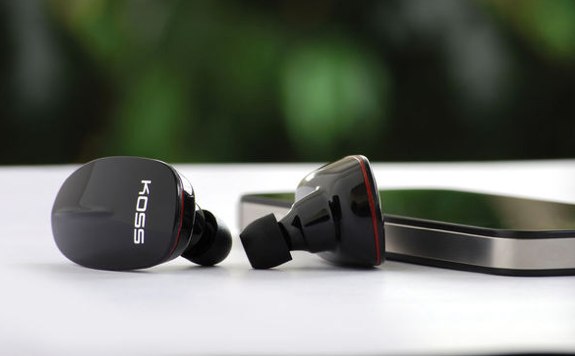 Step aside, Bluetooth, as Koss has just unveiled a new line of headphones that stream music wirelessly over Wi-Fi. The new headphone line is called Striva, and they access audio channels delivered from the Internet that you organized and choose using the MyKoss.com dashboard interface. In addition, you can also use any device that has a headphone port. You just plug in the CAP (content access point) and the headphones can then tune into music from devices like smartphones, tablets, etc.
To start, there'll be two Striva models on the market--the over-ear Striva Pro ($450 USD,) and the in-ear Striva Tap ($500,) both of which include touch-sensitive gesture-based technology that lets you switch channels and manage volume by using swipes and taps. Check out a video explaining it all below.
Click to continue reading Koss Striva headphones wirelessly stream music over Wi-Fi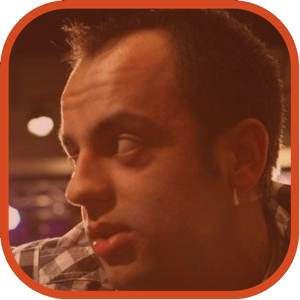 Posted by Andrey Malskiy Categories: Corporate News, Home Entertainment, Internet, Music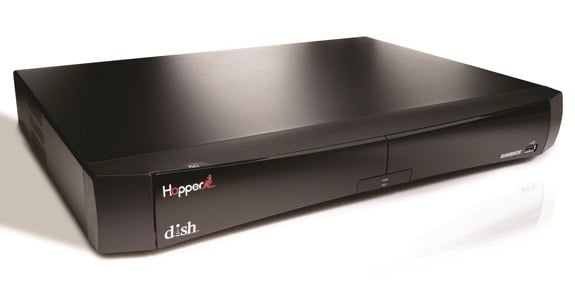 Having a DVR has been my favorite upgrade since getting a high definition TV with HD programing to pair. Though I didn't think the DVR could get any better, Dish Network decided to prove me wrong. As much as we love our DVR's here at Gear Live, we love our music just as much (just check us out on Rdio.) That being said, Dish has now introduced Pandora Radio as an added bonus to its DVRs. You'll now not only be able to watch any prerecorded show you saved to the DVR, but also enjoy your beats from any room in the house connected to the DVR. You can read the full press release below.
Click to continue reading Pandora Radio now offered by Dish Hopper Whole-House DVR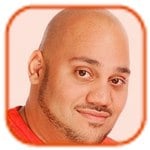 Posted by Andru Edwards Categories: Internet, Videos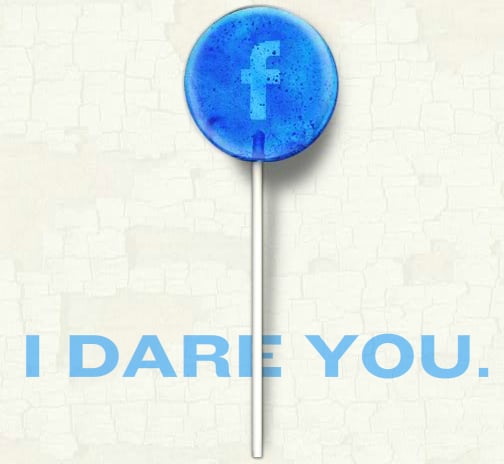 You know how they say that you shouldn't put all your business out there on the Internet, especially nothing that you wouldn't want to fall into the wrong hands? TakeThisLollipop grabs onto this concept and takes it to the next spooky level by connecting to your Facebook account and creating a short movie based on you. We won't ruin it, but it's definitely a cool trick, and we enjoyed viewing the results when we did it.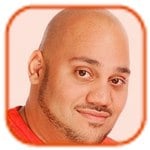 Posted by Andru Edwards Categories: Broadband, Corporate News, Internet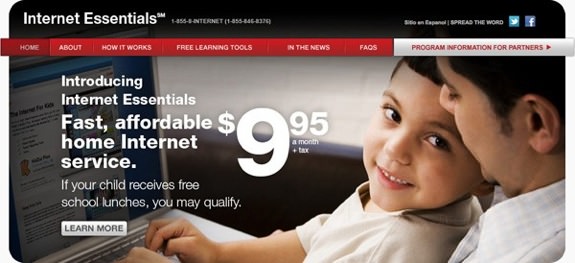 Comcast is tapping into its altruistic side a little bit and deploying a brand-new service tier, one that's designed to bring the Internet to families that would otherwise be unable to pony up $40 to $60 for the company's lowest tiered plan.
Dubbed "Internet Essentials," Comcast's new plan will cost a family only $9.95 per month for a connection that features 1.5 Mbps download and 384 Kbps upload speeds. There's a guarantee of no price increases after-the-fact, as well as no activation fees or equipment rental fees for families signed up for the program. Enrollees will even be able to purchase a netbook computer via the Internet Essentials program for $149.99 (plus tax), and Comcast is offering free online and in-person "Internet training."
To join the program, however, families have to meet four different criteria: They have to be located in an area where Comcast can actually deliver Internet service (obviously), one of their children has to be receiving free school lunches via the National School Lunch Program, families must not have had Comcast Internet service up to 90 days prior to requesting to join the program, and families must not have an overdue Comcast bill or unreturned Comcast equipment.
Click to continue reading Comcast Internet Essentials brings broadband to low-income families for $10 a month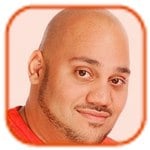 Posted by Andru Edwards Categories: Design, Google, Internet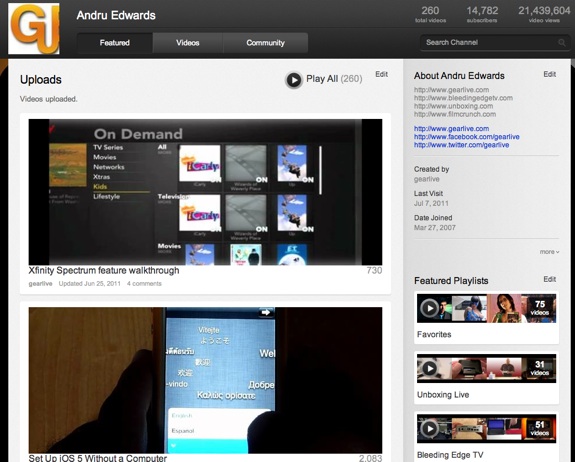 YouTube is offering a preview of a possible redesign, and if you wanna get in on the action to check it out now, you can enable it yourself right now. They're calling is Cosmic Panda, and it definitely brings much more focus to the actual video content across the site, giving much more real estate to the video content (which is what you're there for, right?) and highlighting related content as well. Head on over to the link below to enable the Cosmic Panda design for yourself, and be sure to subscribe to Gear Live's YouTube while you're at it, kay?
The YouTube redesign follows two other Google property redesigns that we saw last week with Gmail and Google Calendar.
Read More

| YouTube Cosmic Panda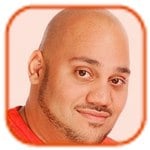 Posted by Andru Edwards Categories: Design, Google, Internet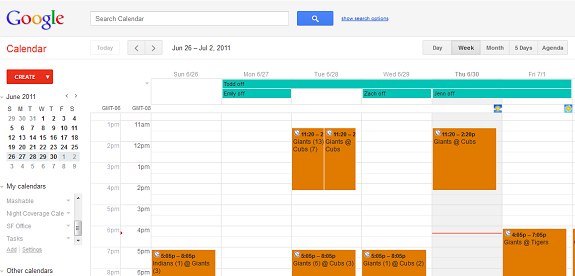 Looks like Google Calendar is also getting a new redesign to put it in line with Google+, similar to the redesign that Gmail is getting. You should be seeing the new design live in Google Calendar now, but know that there aren't any new features to go along with it. It's purely cosmetic. Do you like it?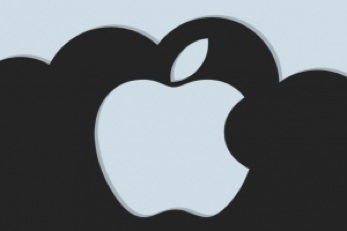 I've long since stopped kvetching over the number of things Apple chief executive Steve Jobs can attach an "i" to and call his own. The maverick CEO's track record is just too darn good. Now that we know that Apple's iCloud is a real thing, there's no sense in wondering how Jobs can have the gall to rebrand cloud computing. I'd rather focus on what Apple will do with the cl...er... iCloud now that Apple has adopted it as its own.
Is Apple new to the cloud? If you accept that at the most fundamental level, cloud computing is simply a matter of thin clients (hardware or software) accessing Internet-based services and intelligence, then the answer is no. Consider Apple's reliance on streaming services for Apple TV's TV show and movie rentals, or the way genius playlists work.
iCloud, which Apple will officially unveil at next week's World Wide Developers Conference (WWDC), will be more, and streaming content is only the beginning. Obviously, we expect some sort of cloud-based, access-anywhere music library. Apple may even cave and offer a subscription-based music service. These plans will only succeed if Apple has done what Google failed to do with Google Music Beta: convince the major labels to let consumers store and access purchased (and rented) music from central servers.
I think music labels fear this not only because they worry about losing further control of the digital bits that make up their vast song libraries, but because no one will ever buy more than one copy of a song again, and if they get subscription access, they're done buying music—period.
Click to continue reading iCloud: Can Apple make the cloud mainstream?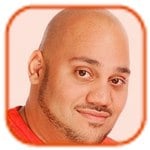 Posted by Andru Edwards Categories: Broadband, Wireless / WiFi
Wired broadband is nearly 30 percent faster than wireless broadband within the same household, an Internet research company has found.
UK-based research firm Epitiro surveyed 2,761 U.S. broadband consumers between November 2010 and February 2011. Forty-five percent used a wired connection to their broadband routers and 55 percent connected via Wi-Fi. The respondents were asked to embed a speed test application on their computers in order to measure download times.
Wired download speeds were 29.7 percent faster than Wi-Fi connections. The average actual speed was 7.4 Mbps for wired connections, compared to 5.2 Mbps for wireless ones. Furthermore, latency was 10-20 percent higher over Wi-Fi. Packet loss and jitter were also detected.
Why is Wi-Fi so much slower than older wired technology? According to Epitiro, wireless speeds are degraded because most wireless routers, by default, are set to the same channel, which causes "radio congestion." Signal strength is also hindered by physical objects like walls, doors, floors, furniture, even people. Other common radio-based devices, like microwave ovens and baby monitors, also hog your home's wireless spectrum.
With more consumers now using wireless connections than the technically superior wired connections, Epitiro concluded that consumers prioritized "quality of experience" over the "quality of service." Put another way, consumers still prefer the convenience of mobility over the extra minutes of download time saved. Furthermore, Web browsing times were roughly the same between types of connections.
Click to continue reading Wi-Fi reduces broadband speeds by 30 percent
© Gear Live Inc. – User-posted content, unless source is quoted, is licensed under a Creative Commons Public Domain License. Gear Live graphics, logos, designs, page headers, button icons, videos, articles, blogs, forums, scripts and other service names are the trademarks of Gear Live Inc.