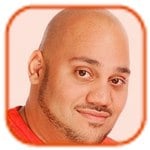 Posted by Andru Edwards Categories: Handhelds, Product Reviews,
Here's something you don't see every day. The webOS Nation blog has done a hands-on review of a tablet that will never see the light of day—Hewlett-Packard's unreleased TouchPad Go. The 7-inch webOS-based device was supposed to be released in the fall of this year, but HP's decision earlier this year to pull the plug on webOS and its TouchPad line of consumer tablets put the kibosh on those plans.
So what are we missing? According to webOS Nation, a pretty nifty little tablet (see a video review above). The blog got its hands on a rare prototype TouchPad Go and ran it through its paces recently.
In giving the TouchPad Go an 8-out-of-10 rating, webOS Nation raves about the tablet's "smooth and sleek" design, "solid" feel, and "fast and relatively stable" performance. Reviewer Derek Kessler actually seems to think the more compact TouchPad Go is a better performer than its full-sized, 10-inch cousin.
"Despite going smaller, HP does not seem to have gone cheaper," Kessler writes. "The Go is still just as powerful (if not more so), and it certainly feels better than the bigger TouchPads."
Click to continue reading The unreleased HP TouchPad Go gets reviewed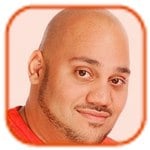 Posted by Andru Edwards Categories: Corporate News, Handhelds, Rumors,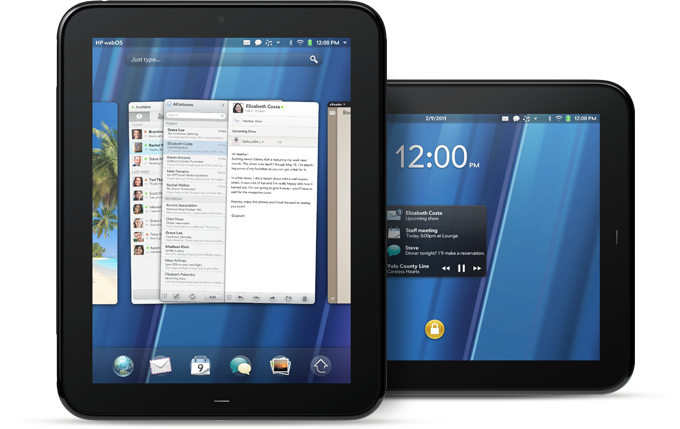 Hewlett-Packard chief executive Meg Whitman said Friday that the company plans to manufacture a WebOS tablet in 2013, even as the company winds down the WebOS-based TouchPad tablet.
In what is the latest bizarre turn for HP's WebOS and related tablet business, it's reported that Whitman and board member Marc Andreessen told TechCrunch that the company would manufacture a WebOS tablet perhaps in 2012, and definitely in 2013.
An HP spokesman, asked to conform the report, said that a WebOS tablet would be made only if the market was "viable". He said that he preferred to focus on the decision to release WebOS as open source, which will give it an immortality that it otherwise might not have.
However, the schizophrenia on HP's WebOS operating system and tablet hardware continues, as HP reportedly plans one last fire sale for the tablet on Sunday, in what has become a long and winding road. Months after the TouchPad was launched in March using HP's WebOS operating system, HP decided to kill it in August, as part of a decision to kill the WebOS hardware business after sales failed to meet expectations. But after HP discounted the TouchPad to $99, sales began to take off, even prompting HP to make another batch.
Click to continue reading HP plans to release a webOS tablet in 2013 despite killing the TouchPad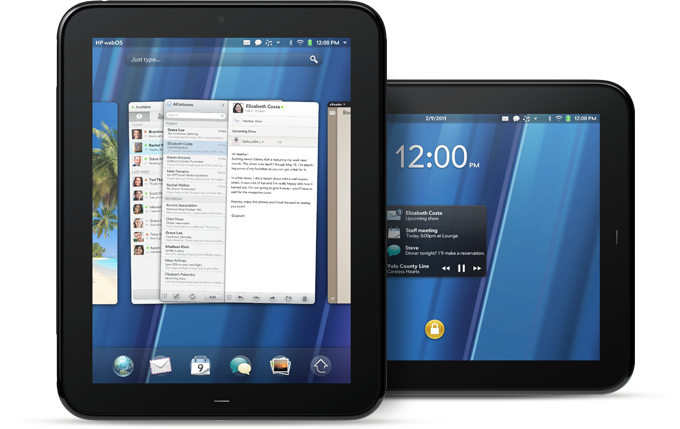 Before we get into the article - if you are looking for a TouchPad, HP has set up a TouchPad availability page for you to get updates! As more come in stock, they'll be listed there.
It was a big weekend for HP, but for all the wrong reasons. Shoppers overloaded the HP servers and rushed to their local Best Buy stores in the hopes of nabbing a TouchPad tablet at rock-bottom prices. But unfortunately for HP, it was just getting rid of existing inventory; those discounts are not likely to help its bottom line.
"All this clamoring for the TouchPad, kind of bittersweet," Bryna Corcoran, HP's social media manager, tweeted last night. "For those of you who end up with one in the end of all this, I want tweets and pics of how much you love it b/c I know you will."
Late Friday night, news broke that HP was selling its TouchPads at a heavy discount: $99 for the 16GB and $149 for the 32GB. By Saturday, Corcoran tweeted that all TouchPads were sold out in the U.S., though she said there were "more coming." The company set up a Web site that allowed customers to sign up and be alerted when more were available.
Click to continue reading HP TouchPads sold out, but more coming soon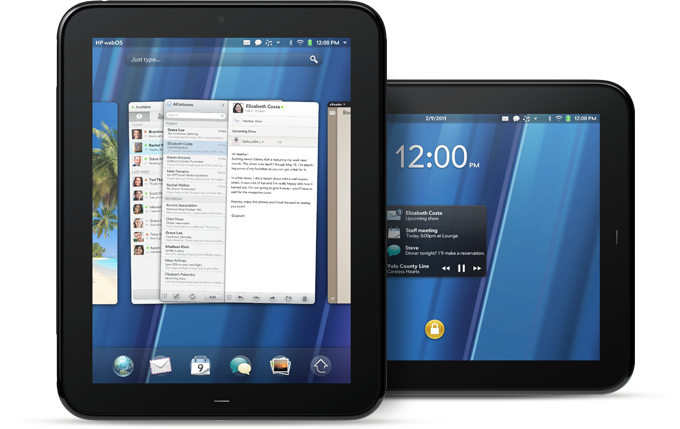 Despite reports that Best Buy was returning its stock of TouchPad tablets to HP, the retailer said Saturday night that it would be selling discounted TouchPads after all.
"Due to HP's decision to discontinue its TouchPad product, Best Buy will now provide clearance pricing for all HP TouchPad models regardless of previously advertised prices or promotions," Best Buy said in a note on its forums.
The 16 GB TouchPad is $99 and the 32 GB is $149.
Click to continue reading Best Buy decides to sell discounted HP TouchPad, still hard to get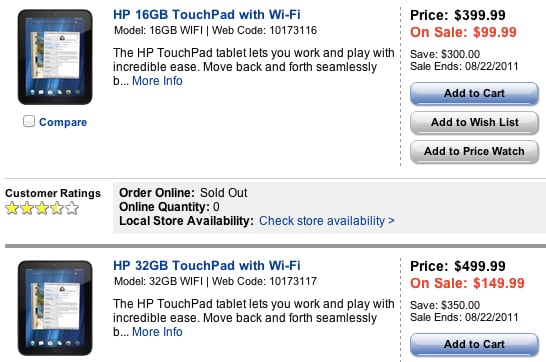 Since HP decided to leave the webOS hardware game and discontinue the TouchPad, the only thing left for it to do is slash the price deeply and liquidate the hell out of 'em, and that's exactly what is happening. HP has cut the price of the 16 GB TouchPad to $99 - a $300 price drop. The 32 GB model is also slashed down to $149, a $350 price drop. Even better? You save an additional $15 with promo code: save15hp - an $84 webOS TouchPad? That is a freakin' steal.
Read More

| $99 HP TouchPad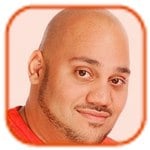 Posted by Andru Edwards Categories: Corporate News, PC / Laptop, Software,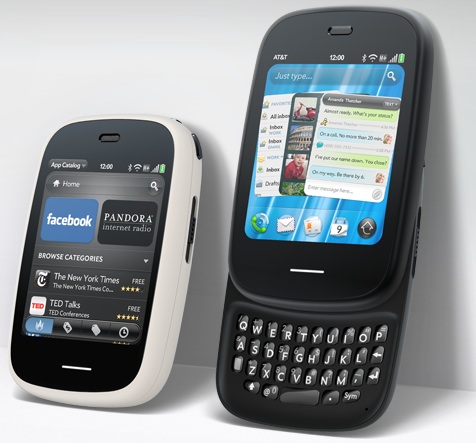 Hewlett-Packard on Thursday confirmed that it will acquire U.K.-based Autonomy for $10.2 billion and is looking to spin off its PC assets.
Together with its plans to stop supporting webOS devices, the announcements mark a major change for HP. They appear to represent a seismic shift in how the Silicon Valley computing giant, the world's largest tech company in terms of annual revenue, plans to conduct business going forward.
The HP board's authorization of "the exploration of strategic alternatives for its Personal Systems Group (PSG)" includes "a broad range of options that may include, among others, a full or partial separation of PSG from HP through a spin-off or other transaction." Unlike the dumping of recently acquired Palm, slipping badly in a market dominated by Apple and devices running Google's Android OS, a spin-off of the PSG means HP would be parting with a long-standing investment that has turned into the biggest PC maker in the world.
Click to continue reading HP getting rid of PC business, webOS devices dead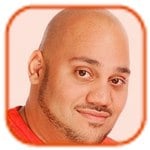 Posted by Andru Edwards Categories: Cell Phones, Corporate News, Handhelds,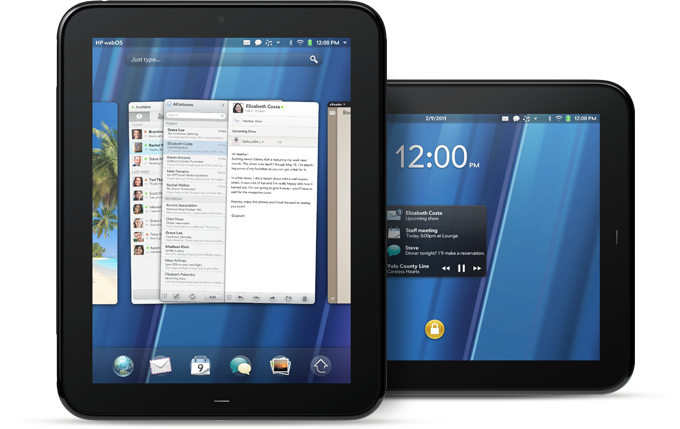 Today HP announced that it is killing webOS hardware, including the TouchPad and Palm Pre and Veer smartphones. We will have more on that later, but the company seems upset that the phones and tablet haven't gained traction as fast as they expected it to. The TouchPad started selling on July 1, and just 49 days later, HP has killed it. Such a shame.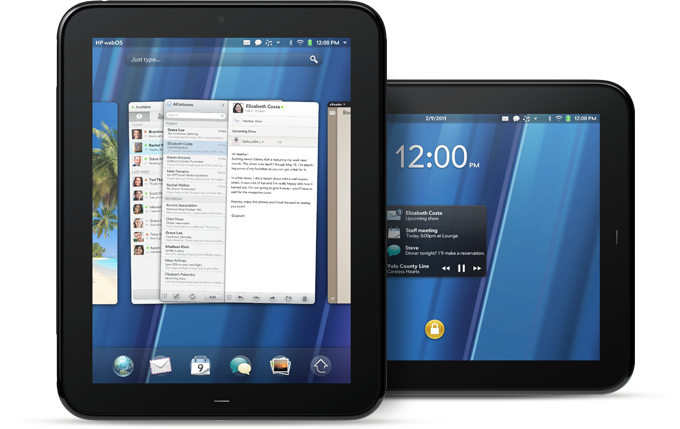 In a bid to apparently alleviate confusion over the price of the HP TouchPad, Hewlett-Packard has made its previous $100 discount permanent.
As evidenced by the company's Web page, HP has priced the 16 GB HP TouchPad at $399.99, and the 32 GB version at $499.99, the same price that HP discounted it by $100, previously.
That also means that the previous HP.com $50 discount on the 16 GB TouchPad isn't active again. But the new, lower prices brings the TouchPad to right in the price range of Acer's Iconia Tab 500 and the Eee Pad from Asus, and beats the price of the iPad 2 by $100.
Click to continue reading HP TouchPad price slashed by $100 permanently, 16 GB now $399
Read More

| HP TouchPad 16 GB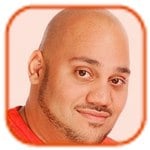 Posted by Andru Edwards Categories: Handhelds, Wireless / WiFi,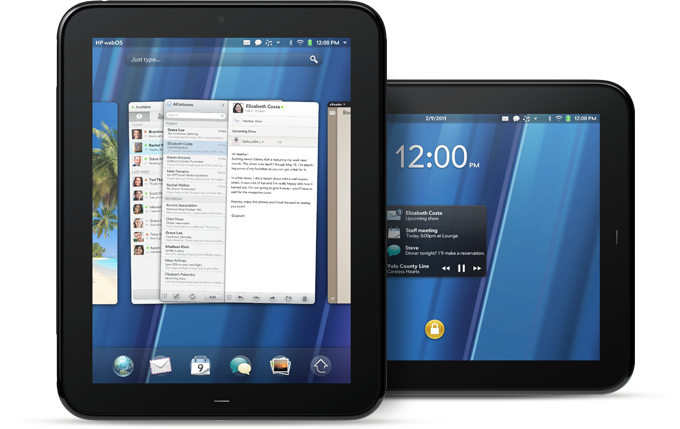 The HP TouchPad finally has a launch date! If you've been jonesing to pick up the first webOS tablet, your lucky day will be July 1st, as long as you're cool with the Wi-Fi model. If you prefer the 3G TouchPad, you'll have to wait until later this summer. The 3G provider for the TouchPad will be AT&T, which may influence your decision on waiting. You'll be able to get the 16 GB TouchPad for $499, while the 32 GB model will retail for $599, which is right in line with iPad 2 pricing.
Read More

| Palm Blog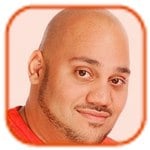 Posted by Andru Edwards Categories: Handhelds, Rumors,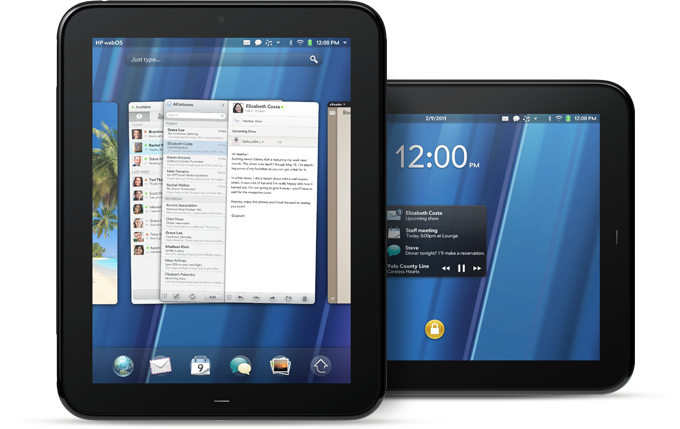 We still don't know when the HP TouchPad media tablet will arrive this summer, but a little bird has given PreCentral.net an inkling of what the pricing will be like.
A source tells the site that Wal-Mart will be carrying a 32GB version of the 9.5-inch tablet running HP's own in-house webOS, for the Apple iPad-like price of $599.
A Wal-Mart listing presumably passed along by the tipster doesn't contain a lot of detail, though it does list the $599 TouchPad as Wi-Fi-enabled. Other connectivity options weren't indicated.
The source must have passed on other details, because PreCentral.net reports that the TouchPad will be 9.5x10x1.78 inches, weigh in at 3 pounds, and that a number of TouchPad accessories will also be available from Wal-Mart.
Click to continue reading 32 GB HP TouchPad to cost $599
© Gear Live Inc. – User-posted content, unless source is quoted, is licensed under a Creative Commons Public Domain License. Gear Live graphics, logos, designs, page headers, button icons, videos, articles, blogs, forums, scripts and other service names are the trademarks of Gear Live Inc.