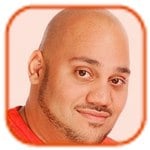 Posted by Andru Edwards Categories: Hot Deals, Video Games,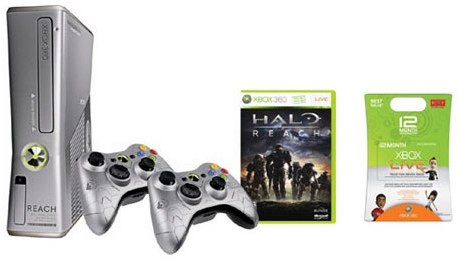 If there's one thing we know, it's that some of the most popular Deal of the Day posts involve video game console sales, so today we bring you a trio of those as it relates to the newly redesigned Xbox 360 S console. For those who just wanna dip their toe in the water, or want a second console, we've got a promo code that saves you 15% off on a new 4GB Xbox 360 slim. If you want something more substantial, we've got another coupon code that saves you $40 on the 250GB model bundled with Madden NFL 11. Finally, for all you Halo fans out there, we have yet another coupon that saves you $50 on the limited edition Xbox 360 console that ships with Halo: Reach, two wireless controllers, and includes a year of Xbox Live. Here are the deals: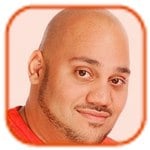 Posted by Andru Edwards Categories: Hot Deals, Microsoft, Video Games,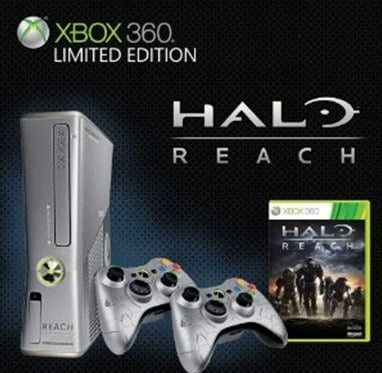 We know that a lot of you are exciting about Halo: Reach, but for those super-fanatics, Microsoft has a limited edition Xbox 360 Halo: Reach console that we are featuring in the Deal of the Day for today. This is the new slim console, but rather than black, it's silver. Along with the console, you also get a copy of Halo: Reach, and two wireless controllers along with headset. The console typically sells for $399, but with the Dell promo code you get $30 off the cost, which makes this thing a fantastic deal considering you are getting $419 worth of hardware and software in the package, and that the console is limited edition. You can order it now, and it will ship on September 14th alongside the release of Halo: Reach.
Save $30 on Xbox 360 Halo: Reach limited edition console bundle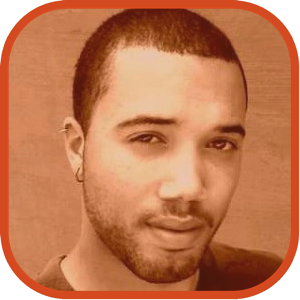 Posted by John Kilhefner Categories: Bungie, First Person Shooters, Microsoft, Xbox 360, Xbox Live,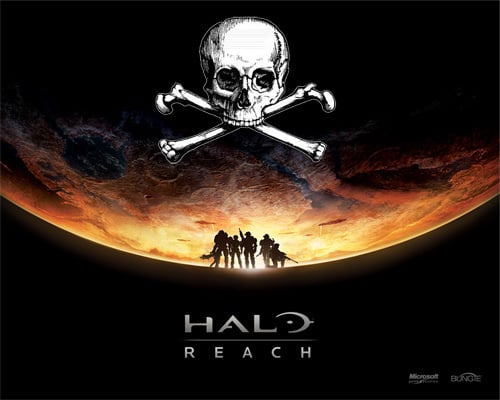 Though the temptation may be great to jump online early, perpetrators of downloading early copies of Halo: Reach better think twice before firing up their illegally attained games online. Microsoft is no stranger to banning as many users as they see fit suspected of playing pirated copies of their games. A representative for Microsoft had this to say:
"We are aware that an unauthorized copy of "Halo: Reach" has leaked. We are aggressively investigating the matter. We have no further details to share at this time."
Sounds like Microsoft is pretty pissed at the whole situation, and we all know what happens when Microsoft feels slighted. Last fall, gamers playing pirated copies of Call of Duty: Modern Warfare 2 prompted Microsoft to ban up to a million players to get their message across. And that message is that pirating will not be tolerated.
"We are aggressively pursuing the violators. Microsoft's commitment to combat piracy and support safer and more secure gameplay for the 25 million members of the Xbox LIVE community remains a top priority. All consumers should know that piracy is illegal and modifying their Xbox 360 console violates the Xbox LIVE terms of use, will void their warranty and result in a ban from Xbox LIVE."
Read More

| Kotaku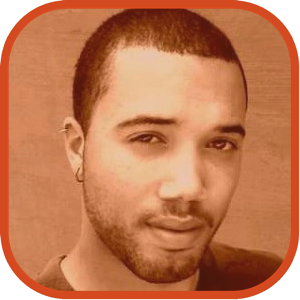 Posted by John Kilhefner Categories: Cell Phones, Handhelds, Video Games, Videos,
If you've seen the new Samsung Epic 4G commercial then you might have been fooled into watching the whole thing thinking it was a new Halo: Reach commercial (raises hand). The similarities are probably not a coincidence considering Halo: Reach is set to be the biggest game of the year, and all eyes are on it right now. Knowing this, Samsung could have purposely chosen to borrow the money making look of Master Chief.
The start of the ad depicts a character bearing a strong resemblance to Halo's Master Chief. The pseudo Chief is then chased by an alien space craft which bombards the Spartan-like clone with some heavy missile fire. Unmasking himself, the Samsung's Spartan hops into his own aircraft, epic chase ensues. The terrain containing the massive battle is then revealed to take place in the palm of your hand - the slogan for the theater-like experience promised by the Samsung Galaxy S. All Halo inspired themes aside, it's a pretty cool commercial, though you have no clue what it's about until the very end. Microsoft states that "the commercial in question is not sanctioned by Microsoft." However, whether or not Microsoft will want to have the look alike Master Chief hero pulled from the air is not known at this point.
Check out the ad for yourself below.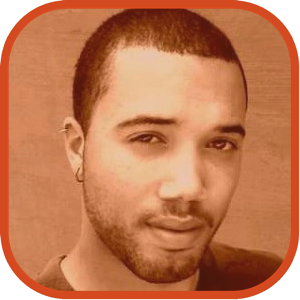 Posted by John Kilhefner Categories: Bungie, Corporate News, First Person Shooters, Xbox 360, Xbox Live,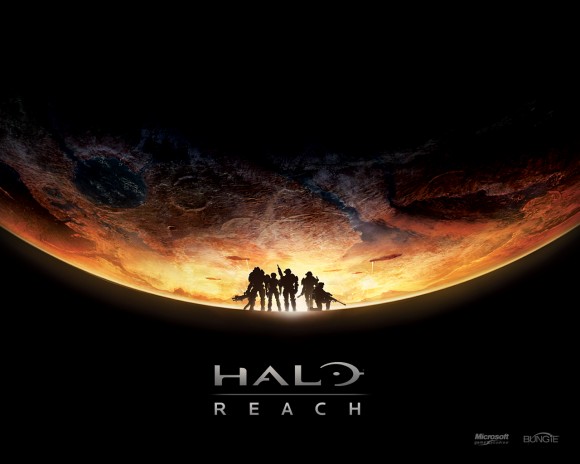 Keeping in tradition with Halo 3 and Halo 2 before it, the Halo series has managed to fall into unsavory pirate hands yet again with Halo: Reach. How did the leak occur, you ask? Directly from Microsoft's own servers on Xbox Live. This is because Bungie provided authorized reviewers with the codes to download the game which is currently on display in the Xbox Live Marketplace. However, having Reach hiding in plain site wasn't clever enough to keep the modders from getting their greedy little hands on Reach a full month early.
With Reach already floating around on some torrents out there and in the hard drives of a climbing number of peoples computers, you can expect details from the games story to begin surfacing online. Futhermore, I can safely predict that there will be another epidemic of eager gamers playing Reach online and subsequently being caught and banned from Xbox Live. Microsoft claims that they are "aggressively investigating" the leak, as I'm sure they are furious, but expecting, of the incident. While Halo has been plagued with early downloads, video games don't suffer from the same stigma of illegal Internet downloads as music, and the sales don't seem to decline any. Anticipate Halo: Reach to do big numbers on its release date regardless of the incident.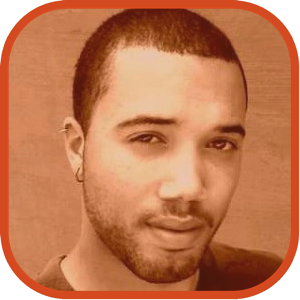 Posted by John Kilhefner Categories: Bungie, First Person Shooters, Microsoft, Xbox 360, Xbox Live,
It's no shocker that Bungie's Halo: Reach finale is going to be epic, to say the least. But no one was prepared for just how ambitious the last Halo world would be. That is, until 'Forge World' was shown for the first time. In fact, epic is an understatement referring to Forge World. To envision the vastness only a word such as 'Brobdingnagian' is befitting. To put it simply - you are not ready.
By now you're scratching your head wondering "what the heck is Forge World?!" Basically, Forge World is five multi-player maps rolled into one - Canyon, Island, "The Rock," Quarry, and Coliseum. Each of these maps is set in a different location of the colossal map. In Forge World the player is god, able to customize these areas as they see fit, à la the forge editor from Halo 3. However, unlike Halo 3's forge editor you are given more options to create developer worthy maps. In fact, Bungie had so much fun in forging these new maps that they even added six of their own Forge World creations to be put into regular game rotation in Halo: Reach's online multi-player. One of which is a remake of the classic 'Blood Gulch", now called 'Hemorrhage'. To get an idea of the scope of Forge World, Hemorrhage is like a mere sandbox in the middle of the desert.
Bungie is aiming to have gamers create their own multi-player maps with newer forge tools that allow greater creativity. In this new Forge World you will have access to about 150 transferable objects. Thankfully, the physics of objects can be altered accordingly to make mid-air and other placements easier. Also, you now have the ability to "phase" objects into other parts of the map, creating whole new structures and consequently different ways to engage in combat. Created maps can then be "tagged", allowing other gamers to download them. Think of Forge World as your own personal Inception - "it's pure creation". With even more objects to place, a much larger scale world, and the player's own creativity driving them, we can expect to see some insane multi-player maps start to surface immediately after D-day (September 14th).
Read More

| Bungie.net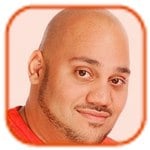 Posted by Andru Edwards Categories: Bungie, First Person Shooters, Microsoft, Release Dates, Xbox 360,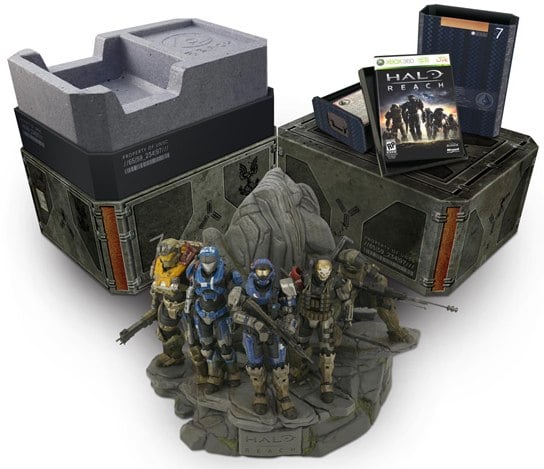 Hot on the heels of the Halo Reach beta coming to an end, Bungie has just announced that the full game will be launching on September 14, 2010, and will be available in three versions:
Halo Reach Standard Edition will cost $60
Halo Reach Limited Edition will include the game, exclusive in-game Elite armor, and an artifact bag containing Dr. Halsey's personal journal will cost $79.99
Halo Reach Legendary Edition will include everything that the Limited Edition includes, plus UNSC-themed packaging, exclusive multiplayer Spartan armor, and Noble Team collectable statue. This will cost $149.99.
We are just under four months away.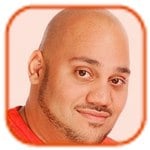 Posted by Andru Edwards Categories: Features, Microsoft, Video Games,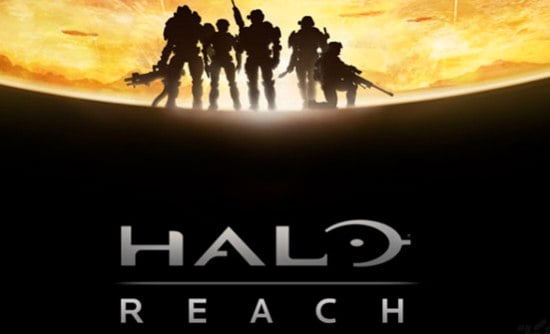 If you own an Xbox 360, then we're fairly confident that you're salivating over getting early access to the Halo: Reach multiplayer beta. Sure, the beta goes public on May 3rd, open to all who have a copy of Halo 3: ODST, but who wants to wait 4 more days to get in on the action if you can have it today? Yep, that's where we come in. We've got a bunch of Halo: Reach beta codes that we are going to be giving away today, and if you get one, you'll be able to download and play the Halo: Reach beta today! So, how do you enter to win one of these super-exclusive codes? Here's your answer:
If you don't have one already, sign up for a Twitter account
Follow the Gear Live Twitter account
On Twitter, post this tweet about our contest: "Hey @gearlive hook me up with a Halo: Reach Multiplayer Beta code please! http://bit.ly/haloreachbeta" (Click here to tweet this now)
That's it! You must be following the Gear Live Twitter account, because we will be sending the codes to the winners on Twitter via DM, and if you aren't following, we can't DM you. Simple as that. Again, we've got a bunch of these, so you have a good chance of walking away with a code! We will start choosing winners this afternoon.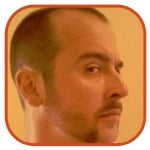 Posted by Finnian Durkan Categories: Action, Bungie, First Person Shooters, Microsoft, Release Dates, Xbox 360,
The trailer for the beta version of the newest addition to the Halo family, Halo: Reach, drops today. From the footage it looks completely insane and has some pretty cool additions to make the multi-player aspects of the game that much more intense. For example, now when you headhunt people they collapse slowly to the floor shooting dozens of flaming skulls out of the tops of their heads. What, that isn't normal? I know when I creep around Seattle in my ninja costume from 5th grade this happens all of the time when I come upon some hapless fool who has wandered into my territory. Well, maybe not quite; replace 'shooting flaming skulls out of the tops of their heads' with 'stare at some idiot dressed in his pajamas from Christmas 1988 who just threw a plastic ninja-star at them'. Yep, that about sums it up. I am so alone.
© Gear Live Inc. – User-posted content, unless source is quoted, is licensed under a Creative Commons Public Domain License. Gear Live graphics, logos, designs, page headers, button icons, videos, articles, blogs, forums, scripts and other service names are the trademarks of Gear Live Inc.