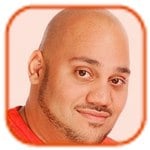 Posted by Andru Edwards Categories: Wearables, Design, Mods / Hacks, Music, Videos,
Here at Gear Live, we know just how popular the Beats by Dr. Dre line of headphones can be. After all, when we post about them, those are typically the most read items of the day. However, while they look good and have great endorsements behind them, some people prefer other models of headphones due to the audio profile. What is one to do if the Beats profile isn't the sound they crave, but the Beats look is exactly what they're looking for? One option is to grabs some spray paint and get to work.
Casey Neistat just posted a video on YouTube that shows how he turned a pair of Bose QuietComfort 15 headphones into Beats by Dr. Dre knockoffs. Sure, he may have sprayed over the microphone that the headphones rely on for noise cancellation, but sometimes that's the price you've gotta pay to look good.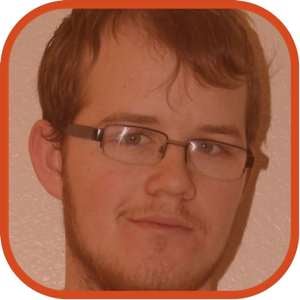 Posted by John Ball Categories: Corporate News, Internet, Mods / Hacks,

The hacktivist group 'Anonymous' launched its biggest cyber-attack ever last Thursday on a bunch of governmane and corporate Web sites after the FBI shut down the ever-popular file sharing destination Megaupload. The sites attacked include The Department of Justice, Universal Music Group, and the Recording Industry Association of America. Later, CBS and Universal were targeted and taken down. Just this morning, Anonymous attacked the UFC site. These attacks started the day after the SOPA and PIPA blackouts which, according to some, could not have come at a worse time.
Anonymous is taking responsibility for the attacks, however no individual persons have come out and claimed that they took part in the operation, which is to be expected. As of right now, the government sites that were attacked are now back up and functioning.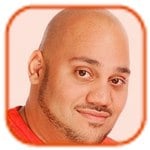 Posted by Andru Edwards Categories: Cell Phones, Google, Mods / Hacks, Software,
Be it Verizon's fault or Google's, owners of the recently released Galaxy Nexus smartphone can't tap into the device's built-in Near Field Communication feature for use with Google Wallet. It's just not going to happen.
Not going to happen, that is, unless you perform a few lengthy customizations on your smartphone. A crafty workaround has been found that allows Galaxy Nexus owners to use Google Wallet just like all of their friends that own Sprint's Nexus S 4G smartphones. But the hack comes with a few catches: Namely, you're going to hack off both Verizon and Google if you try it.
How's that? Well, the process for enabling Google Wallet on your Galaxy Nexus demands that you unlock the device's bootloader and root the smartphone. And once you've done that, there goes your warranty through Verizon should your smartphone encounter any errors (or catastrophic free-falls) in your future.
And that's just the first half. Google's own terms of service prohibit using Google Wallet, "on a mobile device or Android operating system that has been modified or customized in any way." There's no indication as to what could happen to you or your account should you proceed with the hack for your Galaxy Nexus.
Click to continue reading Hack your Galaxy Nexus to run Google Wallet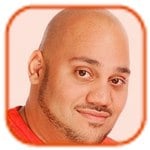 Posted by Andru Edwards Categories: Google, Handhelds, Mods / Hacks, Software,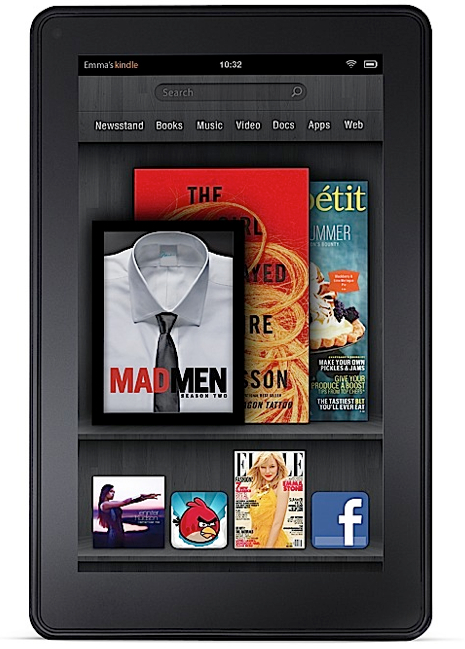 The new Amazon Kindle Fire is a powerful, dual-core Android tablet for only $200. It doesn't have the quarter-million apps from the Android Market, though; by default, you can only load the "thousands" of apps in Amazon's App Store.
But that's OK. If you have an Android phone around, you can use free tools to load almost any Android app onto the Kindle Fire. You don't need to hack, alter, or "root" your phone or tablet to do this, and Amazon doesn't oppose sideloading apps.
The Kindle Fire can install any app in the standard Android APK format, but I strongly suggest only installing apps you've moved over from a phone or downloaded from a major app store. You can find APKs scattered around the Internet on various sites, but don't use those, even for free apps.
Why not? Developers can't track APKs that are just floating around the Net, so they don't know their apps are being used. That discourages developers, especially small developers, from upgrading and making new apps. Peer-to-peer app piracy sites are also sinks of malware, as they have none of the safeguards you'll find on an app store.
So here's how to move any app from an Android phone running Gingerbread (Android 2.3) to a Kindle Fire. It's a lot of steps, but I'm just being very clear; they go quickly.
Click to continue reading Here's how to run almost any Android app on the Kindle Fire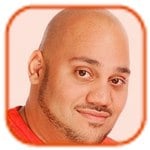 Posted by Andru Edwards Categories: Apple, Cell Phones, Handhelds, Mods / Hacks,
Hoping to get Siri on your iPhone 4?
We have previously highlighted the exploits of the iPhone hacking community in its attempts to break Siri's exclusivity to the iPhone 4S. And while various device modders have been successful at getting the application itself ported over to devices like Apple's iPhone 4 and iPod touch, they didn't manage to address the elephant in the room: How to get Siri to work with Apple's servers, which don't seem to allow requests from unauthorized (non-iPhone 4S) devices.
Two hackers have since discovered the secret Siri sauce, but neither has spilled the beans as to exactly how their non-iPhone 4S Siri app works. According to Steve Troughton-Smith, however, the tweak was built using a single line of code and "a ton of filesystem changes." And as long as a user first jailbreaks his or her device before installing the to-be-released tweak, Siri is unlocked with no restrictions on its use: It works with the same speed and speech recognition as its iPhone 4S counterpart.
Click to continue reading iPhone hackers get Siri working on iPhone 4, iPod touch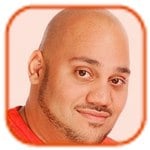 Posted by Andru Edwards Categories: Apple, Handhelds, Internet, Mods / Hacks,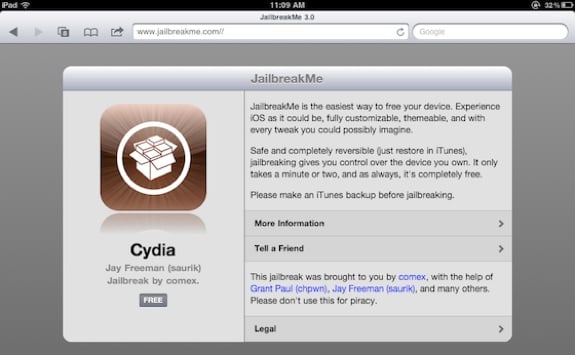 JailbreakMe is back with version 3.0, and if you've been wanting to jailbreak your iPad 2, now's your chance. If you're unfamiliar, JailbreakMe is a super-easy way of jailbreaking your iOS devices. All you need to do is head to jailbreakme.com and follow the simple instructions, and a minute later you'll be able to customize, theme, tweak, and install any iOS software that you please. The only trick here is that you can't be running the iOS 5 beta. Other than that, you're clear to go ahead and make it happen.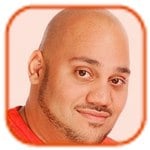 Posted by Andru Edwards Categories: Apple, Mods / Hacks, Software,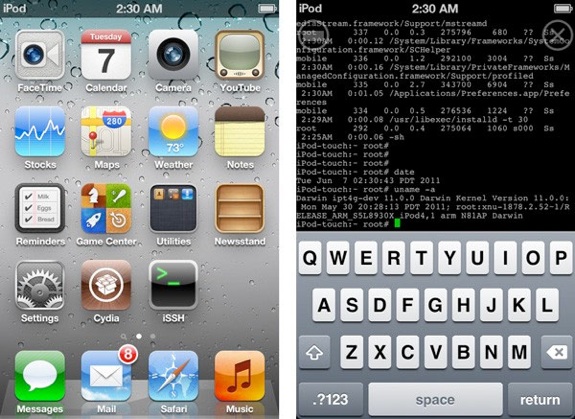 For anyone who decided to give up their jailbroken version of iOS in order to upgrade to the iOS 5 beta, you're about to get the best of both worlds again. Using Redsn0w 0.9.8b1 on the Mac, you can perform a tethered jailbreak that let's you bring Cydia and all the jailbreak apps into the iOS 5 fold. Of course, being a tethered solution, this means you'll need to plug in your device if you need it to be rebooted, which means we're personally gonna wait until the untethered option is available.
Read More

| Dev Team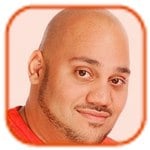 Posted by Andru Edwards Categories: Apple, Handhelds, Mods / Hacks,
No, it's not an iPad 3 rumor. Rather, some innovative people from the Engineering Human-Computer Interaction Research Group have rigged the 2D display of the Apple iPad 2 for a glasses-free 3D perspective.
Using a feed from the front-facing camera coupled with some clever software hacks, the group was able to create what it calls the Head-Coupled Perspective (HCP).
"It is based on [an] efficient head-tracker that uses the front-facing camera of the device," said a description on the group's Web site. "We use an off-axis projection in order to adapt the perspective of the 3D scene according to the head's position of the user. Such spatially-aware mobile display [is able] to improve the possibilities of interaction."
Click to continue reading Hack uses front-facing camera adds 3D display to iPad 2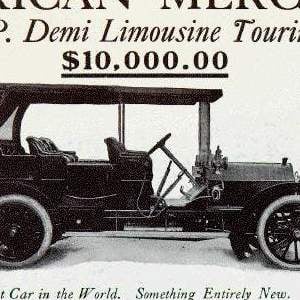 Posted by Drea Avellan Categories: Culture, PlayStation 3, Sony,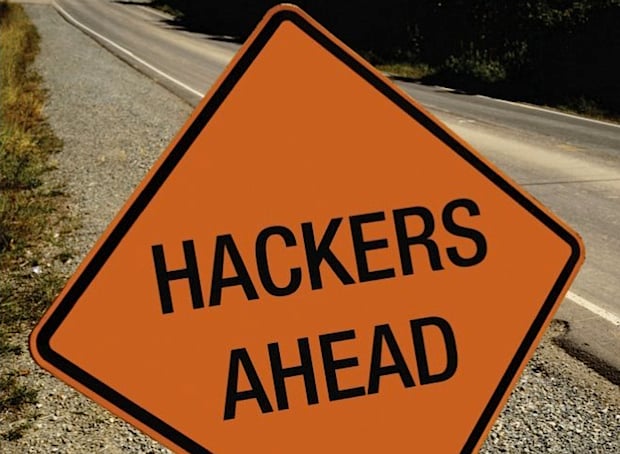 However popular hacking or moding consoles has become, one thing remains true -- it's Illegal. A fact Sony is not willing to overlook. Sony Computer Entertainment America (SCEA ) is suing 21 year-old hacker George Hotz (AKA "geohot") and more than 100 members of fail0verflow, who contributed to the release of the PlayStation 3's root key. However, this is not new to Sony. Last year Hotz published an exploit for the PlayStation 3, but it wasn't until this year that the hackers released a complete "jailbreak" of the system. "SCEA charged Hotz and the others with violations of the Digital Millennium Copyright Act, the Computer Fraud and Abuse Act, plus breaches of California copyright law, breach of contract, and other violations. SCEA also asked the court for a temporary restraining order preventing the plaintiffs from posting any code, including the so-called Elliptic Curve Digital Signature Algorithm keys, encryption keys, dePKG firmware decrypter, or other tools." Restraining order? Ouch.
This restraining order has been set in motion to prevent Hotz to post the jail break information on this website. But we all know this never works, right?
Read More

| Games Industry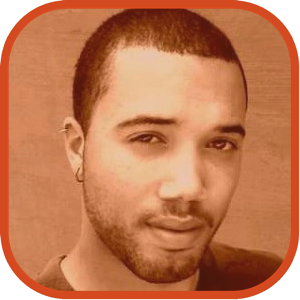 Posted by John Kilhefner Categories: Cell Phones, Microsoft, Mods / Hacks, PC / Laptop, Software,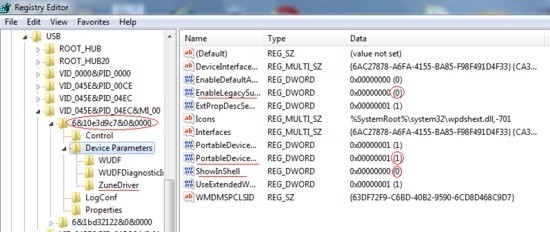 Looking to add media to your Windows Phone 7 device by simply dragging and dropping? The second week of WP7 reveals a new hack that a quick registry modification will fix. After you complete just three entry modifications in your Windows registry, you'll be able to use your WP7 as a USB mass storage device. This will only work on the computer where the registry changes were made, but it's better than nothing, right? Check out the link below to learn how to edit your PCs registry.
Read More

| Windows Phone Central

© Gear Live Inc. – User-posted content, unless source is quoted, is licensed under a Creative Commons Public Domain License. Gear Live graphics, logos, designs, page headers, button icons, videos, articles, blogs, forums, scripts and other service names are the trademarks of Gear Live Inc.