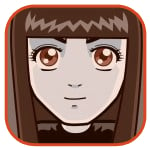 Posted by Sheila Franklin Categories: Music, USB,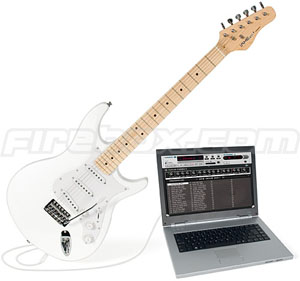 Is there no end to USB Gadgets? The iAxe 393 is a plug-and-play electric guitar with single coil pickups with 5-way switching, multi-track recording/editing, variable track speed, simplified software, and a headphone jack to protect you against the rest of your household. The iAxe features a maple neck and chrome machine heads and is available for $139.99. Of course it won't turn you into a Hendrix or Clapton, but it will give you a good start.
(Thanks, Jennifer)
Read More

| Firebox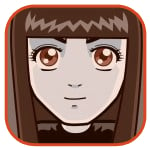 Posted by Sheila Franklin Categories: Misc. Tech, Music,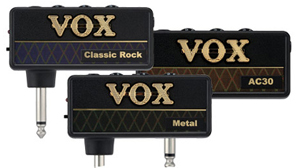 VOX has released a new line of small, portable headphone amps that run on batteries. The amPlugs go directly into your guitar and are available in VOX AC30 for vintage sound, Classic Rock with 100 amps, and Metal with high gain. The AUX jack allows you access to your MP3/CD player. You should get up to 7 hours of analog life with two AAA zinc-carbon included batteries (up to 15 hours on alkaline) for a price of £35 (~$71.00.) As VOX says, "plug in, rock out!"
Read More

| VOX


Posted by Paul Hamilton Categories: Activision, Music, Rumors,
A rumor began circulating yesterday that the full and final track list for Activision's Guitar Hero III was available. The problem with the list was that while it seemed credible it lacked several bands who had previously announced their involvement with the game, notably Atreyu and Velvet Revolver.
We followed up with one of the original sources yesterday and he confirmed that the list was accurate but perhaps not 100% complete, which would leave room for additional songs to be announced closer to the release date or perhaps even kept under wraps until the game ships. In any case, the selection is shaping up nicely with a few unexpected inclusions.
Click to continue reading Expanded Guitar Hero III Track List Found
Read More

| Aeropause


Posted by Paul Hamilton Categories: Activision, Downloadable Content, Music, PC,
It took several years but the marketability of the popular console series Guitar Hero couldn't go unnoticed by the PC side of gaming for very long and today Aspyr Media announced that it will be bringing Activision's Guitar Hero III to PC and Mac in time for the holiday season.
Dusty Welch, head of publishing at Red Octane, said in a statement to GameDaily BIZ: "Providing the option for our fans to play Guitar Hero at their desk or on a laptop on the go is incredibly exciting, and we're thrilled to now offer the ability to rock out literally anywhere and everywhere."
The PC version will ship with a USB guitar controller based on an as-yet unannounced Gibson model. Aspyr is planning on offering some type of download service but declined to reveal any specific details of how that would be handled saying, "We hope to have a very exciting announcement soon." At this stage Aspyr is still conducting compatibility tests and hasn't solidified the system requirements but stressed that they were aiming to make the game accessible to the widest audience possible.
Read More

| GameDaily BIZ via Evil Avatar

Posted by Paul Hamilton Categories: Music, Nintendo, Wii,
Despite Nintendo packaging the Wii as an internet-ready and capable device, they seem to still drag their feet whenever it comes to online gaming. The latest evidence of this is the eerie quiet surrounding the online features of the upcoming Guitar Hero III, broken by The Bits Bytes Pixels and Sprites when they contacted a Red Octane PR specialist, Bryan Lam about what Guitar Hero III will be like online with the Wii. He distressingly told BBPS, "We're working closely with Nintendo for an online solution, though at the moment we're unable to confirm the status of the online multi-player."
Considering the other GHIII versions are all set to have online modes and there ought not to be any technical hurdles, this can really only mean Nintendo is having a hard time letting go of the secret to their ultimate online strategy which is so secret not even the consumers can figure out what it is. Online versus and co-op modes may be bad enough as possible omissions from the Wii version, but a follow-up from BBPS suggests that the same hurdles exist for downloadable content as well. While it's difficult to determine why Nintendo would want to feature-deprive third party developers from online action, it's even less comprehensible why they would cut off money-making endeavors like song packs as well.
Read More

| The Bits Bytes Pixels and Sprites via 4 Color Rebellion

Posted by Paul Hamilton Categories: Music, Nintendo, Nintendo DS, Portable/Mobile,
Okay, the game is Hannah Montana. But subtitled "Music Jam," this game looks like a portable Rock Band including recording capabilities, four different instruments, wireless multiplayer and some really cool gameplay. There's really no reason to be ashamed if you end up excited about this game. Except, you know, the teeny bopper license and the fact that any guy over 13 who buys this will get a lot of really suspicious looks from game store clerks.
Still, the guy demoing the game in the video is not a wuss and would totally beat you up, so if he's comfortable playing it, you should be too.
Or, you could hold out and hope that Disney Interactive wisely re-brands this down the road with something a little less emasculating or at the very least a little less "middle school."
Read More

| Infendo


Posted by Lolita Beckwith Categories: Accessories, USB, Music,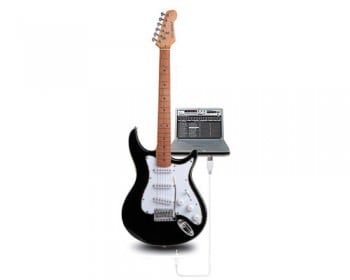 If you're a regular Gear Live reader, you know we love to write about wacky USB gadgets, such as the Lighted Mirror, and Aquarium. Well now we've decided to bring you something fun and useful! It's Behringer's Centari iAXE624 USB Guitar, a full-size real guitar that—you guessed it—plugs into your computer's USB port. Why? So you can record your masterpieces directly into your computer, play along with your Led Zep MP3s (you know you want to), and perform tricks such as "time-stretching". The guitar even has a headphone jack so you won't
annoy
disturb the neighbors. The guitar also comes with software to edit and record your tunes. We just wish the Centari included guitar lessons. Available for $180 USD.
Read More

| Behringer

Posted by Michael Cardiff Categories: Electronic Arts, Hardware, Music, PlayStation 3, Xbox 360,
As we had guessed a few times before, MTV, Harmonix and EA are working together to suck the Guitar Hero well dry. The news today is that these three companies will be working together to produce Rock Band, a GH-like game that will include new peripherals that will let you drum, sing, and of course strum your way to rockstar fame. Looks like it's time to make some more room in your home for gaming peripherals - given that the Guitar Hero guitar is nearly real-guitar sized, we can only imagine how big the Rock Band drum set is going to be… or perhaps they'll build some nifty motion-sensing drumsticks?
With online play, killer peripherals, and a pretty hot looking list of record labels signing on, this game could be huge… both in the metaphorical AND physical sense. Hopefully the controller(s) won't make the game as expensive as a new console, though. Rock Band is currently announced for the PS3 and Xbox 360 although developers have hinted that a Wii version is also in the works.
Click the jump for the full press release…
Click to continue reading Rock Band - Make Room for the Peripherals
Read More

| USA Today

© Gear Live Inc. – User-posted content, unless source is quoted, is licensed under a Creative Commons Public Domain License. Gear Live graphics, logos, designs, page headers, button icons, videos, articles, blogs, forums, scripts and other service names are the trademarks of Gear Live Inc.