Posted by Lolita Beckwith Categories: Video Games,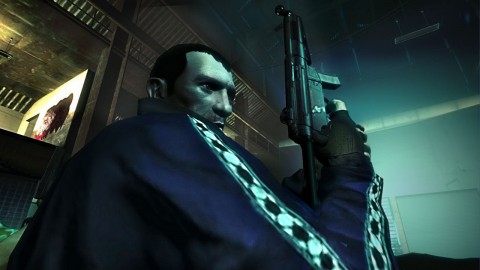 The already heated video game-console war between Microsoft's Xbox 360 and Sony's Playstation 3 just got a little more interesting. In October, Rockstar's already controversial Grand Theft Auto IV will be released, this time on both PS3 and Xbox 360, marking the first time a GTA game debuts on both consoles the same day (before the games would debut on PS2 first, then months later on XBox and PC). Anyway, Microsoft is attempting to one up Sony by shelling out a whopping $50 million for two exclusive GTA IV "episodes", downloadable via the XBox Live Internet service. Games on Xbox Live generally cost $10 or less, but expectation is that Microsoft will charge at least $20 for the GTA IV add-ons. We think it's a major gamble on Microsoft's part, but if it pays off, it could help cement their dominance over the still-struggling PS3.
Read More

| New York Times


Posted by Chris Pereira Categories: Action, Electronic Arts, PlayStation 3, Trailers, Xbox 360,
I think the title of this story and video speak for themselves, but I'm definitely getting excited for Mercenaries 2. While I have no doubt that GTA IV will provide a much more solid narrative and better all-around experience, Mercs 2 looks like it's shaping up to be one of those games that is just pure fun to play. I mean, who doesn't want to blow up everything in sight, then rappel up to a nearby helicopter, eject the pilot, and then man the controls themselves? That's the definition of fun.

Posted by Chris Pereira Categories: PC, PlayStation 3, Release Dates, Special Editions, Ubisoft, Xbox 360,
The highly anticipated Prince of Persia-like Assassin's Creed has finally been given a timeframe for release; the Xbox 360, PlayStation 3 and PC versions will all be released in November. Naturally, a limited edition will be available for what is becoming the standard price of $69.99 (unless your name happens to be Grand Theft Auto or Halo), and includes the following:
Tin box
Penny Arcade comics
Altair figure
Mini strategy guide
Trailers, documentaries, other videos
Normally I'm ready to pounce on the fact that every single game nowadays has some sort of Limited Special Collector's Edition, but Assassin's Creed is one of the most highly anticipated games of the year; this one looks like it deserves an LE.

Posted by Lolita Beckwith Categories: Video Games,

Certain things in our society happen like clockwork, such as presidential elections and the Olympics. Add to that list politicians expressing their disgust over whatever new video game Rockstar Games is about to release. Last year it was "Bully", which politicians wrongly feared was "Grand Theft Auto" in a school, and before that it was previous installments of "GTA" itself. Well, last week, the trailer for the upcoming "GTA 4" was released on the internet—and with its shots of the Statue of Liberty, the Brooklyn Bridge, the Chrysler Building and Times Square—clearly takes place in New York (as have previous incarnations of "GTA"😉. Real-life New York politicos immediately took aim at the game, denouncing it for its glamorization of violence, including that against cops. As huge fans of the GTA series, we do strongly feel they're "adult only" games. However, we wonder if these annual attacks against Rockstar and "GTA" are serving more to publicize the games as opposed to denouncing them. That said, we absolutely loved the trailer, particularly because it pays clever homage to one of our all-time favorite movies, 1982's highly influential Koyaanisqatsi. "GTA 4" will be available October 16 for PS3, and Xbox 360, as this marks the first time a GTA game will actually debut on an Xbox console.
Read More

| New York Daily News

Posted by Christopher Sasaki Categories: Action, Adventure, PlayStation 3, Xbox 360,
According to Eurogamer, Rockstar North is working on exclusive Grand Theft Auto IV content for the Playstation 3 on top of the already announced downloadable episodes for the Xbox 360. Speaking with a source "close to Rockstar North," Eurogamer reports that the new content should be "much the same deal" as the Xbox 360, "except unique to the platform." While far from being confirmed, exclusive content would certainly help Rockstar maintain a good relationship with Sony. And, of course, this would force true Grand Theft Auto fans to lay out more money to have all the content available to them.
Read More

| Eurogamer

Posted by Christopher Sasaki Categories: Action, Corporate News, First Person Shooters, Hardware, MMORPG, PC, Role Playing Games, Xbox 360, Xbox Live, Xbox Live Arcade,
Microsoft is making a download of their opening announcements for the start of X06 in Barcelona available at Xbox.com. Microsoft announced a new game in the Banjo & Kazooie franchise coming from Microsoft Game Studios. For Xbox Live Arcade, Microsoft announced that Doom would be available starting tonight on Xbox Live Arcade. Other Live Arcade games announced include:
Sensible Soccer
Contra
Ultimate Mortal Kombat
Small Arms
Gyrus
TotemBall
Defender
Assault Heroes
Heavy Weapon
Settlers of Catan
In terms of upcoming games, the Japanese RPG Blue Dragon will be available in the US and Europe in 2007. Bungie will have an announcement about Halo 3 by the end of the year. Project Gotham Racing 4 was officially unveiled. Rockstar announced that Grand Theft Auto IV will have two exclusive episodes available for download on Xbox Live. Ubisoft demonstrated Assassin's Creed interactive gameplay for the first time ever. Bioshock was announced as an Xbox 360 and Windows exclusive. Lost Odyssey was confirmed for the US and Europe, with a trailer showing some of the battle gameplay. More than 500,000 gamers downloaded the Lost Planet demo, and both multiplayer and single player gameplay will be available on the show floor. Splinter Cell: Double Agent footage was shown, and the sequel will be exclusive to the Xbox 360 and on Windows.
The Xbox 360 HD DVD was confirmed to be available in Mid-November 2006 in Europe and the United States for $199.00 US, 199.99 Euros, and 129.99 British Pounds. The package will also include remote, and for a limited time King Kong on HD DVD. Moore also discusses Microsoft's Games for Windows initiative, and indicates that Windows Vista is still on track for a January 2007 release. Moore also revealed the first preview of Marvel Universe: Online for the Xbox 360 and Windows.
Peter Jackson spoke at the presentation and announced that he has formed a partnership with Microsoft Game Studios. His first project will be an interactive entertainment title set in the Halo universe, apart from Halo 3 and the upcoming film, and Jackson will also be creating a new interactive game series based on original IP. Finally, the presentation wraps with a trailer from a Halo real-time strategy game from Ensemble Studios, called Halo Wars.
The video should be available online soon on Xbox.com at the link below, and should be available as a download via Xbox Live.
Read More

| Keynote Summary at Xbox.com
Read More

| Xbox.com

Posted by Christopher Sasaki Categories: Action, PSP, Role Playing Games,
Rockstar Games just launched the official site for the upcoming release of Grand Theft Auto: Vice City Stories on the PSP. The site features the cultural parodies of the 80s that were first seen in the original Vice City, along with wallpapers, a downloadable trailer, screenshots, and some gameplay video clips. The site promises to release details about the soundtrack for the game as well as how multiplayer will be implemented in the game.
Read More

| Rockstar

© Gear Live Inc. – User-posted content, unless source is quoted, is licensed under a Creative Commons Public Domain License. Gear Live graphics, logos, designs, page headers, button icons, videos, articles, blogs, forums, scripts and other service names are the trademarks of Gear Live Inc.